We've put together a list of all the fun local things to do and places to go this summer! As always, keep in mind that this edition of Macaroni Kid focuses on Greater Lowell, including Lowell, Chelmsford, Westford, Tyngsboro, Littleton, Groton, Billerica, Tewksbury and Dracut. There are tons of activities outside our area but this list is about keeping it LOCAL, EASY and FUN!
---
Thanks to our sponsor Altitude Trampoline Park Billerica!
The support of our sponsors allows us to continue to offer Macaroni KID Lowell at no cost to you!
---


FIRST THINGS FIRST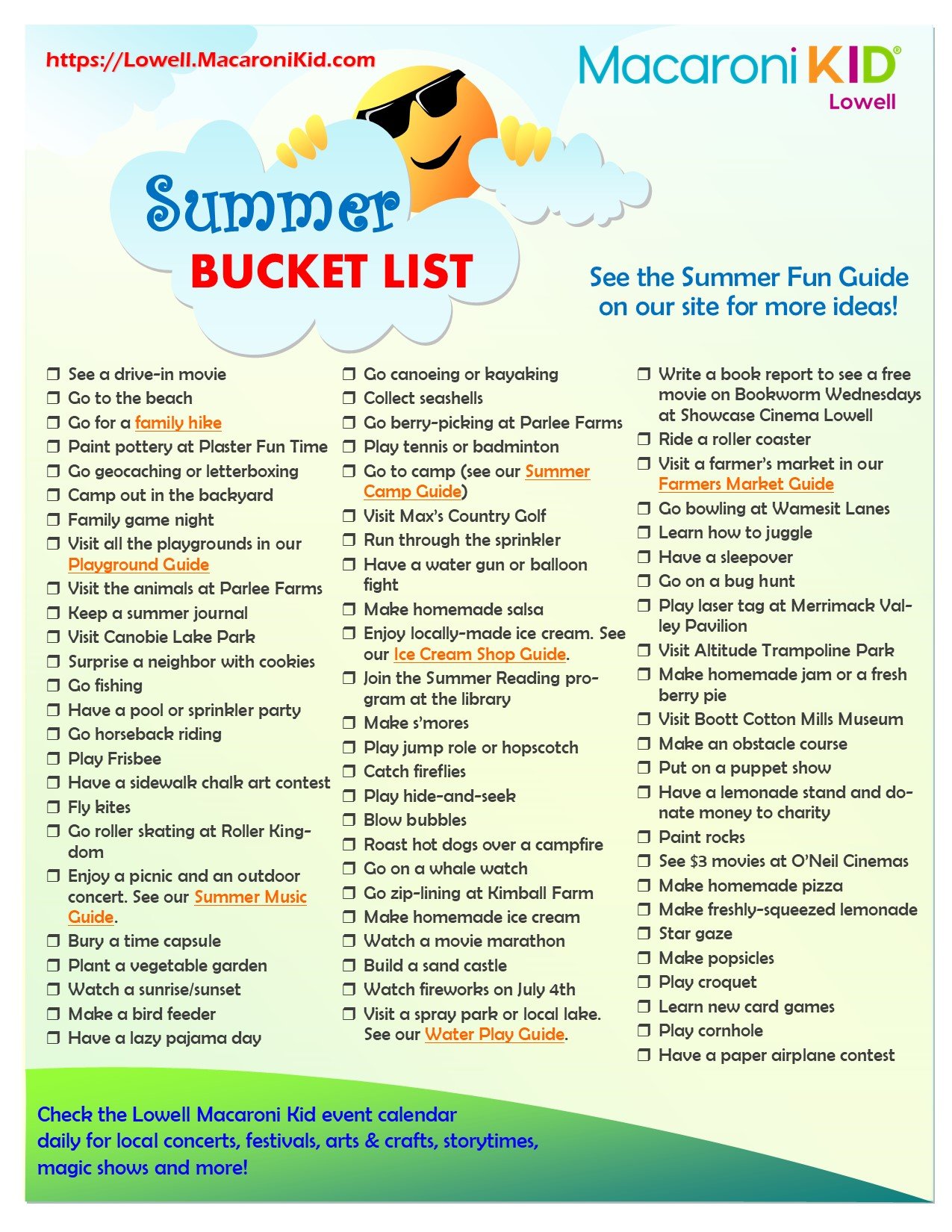 SUMMER READING
Join the Summer Reading program at your local library
Write a book report and enjoy a free movie on Bookworm Wednesdays in July at Showcase Cinema

ONLY IN SUMMER
Chelmsford Community Band Concerts on the Common
Billerica Concerts on the Common
Dunstable Concerts on the Common
Lowell Summer Music Series
Lowell Free Fun For Kids Concerts
MacKay Library Summer Concerts
Summer Concerts at Good Pickin' Farm
Pepperell Summer Concerts

INDOOR FUN
Get the wiggles out at...
Get creative...
Do these projects at home:
Learn something new at...
Stay cool...
See a movie...
Read a book...

BIKES, TRAINS and AUTOMOBILES

OUTDOOR FUN
Pick your own...
Visit a playground...
In your community...
In your backyard...
---
Thanks again to Altitude Trampoline Park Billerica for keeping Macaroni KID Lowell a free resource for families!
---
Lowell Macaroni Kid is a free weekly newsletter and website focused on fun family events and information in the greater Lowell area.
We gather together all kinds of local family events and activities each week, and add useful information about classes, family-focused businesses, book and product reviews, recipes, crafts, school and camp guides and more. We proudly serve 11,000+ families in Lowell, Dracut, Chelmsford, Westford, Tyngsboro, Dunstable, Littleton, Groton, Billerica, Tewksbury, and other surrounding communities.
Subscribe today to receive our email newsletter every Wednesday!
Follow us on Facebook, Instagram or Twitter.
Advertise with us to connect with thousands of local families!