Castle in the Trees
300 King St
Littleton, MA 01460
Date/Time Visited: Tuesday, June 19, 2018 at 10:00 am
Bathrooms: Porta-potties, including one for handicapped visitors
Parking: Ample
Shade: Yes (especially in the morning)
Benches/Tables: Yes
Additional Features: Basketball courts, green space, a Little Free Library, bike racks
There are actually 2 playgrounds at this location – the larger area, Castle in the Trees, was first built by the community of Littleton in 1991 and was demolished and completely rebuilt in 2016. Aidan's Playground, built in 2013, is intended for younger children. They are both wonderful places for play and currently my 4-year-old son's favorite playground.
In my original review of Castle in the Trees from 2015, I had a negative opinion of the playground due to its age and the inability to easily keep an eye on my kids. I am delighted to be writing this review which is the polar opposite of that one! My kids want to go to Castle in the Trees whenever we are in Littleton, and I am pleased to say that I enjoy visiting it as much as they do. We always bring along a picnic lunch; there are tables and chairs but we always opt for a picnic on the grass between the basketball courts and the playground.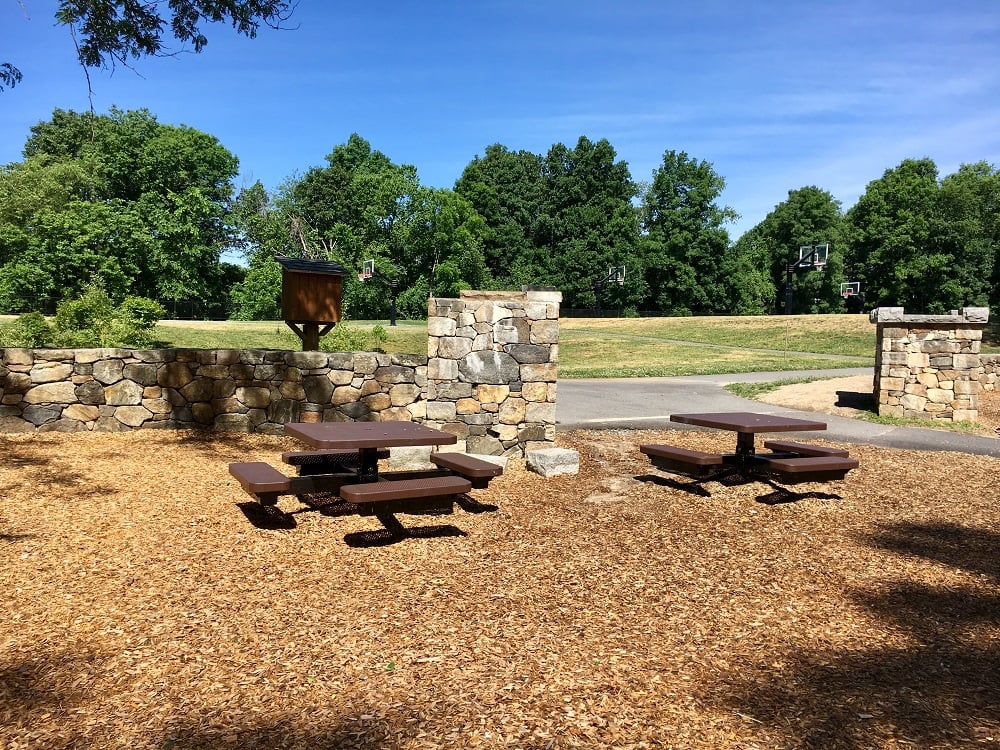 The playground area is almost completely enclosed by fencing except for the entrance. It features a long wooden walkway that is stroller (and wheelchair) friendly. There is a playhouse and several tables along the walkway, which leads into several different play areas. Once you've come to the end of the walkway, the rest of the playground area is covered in mulch.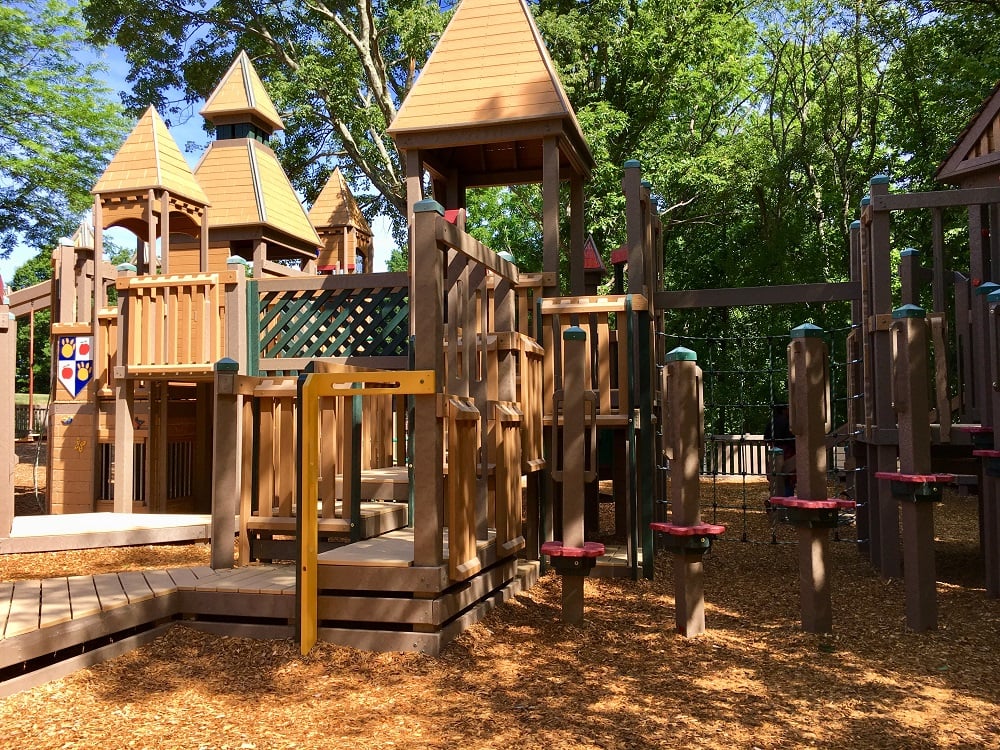 If your kids love to swing (as mine do!), there are 5 swings plus a tire swing and a handicapped swing. If they love to play make-believe, there is a pretend dungeon complete with barred windows underneath the "castle." Lots of slides are available, including an enclosed one that's my son's personal favorite. Several different types of monkey bars are available for those who like to climb and swing.
I'm an admirer of the unique touches that give playgrounds that little something extra, and this one does not disappoint. A double see-saw (holds 4 kids at once), several life-size xylophones, tables meant for playing chess/checkers, and a sign teaching the Braille alphabet are just a few of my favorite additions to this playground.
This is what I said about the Aidan's Playground area a few years ago, and my review of it hasn't changed – it's still a great spot to bring young kids (geared towards ages 2-5). "Built in memory of Aidan Mallio who passed away in 2012, [it features] two baby swings, two bouncers, and a good-sized play structure with three different slides. There are fun details underneath the play structure, including a puppet area and a pretend post office. It is covered in mulch [but there is a bit] less shade in this area."
The basketball courts were re-done at the same time as the re-build of the playground. We love finding Little Free Libraries, and I'm happy to report that this one has an ever-changing stock of books. I'm glad to know that I'm not the only one who appreciates it.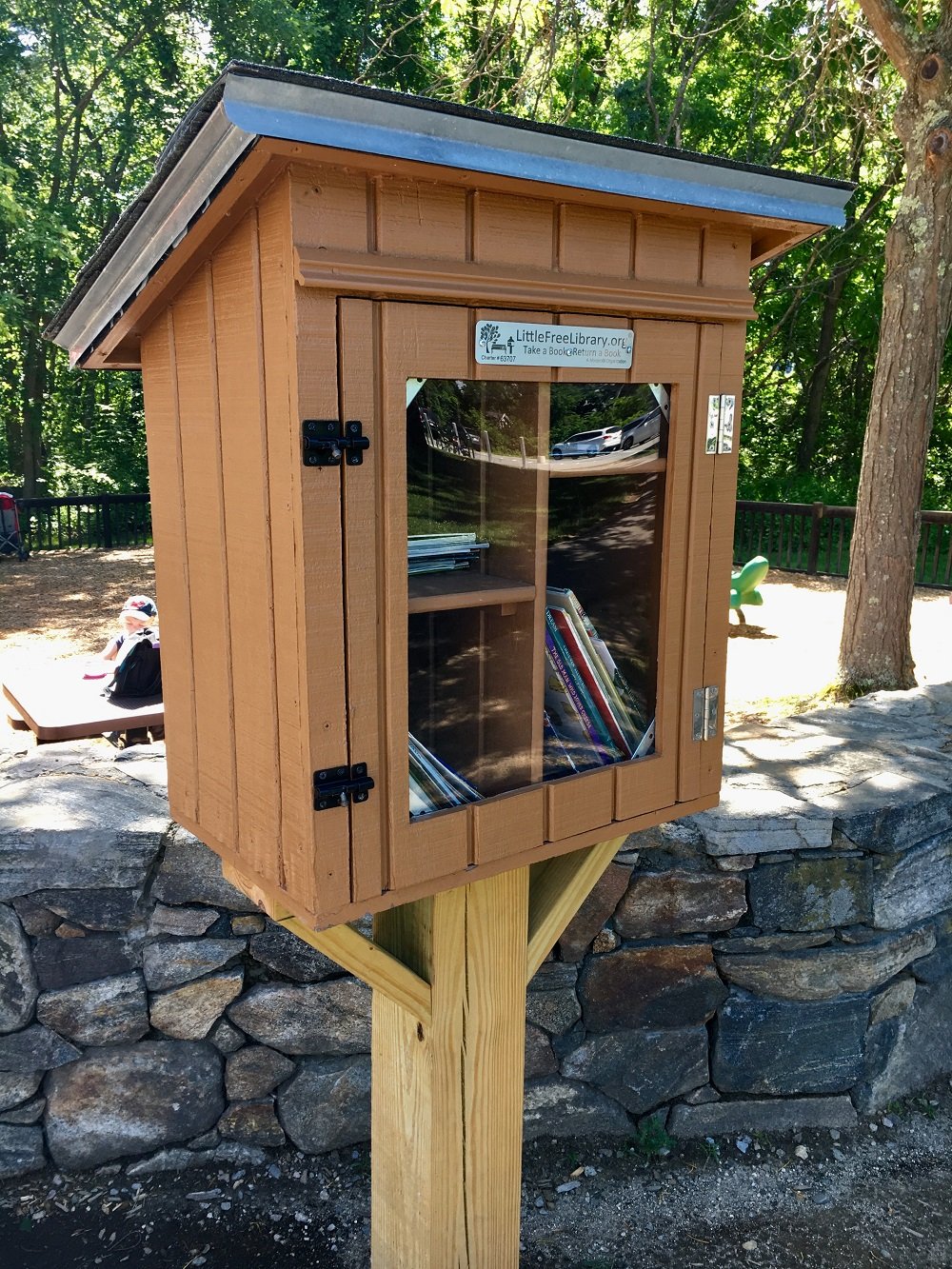 This playground re-do is a wonderful addition to the town of Littleton and you can tell how much the community values their children by the work they put in to bring new life to the park. My two words of caution – this playground is next to a very wooded area. It's wonderful for providing shade and a quiet play atmosphere, but you may want to check for ticks after your visit. Also, there is no sign at the entrance of the park from King Street, so it's easy to miss the parking lot if it's your first visit. Once you're there, however, your kids may never want to leave!
Shari Bartholomew is a Chelmsford mom of a daughter (7) and two sons (4.5 and 1). She's also an independent consultant for Usborne Books & More (http://www.sharisellsstories.com) and a Beachbody coach. When she's not seeking out exciting new things to try with her kids, she loves baking, arts and crafts, planning parties, and travel.

Lowell Macaroni Kid is a free weekly newsletter and website focused on fun family events and information in the greater Lowell area.
We gather together all kinds of local family events and activities each week, and add useful information about classes, family-focused businesses, book and product reviews, recipes, crafts, school and camp guides and more. We proudly serve 9,500+ families in Lowell, Dracut, Chelmsford, Westford, Tyngsboro, Dunstable, Littleton, Groton, Billerica, Tewksbury, and other surrounding communities.
Subscribe today to receive our email newsletter every Wednesday!