You've likely seen the articles saying kids don't know how to be bored nowadays. Boredom, experts say, builds creativity, self-regulation, patience and problem-solving abilities—all important life skills, to be sure. But when your kids have had a healthy dose of boredom and you need a little help figuring out what to with them next, here are some kid-approved activities that manage their boredom effectively by supporting their emotional, cognitive and social needs.
Your kids will flip over the chance to make their own delicious root beer floats while also learning about the three states of matter (solid, liquid and gas). You can either download age-appropriate worksheets online or simply discuss the process with them; either way, this project incorporates basic science into an experiment they can enjoy right after (and will beg you to do again and again!)
Skills developed: Observation, communication, classification, measurement, inference, prediction, family bonding.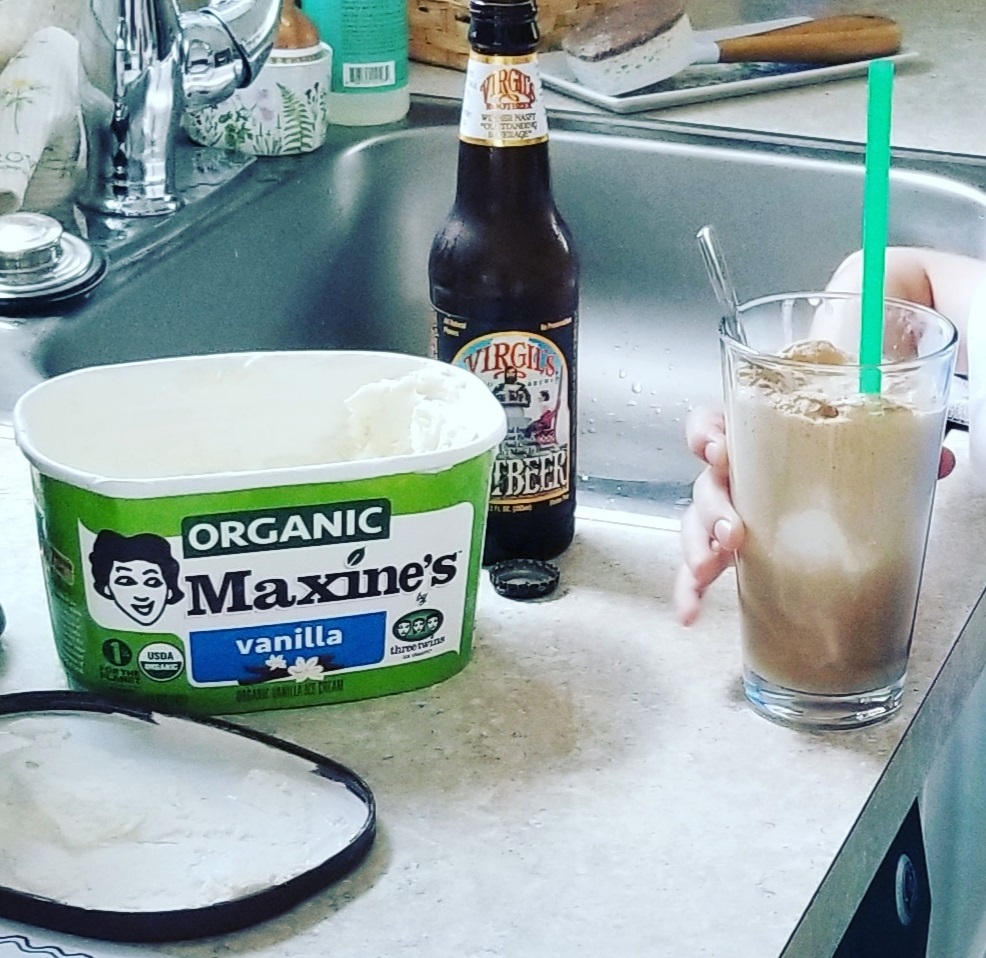 As the sun starts to sink lower on the horizon, grab the bug spray and head outdoors for a sensory nature hunt that will get your kids looking at their surroundings in a new way. Then, return home and assemble your nature mandalas. Considered sacred in Hinduism and Buddhism, mandalas are beautiful and intriguing geometric forms that represent the universe. Natural materials make creating these authentic mandalas easier and more accessible for kids of all ages and abilities. We opted to glue the natural materials we found onto cardboard cut into circles so we could display them indoors once complete. Tip: Bring along a field guide so the kids can identify what they find. Keep an eye out for poison ivy!
Skills developed: Creativity, mindfulness, connection to nature, appreciation of world cultures, family bonding, communication, botany, motivation, perseverance, observation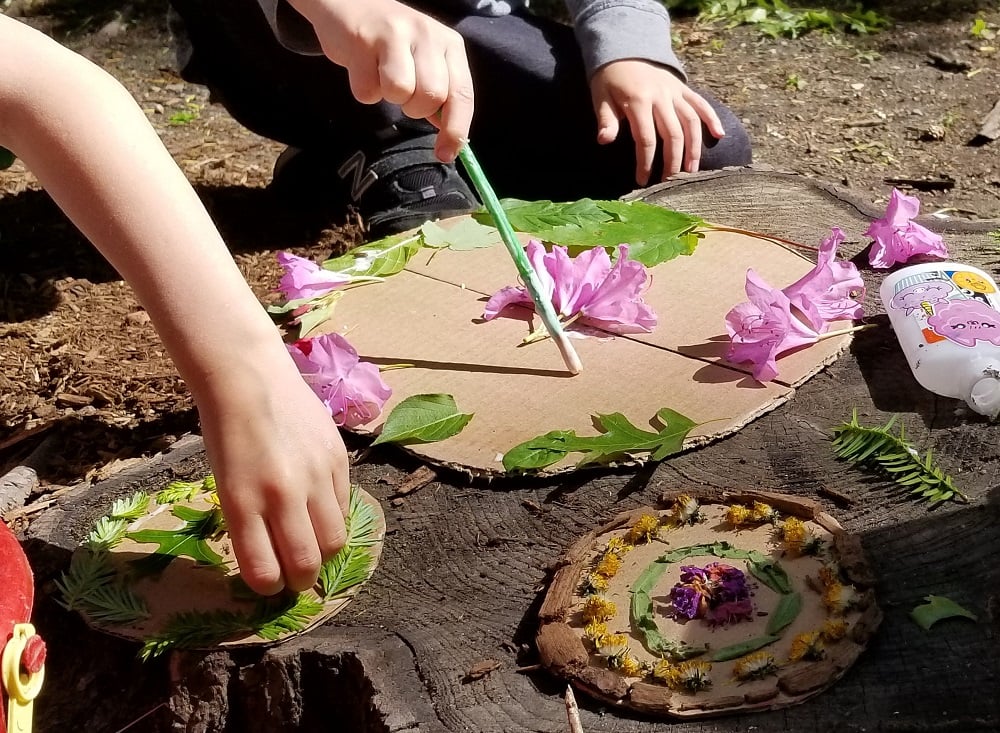 Gather your family, neighbors or friends, set up a Hibachi grill or fire pit in the backyard, and enjoy s'mores in totally different way—in an ice cream cone! Get really creative and try adding cut banana, strawberries or other fresh fruit, or even crumbled bacon for a unique salty-sweet flavor. Conversation starters: Which s'mores style was the favorite? Why? What other combinations could they try next time? At what temperature do marshmallows melt? (Answer: At or above 103 degrees Fahrenheit.)
Skills developed: Creativity, baking, fire awareness, social, communication, prediction, inference, observation, nature bonding, family bonding.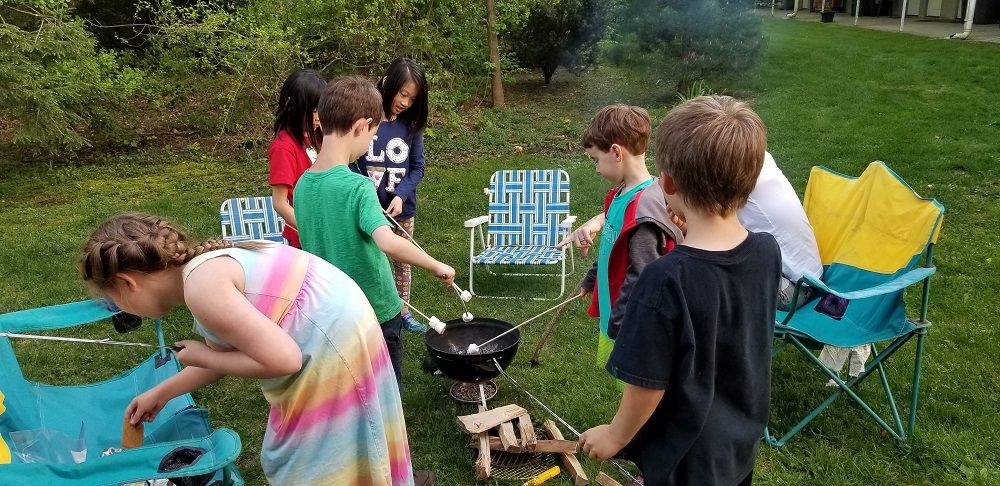 If you're looking for a low-key boredom buster during the hottest part of the day, this rock art activity fits the bill. First, enjoy a leisurely walk in the shade to find unique rocks to paint. Then, once they're washed and dry, have the kids paint a picture, write kind words, or use their imagination to create intricate designs and patterns on them. Let them go with the flow! Afterwards, they can choose to keep the rocks for themselves, place them in public areas like a playground or walking area, or give them as a gift to a friend or family member.
Skills developed: Creativity, mindfulness, kindness, empathy, patience, fine motor, motivation, observation, perseverance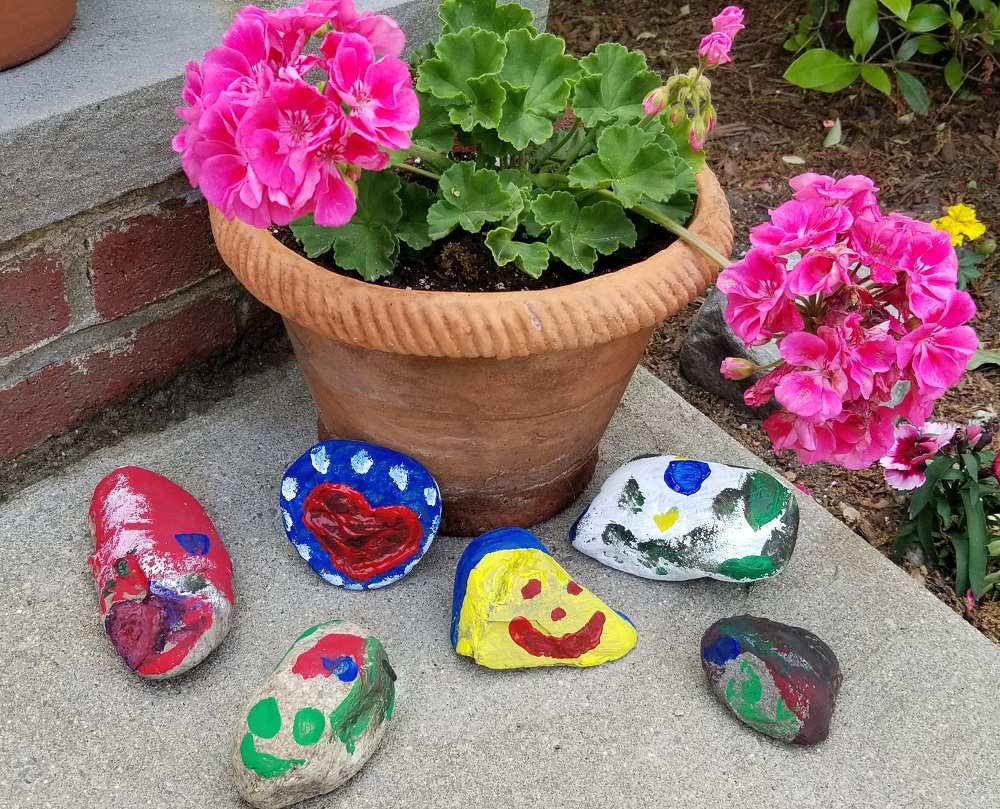 Summer is the best time to delve into the science behind evaporation. In this painting-with-water activity, children will better understand the water cycle process and have fun while they're at it. It is also a great way for older kids to review what they already know and assist younger siblings with this boredom buster that takes science out of the textbook and into the real world!
Skills developed: Observation, communication, inference, prediction, family bonding, creativity, nature awareness, fine motor.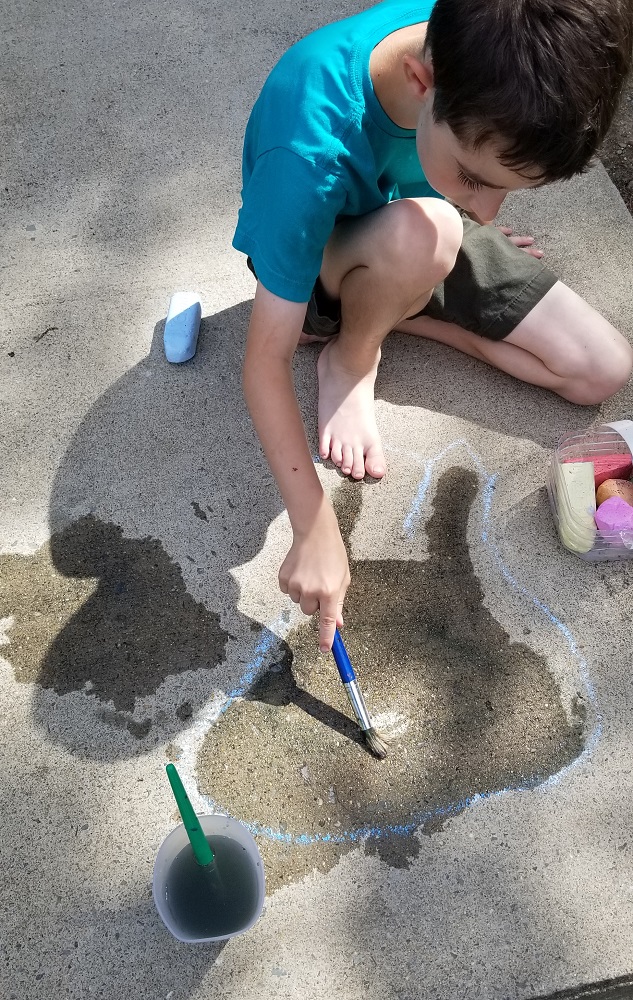 This timeless boredom buster is perfect for all ages to enjoy. It is such a simple and relaxing activity but encourages so many different skills in children. Pull out all the materials you'll need and place them in a shady spot outside and let the kids (and you!) start creating!
Skills developed: Creativity, fine motor, communication, family bonding, mindfulness, patience, observation, perseverance, motivation.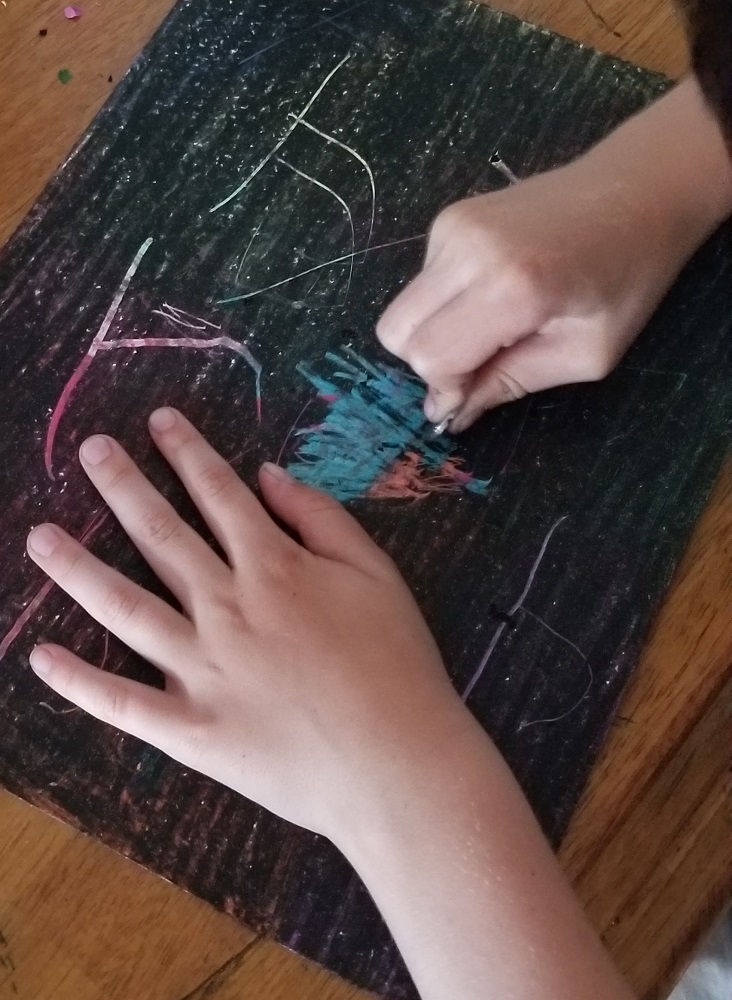 All children should get the opportunity at least once to build a home for our fairy and gnome friends! Find a shady area under a tree, in a garden, near a stream or in the forest and have the kids gather what they need. Flowers, small sticks, bark mulch, pebbles and leaves are all excellent materials to use. As the kids build the houses, create a story about the fairies, gnomes or trolls who might live there. Allow the children to lead with the storytelling while you encourage and ask open-ended questions to keep their imaginations running free. Bring this project full-circle by leaving some berries or bread for the kids' new friends, and return in a day or two to see what is left! Younger kids will be in awe while older kids can think about what creatures may have eaten the food. Tip: You will most likely attract squirrels, chipmunks, birds or foxes. Look for clues around the area: animal prints, fur, feathers or more can give you an idea of what was sniffing around.
Skills developed: Creativity, imagination, nature awareness, animal identification, storytelling, observation, fine and gross motor, family bonding, mindfulness, patience, motivation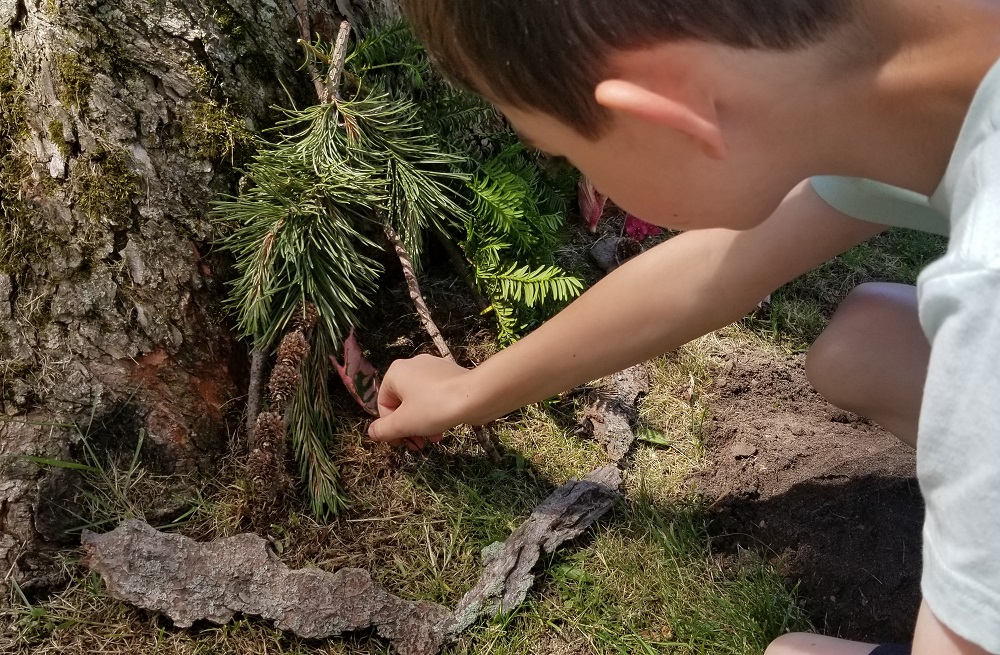 When it's hot and humid out and there's a project based around water, you can be sure it will evolve into everyone getting soaked and muddy! And that is the point of this fun boredom buster that combines fundamental science with healthy outdoor play. It's perfect for younger kids who love playing with water, while older kids can experiment with more unconventional objects and record their findings on the printable worksheet. Once you've discussed why certain objects float while others sink, supply the kids with plastic cups and containers, pails, water shooters and the hose and let the muddy water fun begin! Warning: This activity requires a bin or tub full of water, so close adult supervision is mandatory.
Skills developed: Observation, classification, inference, prediction, imagination, family bonding, motivation, communication, social, fine and gross motor skills, problem-solving and conflict resolution
Thunderstorms are a natural part of summer so take advantage of the opportunity! Before the storm hits, spend some time creating a rain barrel that can be used to water the garden throughout the entire summer. Then, have your kids track the changing weather conditions. There are a number of good resources online to use, but the link above provides a basic tracking method that even young kids can use. Worksheets like these are helpful for older kids to learn more about clouds and the tools and methods used to record the weather. Discussion topics: The direction and speed of the storm, temperature variation, rain amount, lightning strikes, and more. Incorporate a sensory component to this activity by asking kids what they see, smell, hear, and feel as the storm approaches. Rain barrel variation: If creating a rain barrel is beyond your DIY capabilities (no judgment here!) simply place a sturdy container like a heavy measuring cup or watering can outside before the storm starts and collect the resulting rain. This can be a great way for kids to learn about measurement, and you can still use the water for the garden on the next dry day. Warning: Never stay outside during a thunderstorm, and if you hear thunder, it's wise to move indoors immediately.
Skills developed: Observation, inference, prediction, classification, identification, measurement, data collection, sensory, nature awareness, communication, family bonding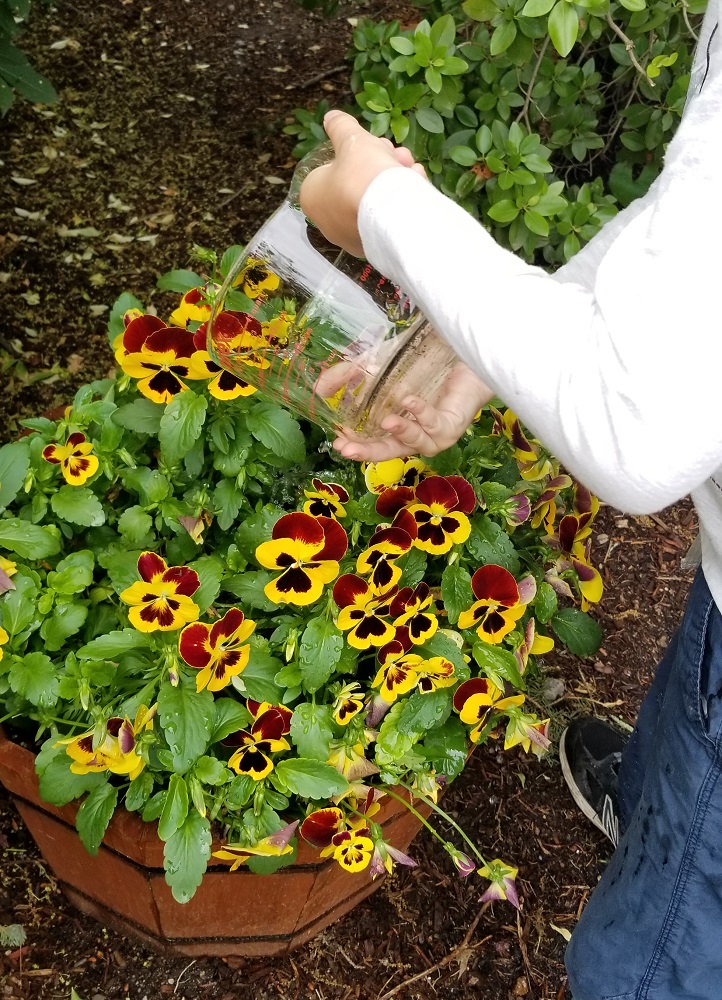 Spend a summer evening stargazing and telling stories about our incredible universe to stir a sense of wonder in your children. Print out the above guide to help your kids identify the night sky. Next, sit around a campfire or use a lantern to read constellation tales to your kids. Some excellent books on basic astronomy and the constellation myths can be found here. Be prepared to answer big questions your kids may have about the universe, our purpose, what exists beyond, and more. Try and let them lead with their own ideas and ask them open-ended questions to facilitate the conversation. Segues from this topic can include world cultures and beliefs, ancient civilization, nautical history, philosophy, art and more.
Skills developed: Astronomy, observation, prediction, identification, nature and world awareness, family bonding, imagination, communication, social, empathy, and more, depending on the conversation.
S'mores, water fun, stargazing and ice cream are some of the hallmarks that make a fun-filled summer truly memorable, and with the above boredom busters that also engage and stimulate the mind, your kids will be raving about this summer for years to come!
Born and raised in Boston, Kathryn Camgemi now lives in West Concord with her husband and their young son. A writer of both fiction and non-fiction for thirty years, she has been published in Chicken Soup for the Soul and Reader's Digest, among others. She has been secular homeschooling her son with additional needs for four years and strongly believes all children can succeed given the right environment. She writes periodically about their homeschooling journey at http://www.ahomeschooledlife.wordpress.com. You can also find her at her Facebook page, A Homeschooled Life.
Lowell Macaroni Kid is a free weekly newsletter and website focused on fun family events and information in the greater Lowell area.
We gather together all kinds of local family events and activities each week, and add useful information about classes, family-focused businesses, book and product reviews, recipes, crafts, school and camp guides and more. We proudly serve 9,500+ families in Lowell, Dracut, Chelmsford, Westford, Tyngsboro, Dunstable, Littleton, Groton, Billerica, Tewksbury, and other surrounding communities.
Subscribe today to receive our email newsletter every Wednesday!