APEX Entertainment is a unique game center for individuals of all ages. Go with friends or bring the family, there is 100,000 square feet of fun for everyone. You will find 30 lanes of bowling, a multi-level indoor go-kart track, laser tag, bumper cars, sport simulators, mini golf, and 70+ awesome arcade games. Don't forget to grab a meal or a drink at the Pit Stop Tavern restaurant. Seriously, what isn't there to do at APEX?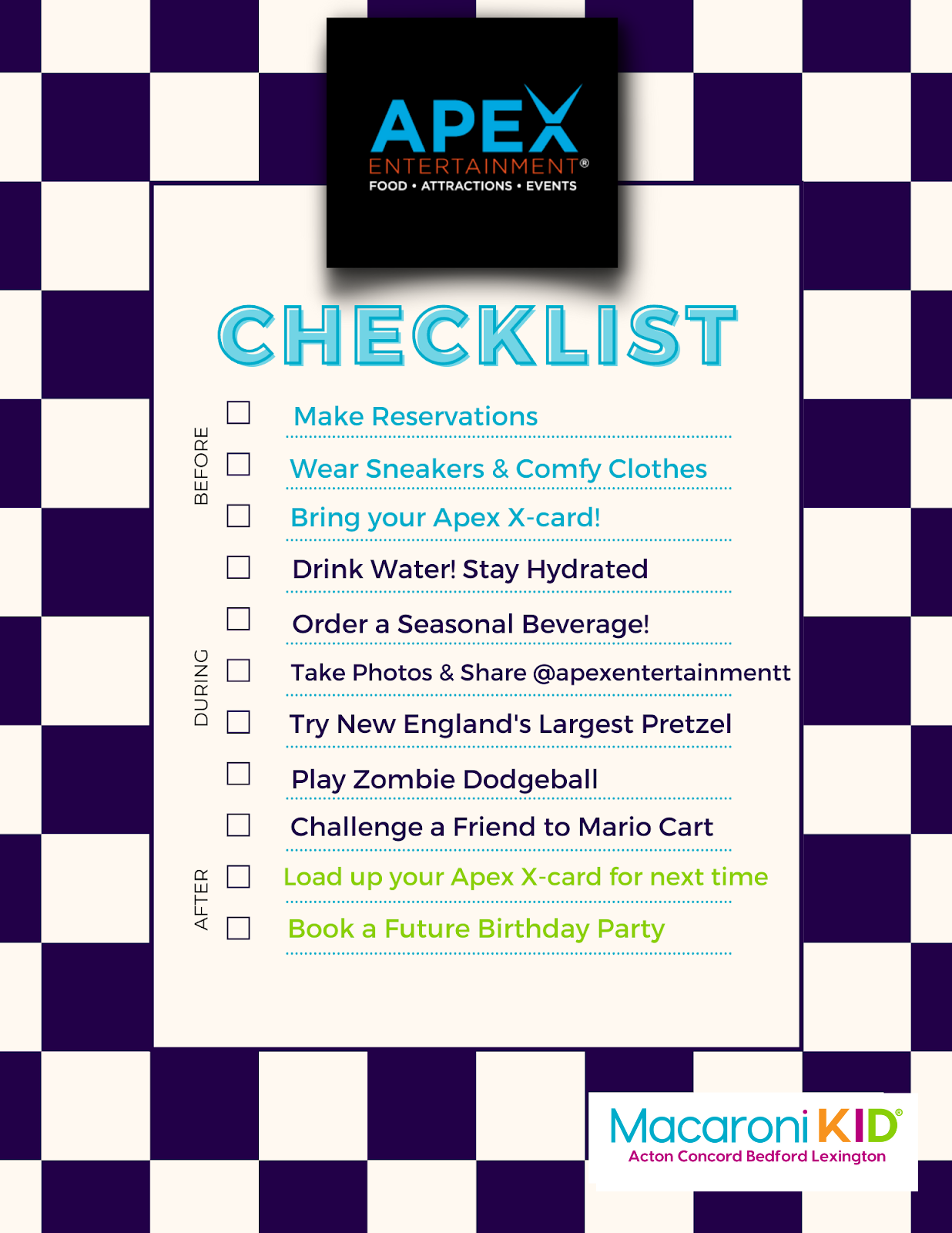 What to do Before your Trip to APEX Entertainment:
Reservations are not required but encouraged! They must be made 24 hours before attending.
There is a lot of moving around, dress comfortably and stay hydrated.
Check out the events going on at the time, and plan ahead!
Get an APEX X-Card. When you sign up for an APEX X-card, you get exclusive access to members-only benefits!
Free locker rentals
$20 in arcade credits pre-loaded onto your card
If your physical card is ever lost, it is replaced with a new one – that still has all your credits and tickets on it
Things to Know During your Time at APEX:

The sport simulators include games beyond the norm including zombie dodgeball! Hit the course, run the bases, all in one place! Practice like Tiger Woods while enjoying the APEX food and beverage menu.



The Pit Stop Tavern Restaurant offers a wide variety of foods including pizza, burgers, sandwiches, salads, you name it! Cannot forget the long list of signature cocktails from the Beer Buckets to Vodka Pitchers.
Take photos and share them to @apexentertainmentt
What to do After your Trip to APEX Entertainment:
Reload your APEX X-Card for next time
Go on the APEX Website and sign up for emails for rewards and discounts!
Book a Birthday Party or Event
Lowell Macaroni Kid is a free weekly newsletter and website focused on fun family events and information in the greater Lowell area.
We gather together all kinds of local family events and activities each week, and add useful information about classes, family-focused businesses, book and product reviews, recipes, crafts, school and camp guides and more. We proudly serve 10,000+ families in Lowell, Dracut, Chelmsford, Westford, Tyngsboro, Dunstable, Littleton, Groton, Billerica, Tewksbury, and other surrounding communities.
Subscribe today to receive our email newsletter every Wednesday!
Follow us on Facebook, Instagram or Twitter.
Advertise with us to connect with thousands of local families!