Shedd Park
433 Rogers St. Lowell MA
Shedd Park is conveniently located right off route 38 in Lowell and very easy to find. The park is large with multiple ball fields, tennis and basketball courts, a playground, two bathrooms, and a splash pad.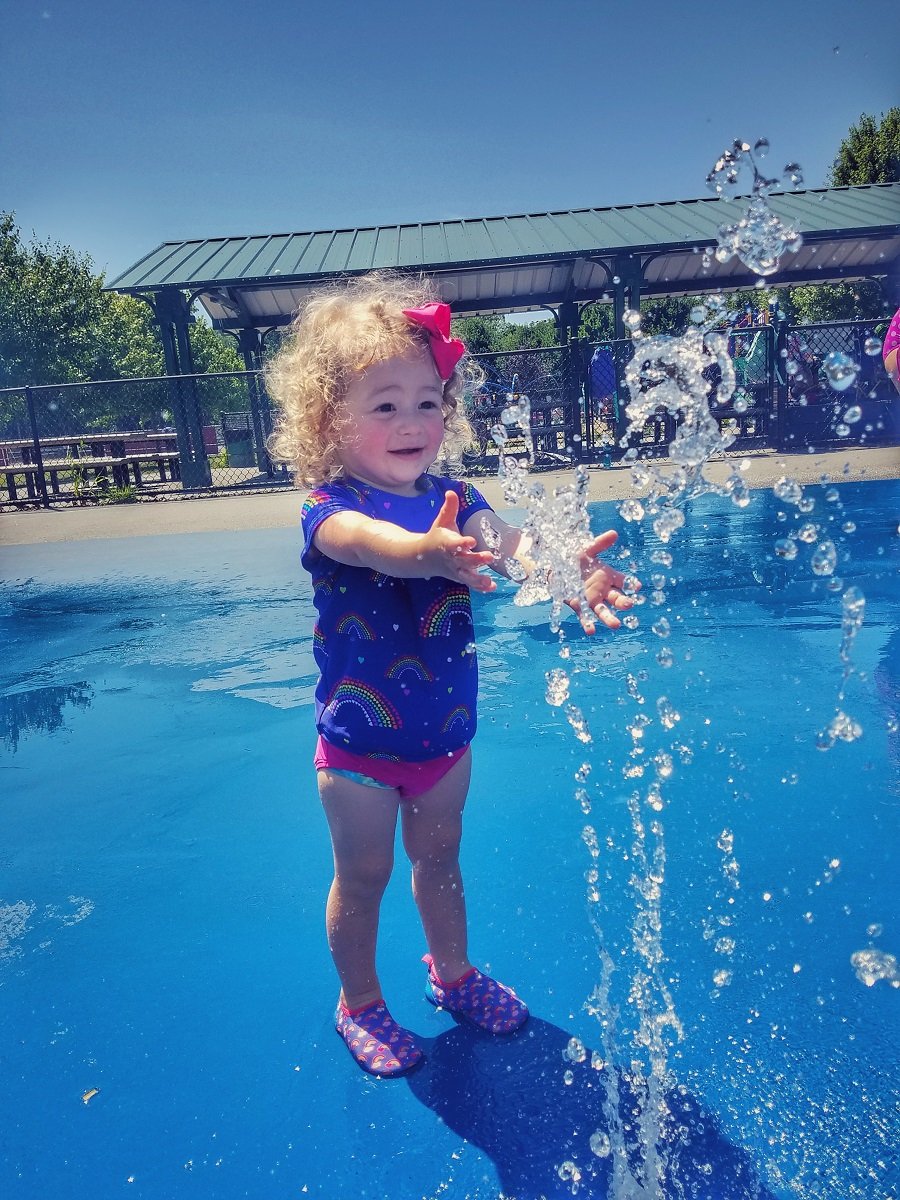 My trio, aged 2, 5 and 5, and I arrived at the park around 11 AM on a Tuesday to find the water was not yet on at the splash pad. After asking around, we learned that Summer hours are 12-4 PM. Right at noon, the lifeguards showed up, unlocked the gate and that glorious water began to spray! And it's a good thing it did, because what a hot day it was!! There is not much shade to be had on the huge playground. The structures were so hot, the children could not even play on them without burning their little legs. But they did look like newer, exciting things to climb on. I also would say the playground is geared toward older children ages 5-12. I was a little nervous with my almost two year old, who THINKS she is 5!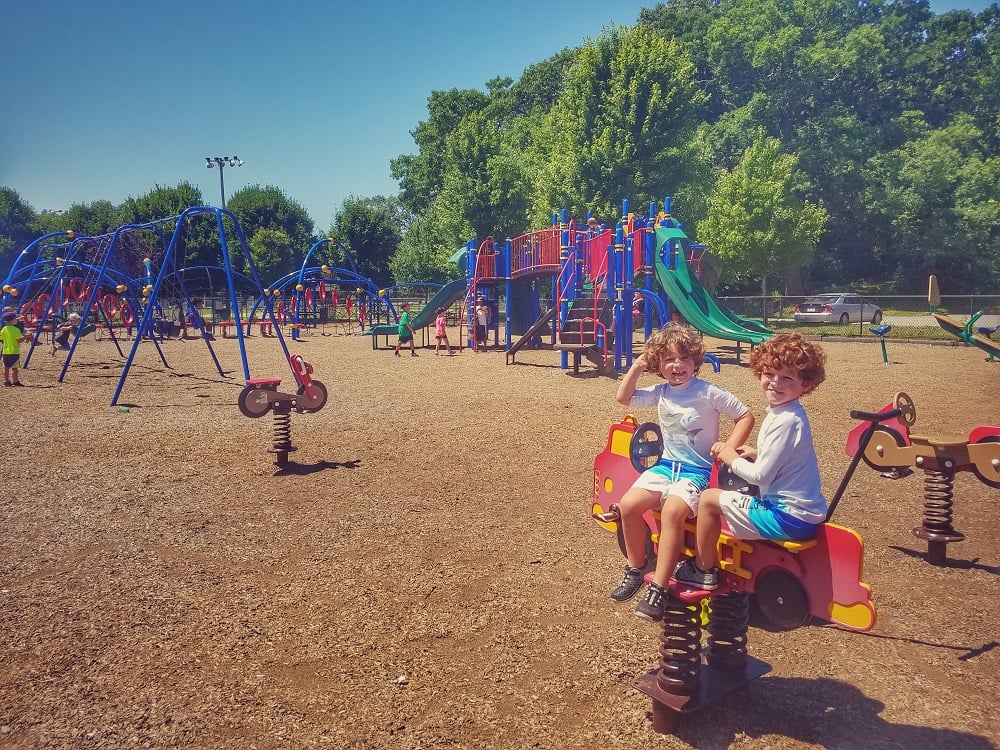 There is quite a large gazebo that covers multiple tables right between the playground and splash pad. While we were visiting, these tables were filled with summer camp children and counselors also enjoying the park. [Publisher's Note: Lowell Recreation camps are at Shedd Park playground every weekday from late June through the end of August and use the pavilion as their base.] The groups of kids were a little much for me with my little ones. I felt my children got lost in the crowd easily. Because of this, if we decide to return to Shedd Park, we'll stick to later weekday hours, especially due to the lack of shade, or perhaps weekends.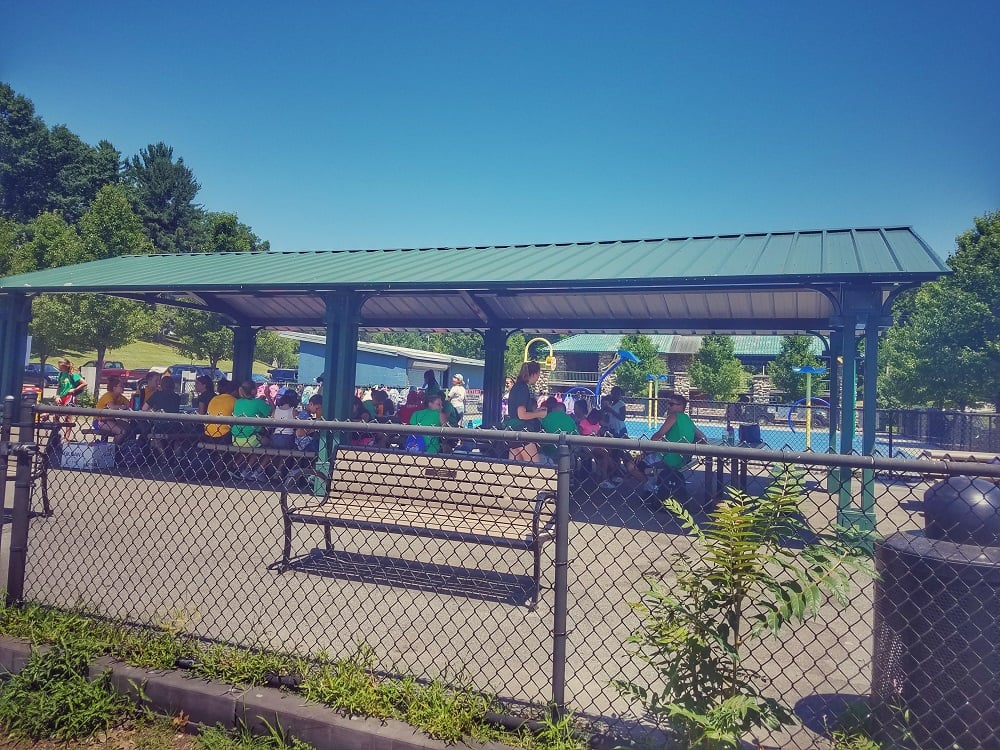 The splash pad itself was quite lovely. It's fenced in with multiple water spouts and tree-like statues that pour water onto waiting children. It was so hot that day that even this Mom ran through the water!! Please note that no strollers or wagons are allowed in the splash pad area. Total bummer for me, as I was towing a wagon full of all the things one would take on an outing with three kids. Even bags are not allowed within the area, unless hung on the fence. This rule also applies to any and all toys…that mean no buckets and no balls. There were two lifeguards on duty while we were there. I heard them call out many times "No running!" So, be aware of that if your little ones like to run.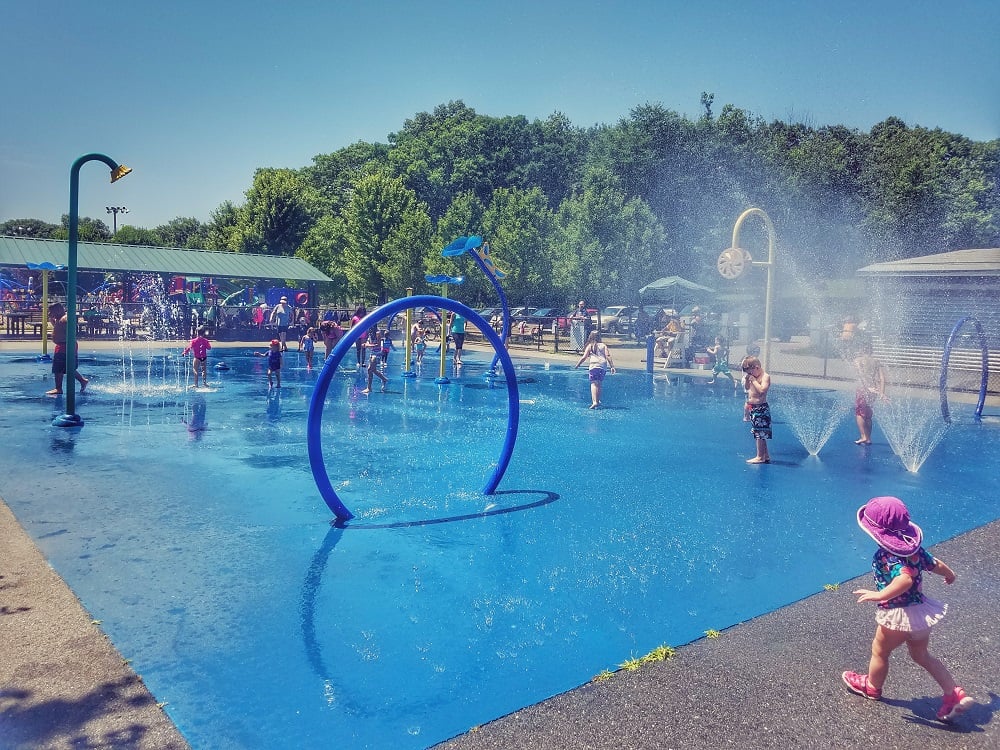 I did see many people walking leashed dogs but note that the playground and splash pad area had signs clearly indicating NO DOGS, so please keep your pooch at home. As beautiful as the playground and splash pad was, the bathrooms definitely had room for improvement. I recommend a travel potty in the car for the young ones, if possible.
As we were leaving, I noticed a grassy area on the other side of the parking lot with shade from a very large tree. I wish I had seen it earlier during our stay, as it would have made for a perfect picnic spot! The parking lot did seem to fill up rather quickly while we were there, which may have been from parents picking up their campers early on that hot day.
Ultimately, Shedd Park is a great place to try if you've never been. Just be prepared for the crowds on weekdays, the lack of shade on hot, sunny days, and keep in mind my quick tips for a smooth and fun outing.
All photos credit Snowflake Images by Vanessa Bellitti

Vanessa Bellitti is a Westford mom of twin boys and a spunky little girl, a retired Phunk Phenomenon and Boston Celtics Dancer, and the proud owner of both The Shabby Cupcake (a boutique for the whole family) and Snowflake Images by Vanessa Bellitti. When she's not singing, dancing, sewing, or behind the camera, you'll find her in the kitchen designing cakes and treats for all to enjoy.
Lowell Macaroni Kid is a free weekly newsletter and website focused on fun family events and information in the greater Lowell area.
We gather together all kinds of local family events and activities each week, and add useful information about classes, family-focused businesses, book and product reviews, recipes, crafts, school and camp guides and more. We proudly serve 9,500+ families in Lowell, Dracut, Chelmsford, Westford, Tyngsboro, Dunstable, Littleton, Groton, Billerica, Tewksbury, and other surrounding communities.
Subscribe today to receive our email newsletter every Wednesday!