Warren H. Manning State Park
39 Chelmsford Rd.
Billerica MA
http://www.town.billerica.ma.us/Facilities/Facility/Details/Manning-State-Park-4
Hours: Splash pad is open 9-6 from mid June until end of August
Restrooms: Only open when a parking attendant is on duty
Fee: $5 per vehicle when park attendant is on duty
Parking: About 25 spaces available, but they do fill up on hot summer days if you don't arrive early (overflow cars were parked along Chelmsford Rd the day we went)
Things to love: Plenty of shade and awesome splash pad. Picnic tables can be rented in 2-hour blocks for birthday parties or gatherings.
Things to bring: Bug spray, water shoes, a bucket, a towel, a folding chair, and perhaps a bug net for babies in a stroller
Note: in 2019, the Splash Pad opens on Saturday, June 15. There is a town program at the Splash Pad on Monday-Thursday mornings until 12 PM.
If you're looking for a short hike in the woods or a fabulous splash pad, then Manning State Park should be added to your summer bucket list. We arrived on a warm Friday morning in late June around 10 AM. There were still plenty of parking spots when we arrived, but the lot was filling quickly. When the park attendant is on duty, there is a $5 fee per vehicle, or a season pass is available for $50 from the attendant or the Billerica Recreation office (cash or check only). A Billerica Recreation youth program uses the closest parking spaces for parent pickups and drop offs. (Note that the recreation program is on weekday mornings from 9-11:30 from late June to the beginning of August, so the park may be more crowded than normal during those times.) The parking lot is close enough to the picnic area, trail entrance, and splash pad for most toddlers' little legs to walk. I did decide to bring the stroller for my 9-month-old and it was easy enough to navigate across the wooded areas.
My family loved the splash pad! Despite it being a little crowded, my typically cautious 2-year-old jumped right in and began running through the spraying rainbow arches. It doesn't feel claustrophobic because there are plenty of water stations spread out within the circular concrete pad. There are fountains, suspended buckets that fill and dump on the kids below, colorful tunnels spraying mist, and daisy-shaped shower heads. Everything is cheery and bright, and the pad is mostly shaded from the trees. Due to the shade, you may want to save your visit for a really warm day because the water is cold and there isn't much sun to warm or dry the kids when their suits are soaked.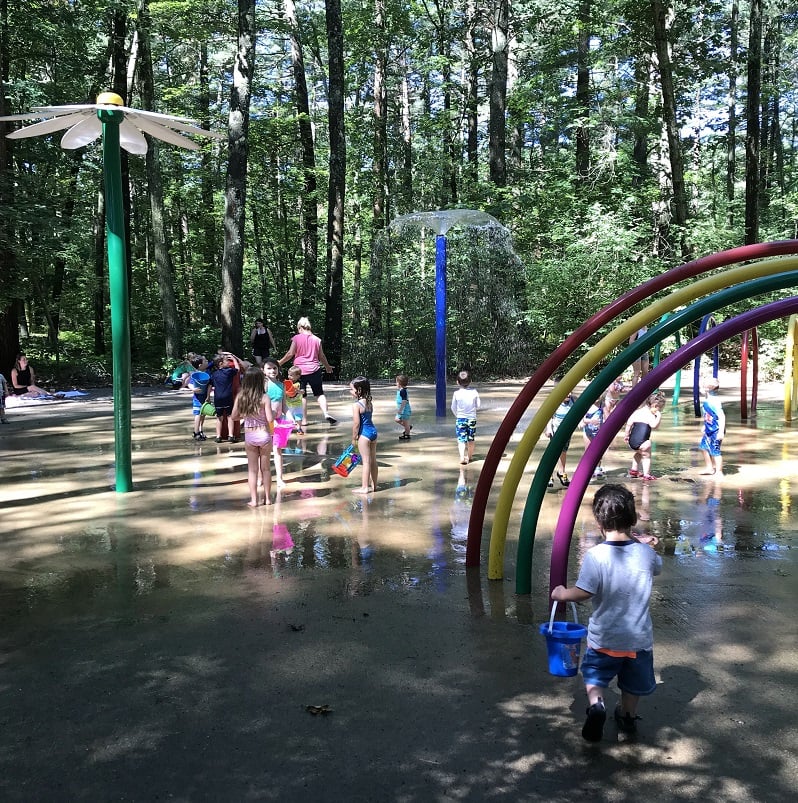 There are a few picnic tables available but they were being used for the recreation program during our visit. If you can, bring folding chairs so that your family has places to sit.
You may also want to bring bug spray since there were some pesky mosquitos flying around. If you're bringing a baby in a stroller, I also recommend a net to cover the carriage in case the little one dozes off during your stay.
After the splash pad, we walked around the trail loop (see Map) to help with the drying process before getting back into the car. In the future, I'd bring a spare pair of sneakers so my toddler wouldn't have to walk in his wet water shoes, though he didn't seem to mind. We actually ended up spending over 30 minutes meandering through the woods because my son got a kick out of playing on the little exercise stations that are sprinkled throughout the park. On our way out we stopped and had a snack under the overhang by the entrance, which had a few open picnic tables.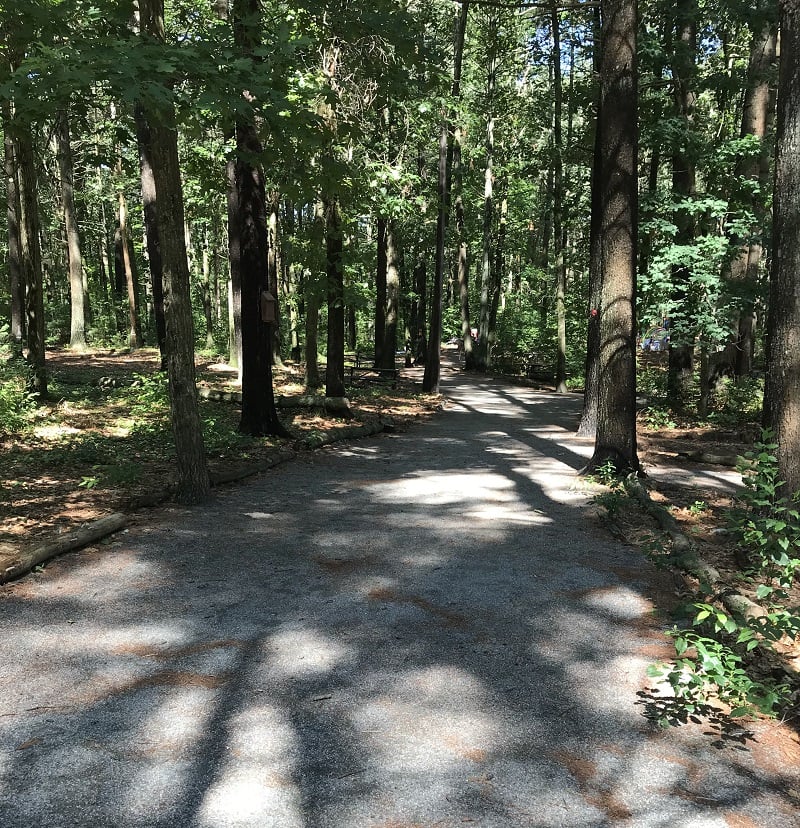 Kelsey Little is a local mother of two and a middle school English teacher. She enjoys exploring parks, beaches and playgrounds with her family.

Lowell Macaroni Kid is a free weekly newsletter and website focused on fun family events and information in the greater Lowell area.
We gather together all kinds of local family events and activities each week, and add useful information about classes, family-focused businesses, book and product reviews, recipes, crafts, school and camp guides and more. We proudly serve 9,500+ families in Lowell, Dracut, Chelmsford, Westford, Tyngsboro, Dunstable, Littleton, Groton, Billerica, Tewksbury, and other surrounding communities.
Subscribe today to receive our email newsletter every Wednesday!