We visited Water Country in Portsmouth NH yesterday for a family day out. It was our fourth visit in the last few years, and every time I visit I find more to admire about this great water park.
Perfect for families
Water Country is set up to be a welcoming and easy family destination for a fun day in the sun. There are so many features that are family-friendly:
Bring your own food! You can wheel in a monster cooler, if you wish, packed with enough food for a party. In fact, we saw birthday parties and family gatherings throughout the picnic areas. As long as your cooler and bags don't contain alcohol, glass bottles, any kind of weapon (no knives, scissors, sharp tools), or BBQ equipment, then you're good to go. The extended family at the tables near us had brought in a whole array of food in foil catering pans (which smelled heavenly) and a birthday cake.
If you'd rather skip packing a lunch, there are plenty of food choices throughout the park, including pizza (which looked delicious), chicken tenders, slushies, churros (my kids' favorite!), ice cream, burgers and hot dogs, fried dough, iced coffee, quesadillas, burritos and more.
Life jackets in a variety of sizes are available free throughout the park and at every water feature.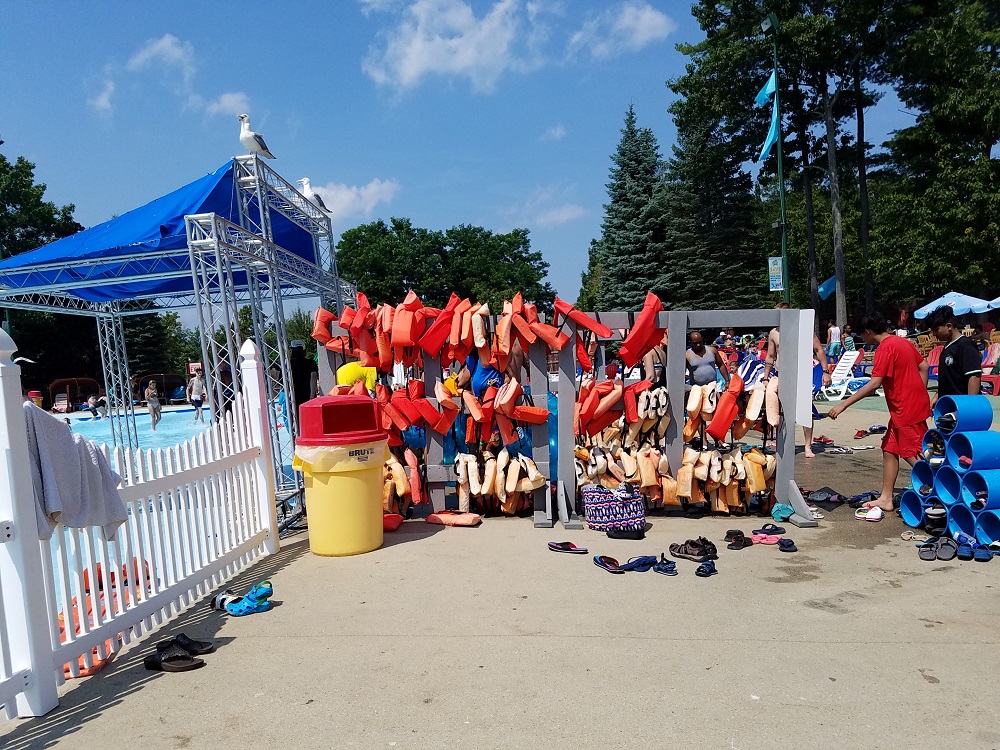 There are several water attractions designed just for little ones, with zero entry, shallow water, shallow slides, and tame waterfalls.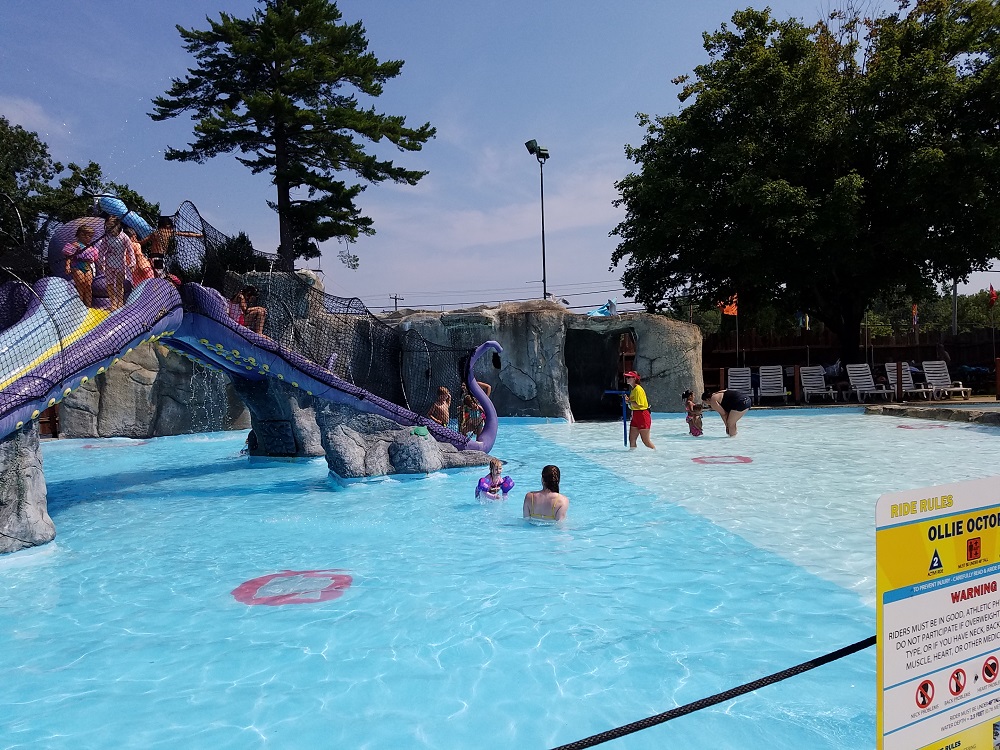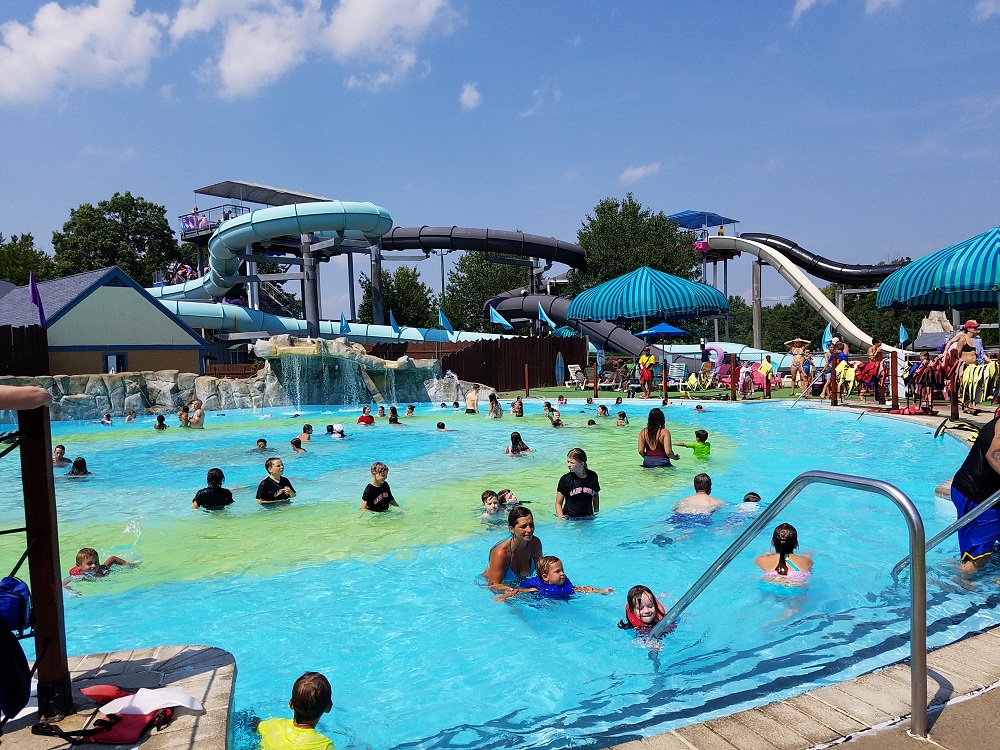 There are many, many lifeguards throughout the entire park, and they take their jobs seriously. They're focused and paying attention.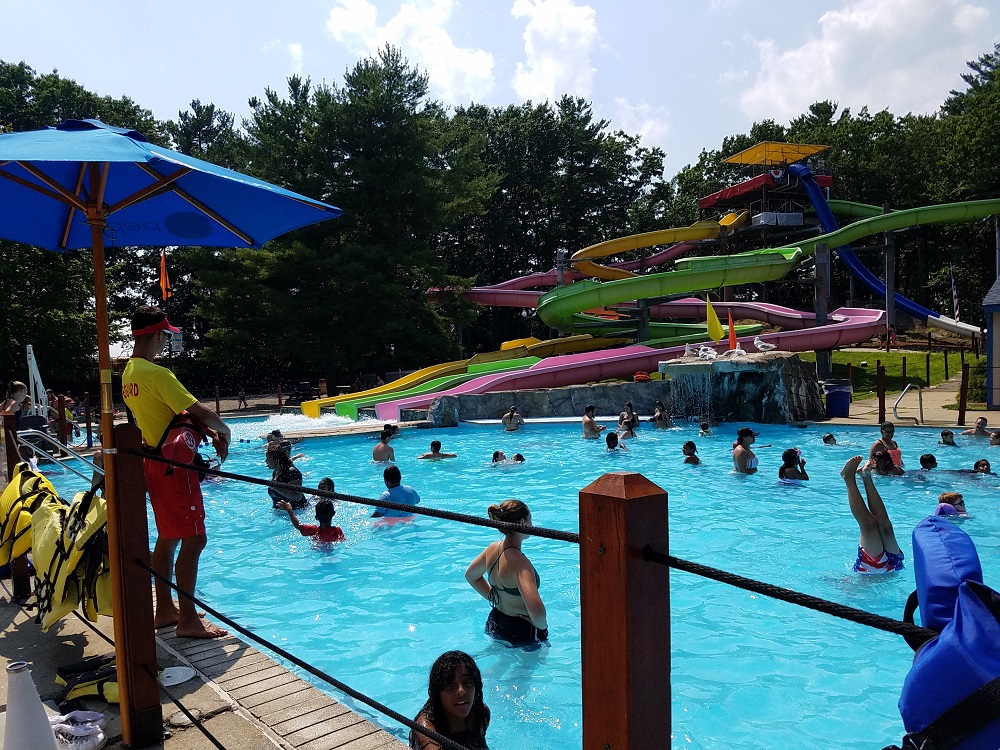 There is seating everywhere — shady picnic groves, groups of picnic tables under huge umbrellas, and many loungers around the toddler water play areas — and you can rent a cabana for privacy, comfort, even napping for the little ones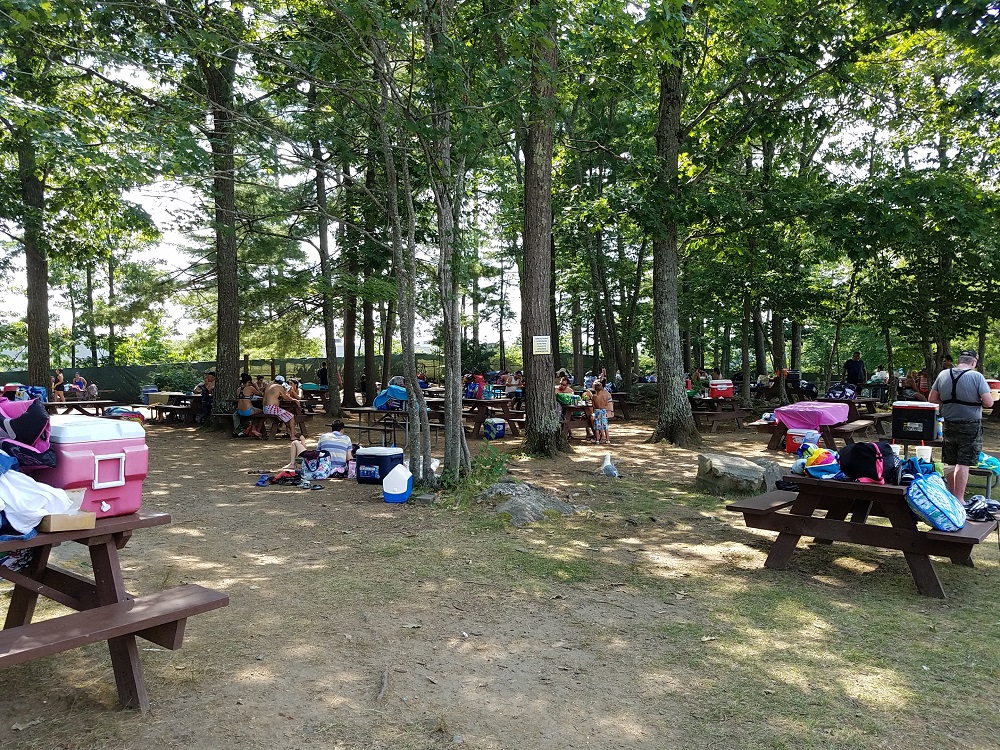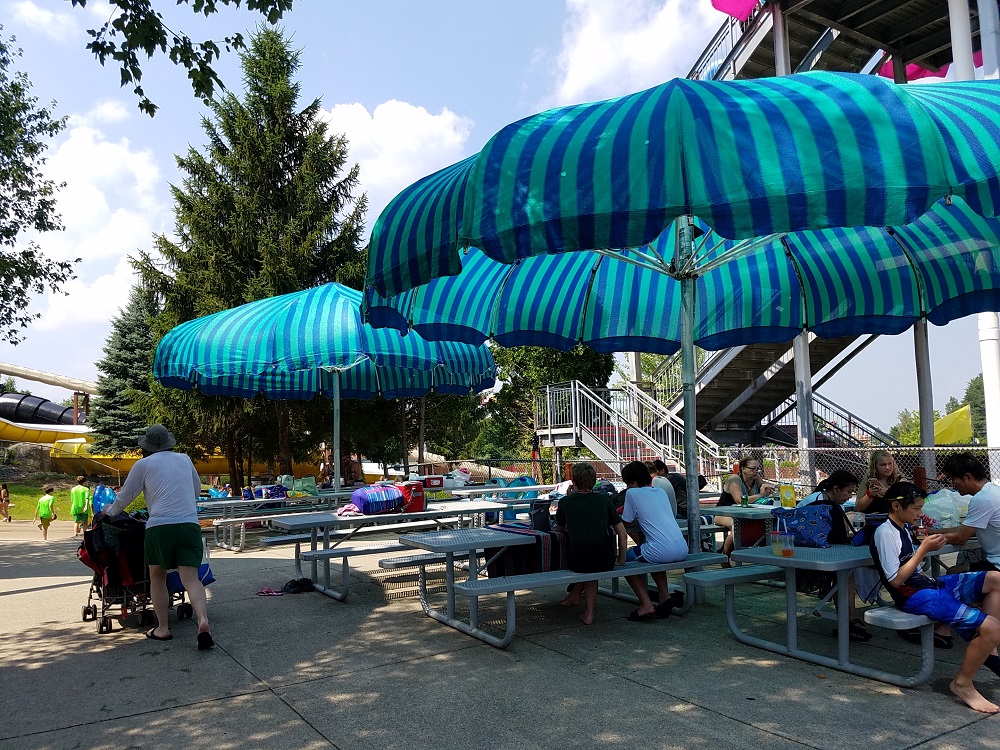 The on-site store has literally everything you might need for the day, from water shoes in all sizes to bathing suits, clothing, sun screen, sunglasses, phone cases, swim diapers, hair ties, etc. If you didn't bring water shoes, I highly recommend purchasing some for every member of the family. The pavement gets extremely hot and walking can be a bit painful! Water shoes are perfect to walk around the park and to protect your feet on rides.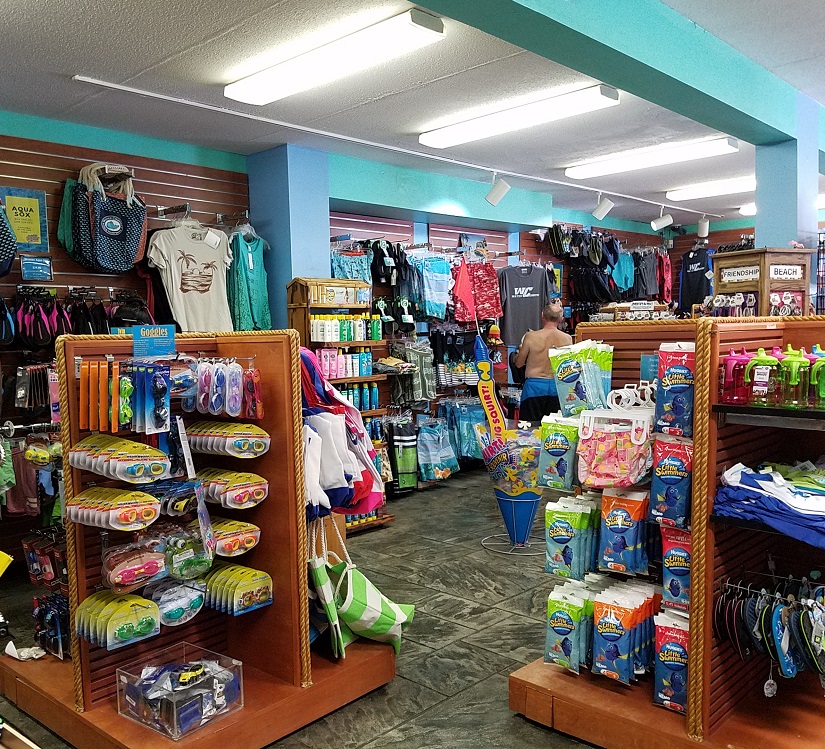 The park is set up to handle crowds with ease. The park was full on the day we visited — not "close the gates, can't take one more person" full, but really, really busy. Yet it didn't feel crowded. The water park is enormous. Every path you venture down leads to a new area — a huge shaded picnic grove, an activity pool with slides, a zero entry kid area, a birthday party grove, a tame lazy pool for little ones, a heart-pounding slide for older kids, and on and on. The crowds are so dispersed that there's plenty of room for everyone.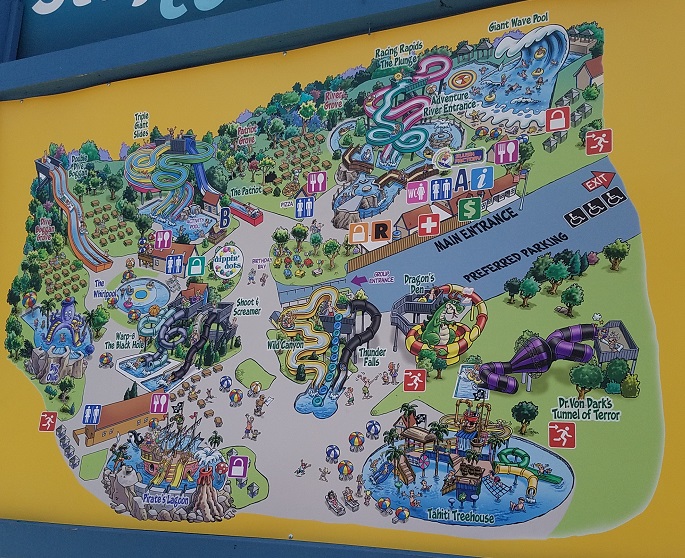 The park has many safety and behavior rules in place, including prohibiting offensive shirts and tattoos, jewelry that might be dangerous to the wearer or to others, selfie sticks, unruly behavior and fighting, and requiring appropriate swimwear and supervision of children 12 and under. Enforcing these rules is done discreetly and effectively -- I never saw a staff member dealing with any difficulties in an obvious way, and we saw good behavior, families having fun, and rambunctious but well-behaved kids everywhere in the park. Visitors freely leave their sandals outside the water attractions, their bags on chairs, and their coolers and bags on tables without worrying that they will be taken. There is a locker rental facility right near the main entrance where you can lock up your valuables and phones.
Clean is the name of the game
I have a big in-ground pool and keeping it clean and the water all balanced is a pain in the neck. This year especially I have been wrestling with the stupid monstrosity, vacuuming, tossing in yet more expensive chemicals, changing filters, on and on, and it will not behave. They've got it figured out at Water Country. The water is crystal clear in every attraction and is a very comfortable temperature (and especially great on a 95 degree day like it was on our visit). It doesn't smell over-chlorinated, there's no sign of algae, and there's no dirt on the bottom. I want to hire their maintenance people to come deal with my pool.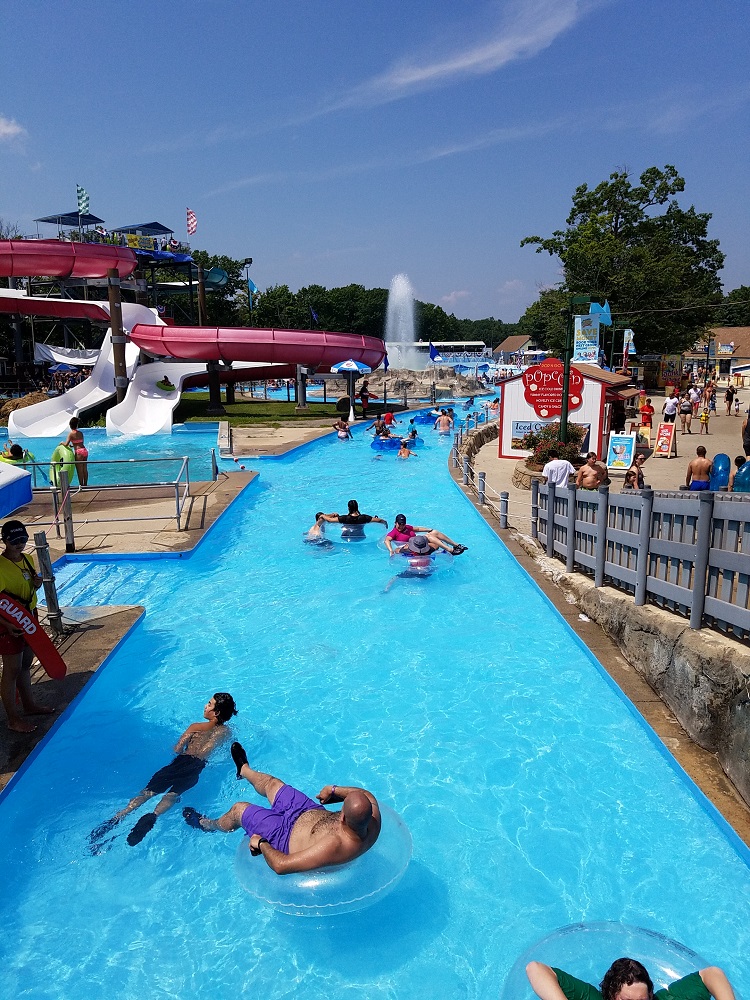 Plus the rest of the park is clean; trash cans are emptied, floors are mopped, the loungers and chairs are even quite clean despite being outside. (The last time we visited, we stayed until closing and I noticed that they stack up all the chairs and loungers at the end of every day. A ton of work -- there must be hundreds of them -- but it pays off.) My son even pointed out that he did not see a fly or a mosquito all day, which is a great indication of how clean they keep the park. That said, there are a fair amount of seagulls. Do not leave any food out in the open at your table; it will become a gull's lunch while you're enjoying the lazy river.
A good value
Water Country season passes are an amazing value -- only $59.99 per person for a weekday season pass, $69.99 per person for a Basic season pass (can be used weekdays and weekends) or $89.99 per person for a premium season pass, which includes all kinds of discounts and freebies. If you only plan to go twice in a summer, the season pass pays for itself. If a one-day admission is preferable, use our special discount link https://www.watercountry.com/BlogReader to purchase a daily general admission ticket for $34.99 instead of the normal $44.99 gate price or $39.99 online price. (Note that all online purchases, whether using our link or the regular site purchase link, have a processing fee of $3 per ticket or a flat $9.99 when purchasing four or more tickets.) For guests under 48" tall or age 65+, the discounted rate is $27.99. Children 2 and under are always free!
There's plenty of time left this summer to schedule a day or two at Water Country -- your family will love it!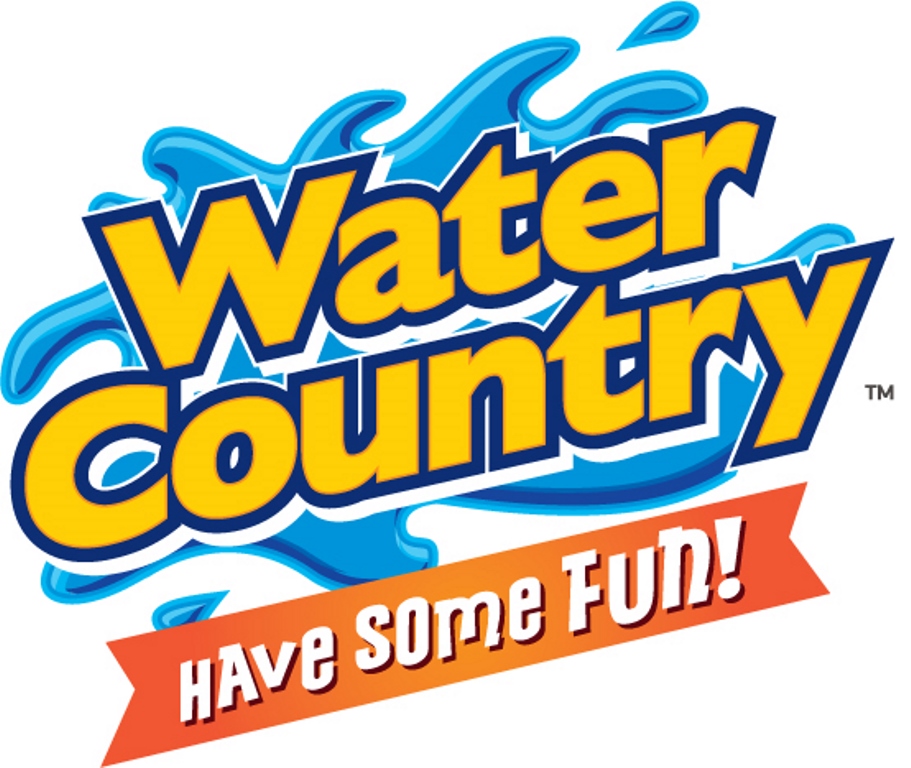 Water Country
2300 Lafayette Rd (Rt. 1)
Portsmouth NH 03801
603-427-1111
Website: https://www.watercountry.com/
Facebook: https://www.facebook.com/WaterCountry
Instagram: https://www.instagram.com/watercountrywp/
Twitter: https://twitter.com/WaterCountry
My family was hosted by Water Country for a free visit for the purposes of this article. No other compensation was received, and all opinions are my own and honest.
All pictures included in this article were taken at Water Country with the permission of their marketing department.
Lowell Macaroni Kid is a free weekly newsletter and website focused on fun family events and information in the greater Lowell area.
We gather together all kinds of local family events and activities each week, and add useful information about classes, family-focused businesses, book and product reviews, recipes, crafts, school and camp guides and more. We proudly serve 9,500+ families in Lowell, Dracut, Chelmsford, Westford, Tyngsboro, Dunstable, Littleton, Groton, Billerica, Tewksbury, and other surrounding communities.
Subscribe today to receive our email newsletter every Wednesday!