Vietnam Veterans Park
270 Treble Cove Road (approximately)
North Billerica, MA 01862
Date/Time Visited: June 9th, 2019 at noon
Bathrooms: yes, port-a-potty
Parking: yes
Shade: None during mid-day, plentiful in the early evening when the sun is behind the trees
Benches/Tables: yes
Additional Features: BMX bike track, bocce courts, game table, canoe ramp, community garden, equestrian ring, fishing pier, horseshoe pits, radio control flyer field, soccer fields and walking trails
I will start off by saying that the park was not easy to find. I took a wrong turn and ended up driving on a dirt road, with tons of mud and flooded spots to get to it (good thing we were in our four-wheel drive!). But don't let that deter you from checking out the park. Once we found the playground, we figured out that we had come in the wrong way! See below for my detailed directions on how to find the park.
Vietnam Veterans Park has tons to do! I was pleasantly surprised by all there was. You can definitely make a day of it, with its 200+ acres and all of its activities, including bocce courts, horseshoe pits, a lake with canoe ramp and fishing spots, walking trails and more. The park sits on the Sudbury Valley Trustee's Ralph Hill Conservation Area. Some history which I was surprised to learn is this park was the first park in the United States dedicated to Vietnam Veterans. As you drive in, via the rotary entrance, there is a memorial dedication.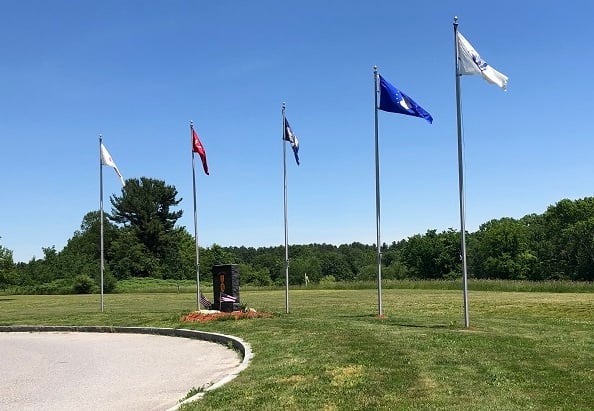 As soon as we pulled in to the park area, we saw people out at the BMX track, which looked quite busy. We also saw people having picnic lunches at the various tables, and people walking their dogs and fishing.
The playground itself is small and sits directly in the sun with not much shade when the sun is high. As soon as we arrived, my daughter rushed to the playground, which was gated. I could easily spot the port-a-potty right outside the gated area.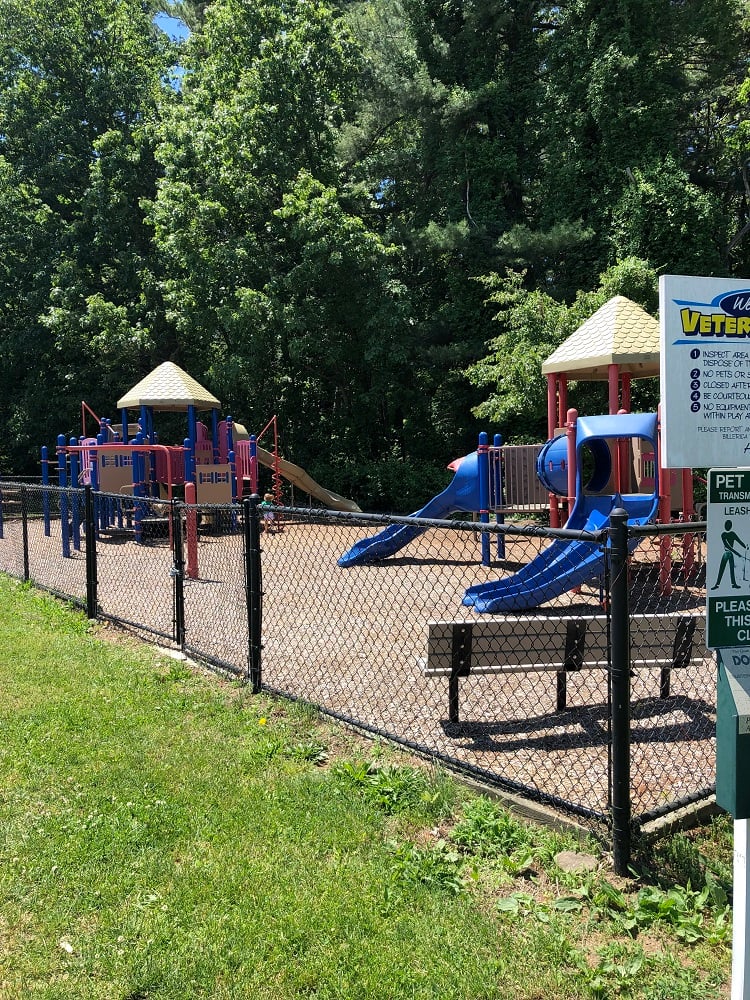 There are two play structures, one for toddlers and another for bigger kids. It has the standard structures with slides, monkey bars and different climbing surfaces.
One really cool feature on the toddler play structures was the alphabet in sign language on both sides of the play wall. This made for a neat moment with my daughter as we practiced saying "Hi" to each other using sign language.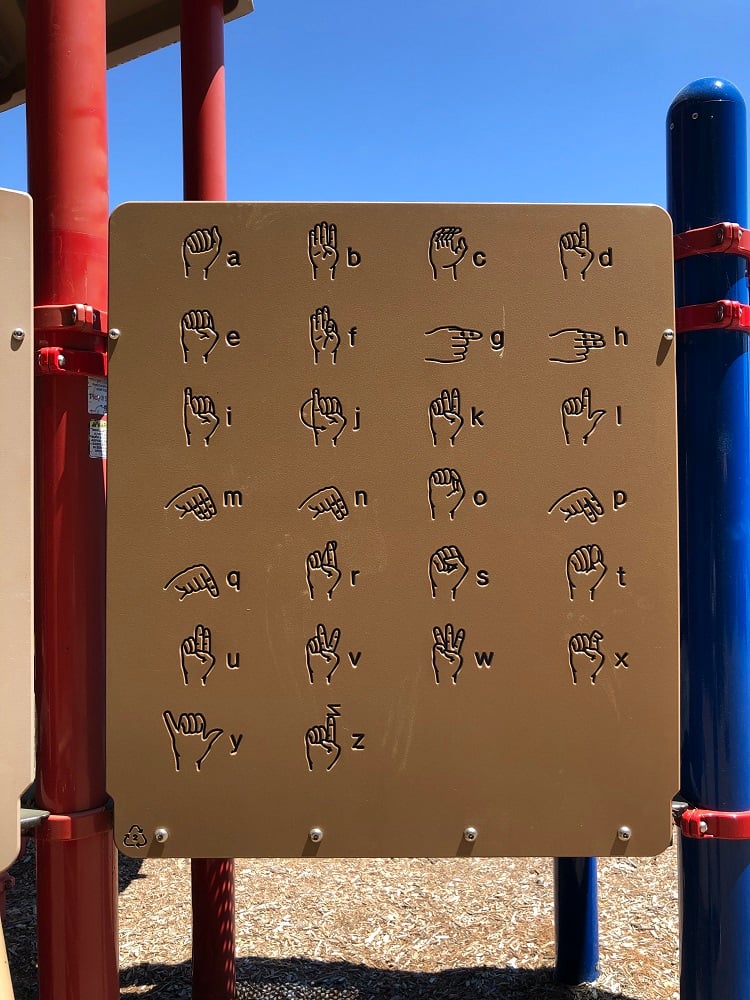 The slides were a little too hot, but that was our fault for going at noon. One downfall of the playground is there were no swings. Nonetheless, my daughter still enjoyed playing and checking out a new place.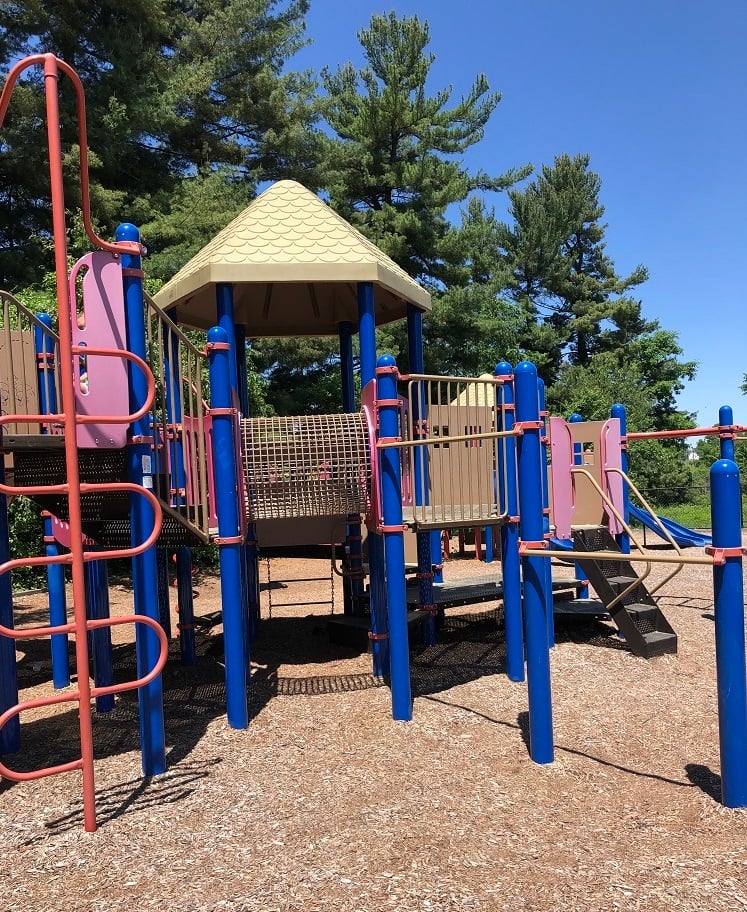 There are two picnic tables right outside the gated playground. If you pack your own lunch, it's the perfect place to sit as the tables are nicely situated in the shade. Just remember this playground is carry in, carry out.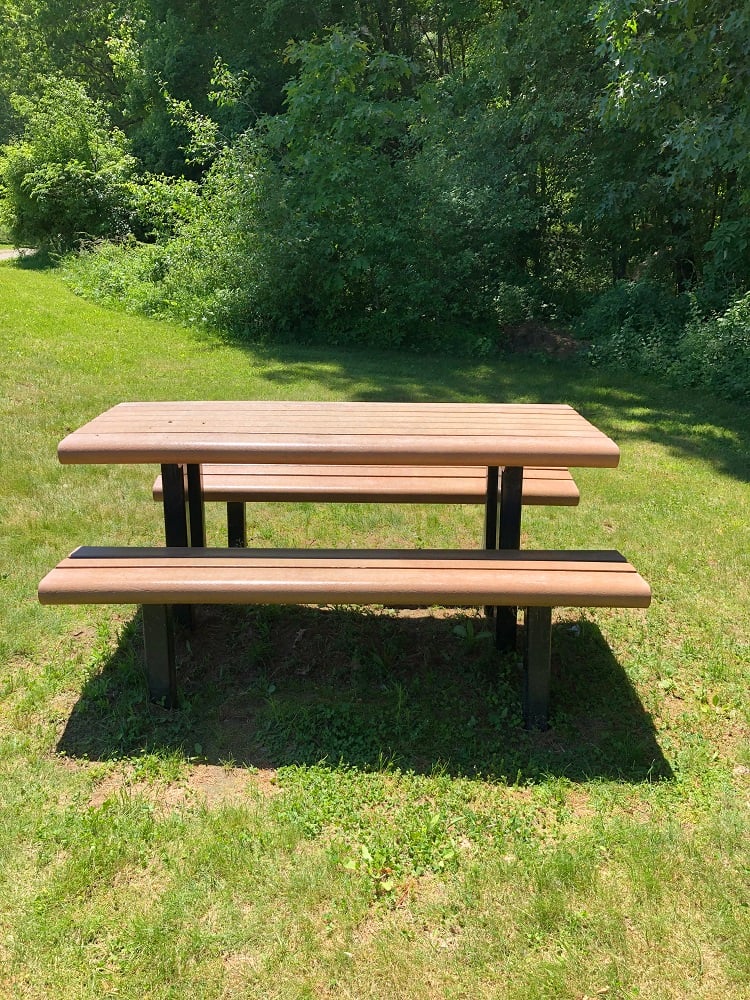 The playground is set back by the soccer fields, which makes for quiet and remote scenery. It was a nice change, as you could not hear the sounds of cars while we played. Also adding to the peacefulness was that we had the playground to ourselves! It's a hidden gem.
In conclusion, the park has tons to do and we will certainly be back to take advantage of the 5 miles of walking trails. This place is worth a visit, especially if you plan on enjoying the amenities.
Editor's note: On late afternoons in the warm weather (usually Thursdays), you can also watch model plane enthusiasts fly their remote control planes, some very large, at the field close to the entrance.
Directions:
Use 270 Treble Cove Rd as your GPS destination. The entrance is across the street from the Middlesex Jail and House of Correction and features several tall flag poles and a small rotary. If you don't see the flag poles and rotary, you're at the wrong entrance! Continue on Treble Cove Rd until you see this entrance. Take the first right at the rotary and continue past the first parking lot. Once you come to a bigger lot, near a pond and a yellow car gate, park in this lot. You will see a paved road near the pond. Take this short walk and the playground will be on your right, just past the pond.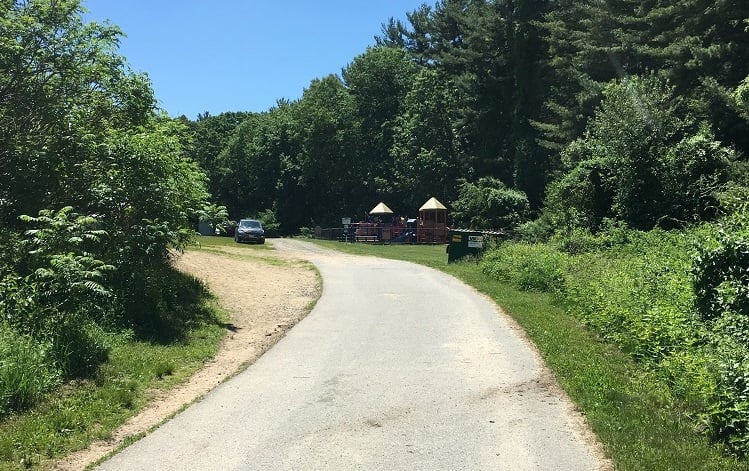 Paloma Standley is a Tewksbury mom of 2 daughters, ages 3 years and 7 months. She is a full time working mom and loves taking on new adventures with her kids. When not seeking out exciting new things to try with her kids, she loves hiking, cooking, biking and traveling.

Lowell Macaroni Kid is a free weekly newsletter and website focused on fun family events and information in the greater Lowell area.
We gather together all kinds of local family events and activities each week, and add useful information about classes, family-focused businesses, book and product reviews, recipes, crafts, school and camp guides and more. We proudly serve 9,500+ families in Lowell, Dracut, Chelmsford, Westford, Tyngsboro, Dunstable, Littleton, Groton, Billerica, Tewksbury, and other surrounding communities.
Subscribe today to receive our email newsletter every Wednesday!