Apple-picking season has begun! A New England Fall wouldn't be complete without spending an afternoon picking apples, taking a hay ride and enjoying cider doughnuts.
Below is a list of pick-your-own apple orchards in Greater Lowell and a bit south. (Note that we don't list orchards in the Methuen/Andover/Lawrence area -- please check out Macaroni Kid Merrimack Valley MA.)
Note: Please do not bring your dog to the orchards; they cannot allow dogs into the orchards and pumpkin fields per health regulations, so you'll have to leave your four-legged friend in the car.
---
Thanks to our sponsor Parlee Farms! The support of our sponsors allows us to continue to offer Lowell Macaroni KID at no cost to you!
Read more about Parlee Farms below and please support local farms like Parlee Farms whenever you can!
---
Apple Picking Tips from our friends at Parlee Farms:
Apple season in New England typically lasts from late-August through October, although the exact timeframe can vary year to year depending on that unpredictable New England weather. At Parlee Farms, we have over 20 acres of dwarf apple trees, with over 20 apple varieties grown. Dwarf trees produce large, flavorful apples that are easy for children to pick. Some of our most popular varieties are Honey Crisp, Gala, Macoun, MacIntosh, and Fuji. Please check out the PARLEE FARMS APPLE VARIETIES to see when your favorite apple is ready!
The key to picking apples is to Lift & Turn. Gently turn the apple upward until it releases. Do not yank or pull the apple as it causes nearby apples to fall, as well as damages the spur needed to form next year's apple. And always pick in designated rows, as not all apples ripen at the same time. We want you to only bring home the best apples!
To see what is available at your favorite farm, always check their website prior to visiting the farm. At Parlee Farms, we update TODAY'S FARM NEWS daily for picking
information and what else is available that day.
We hope to see you during apple picking season and would be honored to be a part of your fall family traditions!
---
DRACUT
Farmer Dave's
437 Parker Rd, Dracut
(978) 349-1952
Apple picking days and times vary throughout the season! Check their Facebook page for the latest details. Cider doughnuts and other baked items and corn maze. Hayrides available on weekends, with limited capacity (those who can walk to the orchard, about 5 minutes, are asked to walk to allow space for seniors, those with limited mobility, and families with young children).
GROTON
Autumn Hills Orchard
495 Chicopee Row, Groton
(978) 448-8388
Apple picking Wednesday through Sunday 10 AM to 4 PM. Bring your own bag (they have them, if needed) and pay by the pound. Check their Facebook page for daily updates.
HARVARD
Carlson Orchards
115 Oak Hill Rd
Harvard
(978) 456-3916
Pick-your-own apples begins the weekend after Labor Day. Apples, pumpkins and more will be available throughout the fall daily from 9 AM - 3 PM. Farm store with doughnuts, ice cream, baked goods, and fruit is open until 6 PM. Check the Pick Your Own page or their Facebook page for daily updates.
Doe Orchards
327 Ayer Rd
Harvard
(978) 772-4139
Pick-your-own apples Tuesday through Saturday from 9 AM - 4 PM. Note that days and hours may change as the Fall season starts; check their website or Facebook page for the latest updates. Farm stand with apples, honey, cider, maple syrup, and pumpkins.
Westward Orchards
178 Mass Ave
Harvard
(978) 456-8787
Pick your own apples daily 10 AM to 4 PM with orchard closing at 5pm, September 9 - October 15. Cider doughnuts and farm store (please wear masks inside). Check their Facebook page for the latest updates.
STOW
Carver Hill Orchard
101 Boxmill Rd, Stow
(978) 897-6117
Open Thursday through Sunday from 9 AM - 5 PM with last entry to the orchard at 4 PM. Pick-your-own apples, pumpkins and vegetables. Farm store with picked fruit, vegetables, cider, doughnuts, cheese and baked goods.
Honey Pot Hill Orchards
138 Sudbury Rd, Stow
(978) 562-5666
Pick-your-own apples 9 AM to 4 PM daily. Farm store with apples, corn, tomatoes, doughnuts, caramel apples, baked goods and ice cream. Hayrides available on weekends (extra fee). Large and small hedge mazes (additional cost) and farm animals. Check their Facebook page for the latest update and daily specials.
Shelburne Farm
106 West Acton Rd, Stow
(978) 897-9287
Pick-your-own apples and pumpkins 9 AM-5 PM daily. Farm animals, playgrounds, hay rides, farm store and cider doughnuts. Check their Facebook page for the latest update.
TYNGSBORO
Parlee Farms
95 Farwell Rd, Tyngsboro
(978) 649-3854
The Fall Season at Parlee Farms includes Pick-Your-Own Apples, Flowers and Pumpkins. Farmstand Hours are Tuesday-Sunday, Labor Day & Columbus Day
10am-5pm. Picking Hours vary by day and availability so always check TODAY'S FARM NEWS for the most current information.
Parlee Farms also offers hayrides to the orchard for apple pickers. If you are hungry, they offer delicious food options such as warm farm made apple crisp and hot apple cider at Mary's Country Kitchen, our Roasted Non-GMO Corn, and lunch offerings for the whole family at The Lunch Box. Don't forget to stop by Annie's Animal Barns to feed and pet the baby goats, sheep, and chickens and to play in the new 2,400 square foot Sandbox!
WESTFORD
Drew Farm
31 Tadmuck Rd, Westford
(978) 807-0719
Pick your own apples opens in early September. Open daily 10 AM-5 PM. Apples and pumpkins. Mums available for purchase. Cider doughnuts available for purchase weekends only.
Farmer Dave's at Hill Orchard
4 Hunt Rd, Westford
(978) 692-9894
Entrance to the pick-your-own orchard is off of Chamberlain Rd. Pick-your-own on weekends only from Labor Day to Halloween, 10 AM to 4 PM. Farmstand with picked fruit, honey, pies, vegetables, jams and more open from 10 AM-5 PM. Check their Facebook page for the latest updates, since hours/days can change.
Scanlan Orchards
22 Texas Rd, Westford
(978) 692-8881
This no-frills orchard is open weekends from 9 AM to 6 PM Labor Day through late October. 26 varieties of apples are available.
Click this interactive map for locations, directions, etc.: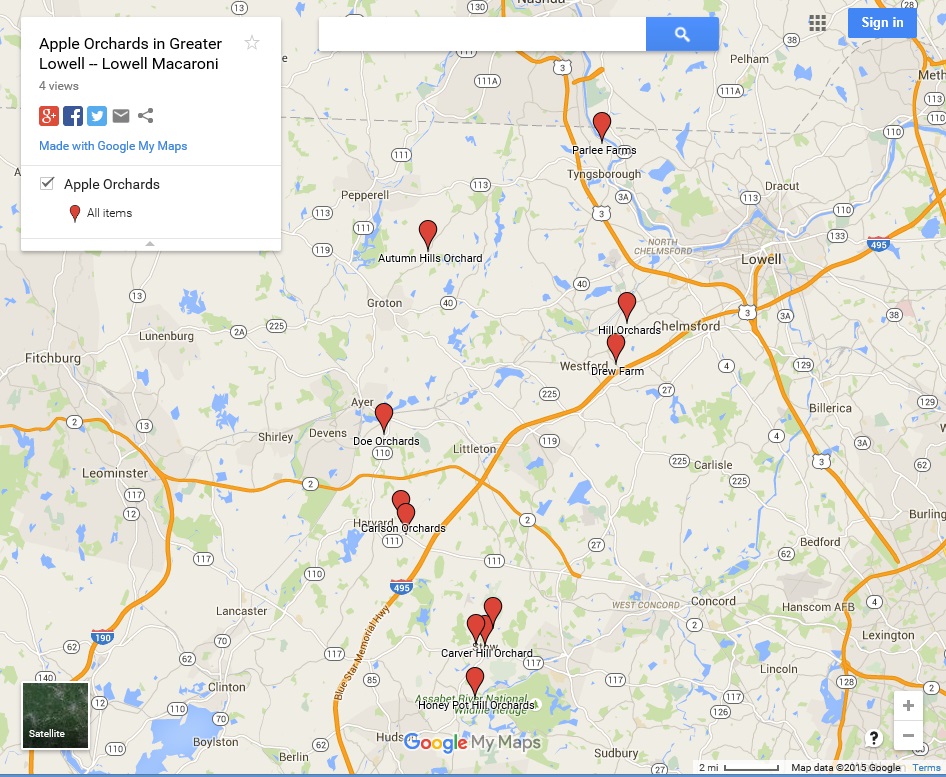 Lowell Macaroni Kid is a free weekly newsletter and website focused on fun family events and information in the greater Lowell area.
We gather together all kinds of local family events and activities each week, and add useful information about classes, family-focused businesses, book and product reviews, recipes, crafts, school and camp guides and more. We proudly serve 11,000+ families in Lowell, Dracut, Chelmsford, Westford, Tyngsboro, Dunstable, Littleton, Groton, Billerica, Tewksbury, and other surrounding communities.
Subscribe today to receive our email newsletter every Wednesday!
Follow us on Facebook, Instagram or Twitter.
Advertise with us to connect with thousands of local families!