Goldfish Swim School Classes to Get Your Child Water Ready

Jump Start Clinics: Swimming Classes for Kids to Quickly Teach Water Fundamentals

Goldfish Swim School's unique Jump Start Clinics are swim classes specially designed for families looking to get their kids water-ready in a hurry. They're a great way to introduce kids to the fundamentals of water safety, take full advantage of school vacations, or get peace-of-mind before a water-centric vacation.

Jump Start Clinics are one month of lessons in just one week and focus on everything from teaching the fundamentals of water safety to fine-tuning stroke technique. These clinics are so effective, we guarantee you'll see significant improvement in your child's swimming skills in just one week!

Jump Start Clinics will be offered at Goldfish Swim School – Westford this summer. Call us today to learn more!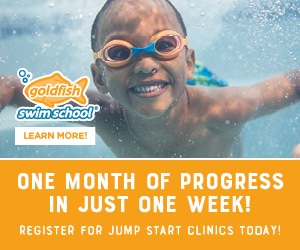 Goldfish Swim School - Westford
3 Lyberty Way
Westford MA 01886
978-799-2700
Email: swimwestford@goldfishss.com
Website: www.goldfishswimschool.com/westford
Facebook: http://www.facebook.com/goldfishwestford
Instagram: https://www.instagram.com/goldfish_westford/
Business Review
"My 4-year-old daughter has been attending the Goldfish Swim School for the past few years ... As a result of the wonderful environment at Goldfish – excellent &cheerful teachers, warm water & air, and positive, child-oriented atmosphere – she quickly learned to love the water and feel entirely at home in the pool..." – Lisa Ferris
"We have two children at Goldfish and they absolutely love it! The instructors have shown true, genuine compassion with our children and are dedicated to their growth with each lesson." –Troy and Jacqueline Bergman
"Your staff members have consistently demonstrated kindness, thoughtfulness and an excellence in swimming instruction I would recommend your school to anyone interested in not only teaching their children how to swim but also to be safe in the water!" –Susan Pepper