College for Kids provides children with an exciting range of unique opportunities to explore careers, gain new knowledge, develop new skills, meet new friends, and boost self-confidence. Our programs provide students with a safe and exciting place to learn on the Bedford and Lowell campuses using the vast open spaces in Bedford and the cultural and ethnic resources in Lowell. Please note the recommended ages of each program carefully when registering your child as they range between 8 - 17. All of our programs are staffed by experienced educators at the K-12 level, college faculty or subject matter experts working in a particular field.
College for Teens is a new career exploration program where high school youth are able to better explore different career paths and earn college credit along the way. These career exploration opportunities are in the form of noncredit youth academies in the areas of Music, Writing, Business and Engineering. Upon successful completion of the noncredit academy you are eligible to earn one college credit. The youth academies are 15 hours in length and provide direct, hands on learning experiences with an MCC Faculty member. Students will be able to experience being on a college campus, connecting with a Faculty member and a program of study that will get youth one step closer to submitting that college application and creating next steps after graduation.
Classes run July 10 - August 17, with registration beginning February 1st. We have full day and half day programs that vary in times. Full day programs run Monday-Thursday from 9am-4:00pm. Half day programs run Monday-Thursday from 9am-12pm and 1pm-4pm. If you choose two half day programs to make a full day, your child can stay on campus for lunch in between the two sessions. Please note: the MCC Theatre programs are Monday-Friday.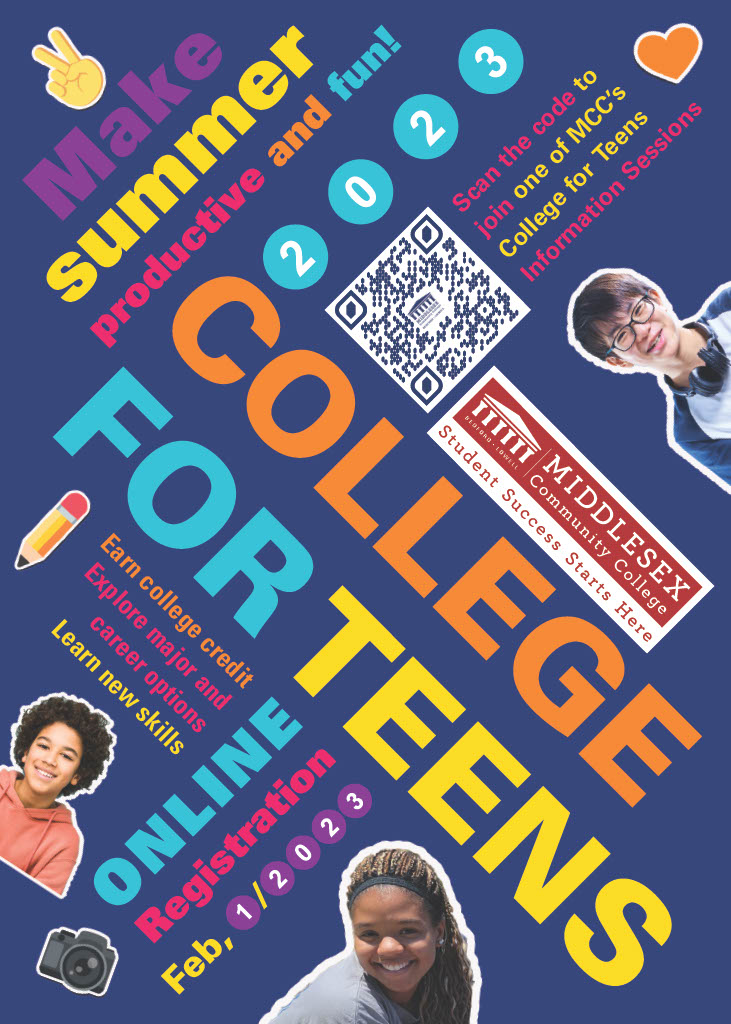 For more information or questions call Program Manager Lauren Ellis, 781-280-3669 or 3663 or via email at: ellisl@middlesex.mass.edu
Middlesex Community College's College for Kids
591 Springs Rd
Bedford MA 01730
781-280-3669
Website: https://www.middlesex.mass.edu/collegeforkids/summer.aspx
Email: ellisl@middlesex.mass.edu
Facebook: https://www.facebook.com/MCCcollegeforkids/
Business Review
Kids in the College for Kid's virtual photography class taught by Tory Wesnofske gained photo-taking skills and confidence in their weeklong online class.
"The camp session was such a nice way to spend a few days during this stay-at-home summer," said Alexis Treat ­– from Chelmsford – whose daughter Caroline took the class. "I was so impressed by what she was able to do after just a few hours! We appreciate how well the sessions were structured and how it allowed for both instruction and hands-on time. We also appreciated how it allowed her to participate and engage independently."
Alison Chase, from Ayer, said her daughter Jaiya has now become the family photographer after taking the class.
"I think the format worked great," Chase said. "She normally hates Zoom classes but she was totally engaged with Tory and her instruction. And it was great seeing her come up with her 'photoshoots.' Kudos to Tory for how she kept the 'open door' on Zoom throughout the day and gave them a good amount of time to go to work on the assignments. She was busy, engaged and happy all day! And now she has a great base of learning that I know she'll keep working on – especially in this time of pandemic when she cannot be doing a lot of her other normal activities."