Good Pickin' Farm in Westford is now enrolling for their summer camp programs!
Good Pickin' Farm is dedicated to providing experiential learning for children, teens and adults through farming, arts, workshops, classes and recreation in an environment where nature and people connect.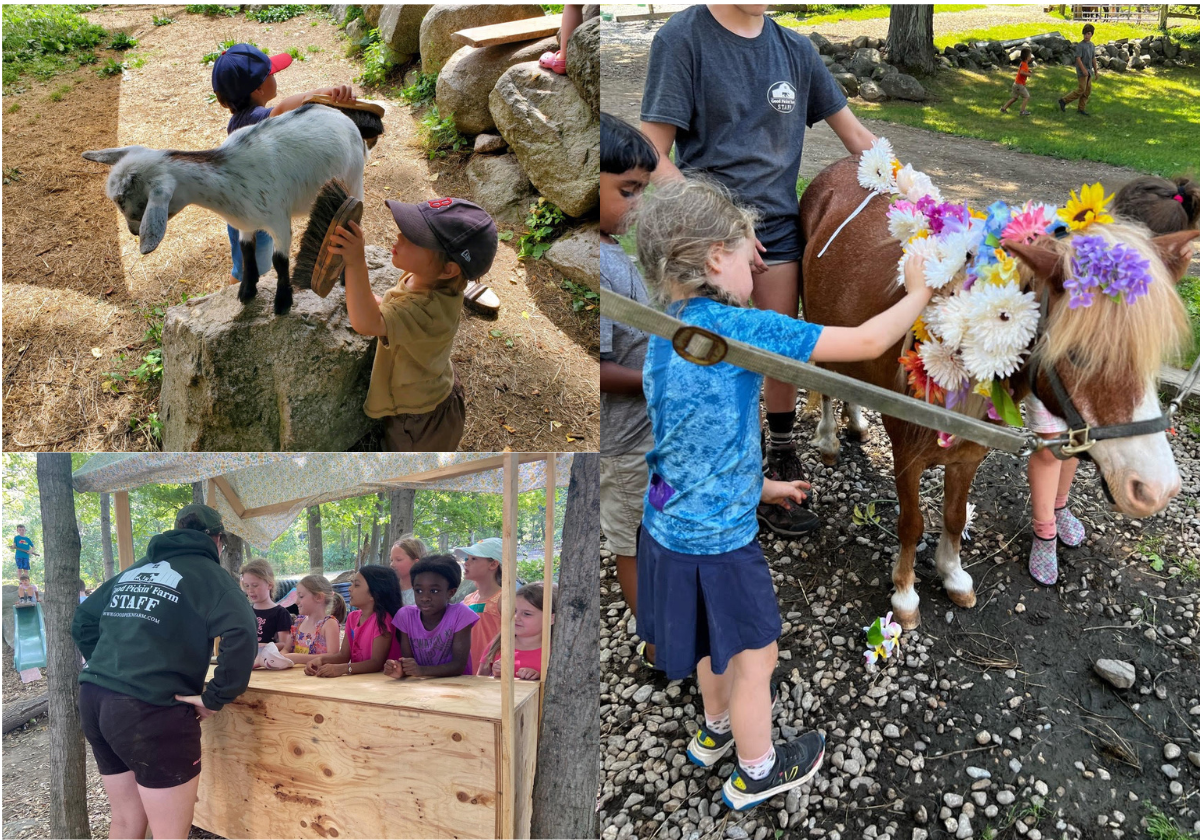 Their nine-week summer day camp program is full of nature, hikes, animals, crafts, gardening, games, music and so much more! Summer Farm Day Camp is for children ages 6-13 with extended day available. Every day, campers will have the opportunity to spend time with the animals, craft, play games, go on hikes or water play. Each week will have a different theme, to keep things fun and exciting for kiddos who are here all summer long!
They also offer Sprouts Farm Camp! A Summer Farm Camp for children ages 3-5 years old. Sprouts Farm Cap is 9 weeks of farm fun, with half day and full day options available.
Camp will include animals, nature exploration, farming, crafts, games, music and gardening. Each week has a different theme and focus but all weeks include tons of fun and games!
In addition, Good Pickin' Farm offers several specialty camps:
Summer Pony Camp: Horse around with us in a fun-packed week of all-things horses. In addition to riding and grooming, campers will learn about horses, horse care, nutrition, breeds, how a barn operates, and so much more! We have planned lots crafts, games, and activities all about ponies and horses. Meet new friends who share a love of all things ponies and horses!
Theater Camp: For kids who love music, art, theater and dance! This camp is run by Dr. Tish Anne Kilgore, former Director of the Center Stage School of Performing Arts in Westford. Theater Camp runs July 17-28 from 9am-1pm. After Theater Camp, children have the option of joining our Summer Farm Camp as well!
Art Camps: Two art camps with be offered this summer - Camping Camp! June 26-30 from 9am-3pm for grades 3-6 & Craft and Play Restaurant Camp, August 14-18 9am-1pm ages 6-8.
Lowell Macaroni Kid is a free weekly newsletter and website focused on fun family events and information in the greater Lowell area.
We gather together all kinds of local family events and activities each week, and add useful information about classes, family-focused businesses, book and product reviews, recipes, crafts, school and camp guides and more. We proudly serve 10,000+ families in Lowell, Dracut, Chelmsford, Westford, Tyngsboro, Dunstable, Littleton, Groton, Billerica, Tewksbury, and other surrounding communities.
Subscribe today to receive our email newsletter every Wednesday!
Follow us on Facebook, Instagram or Twitter.
Advertise with us to connect with thousands of local families!