Baby, it's cold outside. Do your kids want to play in the snow but you'd prefer to stay warm inside? Get everything you need to create a Winter Wonderland-themed sensory bin that is sure to keep little fingers busy and growing minds engaged.
If you're ready to get down to business with this simple DIY Winter Wonderland sensory bin, get your supplies from a discount or craft store. I paid just about $6 for our supplies!
The great thing about sensory bins is you can substitute anything we have here for supplies you already have on hand or add more for variety and interest for your kids.
Please use caution when making sensory bins with smaller objects and always supervise, as some children are likely to put items in their mouths.
I liked this particular simple combo for our Winter Wonderland sensory bin because of the fun reaction my kids had to the glass gems and the foam beads.
Supplies:
A large shallow bin or container
Colored foam beads in white and blue
Blue and/or white glass accent gems
Blue and silver sequins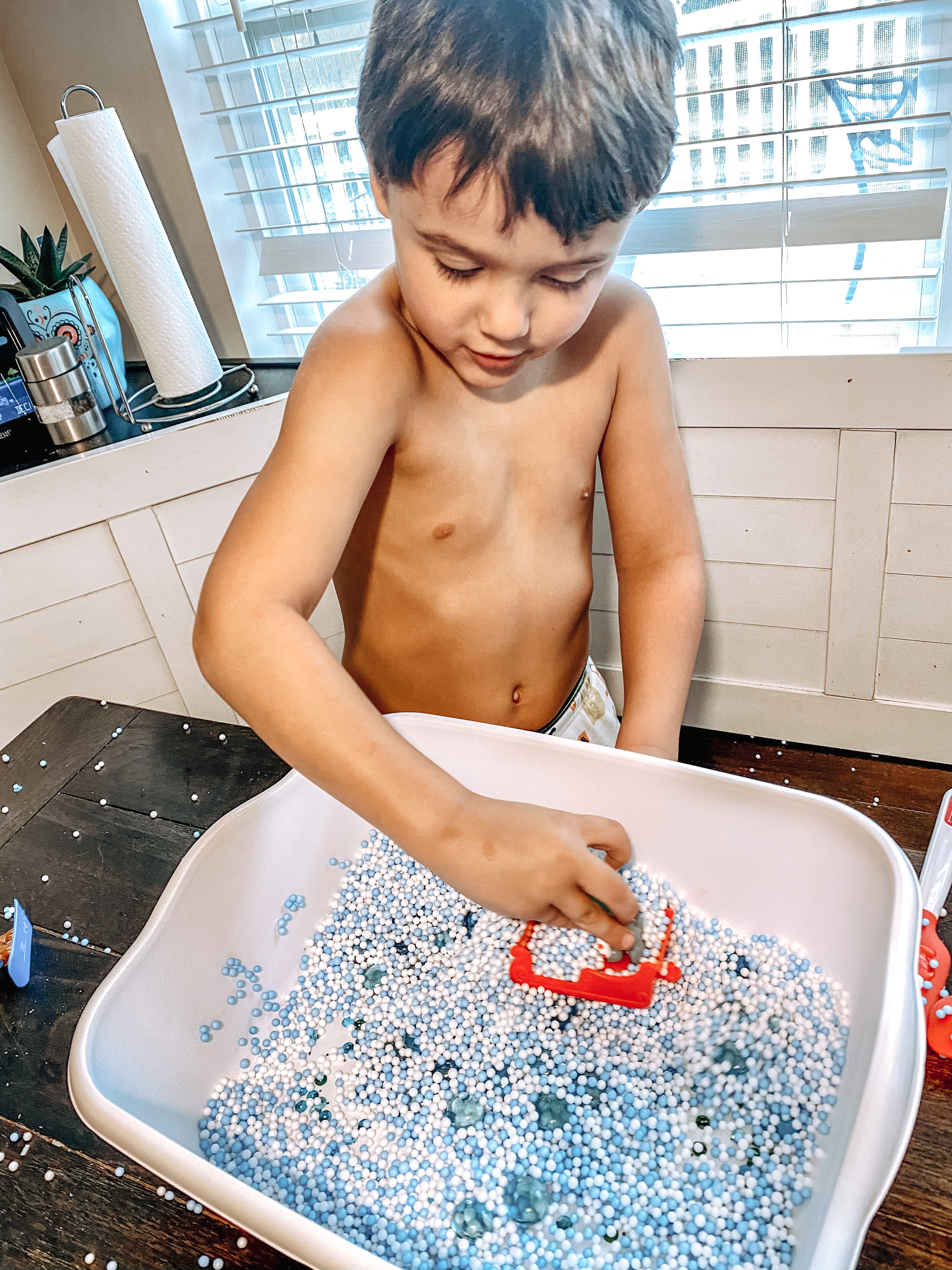 Simply dump the supplies in the bin one by one. Let your kiddo mix it all up and have at it! Have them bring some of their favorite toys to dig or play with in the bin.
Please note that because this particular bin calls for foam balls, there is a bit of a static component to it, making the balls cling slightly to objects and skin. My kids think that this is the coolest, but others may not. Because of that property, when you move the glass beads in the bin, they practically glide across the foam beads as if they were moving by themselves. This makes for a great conversation and my kids just love watching them move about the bin as they play.
We do have a rule when we play with our bins that everything must stay in the bin (no throwing, banging, high dumping, etc.) and most times we have minimal cleanup. This bin got a little out of hand only because the snowboarder was pulling some gnarly tricks in the snow that resulted in my little man holding him above his head. Couple that with the fact that the foam is so light, it was a bit harder to contain.
This bin lasted us for over an hour of entertainment day one and we continued to pull it out over the course of 2 weeks. At that point, we recycled our bin contents into a glass mason jar and turned it into a snow globe!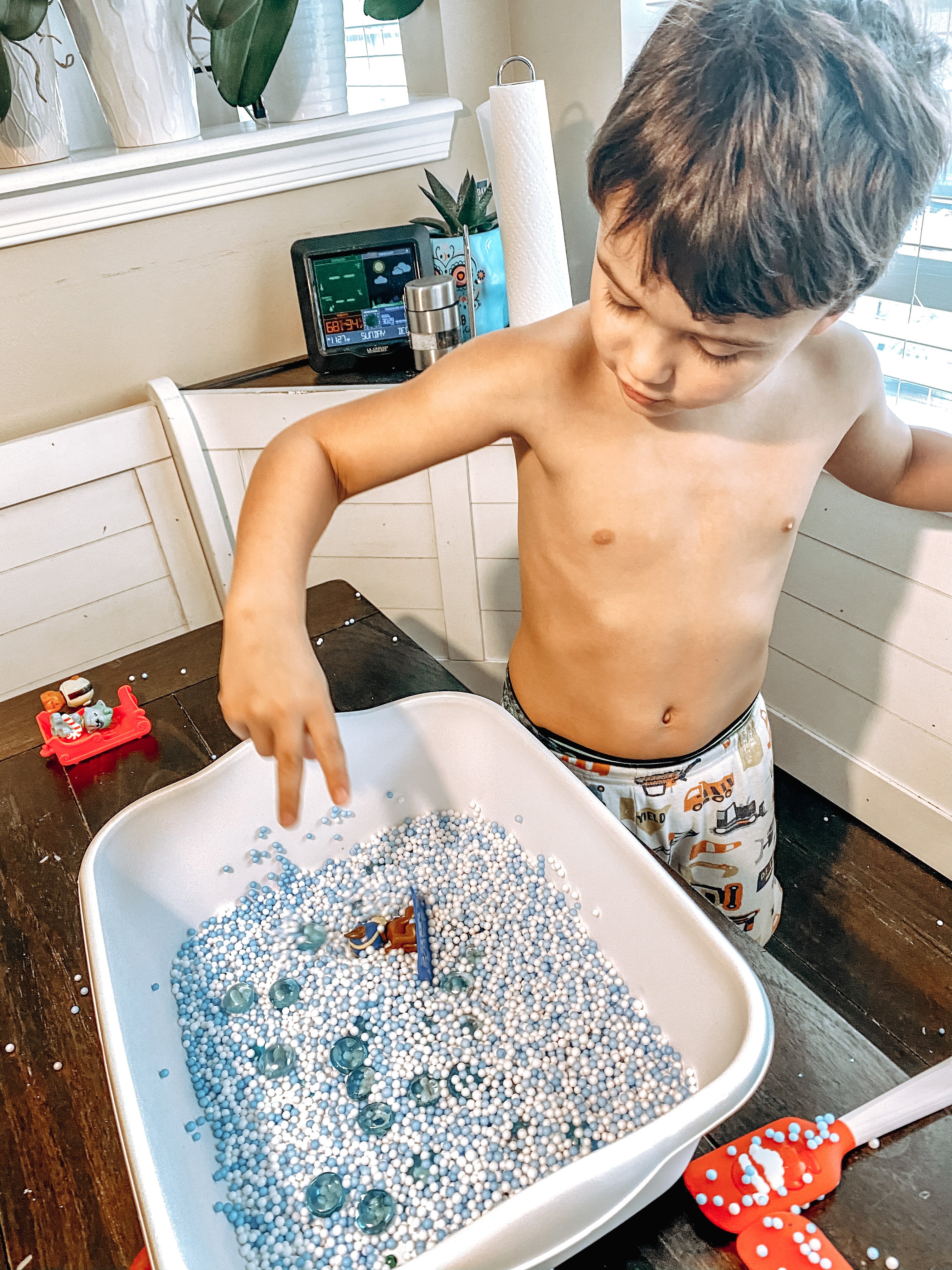 Want even more sensory bin ideas for fun on indoor days? Don't miss these other stories by Emily Papa:
Emily Papa is the publisher of Macaroni KID South Hills, Pa.
Lowell Macaroni Kid is a free weekly newsletter and website focused on fun family events and information in the greater Lowell area.
We gather together all kinds of local family events and activities each week, and add useful information about classes, family-focused businesses, book and product reviews, recipes, crafts, school and camp guides and more. We proudly serve 10,000+ families in Lowell, Dracut, Chelmsford, Westford, Tyngsboro, Dunstable, Littleton, Groton, Billerica, Tewksbury, and other surrounding communities.
Subscribe today to receive our email newsletter every Wednesday!
Follow us on Facebook, Instagram or Twitter.
Advertise with us to connect with thousands of local families!