Stacy C. of Dracut is our winner!
Cirque du Soleil's stunning new show, CRYSTAL, is coming to Boston University's Agganis Arena on June 1-12, 2022. CRYSTAL is Cirque du Soleil's 42nd creation and is the first show that combines skating and acrobatics. Watch as world-class ice skaters and acrobats challenge the laws of gravity with amazing acrobatics. In CRYSTAL, acrobats and skaters perform acrobatics on the ice and in the air, seamlessly combining multiple disciplines together. Synchronized skating, freestyle figures, and extreme skating are featured alongside circus disciplines such as swinging trapeze, aerial straps, and hand to hand. Figure skaters learned how to be pushers on Chinese poles, while circus artists learned how to skate, and extreme skaters learned figure skating moves.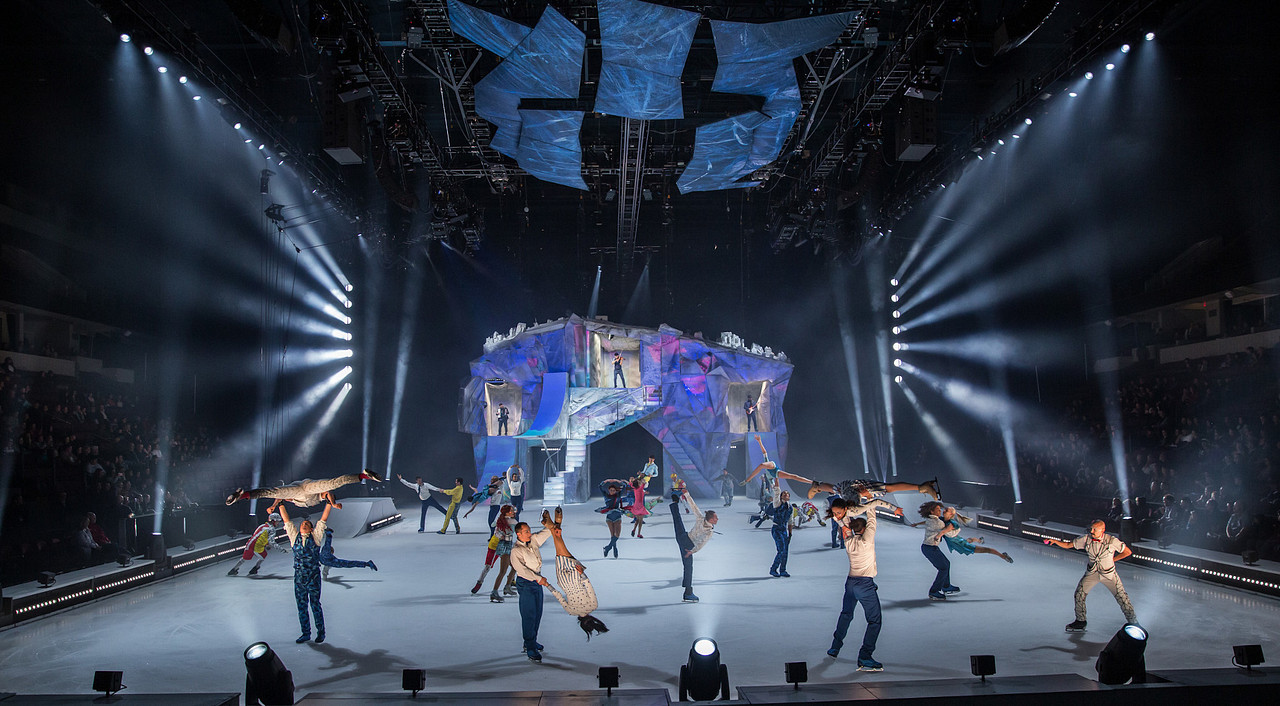 Follow the lead character Crystal on an exhilarating tale of self-discovery as she dives into a world of her own imagination. Crystal is a creative young woman who feels misunderstood and out of sync with herself. To escape her reality, she ventures out on a frozen pond and falls through the ice into an upside world. In this underwater world of her imagination she sees a reflection of herself. Her reflection guides her through this new world and wakes her up to her own creativity. As Crystal continues her journey she turns her quirks into creativity with the stroke of her pen. With this newfound power, she is able to find her true self and journey back up to reality.
CRYSTAL invites you to suspend reality and glide into a world that springs to colorful life with astounding visual projections and a soundtrack that seamlessly blends popular music with the signature sound of Cirque du Soleil. CRYSTAL is suitable for all ages. The show CRYSTAL is about looking at things from fresh
angles, peeking through the veneer of everyday life, reframing one's daily reality to see what one might have missed. Sometimes the only way to appreciate things is to look at them sideways. Discovering one's individuality and uniqueness requires venturing out on thin ice.
Showtimes:
Wednesday, June 1 7:30 PM
Thursday, June 2 7:30 PM
Friday, June 3 7:30 PM
Saturday, June 4 3:30 PM and 7:30 PM
Sunday, June 5 1:00 PM, 5:00 PM and 7:30 PM
Tuesday, June 7 7:30 PM
Wednesday, June 8 7:30 PM
Thursday, June 9 7:30 PM
Friday, June 10 7:30 PM
Saturday, June 11 3:30 PM and 7:30 PM
Sunday, June 12 1:00 PM and 5:00 PM
Boston University Agganis Arena
925 Commonwealth Avenue
Boston MA 02215
See directions and parking information
TICKET GIVEAWAY!
Enter our giveaway for four tickets to the Wednesday, June 1, 2022 7:30 PM performance of Cirque du Soleil's CRYSTAL. Use the giveaway form below or go to the giveaway form HERE.
This giveaway is open until 6 PM on Sunday, May 29, 2022. A winner will be chosen randomly and notified via email on Sunday May 29 2022. The winner will have 24 hours to respond and claim the prize; if we don't hear from you, we will pick a new winner, so please check your email!
For two bonus entries, like and comment on our Facebook giveaway post about the giveaway!
NO PURCHASE NECESSARY TO ENTER OR WIN. A PURCHASE OF ANY KIND WILL NOT INCREASE YOUR CHANCES OF WINNING. ODDS OF WINNING WILL DEPEND ON THE TOTAL NUMBER OF ENTRIES RECEIVED. VOID WHERE PROHIBITED BY LAW. DO NOT ENTER THIS SWEEPSTAKES IF YOU ARE NOT EIGHTEEN (18) YEARS OF AGE OR OLDER AS OF May 25, 2022 AND A LEGAL RESIDENT OF AND CURRENTLY RESIDING IN ONE OF THE FIFTY (50) UNITED STATES OR THE DISTRICT OF COLUMBIA. MUST BE A MACARONI KID SUBSCRIBER TO WIN. CLICK HERE FOR COMPLETE RULES.
Lowell Macaroni Kid is a free weekly newsletter and website focused on fun family events and information in the greater Lowell area.
We gather together all kinds of local family events and activities each week, and add useful information about classes, family-focused businesses, book and product reviews, recipes, crafts, school and camp guides and more. We proudly serve 10,000+ families in Lowell, Dracut, Chelmsford, Westford, Tyngsboro, Dunstable, Littleton, Groton, Billerica, Tewksbury, and other surrounding communities.
Subscribe today to receive our email newsletter every Wednesday!
Follow us on Facebook, Instagram or Twitter.
Advertise with us to connect with thousands of local families!