---
Mattress Giveaway!
If you're feeling a lucky, you can enter here for a chance to win a LUXI (or a refund of your purchase price if you recently completed your purchase) valued at up to $1,700!
---
Twenty years. We'd been sleeping on the same mattress for 20 years. In 2002, we decided to splurge on a king size mattress. We invested in a typical pillow-top mattress with springs, and it was OK. Good enough, I guess. Then the kids came along – ugh, the tossing and turning when you're pregnant and uncomfortable! – and replacing our mattress was never important. Who has time to go to the mattress store and try them out? Plus, kids are expensive and there wasn't spare income to replace something that was acceptable.
---
The author received a LUXI 3-in-1 Adjustable Mattress in order to facilitate this review. All thoughts and opinions expressed are her own.
---
A few years ago, we added a foam topper after enjoying one at an AirBNB and were able to make our mattress last a few more years. But, with aches and pains now in my lower back and hips, and lots of tossing and turning, I knew we needed to bite the bullet and invest in a new, modern mattress. We had so many needs though:
Our bedroom is on the second floor, up a set of stairs with a 90-degree angle. When we moved in, the movers actually had to use a crank strap to fold our spring mattress completely in half to fit it up the stairs. That can't be good for the insides of a traditional mattress! How could we easily fit a new king mattress up our stairs?
I move from my back to my sides in my sleep and have some arthritis in my hips, so my mattress support needs vary. I always have a lot of trouble sleeping when I'm traveling – the hotel mattress makes my hips really hurt. It doesn't seem to matter if the mattress is firm or soft. There's just something about the flatness or its surface hammocking like a banana in the wrong direction. How do I find a mattress that will work for different sleeping positions and fit my shape correctly?
My husband moves all over the place when he sleeps. Stomach, back, sides. Plus he's quite a bit heavier than I am. How do we get different kinds of support for each of us?
I'm really short (5'1") and my current mattress plus the topper is so high that I literally have to CLIMB onto my bed. It would be so nice to have something that's not so high and that doesn't require special-order sheets with a 21" fitted pocket.
If you know me, you know I'm a recycling nut and hate to be wasteful. Before I get rid of anything, I check for possible donation and recycling options. I was worried about what would happen if we didn't like the new mattress we selected. If we tried it for a while and decided not to keep it, would the mattress store just send it to a landfill? I found that so disturbing that I just kept putting off mattress shopping.
Then I received a LUXI 3-in-1 Adjustable Mattress to evaluate, and all our needs were answered!
No worries at all with our angled staircase; the LUXI 3-in-1 Adjustable Mattress arrived compressed and rolled in a box about 20 inches wide x 20 inches deep x 40 inches tall, which easily fit up the stairs. The UPS driver brought it right to my door, and my sons and I moved it upstairs. Setting up the mattress was simple – and kind of fun!
The LUXI 3-in-1 Adjustable Mattress has so many neat features that answered our needs for a variety of support and sleep positions. My favorite is that the internal layers of the mattress can be easily flipped to achieve different levels of firmness.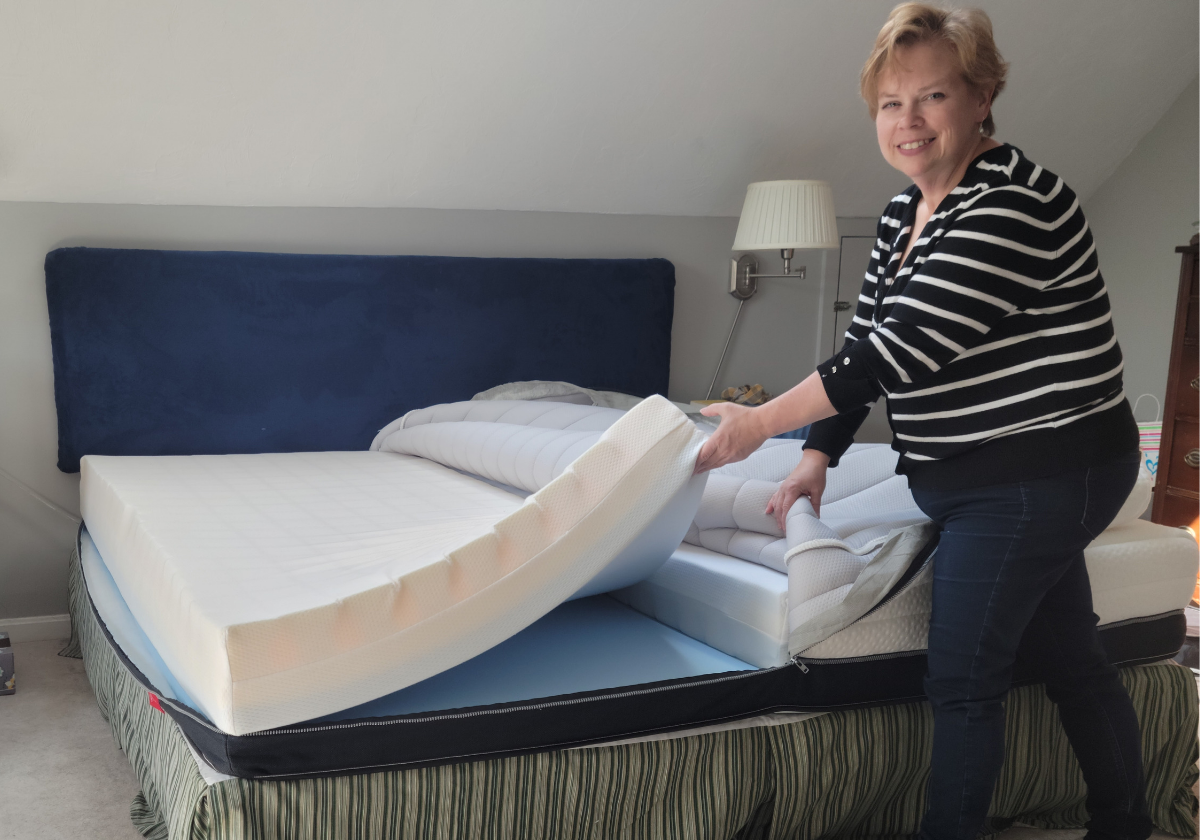 I need a slightly softer feel due to sleeping on my side and the arthritis in my hips, so I unzipped the mattress cover and flipped my half of the top layer so that it has more give. (There are separate sets of internal layers on left and right so you can customize each side.) My husband doesn't need that, so his side is medium firmness – love this flexibility. Look how easy it is to flip the inner layer!
LUXI has made it easy to replace the various parts of the mattress too, which makes me so happy, as someone who is really concerned about recycling and reducing our trash. Spilled some juice on the cover? It can be replaced. One side getting more wear and tear due to a person's heavier weight? Just replace one or more of the inner layers on that side. With this great replacement program, this mattress will last us for many, many years. It might even be considered the first forever mattress as the cover will likely never wear out. The insides can just be replaced at a significant cost savings in the future.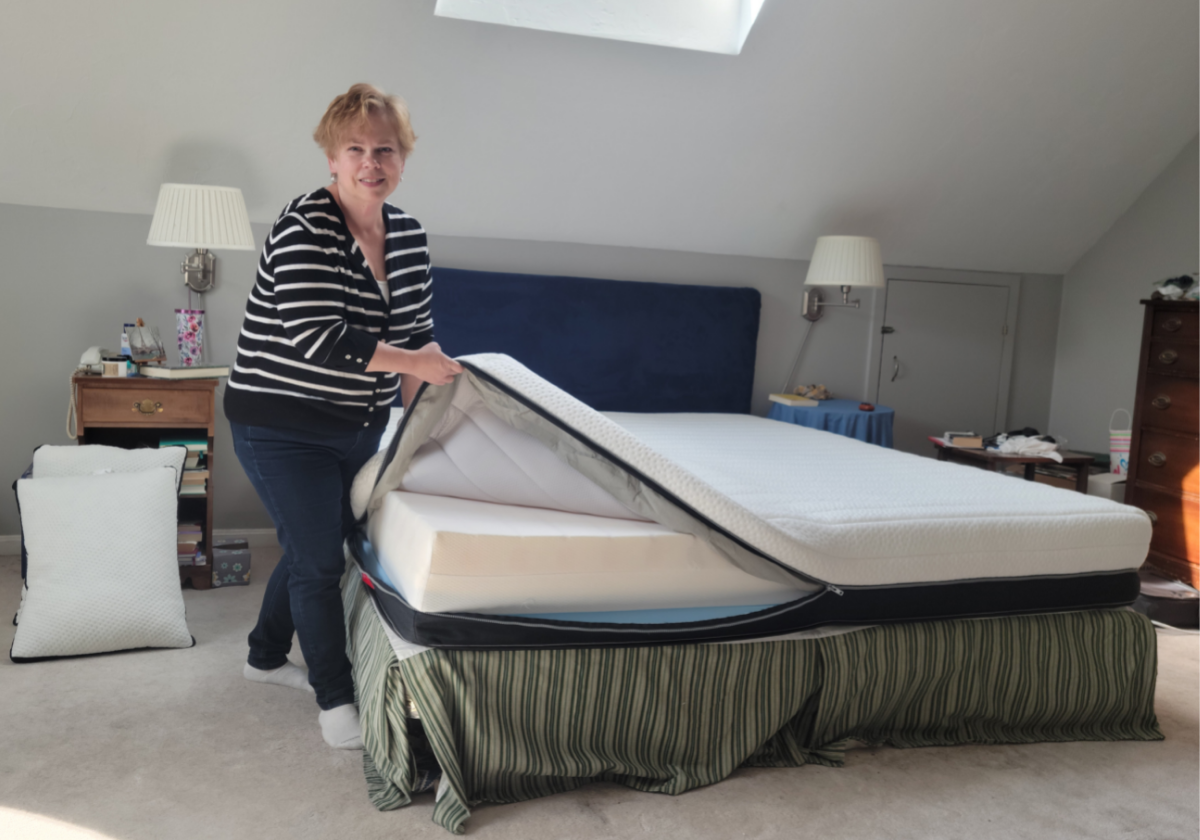 And, most importantly, it's so comfortable! I don't have to climb into my bed anymore; it's a normal, manageable height. My back, hips and shoulders are supported, with some give. It's just the right temperature – no overheating – due to the air channels in the foam layer. I've wrestled with insomnia for years, but I've gotten a great night's sleep every night on our LUXI mattress.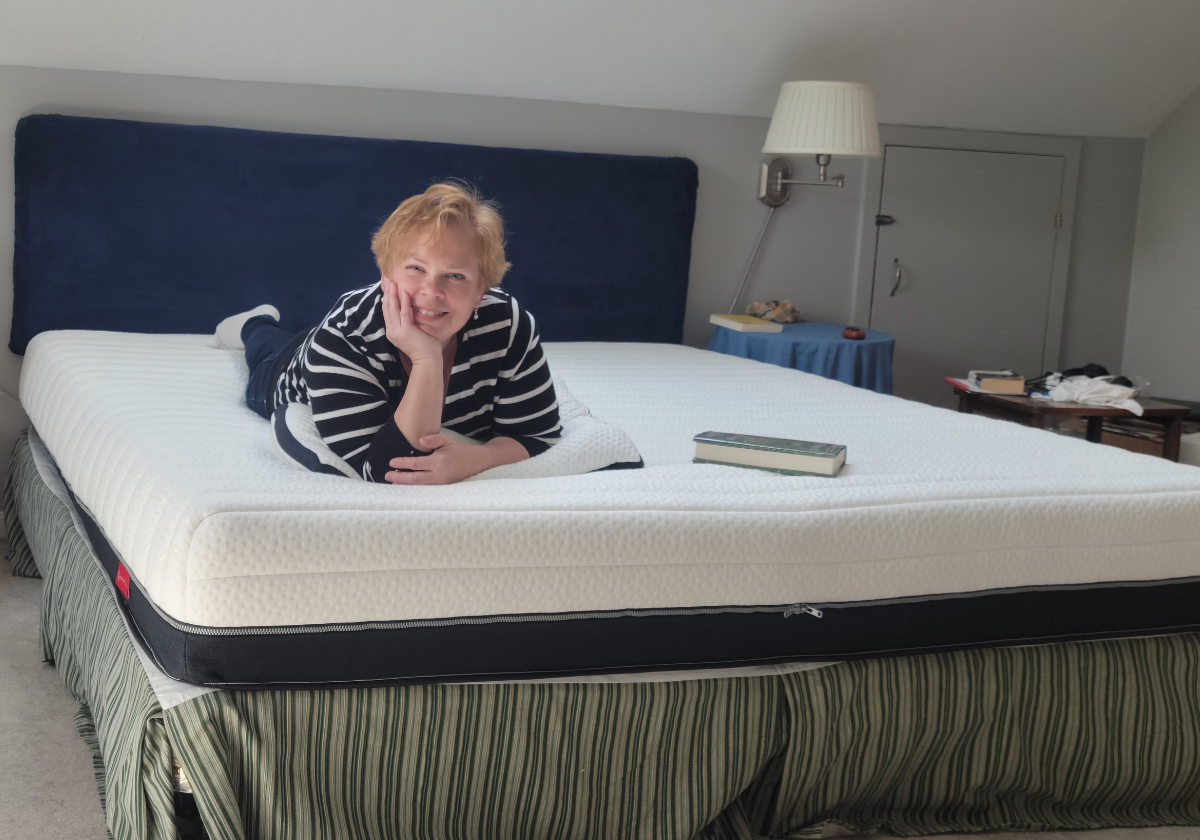 I have to say, I'm glad we didn't have to visit a mattress store. The LUXI 3-in-1 Adjustable Mattress is easily purchased online and then adjusted at home to make it perfect for your needs.
Use The Discount Code MKS500 For a Total Discount Of $500 Off All LUXI 3-in-1 Mattresses + Free Performance Pillows + Free Shipping + Free Sleep Trial
Order the LUXI 3-in-1 Adjustable Mattress now!


---
Lowell Macaroni Kid is a free weekly newsletter and website focused on fun family events and information in the greater Lowell area.
We gather together all kinds of local family events and activities each week, and add useful information about classes, family-focused businesses, book and product reviews, recipes, crafts, school and camp guides and more. We proudly serve 10,000+ families in Lowell, Dracut, Chelmsford, Westford, Tyngsboro, Dunstable, Littleton, Groton, Billerica, Tewksbury, and other surrounding communities.
Subscribe today to receive our email newsletter every Wednesday!
Follow us on Facebook, Instagram or Twitter.
Advertise with us to connect with thousands of local families!