The perfect surprise -- gift cards from Altitude Trampoline Park!
Kids will jump for joy when they receive a gift card for jump time at Altitude! Jumping at Altitude is indoor, active fun that will keep kids moving all season long. Stop in and purchase gift cards today and take advantage of these great deals!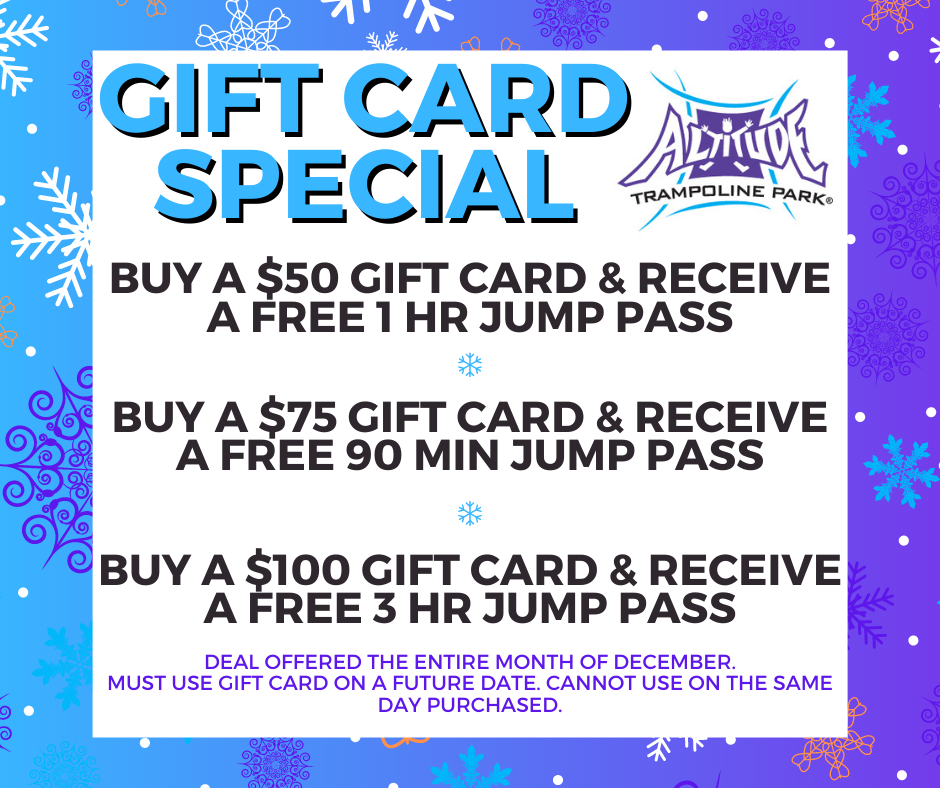 Use gift cards for:
Make memories with the kids ~ bring them for jumping fun after school or on the weekend! Regular jumping rates are $18 for a 1-hour jump, $22 for 90 minutes, and $26 for 2 hours. Waiver and jumping socks ($3.50 at the desk) are required. Be sure to check Altitude's Facebook page for special discounts!
Kids age 2 to 6 and their grown-ups will have a blast at Altitude, and we're here to make sure they're safe while doing so. A section of our Main Court is sectioned off exclusively for our littlest jumpers, and older jumpers are not permitted in that area. Toddler Time happens each weekday from 10 AM to 2 PM, except school vacation weeks and holidays.
Toddler Time is available at a discounted hourly rate of $12 for one hour or $14 for two hours. Adult caregivers can join them for only $4 more! Trampoline grip socks are required and can be purchased for $3.50 at the front counter. No additional discounts or coupons may be used during Toddler Time.
Looking for a more sensory-friendly environment? Why not JUMP-start the day at Altitude? Every Saturday, Altitude is sensory-friendly from 9 to 10 AM. We do not schedule birthday parties then, the music level is reduced, and we bring out the inflatable toys! Sensory-Friendly Saturday is $12 from 9-10 AM.
Bring on the weekend FUN with your friends at Altitude! On Friday and Saturday nights, jump for 2 hours from 6 to 8 PM for only $16 per jumper. Not valid during school vacation weeks and holidays.
Gift cards must be purchased at Altitude Trampoline Park in Billerica and cannot be used on the day of purchase. This gift card deal is offered for the entire month of December 2021.


700 Boston Rd (Rt. 3A)
Billerica MA 01821
(978) 663-5867
Email: info@altitudeparkma.com
Website: https://www.altitudeparkma.com/
Facebook: https://www.facebook.com/AltitudeTrampolineParkBillericaMA/