On Wednesday and Thursday mornings from August 4 to September 2, the Lowell Summer Music Series presents the Free Fun for Kids shows at Boarding House Park, 40 French St, in Lowell. Every show includes free healthy snacks and free books from Project LEARN at 10 AM and a free stage show starting at 11 AM.
All the details are available online at the Lowell Summer Music Series website.
On Wednesday August 4th, enjoy a free show by Curious Creatures!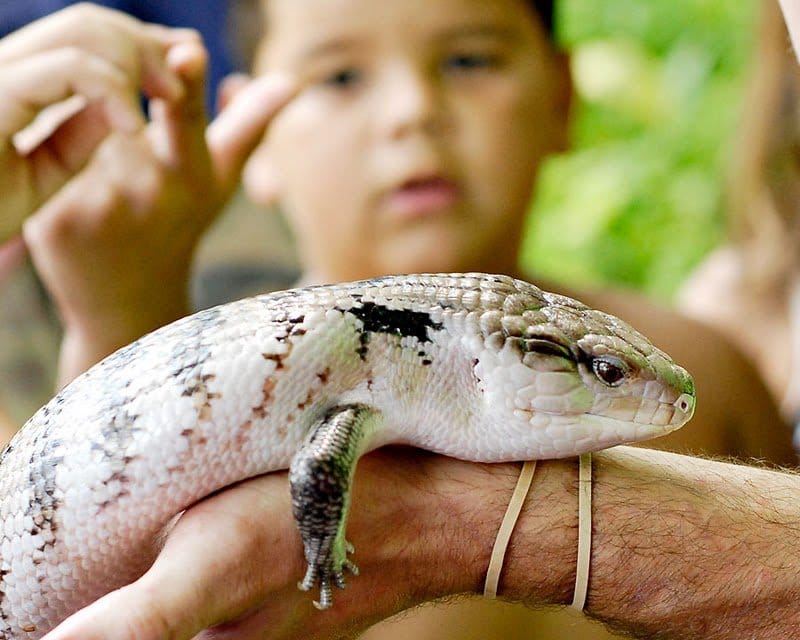 A hands-on interactive live animal show for all ages! Get up close and personal with exotic reptiles and other animals from around the world, including a turtle, snakes, lizards, an alligator, and sometimes a skunk! This engaging show lets parents and children alike handle the animals, while educating in the process. Sponsored by Acre Family Child Care and Washington Savings Bank.
On Thursday August 5th, enjoy a free concert by Matt Heaton & The Outside Toys!

Matt Heaton believes music for kids can be entertaining for both children AND parents. His songs are a mix of rockabilly, surf, American roots and Irish traditional music, delivered with a wry sense of humor and a sincere sense of fun. Whether you call it children's music, family music, kindie or toddlerbilly it's sure to please listeners of all ages. Sponsored by Community Teamwork, Inc.
Use "75 John St, Lowell" on your GPS to go right to the parking garage that's across the street from Boarding House Park. Parking is only $4-5, depending on how long you stay.
If rain or excessive heat is likely on any of the show days, the snacks and performance will be relocated to the Lowell Memorial Auditorium at 50 East Merrimack Street. A message will be posted by 9:30 AM on the day of the show on the Lowell Summer Music Series website and on the info line 978-970-5200 with the details of any weather-related relocation.
COVID Precautions:
Unvaccinated visitors are advised to wear masks, both for outdoor and indoor performances, if you are unable to social distance.
Please spread out and keep space between groups
Please remove your own trash
Trolley rides will not be provided this year
Please see full precautions on the Free Fun for Kids website
Lowell Macaroni Kid is a free weekly newsletter and website focused on fun family events and information in the greater Lowell area.
We gather together all kinds of local family events and activities each week, and add useful information about classes, family-focused businesses, book and product reviews, recipes, crafts, school and camp guides and more. We proudly serve 11,000+ families in Lowell, Dracut, Chelmsford, Westford, Tyngsboro, Dunstable, Littleton, Groton, Billerica, Tewksbury, and other surrounding communities.
Subscribe today to receive our email newsletter every Wednesday!
Follow us on Facebook, Instagram or Twitter.
Advertise with us to connect with thousands of local families!