Give your budding engineer and LEGO® enthusiast a summer to remember at Snapology!
In Snapology's summer programs (located in North Chelmsford, MA and off-site in Townsend and Lunenburg), kids can learn how to design a video game, create a stop-motion animation video, build and program robotic machines, and more!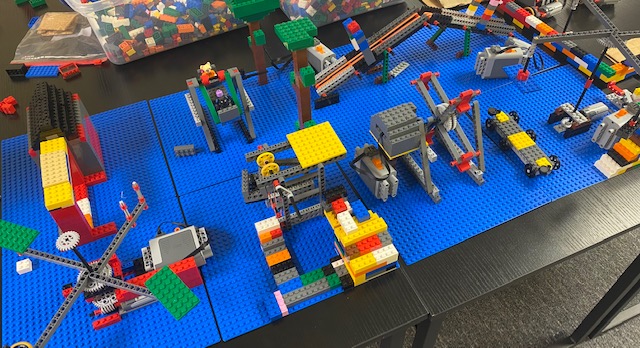 We have options that fit every families' needs, including half-day (morning or afternoon) or full-day options. Sign up for one week, two weeks, or the entire summer! We can accommodate early drop-off and late pick-up, but program sizes are very limited and we only have a couple of slots remaining each week!
LEGO-Themed Programs:
Brick City: Throughout the week, your city planner will design their own environment with buildings, roads, and transportation. By the end of the week, we'll have a full urban sprawl in our halls at Snapology!
Superheroes: In this week-long summer program, design your own superhero using LEGO® bricks, create your own adventure and comic strip, and have a blast for the week as you create your own fantasy world of superheroes. What kind of super powers do you have? What adventures are you going on?
STEAM Programs:
Alternative Energy: In this week-long program, come build a solar-powered car, a windmill, a watermill, and more using LEGO® bricks. Build your engineering knowledge, save the planet, and have FUN building with LEGO® bricks all at the same time!
Animation Studio: In this summer program, come create amazing movies with stop motion animation using LEGO® bricks. Over the course of the week, children will produce their very own movie complete with dialogue, sound effects, and more. Movies are uploaded to a secure site for family and friends to see how cool they are!
Video Game Design: Learn the basics of video game design and build your own in this week-long summer program. Each day, we will add new components to our video game, including building scenes, characters, enemies, and other aesthetic features!
Robotics Programs:
Combat Robotics: Do you think you can build the strongest and most agile robot? Can your robot win a head-to-head combat mission? In this week-long program, come learn engineering strategies for building sturdy structures using LEGO® bricks and then apply that knowledge to build a robot for friendly competition. You'll have a blast as you play robot football and complete the hoop challenge in this fun robotics program.
Game Bots: Calling all gamers! Have a blast creating robotic games each day while learning about robotics. Students will learn about gear ratio, sensors, programming, and pulleys as they create new fun games to play each day. Whether creating a robotic hockey player, pinball machine, or a ring toss, your child is sure to have fun building, learning, and playing.
See Summer Day Programs for more programs.
Registration is limited and class sizes are small! Lead instructors are licensed educators (or eligible for licensure) in Massachusetts.
Summer programs are filling up FAST!! A few spots remain.
Check out our 5-star Google Reviews and then use MACKID15 to enroll and receive 15% off summer programs!
Questions? Text/Call Chris Urbine, Owner & Program Director at 978-400-2239 or e-mail curbine@snapology.com.

15 Tyngsboro Rd Unit 6A
Chelmsford MA 01863
(978) 400-2239
Website ~ Facebook ~ Instagram ~ Send Email