Christmas magic is only a click away! We're giving Santa a hand by creating FREE personalized, printable letters for your children. Just click the image below, fill out the form, and in a few minutes, you'll have a PDF letter from Santa in your email inbox. Note that the data requested is used only to make your child's letter feel more personal. Last names and addresses are not requested and the data is not used for any other purpose, except to subscribe you to our local Macaroni KID newsletter. Please email me at barbarae@macaronikid.com if you have any questions or concerns!

With official Santa Claus letterhead and a thoughtful, kind message for each child, this free personalized note will bring Christmas magic into your home. Even better, for families with more than one child, we've created THREE different versions of Santa's letter so that each child has a fresh and different letter. You'll receive the links to the forms for Versions 2 and 3 when you submit the form for your first letter. Here's a glimpse of what your personalized letter will look like.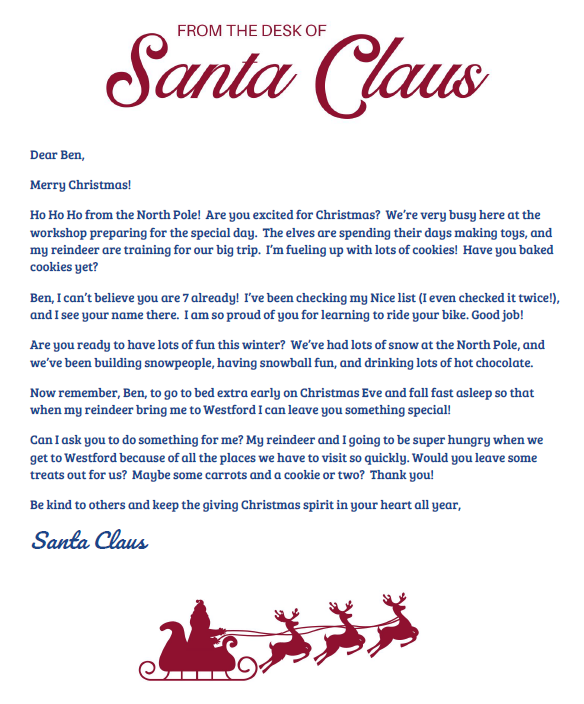 Be sure to share this with your friends, family and neighbors so they can get their free personalized letters from Santa too! To share this article, just use the pink links for Facebook, Twitter, Pinterest or email at the top, above the main image.
Lowell Macaroni Kid is a free weekly newsletter and website focused on fun family events and information in the greater Lowell area.
We gather together all kinds of local family events and activities each week, and add useful information about classes, family-focused businesses, book and product reviews, recipes, crafts, school and camp guides and more. We proudly serve 11,000+ families in Lowell, Dracut, Chelmsford, Westford, Tyngsboro, Dunstable, Littleton, Groton, Billerica, Tewksbury, and other surrounding communities.
Subscribe today to receive our email newsletter every Wednesday!
Follow us on Facebook, Instagram or Twitter.
Advertise with us to connect with thousands of local families!