It is holiday time! For my family the holiday season kicks off early the week or two before Thanksgiving. We clean, decorate, gather ingredients and bake! We prepare our favorite pies, cakes and cookies. We have Hood Golden Eggnog in the fridge ready to pour - we love how rich and creamy and delicious it is. It has become part of our family tradition and is my family's favorite.
One of our favorite holiday desserts is cheesecake. Pumpkin Spice Eggnog Cheesecake, using Hood Eggnog's blend of extra creamy milk, sugared yolks and spices, is the perfect recipe for the season and the perfect dessert to round out our Thanksgiving feast.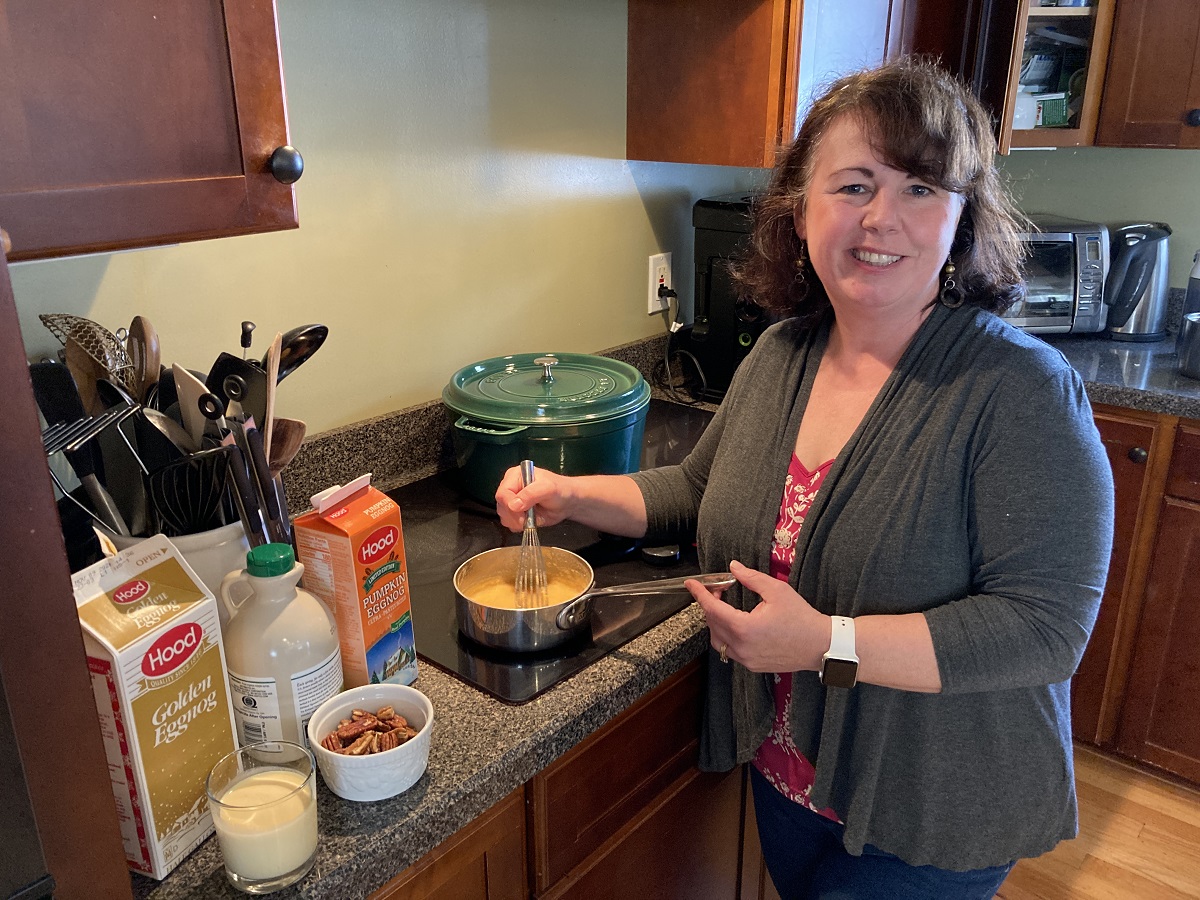 This delicious recipe uses Hood Pumpkin Eggnog.
Ingredients:
3 8-oz. packages cream cheese, cut into thirds, softened
16 oz. Hood Sour Cream
1 1/4 cups sugar
3 Tbsp cornstarch
3/4 tsp ground cinnamon
1/2 tsp ground nutmeg
1/4 tsp ground cloves
4 large eggs
1/2 cup Hood® Pumpkin Eggnog
1 tsp pure vanilla extract
1 15-oz. can pumpkin puree (not pie filling)
Maple-Pecan Glaze:
1 cup Hood Pumpkin Eggnog
1 tsp pure maple syrup
1/2 cup chopped pecans
Directions:
Preheat oven to 350˚F. Grease the bottom and sides of a 10" springform pan.
For the crust, combine cookie crumbs and butter in a small mixing bowl. Press the mixture evenly into the bottom of the springform pan.
For the cheesecake, place cream cheese, sour cream, sugar, cornstarch, cinnamon, nutmeg, and cloves in a large bowl of an electric mixer and beat on high speed until smooth. Add eggs one at a time, beating on a low speed until the mixture is smooth. Add the Eggnog, vanilla extract, and pumpkin and continue to beat until completely combined.
Fill prepared pan with batter within an inch of the top of the pan. Bake for 60 to 65 minutes or until just firm in the center. Remove from oven and cool on a wire rack. Refrigerate the cheesecake for at least two hours before serving.
To make the glaze, combine the Hood Pumpkin Eggnog and maple syrup in a small saucepan over medium-high heat. Bring mixture to a boil and boil rapidly for about 15 minutes or until slightly thickened, stirring occasionally. Stir in chopped pecans. Transfer to a heat-safe container. Cover and chill until ready to serve cheesecake. Stir well before serving.
To serve, spoon Maple Pecan Glaze on top of cheesecake.
Another favorite holiday tradition is bringing the family to enjoy the Boston Ballet's "The Nutcracker" on Thanksgiving weekend. This year, due to COVID Boston Ballet will not be able to perform their beloved classic in the traditional sense. However, for the first time, Boston Ballet is broadcasting the production of "The Nutcracker: At Home for the Holidays." in partnership with NBC/Universal, providing every family in the region free access to the 60 minute "Nutcracker Suite." What a wonderful way to make this beautiful classic holiday ballet accessible and inclusive for all!
When and where to watch:
Saturday, November 28 at 7 pm the premier on NBC Boston
Sunday, November 29 at 7 pm on NECN
Saturday, December 5 at 11 am on Telemundo
Comcast On-Demand throughout the holiday season.
This year, take the time and make the holidays extra special. Home is where the heart is and where you can create special memories with your family. Cozy up on the couch, play a game, do a puzzle and enjoy traditions like Hood Golden Eggnog and "The Nutcracker." It's all about building those wonderful memories.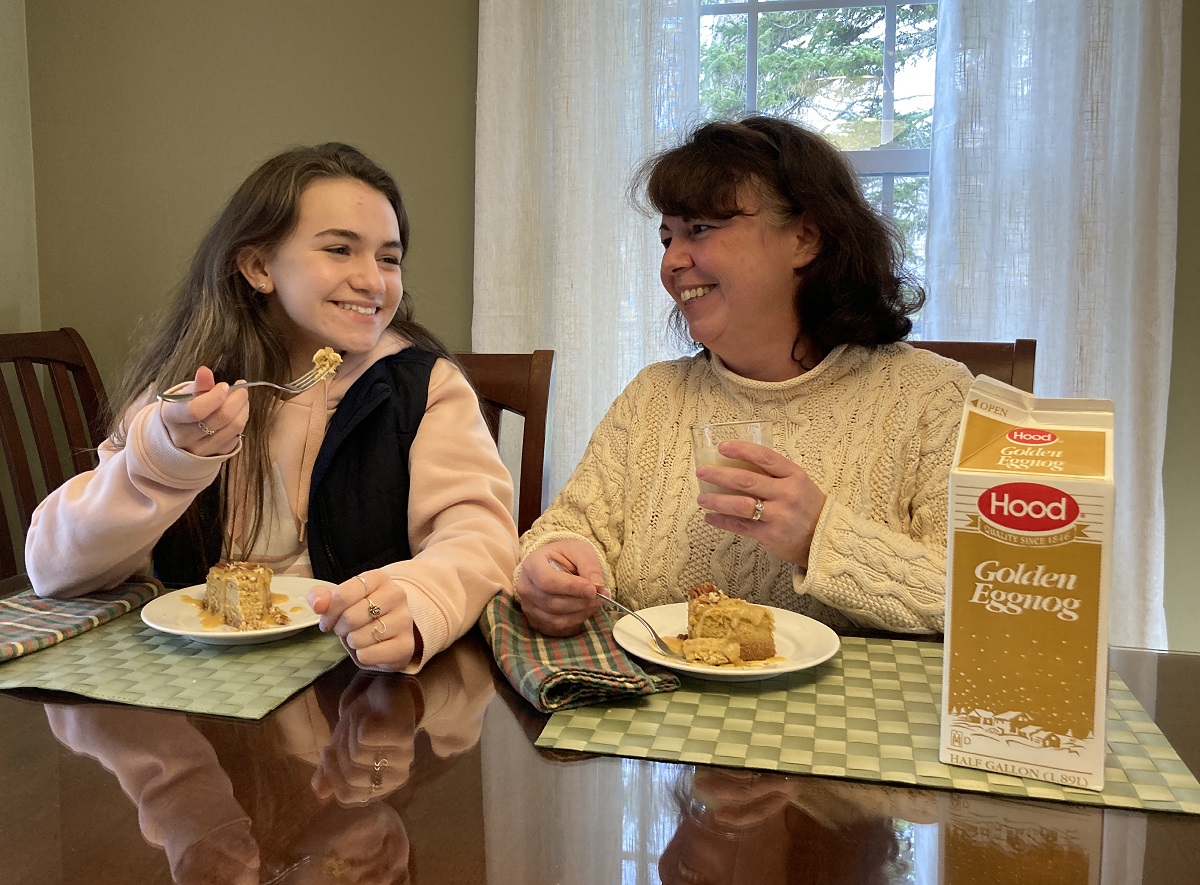 I received compensation and product for the purpose of this review. All opinions are my own.