When I mention desserts at my house, you can imagine how excited my kids get. Each year for my daughter's birthday I try to think of ways to make her birthday breakfast special, fun and unique. DELIGHTED BY Desserts dessert hummus spread was an easy choice to help me achieve that goal this year.
DELIGHTED BY Desserts offers 7 super fun flavors: Edible Brownie Batter, Dreamy Vanilla Bean, Snickerdoodle Cookie, Mint Chocolate Fudge, Key Lime Pie, Red Velvet Cake Batter, and Pumpkin Pie.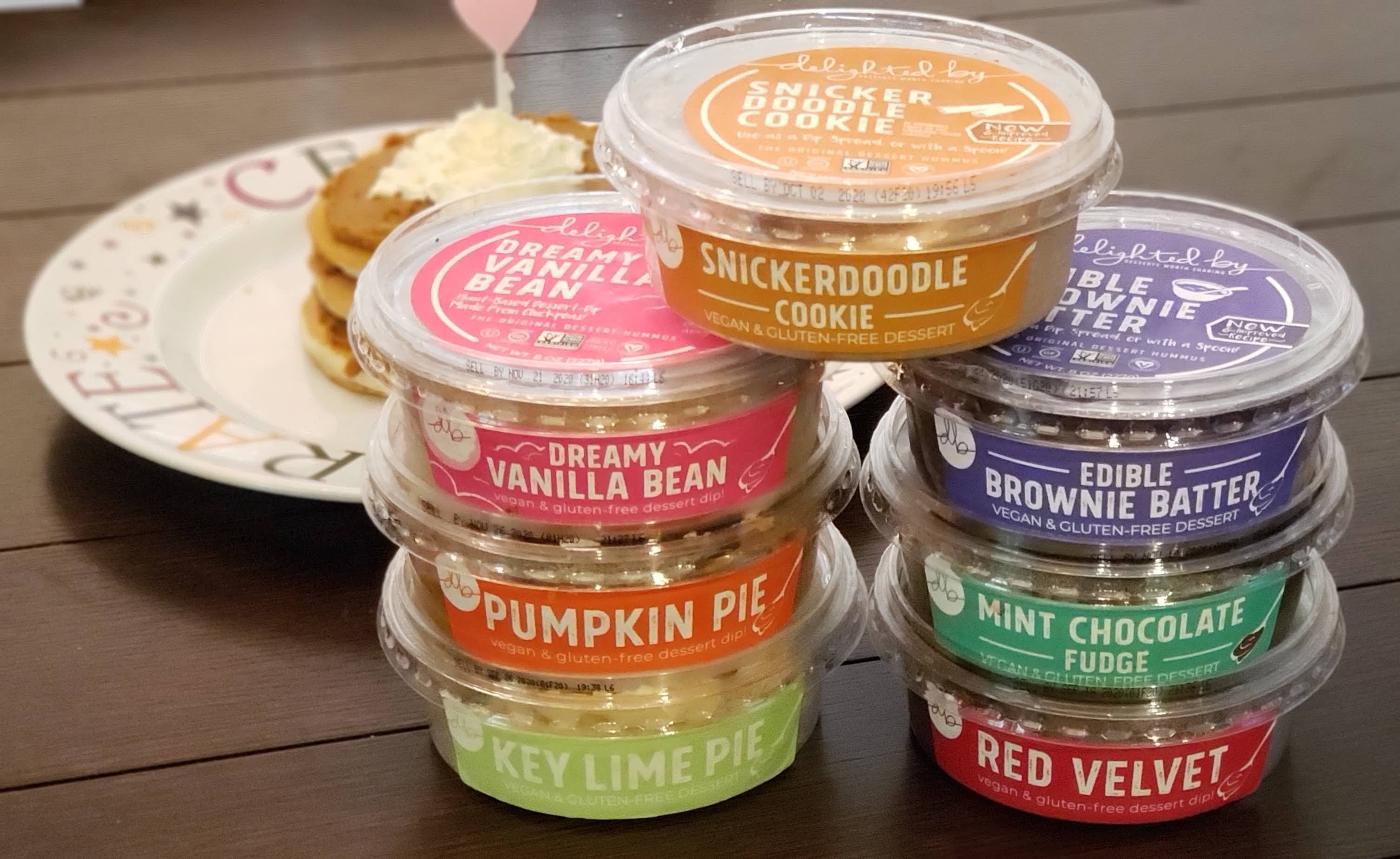 I made Pumpkin Pie pancakes, taking homemade pancakes topped with Pumpkin Pie dessert hummus spread and a squirt of whipped cream. Then, we added a birthday candle sang happy birthday at breakfast.
Here I stuffed strawberries with the Edible Brownie Batter & Mint Chocolate Fudge varieties and topped with a dollop of whipped cream to enjoy with her birthday pancakes.
The Key Lime Pie dessert cups were a snack hit, midday, after doing some school work. I created these by topping crushed graham crackers with DELIGHTED BY Desserts Key Lime Pie dessert hummus spread and added a dollop of whipped cream! You could even top with fresh fruit too!
These vegan, gluten-free, non-gmo, and kid-approved dessert spreads are made to enjoy as a dip, spread, or with a spoon! I mean what teen wouldn't love to eat straight from the tub?? As a healthy alternative to processed desserts; DELIGHTED BY Desserts are low in sugar and have just 5 grams or less of sugar per serving. These delicious spreads are sure to curb your sweet tooth as well! So go ahead, grab a tub and dig in!
I was able to find DELIGHTED BY Desserts in my local Target store in the refrigerated deli section, near the fresh produce.
DELIGHTED BY Desserts are also available at select Costco and Whole Foods stores. You can check HERE to find DELIGHTED BY Desserts at your local stores.
Did you know, DELIGHTED BY Desserts are not only kid-approved, but also:
Non-GMO Project Verified
Certified Gluten-Free
Certified Vegan
Certified Kosher
Dairy-Free
Nut Free
Free From Top 8 Allergens* (*Red Velvet Cake Batter contains coconut)
In addition to enjoying DELIGHTED BY Desserts at home, I was honored to show some love and appreciation by dropping off some tubs to a group of amazing local preschool teachers. I think we can all agree teachers deserve some extra love and appreciation right now.
GET SOCIAL with DELIGHTED BY Desserts on Facebook , Instagram, Twitter, and Pinterest
Disclaimer: I participated in this review and snack creation with DELIGHTED BY Desserts hummus dessert spreads as part of a campaign. I have been compensated for this review. All thoughts and opinions are my own.