See below for an art project for the kids and a giveaway!
There are so many front line workers who deserve our huge thanks during these difficult days. The team at my local Walgreens here in Westford -- the pharmacists, clerks, cashiers, and managers -- has worked hard to keep the store well-stocked, to make it easy to pick up prescriptions with their drive-through window, and to have the products I need for health care, home supplies, basic groceries, even school supplies. From prescriptions to shampoo to birthday cards, my local Walgreens has had what I've needed these past few weeks for my family. Last week, I needed a tri-fold poster board for one of my kids' remote learning projects. Yep, Walgreens had it, along with more markers for my stash of at-home art supplies. I also found a replacement charger cable for my phone, gummy vitamins specifically for teen boys (who knew!), and lots of Easter supplies. It was one of my few trips out last week, and I was so happy to find everything I needed in one place.
Please join me in giving Walgreens team members a huge THANK YOU!!
From April 5 to April 10, enter our giveaway for a $25 Walgreens gift card with this fun and easy "Thank You Walgreens" art project!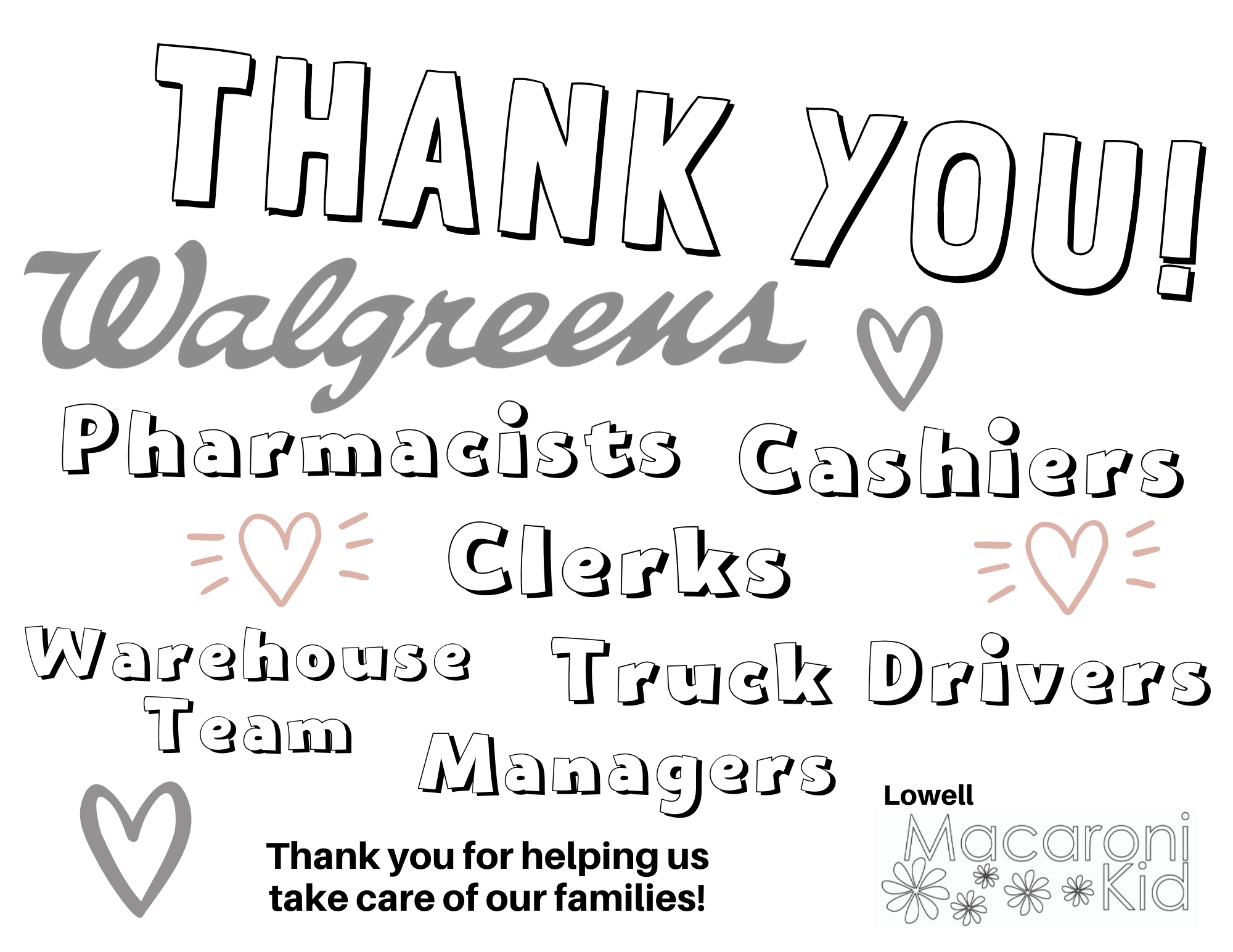 Here's all you need to do to enter to win:
Print out the coloring sheet above (click on the sheet for a full-size PDF file)
Have the kids color it in -- get creative and fun with it!
No printer? That's OK -- save the coloring sheet image to your phone or iPad and use the onboard graphics tools to color it in!
When your masterpiece is done, take a picture of your final fun thank you sheet (include the kids in the picture if you like!) and post it on our THANK YOU Walgreens Facebook post as a comment. Or email the picture to me at barbarae@macaronikid.com and I'll post it as a comment (if the kids are in your picture and you prefer to keep it anonymous).
All pictures must be posted or emailed to me by 6 PM on Friday, April 10, 2020.
On April 11, I'll randomly draw a winner from all of the posted entries (including the entries that are emailed to me, which I'll identify with a number but no name). The winner will win a $25 Walgreens gift card, which can be used in-store or online!
Let's see all those colorful "Thank You Walgreens" sheets!


As an added "Thank You" to Walgreens, drop off or send your "Thank You Walgreens" sheet to your local Walgreens!
If you happen to be visiting Walgreens for a prescription or supplies, please give your special decorated "Thank You Walgreens" sheet to a staff member -- your thanks mean a lot! Or mail your Thank You Walgreens sheet to one of the following Walgreens:
Walgreens

446 Boston Rd
Billerica MA 01821
(978) 670-2188

Walgreens with Drive-Thru Pharmacy

467 Boston Rd
Billerica MA 01821
(978) 663-4900

Walgreens with Drive-Thru Pharmacy

86 Chelmsford St
Chelmsford MA 01824
(978) 250-8170

Walgreens with Drive-Thru Pharmacy

1765 Middlesex St
Lowell MA 01851
(978) 323-7813

Walgreens with Drive-Thru Pharmacy * 24-Hour Pharmacy

54 Plain St
Lowell MA 01851
(978) 453-7538

Walgreens with Drive-Thru Pharmacy

276 Broadway St
Lowell MA 01854
(978) 458-8441

Walgreens

121 Church St
Lowell MA 01852
(978) 937-0030

Walgreens (Community Pharmacy Only, no store)

25 Merrimack St
Lowell MA 01852
(978) 606-2537

Walgreens with Drive-Thru Pharmacy

1161 Bridge St
Lowell MA 01850
(978) 453-0820

Walgreens

935 Andover St
Tewksbury MA 01876
(978) 851-6331

Walgreens with Drive-Thru Pharmacy

2341 Main St
Tewksbury MA 01876
(978) 988-5534

Walgreens with Drive-Thru Pharmacy

145 Littleton Rd
Westford MA 01886
(978) 692-3075
Or, find your closest Walgreens location and check their hours by clicking HERE.
Good luck, and I can't wait to see your decorated sheets!
NO PURCHASE NECESSARY TO ENTER OR WIN. A PURCHASE OF ANY KIND WILL NOT INCREASE YOUR CHANCES OF WINNING. ODDS OF WINNING WILL DEPEND ON THE TOTAL NUMBER OF ENTRIES RECEIVED. VOID WHERE PROHIBITED BY LAW. DO NOT ENTER THIS SWEEPSTAKES IF YOU ARE NOT EIGHTEEN (18) YEARS OF AGE OR OLDER AS OF April 5, 2020 AND A LEGAL RESIDENT OF AND CURRENTLY RESIDING IN ONE OF THE FIFTY (50) UNITED STATES OR THE DISTRICT OF COLUMBIA. MUST BE A MACARONI KID SUBSCRIBER TO WIN. CLICK HERE FOR COMPLETE RULES.
Macaroni Kid is proud to partner with Walgreens for this campaign to thank their team members for continuing to stay open so we can care for our families. The author has been compensated for their time.

Lowell Macaroni Kid is a free weekly newsletter and website focused on fun family events and information in the greater Lowell area.
We gather together all kinds of local family events and activities each week, and add useful information about classes, family-focused businesses, book and product reviews, recipes, crafts, school and camp guides and more. We proudly serve 9,500+ families in Lowell, Dracut, Chelmsford, Westford, Tyngsboro, Dunstable, Littleton, Groton, Billerica, Tewksbury, and other surrounding communities.
Subscribe today to receive our email newsletter every Wednesday!