Jack Walsh Playground & Field
100 Carlisle Road
Westford, MA 01886
Date/Time Visited: Monday, July 29, 2019 @ 11:15 am
Bathrooms: Two Porta Potties (one handicap accessible)
Parking: Large gravel lot
Shade: Limited (depending on time of day)
Benches/Tables: Two benches
Additional Features: Adjacent to town soccer fields; Basketball court
My two-year-old son and I visited the playground at Jack Walsh Field at 11:15 AM on a morning in late July. The weather was around 85 degrees, sunny, and humid. It was not exactly the best weather for visiting a playground, but we were itching to get out of the house. We'd been to the Jack Walsh Field playground in the past and my son loved it, so I thought we'd stop by for a bit. Visiting playgrounds in the summer is often a bit tricky, as many playgrounds lack shade and the playground equipment is often very hot. As would be expected, this was our experience during this visit, so we were only able to stay for about 20 minutes.
The playground at Jack Walsh Field is truly a hidden gem in Westford. We've visited multiple times and it is never particularly busy, so my son is always able to play on any equipment he would like. This was also true of our most recent visit; we had the playground to ourselves the entire time!
One feature of Jack Walsh Field that sets it apart from other local playgrounds is that it is entirely enclosed by a chain link fence and the entrance and exit is gated. As a parent, this is my very favorite feature of this playground because I can let my little one run around and play without feeling like I need to constantly chase after him.
Parking at Jack Walsh Field is easy, as there are spots available directly facing the playground, and only a short walk is required to access the play area. There are two Porta Potties (one of which is handicap accessible), and there is a trash can and recycling bin right outside the playground gate. While there aren't any tables, there are two benches (one on either side of the playground) for grown-ups to enjoy while supervising playtime.
One unique and exciting feature is that there are a number of small trucks available for play. My son loved playing with these, both by pushing them around and digging in the wood chips that cover the ground.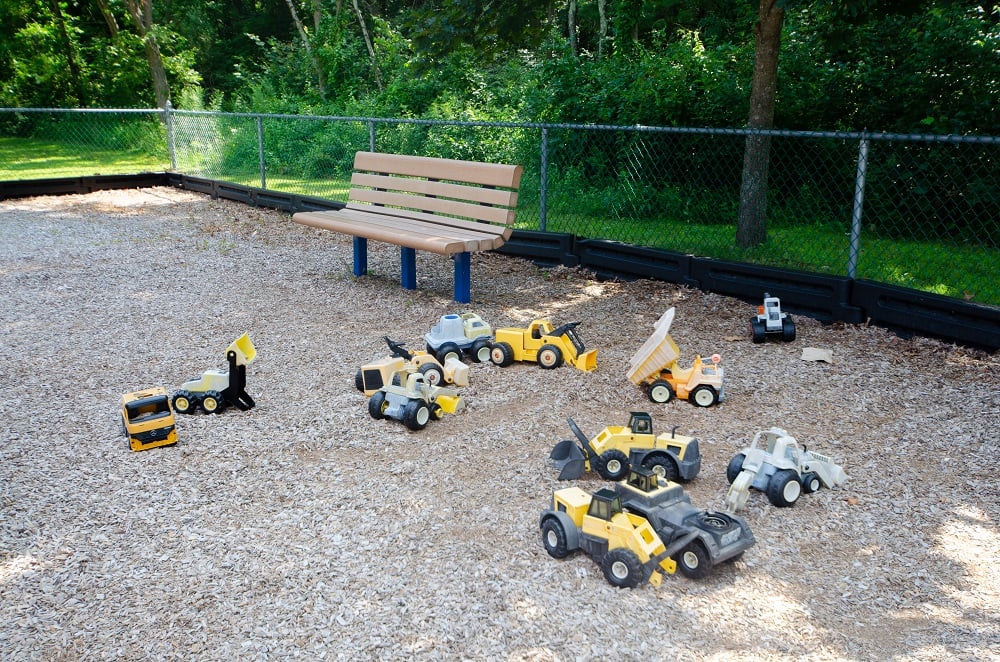 Additionally, there is a toddler play structure with slides, stairs, a xylophone, and a unique tube with speaking and listening openings on the ground and at the top of the structure. There are also two baby swings, two small plastic seesaws shaped like alligators, and a small baby slide shaped like an elephant. Note that there is a high drop from the toddler structure slide; little ones should probably be met at the bottom so they don't have a scary landing.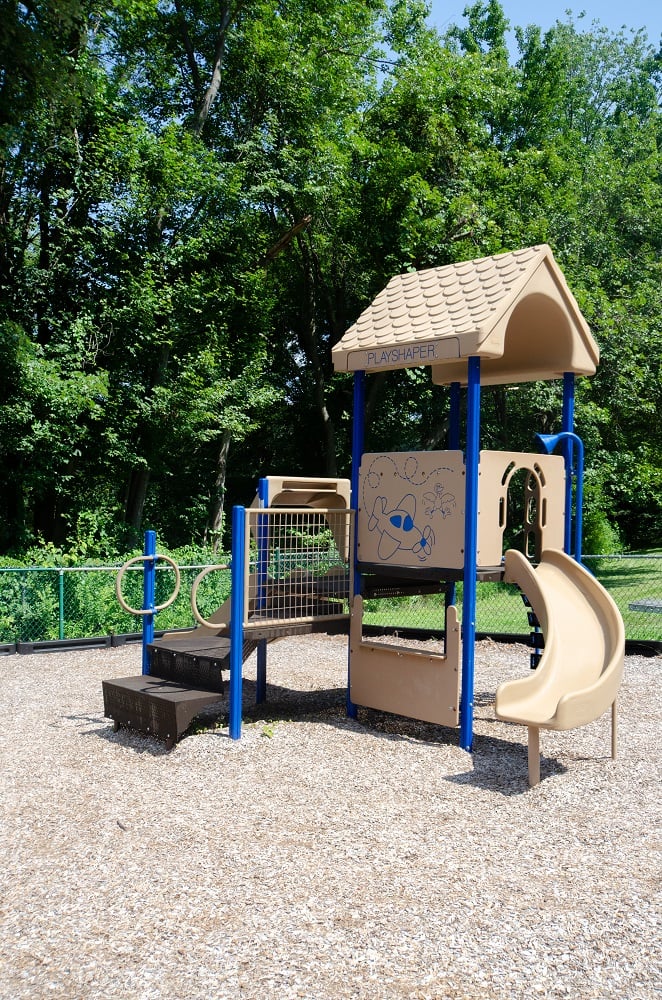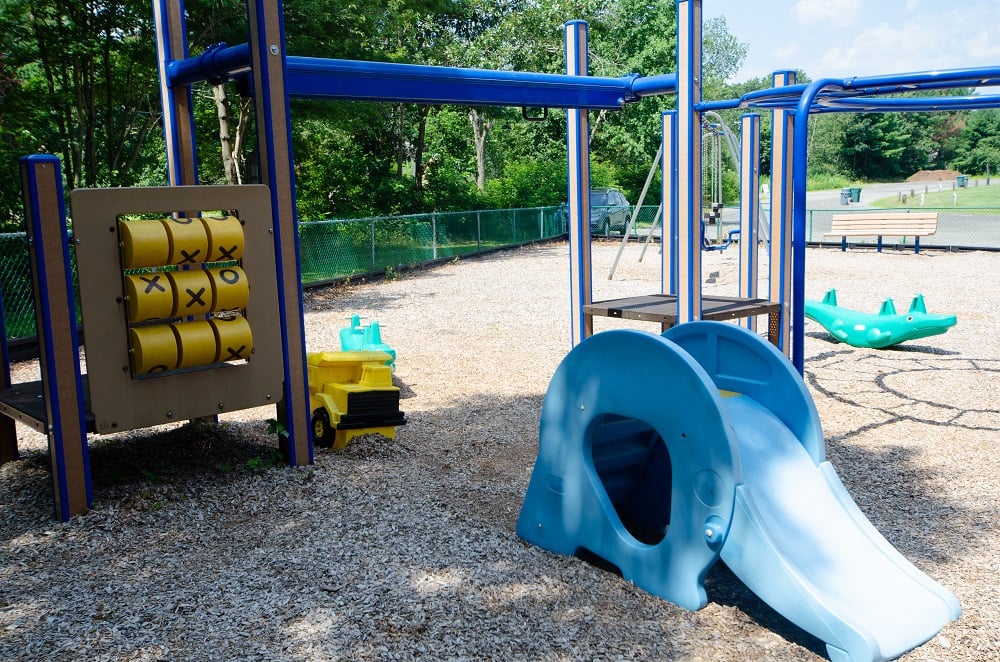 For the older kids, there is a larger play structure that included some interesting and different features such as a zipline that ran about eight feet from one side to the other, circular monkey bars, and a wavy ladder for climbing. The larger play structure is quite tall with a few long, winding slides.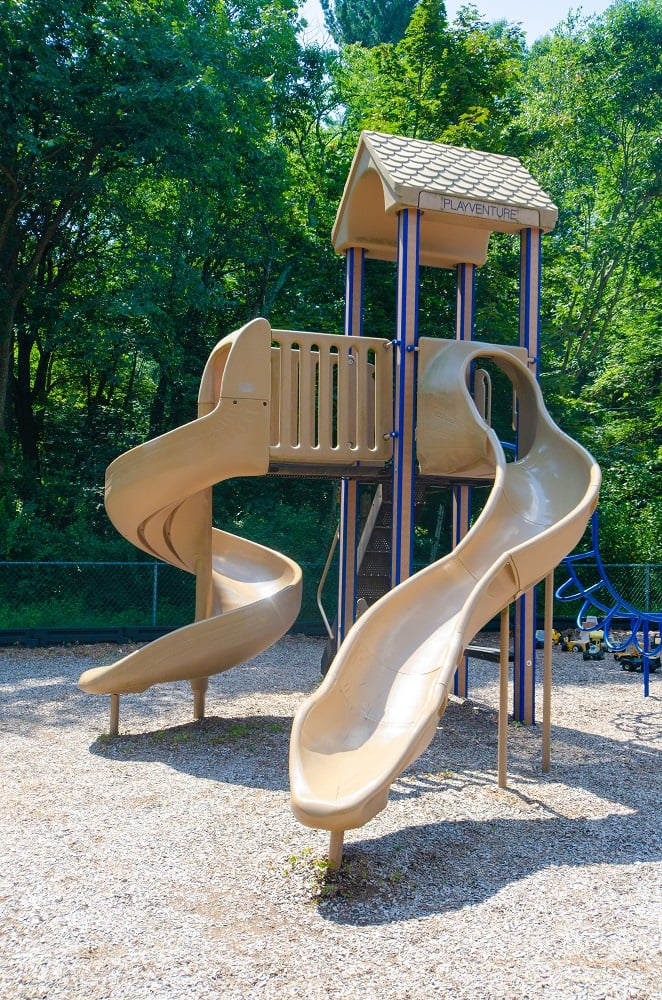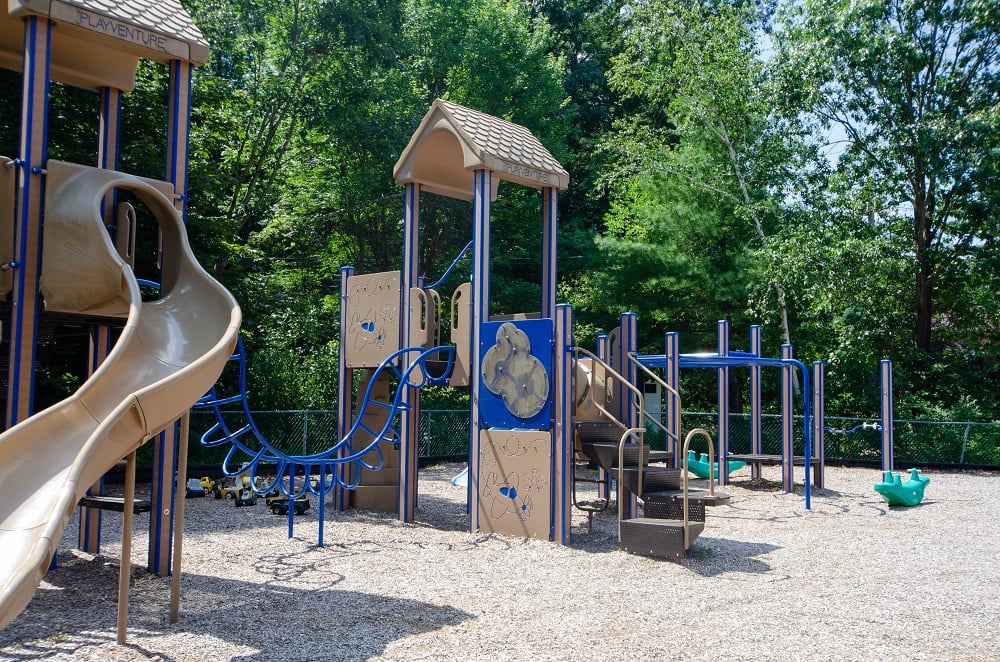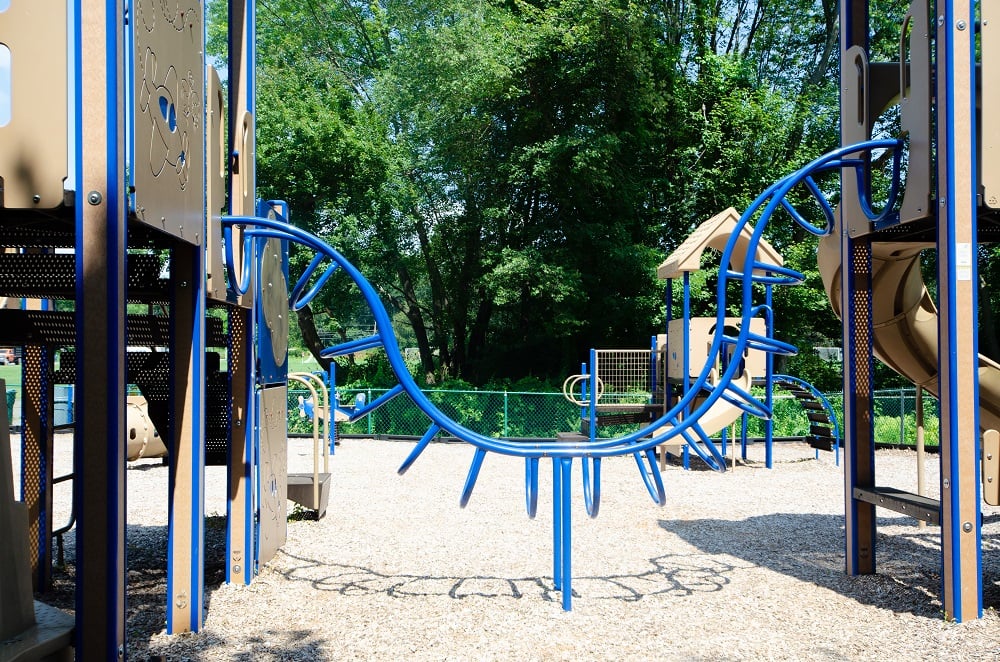 In addition to the four soccer fields utilized by the Westford Youth Soccer Association, the property is home to a basketball court that is directly behind the playground, as well as a tennis court. While I have seen people use the basketball court, I am not sure whether or not the tennis courts are in usable condition, as there doesn't appear to be a net and there are some weeds growing through the concrete.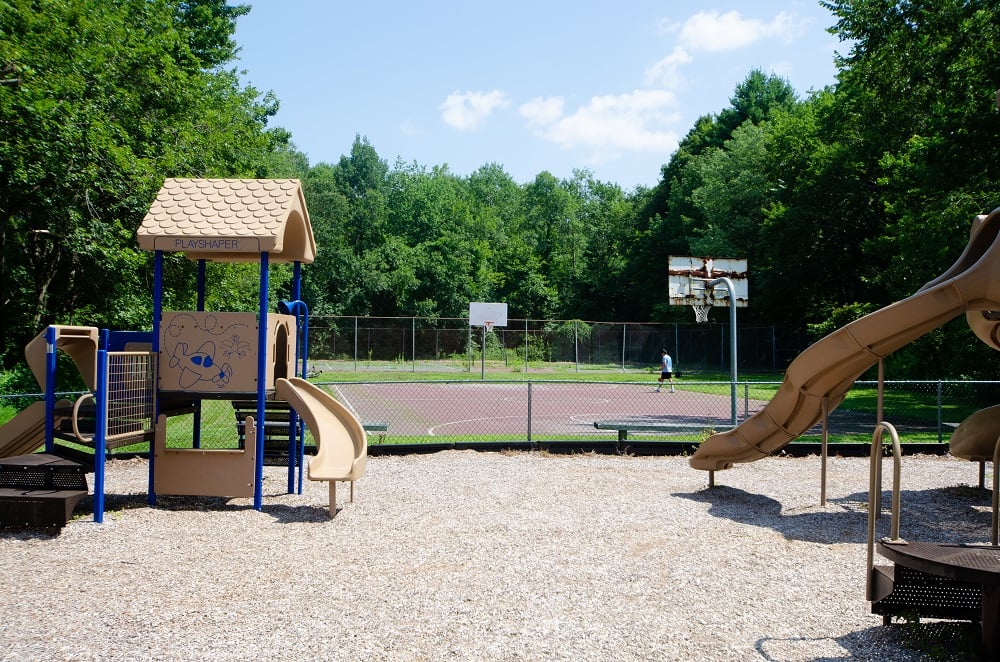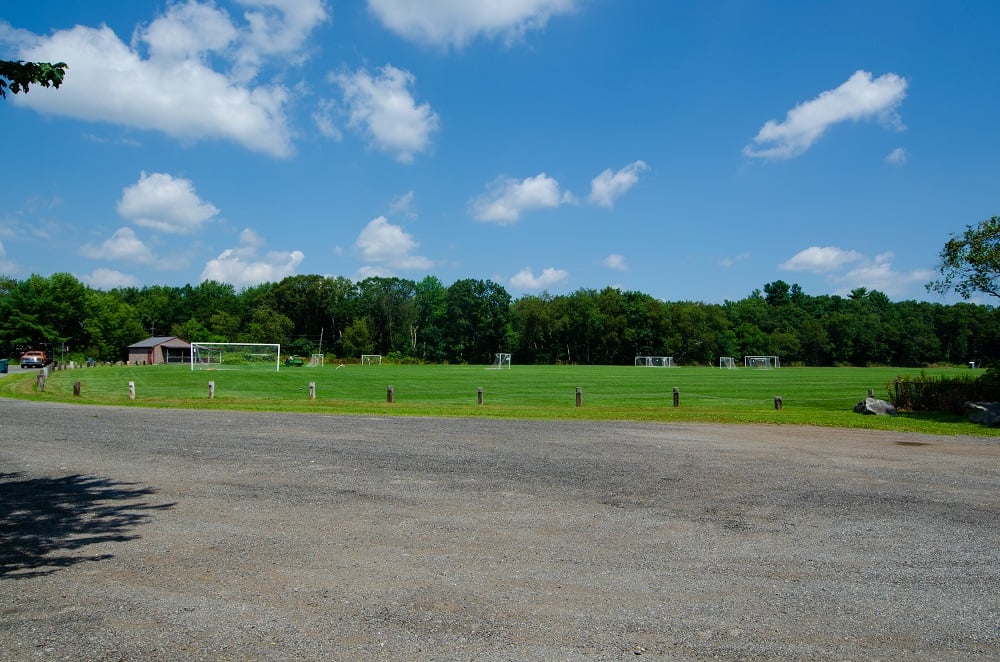 While I would suggest avoiding the playground on very hot days or during peak sun hours, the playground at Jack Walsh Field is the perfect place to visit when you are looking for a little peace and quiet while letting the kids get some energy out. It's rarely busy, fully enclosed, and has benches to relax on while kids play.
Erika Murphy lives in Westford with her husband and two-year-old son, and she is expecting another baby boy in late August. She is employed as an independent college admissions counselor helping high school students with the college application process. When not busy seeking out new activities and outings for her family, she enjoys taking dance classes and photography.

Lowell Macaroni Kid is a free weekly newsletter and website focused on fun family events and information in the greater Lowell area.
We gather together all kinds of local family events and activities each week, and add useful information about classes, family-focused businesses, book and product reviews, recipes, crafts, school and camp guides and more. We proudly serve 9,500+ families in Lowell, Dracut, Chelmsford, Westford, Tyngsboro, Dunstable, Littleton, Groton, Billerica, Tewksbury, and other surrounding communities.
Subscribe today to receive our email newsletter every Wednesday!