Dying Easter eggs has always been a favorite tradition of mine. I love that my kids love it too! Even though buying the kits in the grocery store is new and exciting for my kids, I've grown a little tired of it. When I saw this article on Pinterest describing how to dye eggs with whipped topping and food coloring, I knew I had to try it!
I recently bought an Instant Pot so I used it to hard boil my eggs (see this tutorial). The eggs seriously are perfect every time!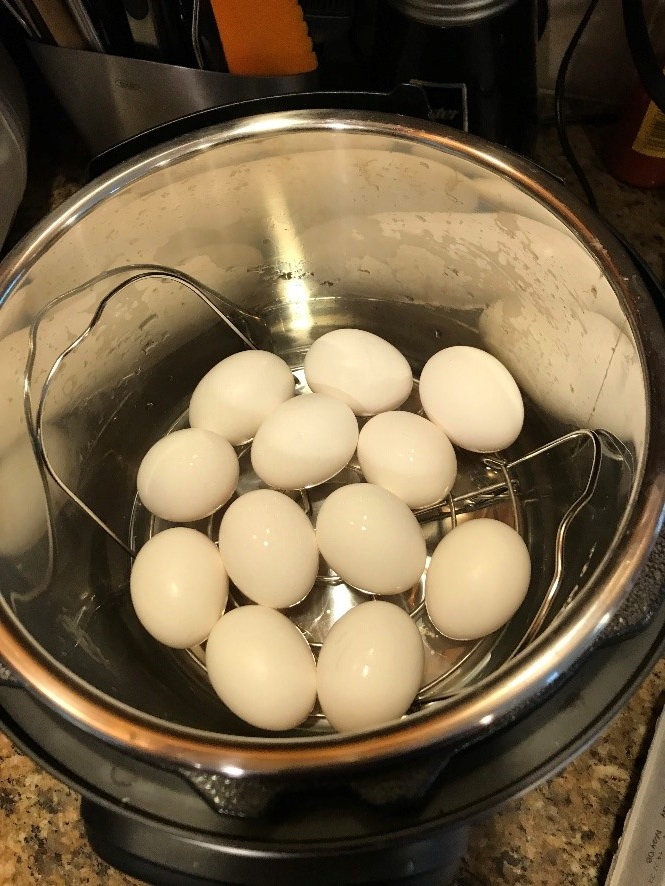 Supplies:
12 hard boiled eggs at room temperature
Large bowl
24 oz white vinegar
3 cups whipped cream or whipped topping
Liquid food coloring
Toothpicks
Latex or rubber gloves
Cookie sheets or large plates
Directions:
Gather your supplies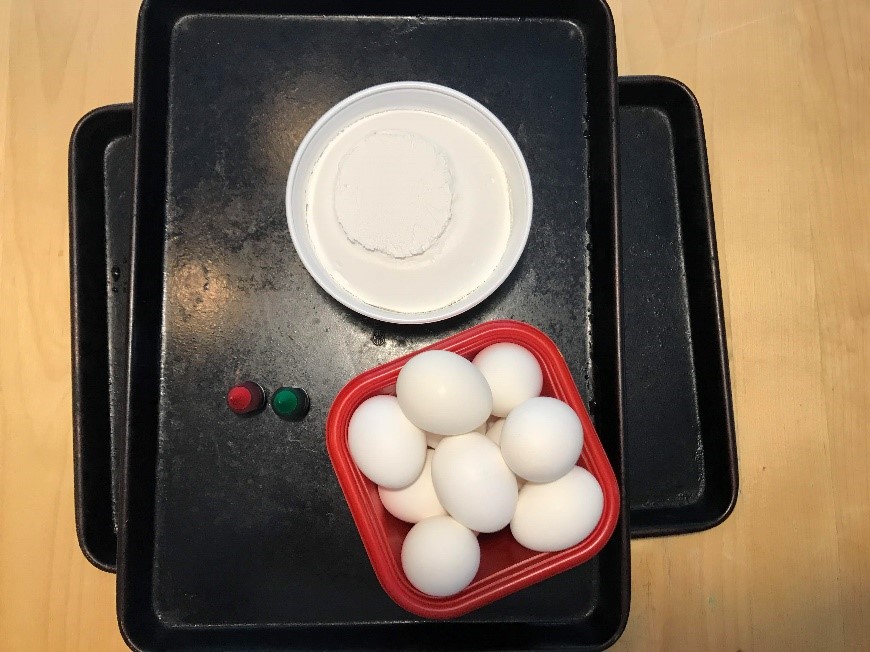 Place eggs in a large bowl and cover with white vinegar. Soak for 2 minutes then drain and dry eggs thoroughly.
On a cookie sheet, silicone cutting board or large plate, spread an even layer of whipped cream, about 1/2 inch deep.
Drop food coloring in single drops here and there, using as many colors as you choose. Use a toothpick to swirl the colors for a marbled effect. The kids decided they wanted to use one color each (red and green) and not swirl several colors. The eggs turned out great! The kids loved mixing the dye into the whipped topping and even took a lick or two off their fingers (you can't do that with the traditional vinegar solution!). I liked that my son especially got into it because he doesn't always like stuff getting on his hands.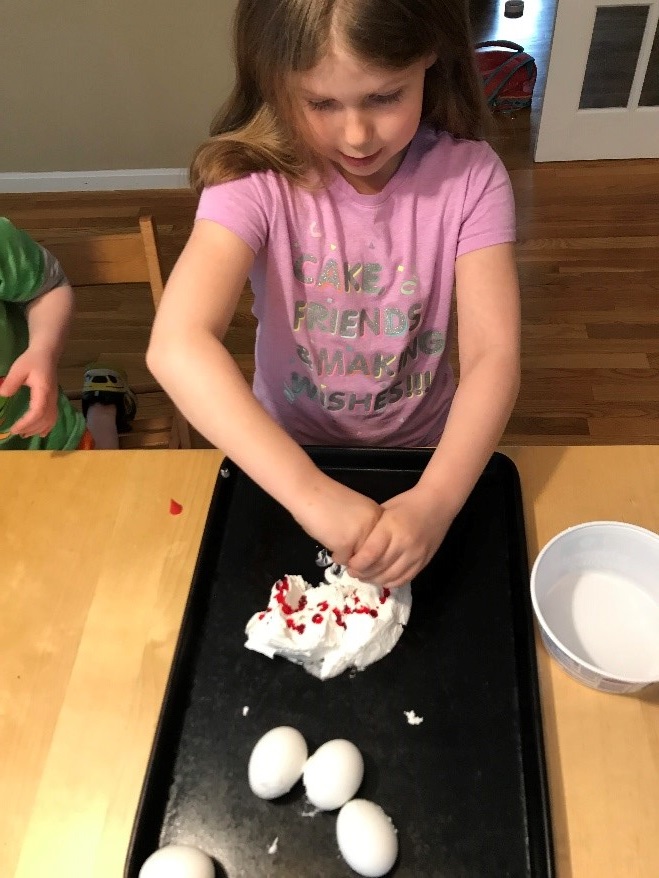 Put on latex or rubber gloves and gently place each egg on the whipped cream. Roll each to coat with color-swirled whipped cream, then let sit for 15 minutes for dye to absorb.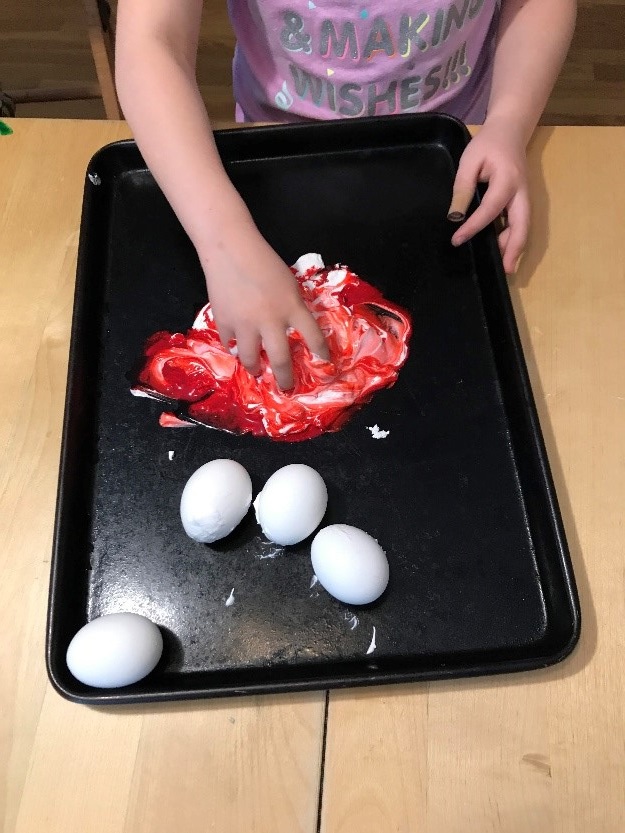 Remove eggs from whipped cream and rinse well. Let dry on a paper towel.
Our eggs!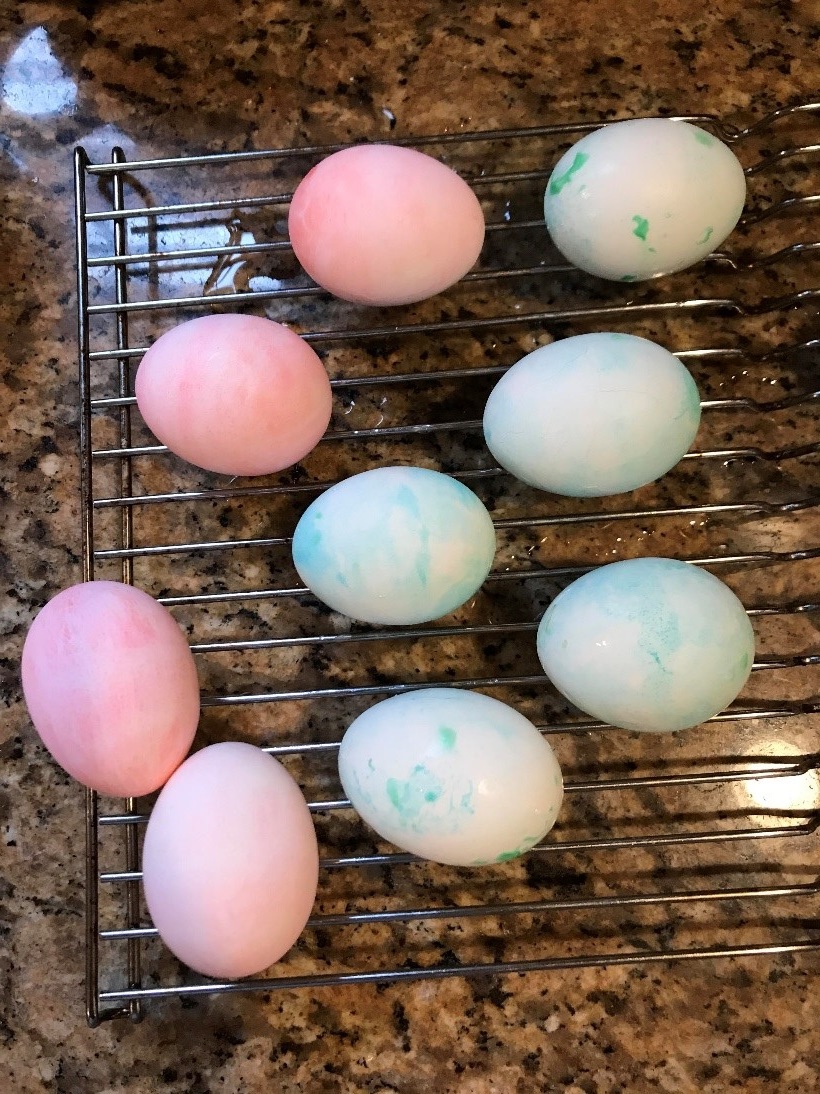 I love how they came out a little speckled. We also tried using multiple dyes as described above -- see the final eggs below. I think these are gorgeous and remind me of a galaxy. The swirl of colors is really something!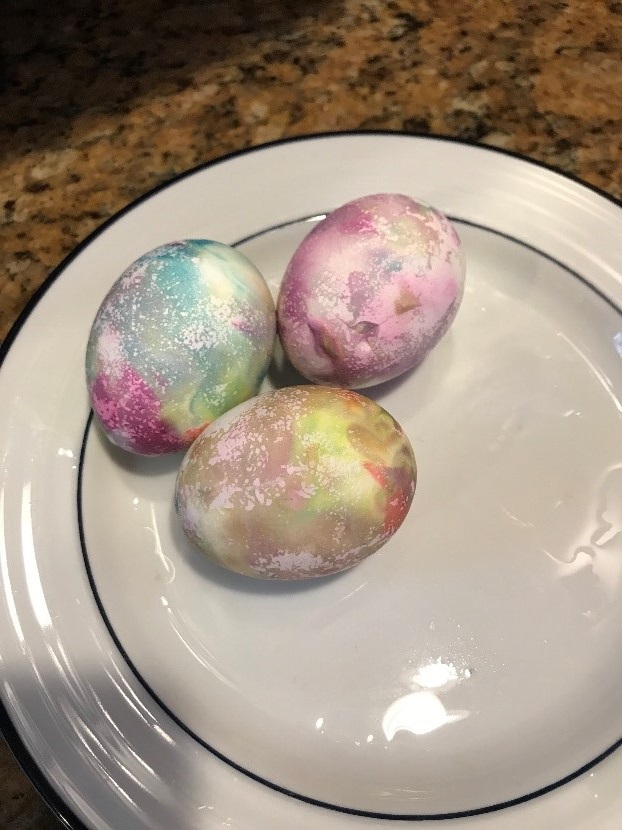 Cleaning up the baking sheets was a breeze, which is always nice. If your kids would prefer not to have food dye on their hands, have them wear the latex or rubber gloves. My son thought he was turning into The Hulk with his green hands!
Give this a try if you're looking for a new way to dye your Easter eggs or just a fun activity to keep the kids occupied for a bit!
Would you like to write for Lowell Macaroni Kid? Email barbarae@macaronikid.com for information!