Is your child struggling with a medical or behavioral issue? Removing gluten from their diet may help to improve it. If your child is struggling with skin issues or digestive troubles, or they have a diagnosis such as autism or ADHD, a gluten-free diet is definitely worth testing for at least 6 weeks. Some parents see improvements in skin conditions such as eczema or psoriasis (we did), and avoiding gluten can put less stress on a sensitive stomach. Autism and ADHD parents report that a gluten-free diet can help with behaviors and focus (so far, we haven't seen any improvements); many choose to also follow a dairy-free diet as well. Of course, please be sure to check with your child's doctor if you have any concerns about adjusting your child's diet.
But how do you remove gluten from a child's diet if the whole family isn't going gluten-free or if the child is a picky eater? Well, let's put one reality out there right away -- you will have to provide school lunch every day. And, if you often go out to eat or get take-out, your choices will be drastically reduced and you will need to cook more at home. It's just a fact of life when avoiding gluten; you will have to bring your own food with you and your choices outside your home will be much more limited. The average birthday party meal of chicken nuggets and pizza is going to be off-limits and you will need to send other options with your child and probably stay at the party to monitor them, if they're very young or having trouble understanding what they can and can't eat. School lunches always include plenty of pasta or breading or rolls (carbs are good for kids, in general) and even if you successfully can keep those off your child's lunch tray, it's still very likely that the gluten free foods will be "contaminated" with gluten due to shared handling in the kitchen. So, it means packing a school lunch every day and sending snacks/meals when your child is at a friend's home.
If you're ready to commit to sending in school lunches and providing food for outings and such, then it's pretty easy from there. There's plenty of kid-friendly food to choose from to make your child's meals! I've checked out the gluten free products at most local grocery stores and have cooked several gluten free dinners every week for the last seven weeks. Seriously, there are so many GF options to choose from, even for the very picky eaters. There are gluten free options for all of the following picky-child favorites:
Chicken nuggets (Bell & Evans, Wegmans, Perdue Simply Smart)
Mac and cheese (Annie's, our homemade recipe)
Granola bars (Trader Joe's)
Fruit & grain bars (Wegmans)
Pizza (Udi's, Against the Grain, Freschetta, Smart Flour)
Cereal (Trader Joe's, Van's)
Waffles (Van's, Nature's Path)
Bagels (Canyon Bakery, Udi's)
Pasta (Barilla, Ronzoni, many specialty brands)
Tortillas for quesadillas, sandwich wraps, burritos (Udi's)
Crackers (Miltons, rice crackers, NutThins)
Bread (many brands)
And the following favorite kid-friendly snack and meal items are already gluten-free (just be sure to check anything processed, like sauces, dips and dressings, though):
Hummus
Salsa
Vegetables and ranch dressing
Spaghetti sauce
Grated and shredded cheese
Tortilla chips (be sure to check the ingredients, some may be made in a facility that process wheat)
Yogurt
Take a look at our School Lunch Ideas handout (click to access the full sheet). You can find gluten-free substitutes for pretty much everything on this list!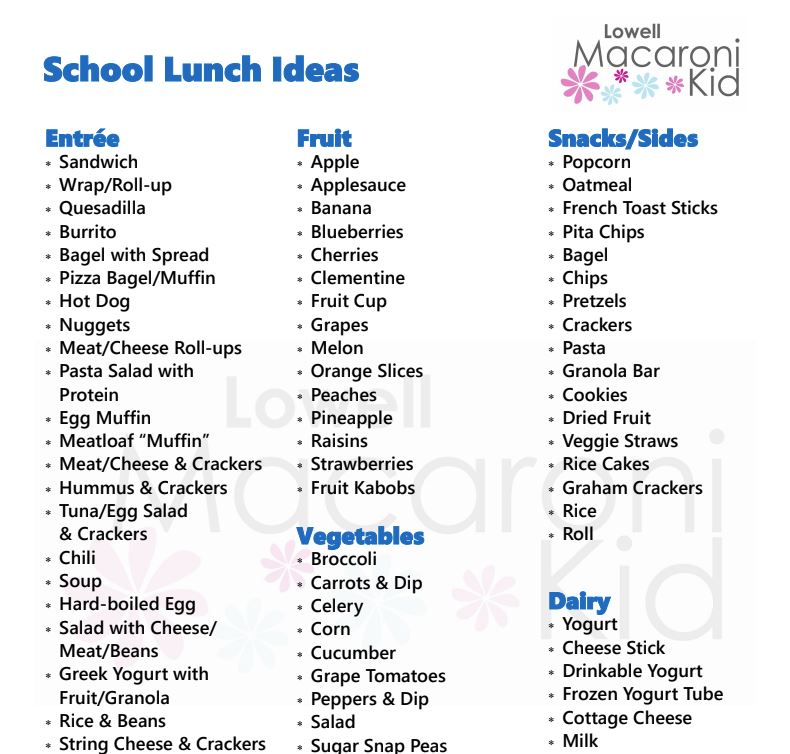 And for dinners, use gluten free cookbooks to find recipes, start adjusting your meal planning to incorporate more gluten free meals (more rice and potatoes, less pasta), and start to use GF products (flours, pasta) in your favorite recipes.
It really is possible to do! Get your child on board in advance and make sure they understand the limitations -- eat only the school lunch you provided, and eat only the snacks you provide when going to a party or a friends' house. Be positive and excited about it; let your child know that eating this way for a little while might really help with the specific issues they're facing, and that you're excited to see the results. If checklists or calendars are effective for our child, mark off every successful gluten-free day and provide a little reward at the end of the week for how well they're sticking to it. Maybe even document the beginning, during and after with a log or photographs. I've experienced a dramatic improvement in winter eczema that has been painful, terribly itchy and embarrassing every winter for at least 15 years, and I really wish I'd taken pictures of how it looked before so I could show the difference!
Good luck!
Lowell Macaroni Kid is a free weekly newsletter and website focused on fun family events and information in the greater Lowell area.
We gather together all kinds of local family events and activities each week, and add useful information about classes, family-focused businesses, book and product reviews, recipes, crafts, school and camp guides and more. We proudly serve 9,500+ families in Lowell, Dracut, Chelmsford, Westford, Tyngsboro, Dunstable, Littleton, Groton, Billerica, Tewksbury, and other surrounding communities.
Subscribe today to receive our email newsletter every Wednesday!