Slow Food, being performed at the Merrimack Repertory Theatre until February 3rd, will make you hungry. And it will make you laugh and suddenly appreciate how fortunate we are to have such a great theatre company here in Lowell. With only three actors, this show requires perfect timing and incredible acting to bring the funny but touching story to life. Brian Beacock (Stephen, waiter), Joel Van Liew (Peter, husband) and Daina Michelle Griffith (Irene, wife) draw you in quickly to the story of two tired and starving travelers on an anniversary trip to Palm Springs who have found the last restaurant open late on a Sunday evening. All they want, after a frustrating journey, is a good meal, but their temperamental and needy waiter holds them hostage waiting for their meals and a relaxing beer.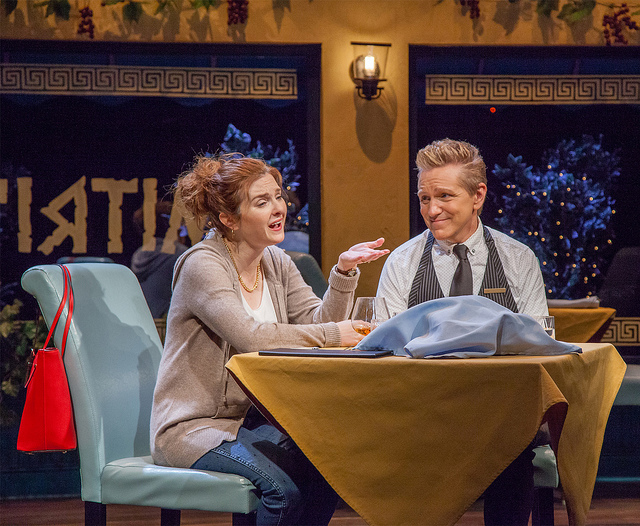 Over the next 90 minutes, Irene and Peter, recent empty-nesters who are anxious about their kids but rather thrilled to be able to travel on their own again, reconnect, argue, and re-establish their deep love, all while dealing with the overly helpful and very funny waiter from hell. Brian is mourning his cat and his lost youth, having spent 20 years as a waiter at Dmitri's. Irene and Peter take matters into their own hands to source their own food, flirt with Brian, provide therapy, and try everything else they can think of to get their meals. Will they enjoy a Greek feast or leave hungry? See the show and find out (FYI, all on-stage meals are provided by Athenian Corner). Practically hearing their stomachs rumbling from our balcony seats, we left the theatre and immediately ordered a ridiculous amount of takeout from Blue Taleh.
Professional theatre is a revelation to me. I was raised on middle school musicals and high school plays but we rarely went to see actual professional performances. (I'm the youngest of 6 kids, so the theater wasn't remotely in our budget.) Having seen my fair share of forgotten lines and squeaky singers (and having developed that weird habit of feeling painfully embarrassed when an actor flubs), I've avoided the theater for a long time. But at Christmas, I went to see the Merrimack Repertory Theatre's Christmas at Pemberly, and it was a delight. Beautiful sets and costumes, extremely talented, professional actors, and a charming story (especially for this Jane Austen fan) — I was hooked. Slow Food, with only three actors, would be the true test of my new theatre maturity, and it passed with flying colors. Stephen, Irene and Peter pulled you completely into their story, kept you hooked, and made you laugh, relate, and even feel a bit hungry. It was like peeking into a slice of real life — some heartache, lots of humor — and breathing a sigh of relief at the happy resolution.
The Merrimack Repertory Theatre is offering several specials for those wishing to see Slow Food. Give yourself the gift of a night out and see the show before it wraps up on February 3rd. The show is recommended for theater-goers age 16 and up.
World Premiere
By Wendy MacLeod
January 9 - February 3
Merrimack Repertory Theatre
50 East Merrimack Street
Lowell MA 01852
Box office: 978-654-4678
I was provided with tickets to facilitate this review. All opinions are my own and honest. No other compensation was received.