Marie Kondo's new Netflix show Tidying Up has a lot of people loading mountains of clothes onto their beds, cleaning out their garages, and looking for that special spark of joy.
I discovered Marie Kondo about a year ago when I read her book, The Life-Changing Magic of Tidying Up: The Japanese Art of Decluttering and Organizing. Her style of minimalism -- which she calls the KonMari method -- is a growing trend that I have found to be incredibly beneficial to my lifestyle.
One of the ways I have embraced Marie Kondo's organizing style is by simplifying my living space. In doing so I've seen huge changes in my day-to-day life. The biggest two changes? Less stress and more time for things that matter most to me.
Tidying and decluttering are tasks that I actually enjoy. I understand, though, that the process can feel overwhelming for others -- as Marie Kondo's new TV show indicates. If you're hoping to break the cycle of clutter, but are feeling overwhelmed, here are three tips and tricks that worked for me, and I hope work for you!
1. Make it a daily habit
Once you've gone through each of Marie Kondo's five categories as thoroughly as possible, then you can maintain your clutter-free lifestyle with just 5 minutes of maintenance each day. Create that habit by dedicating time daily to tidying your home. Even just five minutes a day will add up to real improvements in no time! Not sure where to start? Download our FREE printable chart to guide you through your home.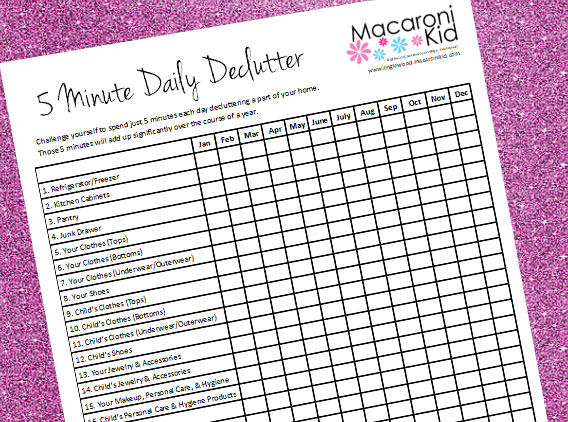 2. Divide and conquer
When cleaning out any space, divide items into three categories: Trash, sell, and donate.
Trash anything expired or broken beyond repair -- without guilt!
Sell anything that has value and you're motivated enough to sell (but give yourself a deadline -- and then donate if you haven't sold it!).
Donate items that would provide value to someone else.
3. Ask hard questions
It's not going to be easy to get rid of a lot of things. You have to ask yourself the hard questions:
Does this item benefit my life? Does it still function as it should? Does it make me smile? Does it give me that Marie Kondo spark of joy?
When was the last time I used this? Do I have a real need for it again in the future? Do I have other items that already fulfill the same purpose?
If I was shopping RIGHT NOW, would I buy this item again? Does this item make my life more enjoyable or serve an important purpose?
While the Netflix series shows couples and families spending weeks and months hard at work decluttering, I don't believe it has to be an all-consuming project to be successful. Go through the KonMari process as thoroughly as possible, but also know that taking just five minutes each day can add up to a significant amount of time over the course of a year. Use those five minutes to make small changes, and you'll soon experience life-changing benefits -- sure to give you that spark of joy.