A great new FREE resource is opening in Tewksbury on Wednesday January 16 -- a public outdoor skating rink at Livingston Park!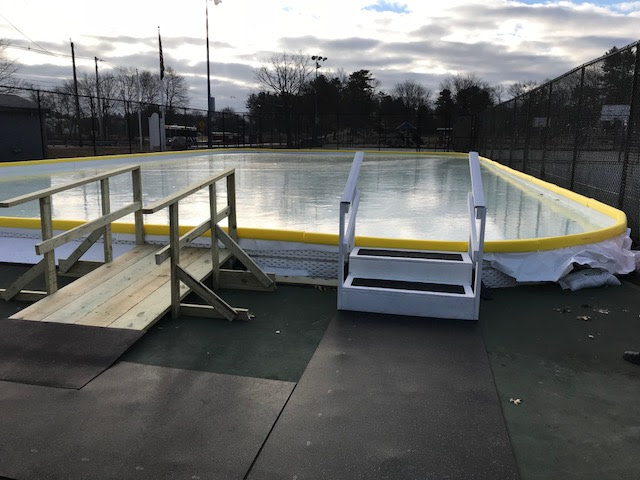 The rink, which is set up on a fenced, lighted tennis court, is open daily from 8 AM to 9 PM. It is accessible via a small set of stairs and also a shallow ramp. There are no skate rentals available, so you will need to bring your own ice skates. It is surrounded by bleachers where visitors can put on their skates or supervise their children.
Note that NO HOCKEY is allowed; sticks and pucks are not allowed on the ice. Other posted rules are:
Skating is counter-clockwise during free skate
Beginners should stay to the right
Experienced skaters should perform jumps and turns in the center of the rink
No horseplay, fighting, snowball-throwing, tobacco products, alcohol or drugs are allowed
All skaters under 12 years old must be accompanied by an adult
Skaters are advised to wear elbow pads and knee pads. We also strongly advise that beginning skaters wear helmets.
The Tewksbury Fire Department will maintain the ice, adding water as needed to smooth the ice. The rink may be closed occasionally for maintenance or to allow refreezing after warm days.
Be respectful of other skaters and have fun!
Tewksbury Public Skating Rink
286 Livingston St
Tewksbury MA