My 14-year-old daughter is obsessed with soup. Seriously, it's her favorite food, year-round. Every day after school, she makes chicken noodle or Italian wedding soup, her favorites. She brings it to summer camp in a thermos. She's been known to eat it for breakfast on the weekends. She doesn't really care for school lunches or packed lunches so she skips lunch at school and waits to enjoy some soup after school. I'm OK with it but I have to admit I do worry when she goes through a ramen phase (not too often, fortunately) since I've heard horror stories about how unhealthy the chemical-laden packets are. (Seriously, can anything that costs 25 cents be good for you?) Mostly though, she goes for canned soups, and I try to choose the healthier options. Still, salt and additives are a concern.
She stopped in her tracks recently when she saw that I'd received four massive boxes full of BOU Soup Cups to give away at our recent Candy Cane Hunt & Holiday Fair. We agreed that she'd be our taste-tester, and she's been taking her job VERY seriously. We received the Classic Chicken & Noodle Soup (whew!) and Harvest Vegetables & Grain Soup. BOU also makes a Shiitake Mushroom & Beef Soup (yum!) and Garden Tomato & Quinoa Soup. The soup cups are made of fully recyclable polypropylene, which addressed my concern about styrofoam. My daughter loved that each cup includes a spork to snap together (it's in 2 parts) and eat with. The soup cups really are totally portable; if you have access to a microwave or boiling water, you are good to go for a hearty, warm soup. This morning, she was brainstorming how to make her BOU soup cup at school since it's so easy to just toss in her backpack (the polypropylene cup is more sturdy than styrofoam and travels well).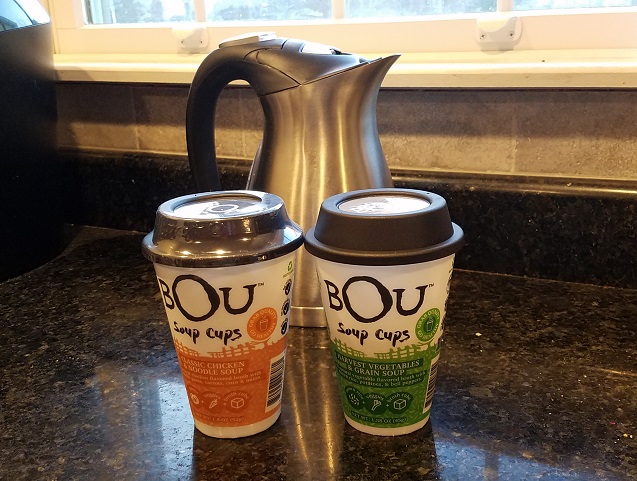 The BOU soup cups are easy to make. Open the bag of ingredients you find inside the cup and pour it into the bottom (you can actually see whole pieces of vegetables, greens and other REAL food -- gasp!). Unwrap the bouillon cube and crumble it into the cup. Then, either pour boiling water up to the fill line, cover and steep for 5 minutes, or add room-temperature water to the fill line and microwave for 2 minutes, uncovered. (We actually preferred to steep our BOU soup cups for a bit more time, 7-10 minutes, for more tender noodles, vegetables and grains.) Assemble your spork and you're ready to eat. We have an electric kettle, which makes boiling water easy, so even my 11-year-old can easily make this soup.
This is a BIG cup of soup, about 11 ounces after preparation, and quite filling. It's a perfect snack for older kids, who are like hungry animals after school, eating snack after snack (at least mine are!). Calories are really reasonable for such a hearty snack, ranging from 160 to 210 per cup, depending on the variety, and the sodium is manageable, ranging from 600-700 mg. Best part? The ingredients are all natural, with no artificial flavors and no GMO ingredients; three of the varieties are even gluten free and the grain and quinoa soups are vegan. If eating all natural foods is important for your family but there are days when there's just no time to make homemade food from scratch, the BOU Soup Cup is a quick and easy option for a snack or light meal. While they are more expensive than a 25-cent bag of ramen or other soup cups, they're made of quality, all-natural ingredients and the packaging is better for the environment, which makes me feel good about having them as a convenience food option for our family.
I handed out hundreds of the BOU Soup Cups at our event last Saturday, and they were received with delight and lots of interest. One dad was so intrigued; he was really impressed that it's an all natural convenience food. A mom who's a teacher was excited about bringing it to school so she could have a quick and healthy lunch. The kids all wanted chicken noodle, and vegetarians were delighted to have a certified vegan option. And everyone was happy to hear that BOU also makes all natural bouillon cubes for homemade soup and gravy cubes too.
Pick some up at Whole Foods or online, and enjoy knowing that your kids are having a healthy snack perfect for cold winter days!
I received compensation and free product in order to write this review, but all opinions are my own and my honest experience!