Friendship Park
Roberts Field
272 Old Westford Road
Chelmsford, MA 01824
Date/Time Visited: Thursday, July 19, 2018 (9:30 am AND 4:30 PM) and Friday, August 30, 2018
Bathrooms: 1 port-a-potty (currently near the sports fields at the far end of the parking lot)
Parking: Yes
Shade: Yes
Benches/Tables: Yes
Additional Features: Baseball and soccer fields, walking trails, pollinator garden, ice skating
We've been having so much fun at the newly remodeled Friendship Park this summer that I had to share it with all of you! My kids literally ask to go there constantly – we even went twice in one day!
In thinking about what makes this park so great, I've realized that it was very well-thought out before the community rebuild this spring. There are activities for kids of all ages and abilities. The established trees that they were able to keep in place provide lots of shade at various points of the day. The playground is spread out enough to still be fun on a busy day, but with mostly good sight lines you don't have to worry about your children if they're on different play structures. There are the "usual" fun things like swings (two accessible ones, four big-kid swings, and two baby ones), but also exciting new things like zip lines (one with a rope and one with an accessible swing) and the Sway-Fun glider (https://www.playlsi.com/en/commercial-playground-equipment/playground-components/sway-fun-glider-16/). I also love the face-to-face swing where you can swing with your child or two kids can swing together.
Although the playground is currently surrounded by orange construction fencing, I'm assuming that it will be enclosed with a permanent fence as the old one was. There are currently two entrances to the play area, so it shouldn't be difficult to keep your children inside. The surface of the playground is a combination of grass, mulch and rubber. The sandbox is even with the pavement for accessibility and includes two built-in diggers – one for standing and one for sitting and playing. There are lots of toys in the sandbox; no need to bring your own!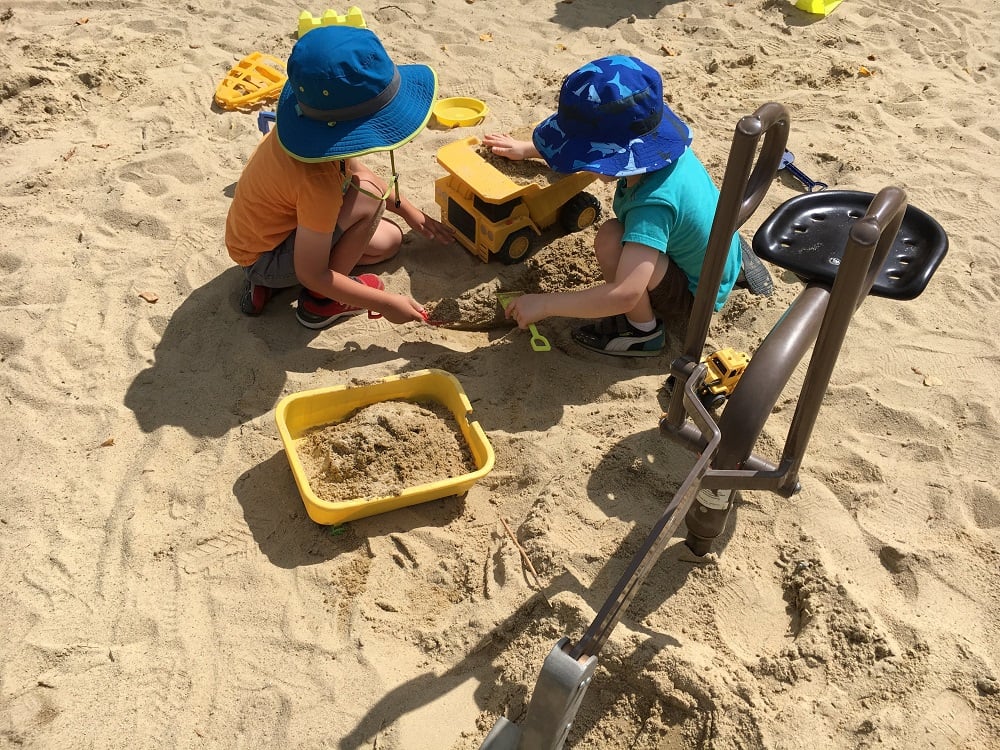 I would be remiss if I don't mention my daughter's two favorite activities in this review – she loves both the "spider-web" climber and the tube slides. If slides are your kid's thing, there are lots to choose from here, including a bumpy slide and several slides for the younger children in the toddler area.
Those of you who know my reviews know that I look out for the special features that give playgrounds that little bit extra, and this one definitely delivers. A music-maker using tubes and donated flip-flops, a natural tic-tac-toe board with stones donated by members of the Chelmsford MA Rocks FB page (https://www.facebook.com/groups/1444028338980338/), and hidden bugs to be found around the park are just a few of my favorites. While you're there, check out the pathway of stones donated by residents and community organizations – it's fun to read all of the dedications!
| | |
| --- | --- |
| | |
The only negative I have to share will hopefully not be an issue when you visit: because it was crowded on the most recent day we were there and many of the visitors were unsupervised teens, there was a lot of rambunctious play that made the younger children we were with a bit nervous. I don't foresee this being a regular problem, since we were there on a day off from school. You may just want to keep an eye on your kids when they climb up or down the center of the climbing structure. Oh, and it would be nice if there was more than one port-a-potty and if it was closer to the playground!
We brought along a picnic lunch; there are lots of picnic tables there. Don't forget to stop at Sully's on your way home for a treat – it's our family's favorite ice cream stand (55 Graniteville Rd, Chelmsford, MA 01824).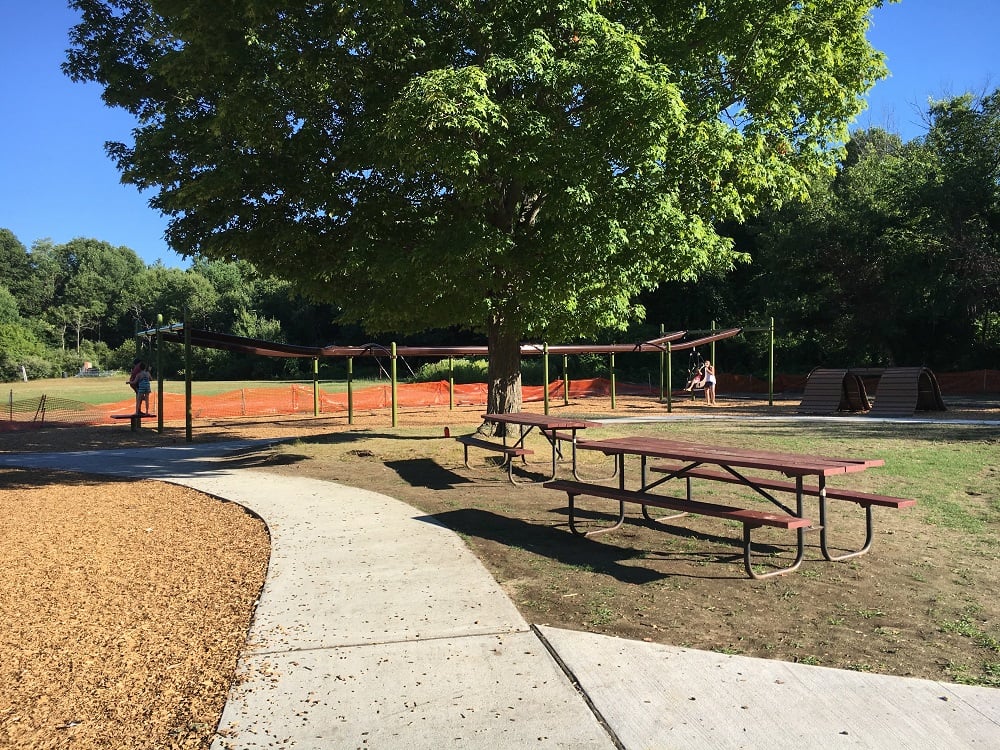 A Friendship Park committee member sent the following update on Sept 7, 2018: "Still to come: The permanent fence will be installed along with a shade structure next to the sandbox over the concrete pad plus new and refurbished benches and tables, a sensory garden for natural play which will abut the shade structure, and a butterfly garden.... The next phase will be to redo the fields and exercise trail around them. There are nice and newly redone nature trails around the pond and in the woods too which we love and I highly encourage others to check out."
Shari Bartholomew is a Chelmsford mom of a daughter (7) and two sons (4.5 and 1). She's also an independent consultant for Usborne Books & More (http://www.sharisellsstories.com) and a Beachbody coach. When she's not seeking out exciting new things to try with her kids, she loves baking, arts and crafts, planning parties, and travel.

Lowell Macaroni Kid is a free weekly newsletter and website focused on fun family events and information in the greater Lowell area.
We gather together all kinds of local family events and activities each week, and add useful information about classes, family-focused businesses, book and product reviews, recipes, crafts, school and camp guides and more. We proudly serve 9,500+ families in Lowell, Dracut, Chelmsford, Westford, Tyngsboro, Dunstable, Littleton, Groton, Billerica, Tewksbury, and other surrounding communities.
Subscribe today to receive our email newsletter every Wednesday!