See below for a special discount code for Macaroni Kid readers!
Boundless Adventures is an aerial adventure park that is conveniently located about 30 minutes from Lowell at 154 River Road West, Berlin (just down the road from the Solomon Pond Mall). I visited last week on a warm, sunny day with my teenage son and daughter and my colleague Barbara and her son. The kids and I all harnessed up and checked out the courses, while Barbara gave encouragement and took lots of pictures.
First things first: Let me tell you what I think makes this place so special. The park is set up to offer guests of all fitness levels and climbing experience the opportunity to participate and test their boundaries, to challenge themselves both physically and mentally. It is empowering, inspiring and fun! And most importantly, safe! It is fantastic for a group but it is an individualist challenge and not competitive. Each person has their own experience, takes on the courses they choose, yet it feels like you conquered something together, which I think is incredibly neat and wonderfully connecting.
The Park: The park itself is large and offers 8 distinct courses. These include 92 elements, including 15 ziplines, bridges, balance beams, tight ropes and many other obstacles to maneuver. For those most adventurous, there are two courses that include "Leaps of Faith" - I will explain more on that later!
What makes it safe? The park uses an always "on belay" system. All climbers are fitted into advanced safety equipment which includes a full-body harness and gloves. Each harness is equipped with two carabiners that are connected together and utilize a double locking safety technology. When climbers are ready to tackle a course, they connect to a safety line on the main platform. The system ensures that once climbers are connected onto the safety line, they can not fully disconnect from the safety line until they are firmly back on the ground or steadily on the main platform.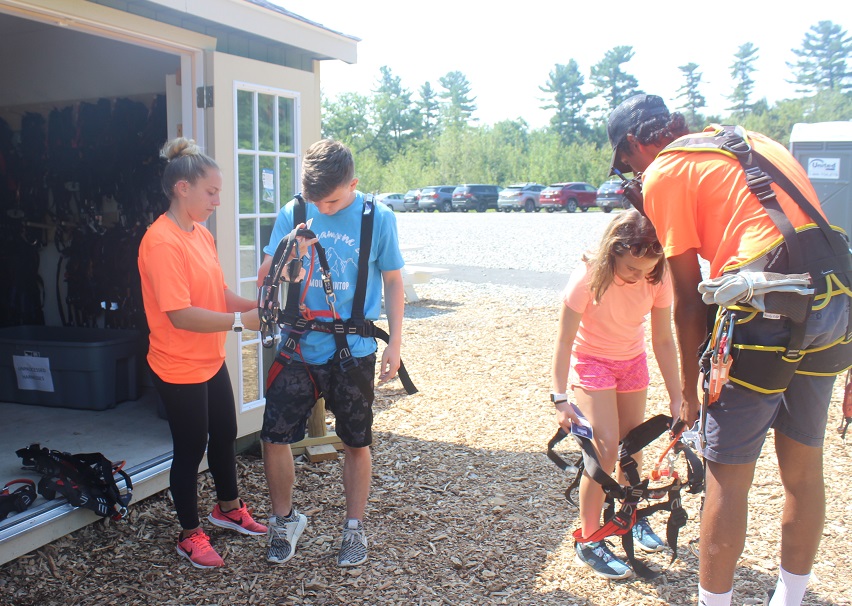 How It Works
Safety Demo: Once harnessed and gloved, participants are brought up to the "Briefing Station". It is here that you are taught how to "latch on" and "latch off" and how to use the zipline trolley. Everyone is briefed on the rules, the course and what to expect. Take your time and ask questions, and use the practice station as it will help you become more confident as well as independent on the course.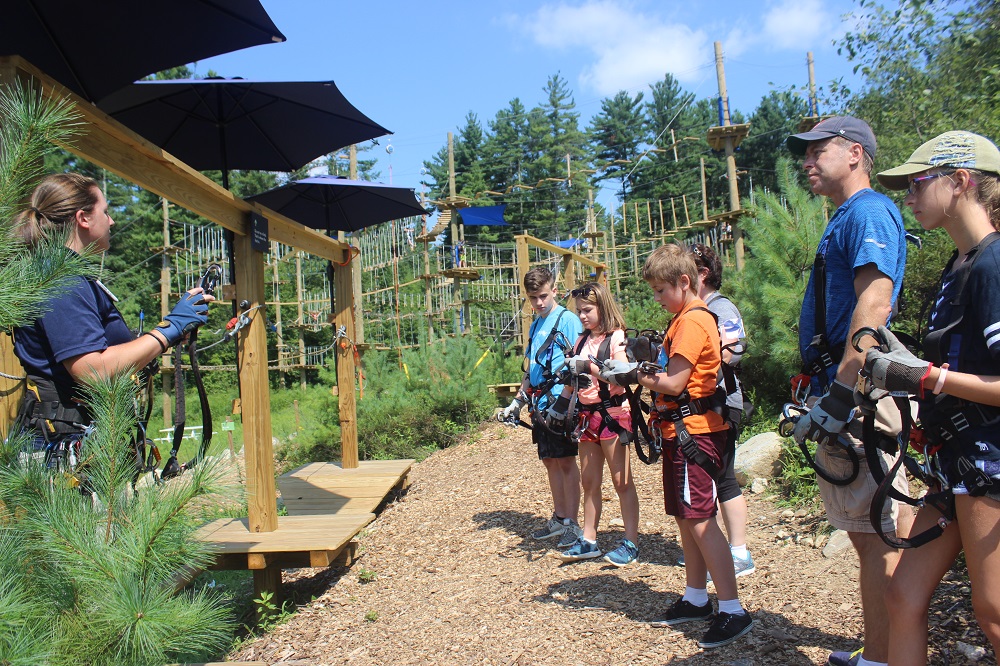 A little about the courses: There are four distinct levels. They are incremental in height and difficulty. Some are in the open and others meander through the woods. You can follow the path visually to see what each course entails. Please note there are restrictions dependent on age for some courses.
Yellow - Exploration Courses - Beginner Level: These courses are 10 feet above the ground, have low speed zip lines and easier elements. This is where everyone starts and where many like myself may stay. It is perfect for first timers or those a bit afraid of heights. It can be completed by most, if not all, fitness levels. (3 courses available)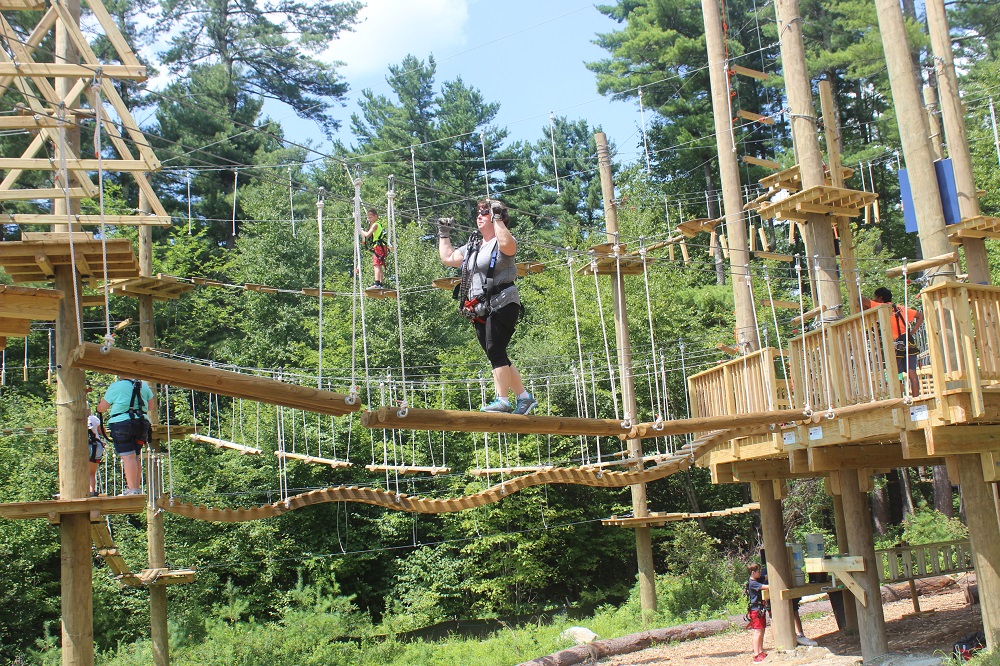 Green - Motivation Courses - Intermediate Level: These courses are 15 feet above the ground, have longer zip lines, rolling elements and are more difficult. (3 courses available).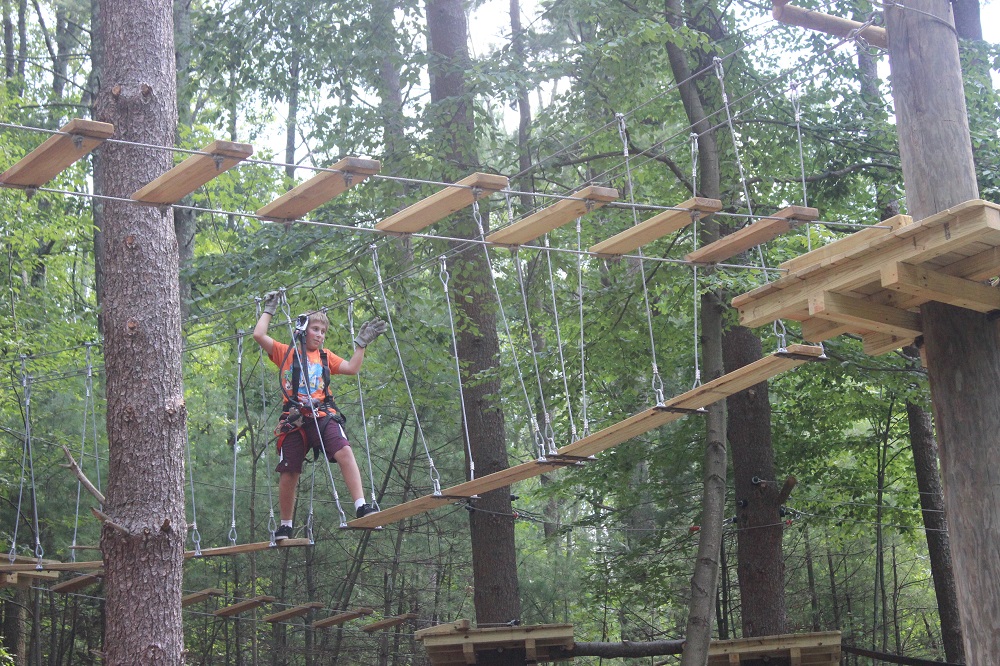 Blue - Strength Course - Advanced Level: This course is 22-26 feet above the ground, it tests your strength and agility and includes harder elements. It ends with a "Leap of Faith" ~ when you've reached the end of the course, step off the platform high in the air into thin air! Don't worry, you will be slowly and safely belayed to the ground.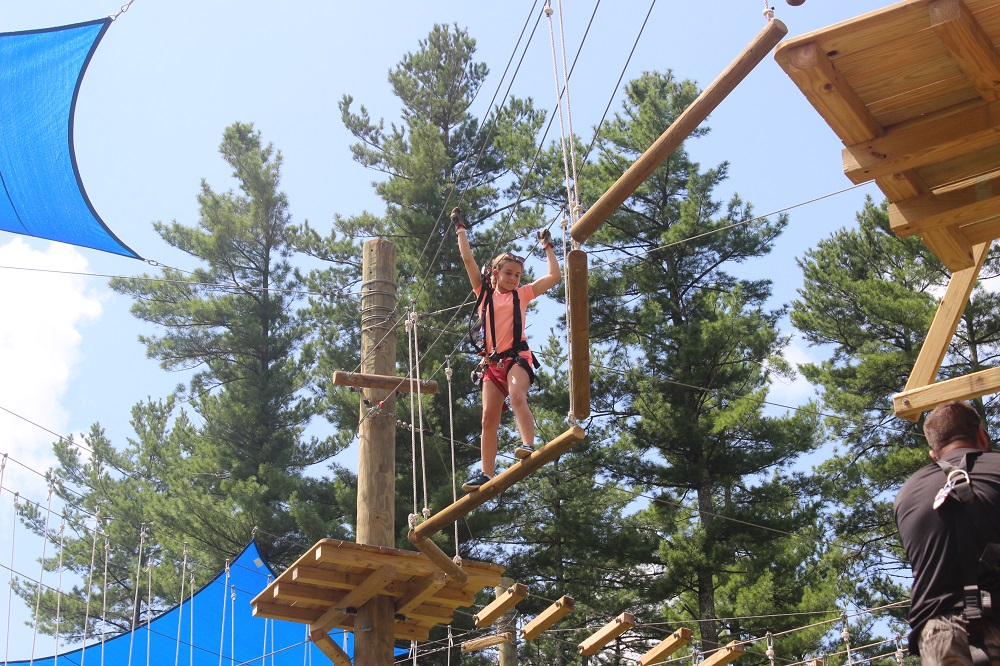 Black - Conqueror Course - Expert Level: This course is 30 - 40 feet off of the ground and has the hardest elements that require serious balance, upper body strength, stamina, confidence and agility. You are super high and super amazing if you choose this course! It too ends with a "Leap of Faith."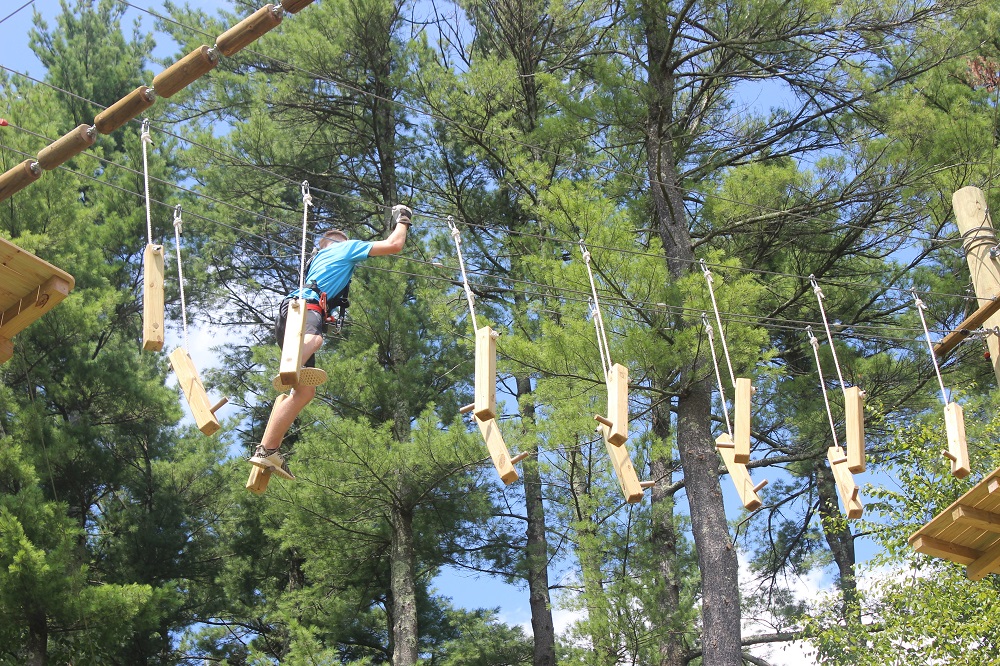 Words about the staff: One of the many things that makes this place a gem is the staff. They are friendly, present, alert and helpful. They are trained to encourage climbers and to offer options, and are empathetic (they are even trained to read facial expressions). They understand that the courses can be intimidating. They help climbers process the challenges, are non-judgmental, ready to help, seem to thoroughly enjoy their jobs and will help you down if you need a rescue mid-course.
Our experience: Our group had a wonderful time at Boundless Adventures! We left feeling proud, satisfied and tired. Each of us said something on the lines of "Next time, I'm going to try…" I have to admit, I am a bit afraid of heights but this place is great for everybody, and I was free to spend most of my time on one of the yellow courses. Each time I attempted the course, I advanced a little further and then turned around and retraced my steps. Though I did not complete it, I felt great that I was able to stay within my comfort zone. My teenagers leaped right onto the courses, had no troubles with the safety clips or belaying, and climbed several of the courses. Ben, 15, carefully tackled and conquered the Black course. It was amazing to see him inching across a tightrope 40 feet in the air (safely attached, of course, and with a cable to hold)! Sam, Barbara's 11 year old, who is normally a little fearful and likes to play it safe, climbed two Green courses. He carefully walked across a set of swaying logs and did numerous bridges and ziplines. It's so rewarding to see a child conquer their fears and tackle a challenge ~ and succeed!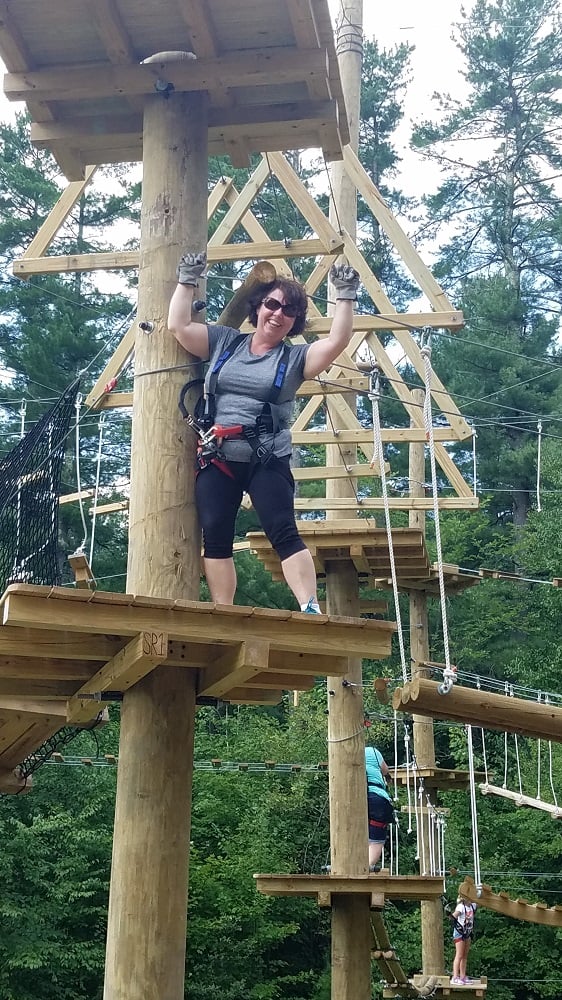 There are many 5 star reviews for Boundless Adventures, and I certainly understand why. Check it out, you will be very, very glad that you did!
Here is what you need to know before you go:
Reservations can be made on the Boundless Adventures website but they also take walk-ins if space allows.
Participants must be 7 & older to participate.
Weight limit is 265 pounds.
Waivers are required for all participants and can be completed online or quickly and easily upon arrival.
The park provides complimentary admission for non-climbers that want to cheer on and encourage friends and family! There are walking trails under the courses as well as several shaded picnic tables for spectators to enjoy and have a good view.
Bring sunscreen and bug spray as the courses are outside.
Wear sneakers or other comfortable closed toe shoes. Fitted work out clothing is best.
The park provides a centrally located free water station with cups and cold water.
Valuables can be left with your spectators or locked in your car.
Packed or purchased snacks can be enjoyed at the on-site picnic tables.
Food delivery is available from local restaurants.
Clean port-a-potties are available for use.
Parking lot is close by and easily accessible.
The park hosts birthday parties, corporate groups and is open rain or shine!
Admission (three hours of climbing fun):
$55 for those 12 and older
$49 for those ages 7 to 11.
No charge for spectators.
Group rates for 15 or more.
Click here to see the Summer and Fall Schedules.
Use code MKDEAL online to get one free admission ticket when you buy two ~ B2G1! Offer expires Nov 30, 2018.
With all the rain we've been having recently, the folks at Boundless Adventures want to assure you that the park is fun and safe even if it's a bit wet! From now through Labor Day, if it's a rainy day and you visit the park, they will provide a voucher of at least 25% off your next visit if you feel the rain hampered your visit. If they have to close the park prior to your arrival, they will provide a 100% refund. See their normal weather policy.
Boundless Adventures
154 River Road West
Berlin MA 01503
(978) 592-0017
Website: https://boundlessadventures.net/ma-park/
Email: berlininfo@boundlessadventures.net
Facebook: https://www.facebook.com/BoundlessAdventuresMA/
Instagram: http://www.instagram.com/boundlessadventuresma/
Wendy received free admission in exchange for this article. No other compensation was received. All her opinions are her own.