Varney Playground and Beach
Adams Street
North Chelmsford MA 01824
Bathrooms: Open only when lifeguard on duty
Parking: Parking lot at the end of Adams St, or side streets if lot is full
Shade: None
Benches/Tables: One table plus picnic tables at beach
Additional Features: Basketball court, tennis courts, ball field, lake beach
Located right on Freeman Lake in North Chelmsford, Varney Playground offers a large wooden castle structure, swings, basketball court, tennis courts, ball field and even a beach for swimming. We decided to pack sandwiches and have lunch at the playground. There was one round wooden table with benches right next to the castle. I did see a couple picnic tables on the beach, however they were being used by a group for a Birthday Party. My trio (5,5, and just shy of 2) ate faster than I'd ever seen! They could not wait to step foot into that exciting castle structure. The last bite was finished and they were off!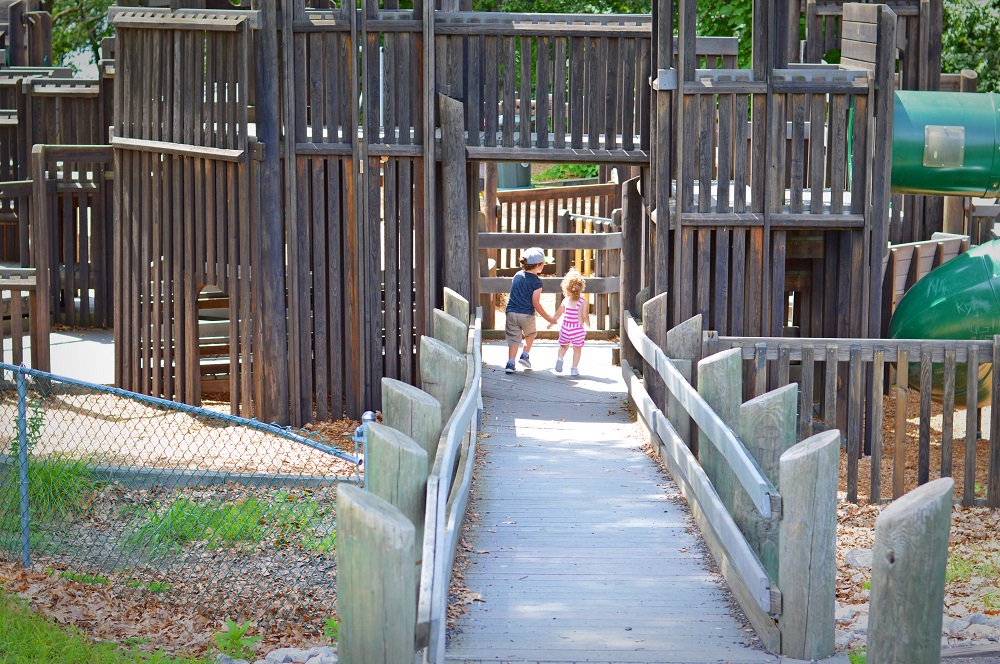 As soon as the kids entered the wooden castle, they disappeared. My husband and I had a hard time seeing exactly where each child was once they were inside. But, their giggles soon told us their locations. It was a bit tricky to get to each side of the playground. I realized once my daughter had gone down a big green tube slide, I had no idea how to get to her. The castle structure is composed of tall wooden walls, making it difficult to see inside. I recommend a walk-through before letting the little ones take off on their adventure.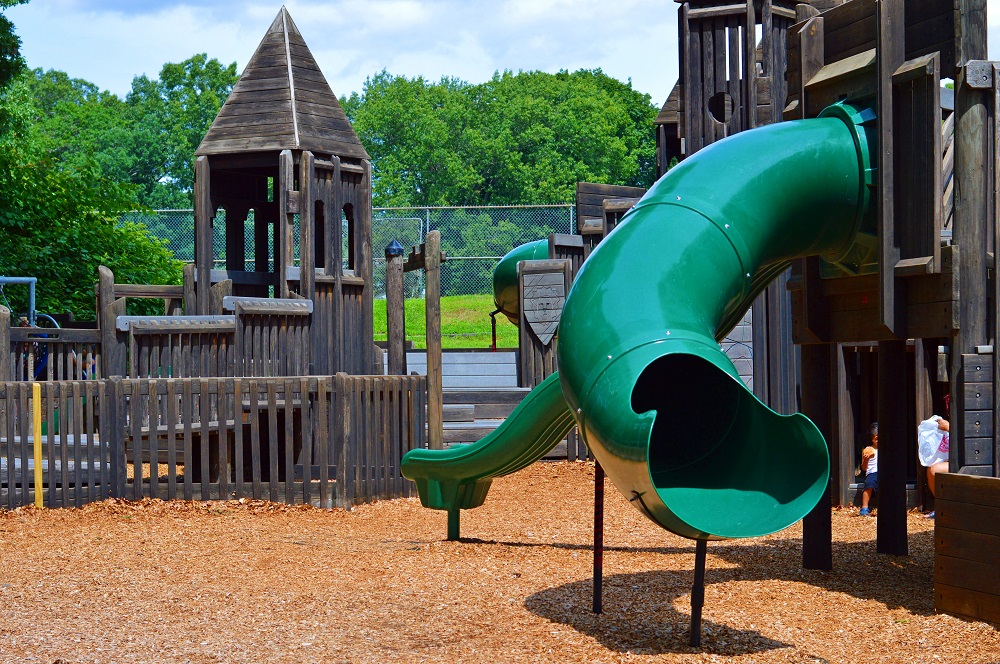 The playground is geared a bit more toward older children. My fearless little one had no problem keeping up with her big brothers, although I was a little more cautious. My children loved the two big nest swings they had. How fun it is to swing with your siblings at the same time! There are no baby swings located at Varney. They did have plastic seated swings for the older kids. While we were there, two young children fell off them and got hurt (one of them being my own), so we weren't a fan of them that day.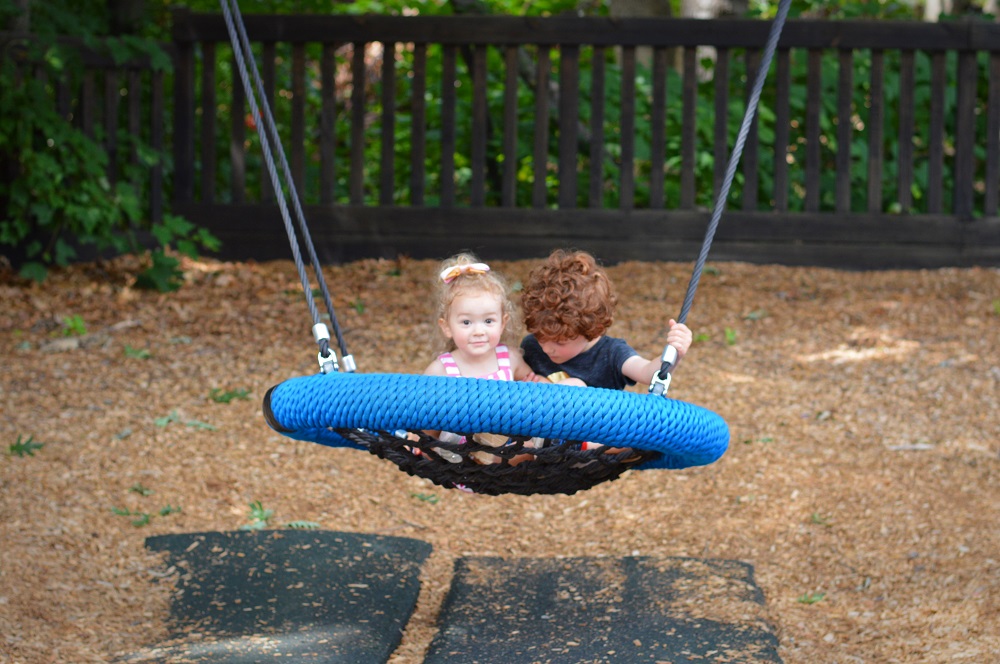 The playground got warm pretty fast. Luckily enough, there is a beach just a stone's throw away from the castle. On the hot weekend day we were there, it seemed everyone was in the water, as opposed to the playground. There is a lifeguard on duty (summer only) and the park is open dawn until dusk. I noticed bathrooms located between the playground and beach as well as a water fountain for drinking.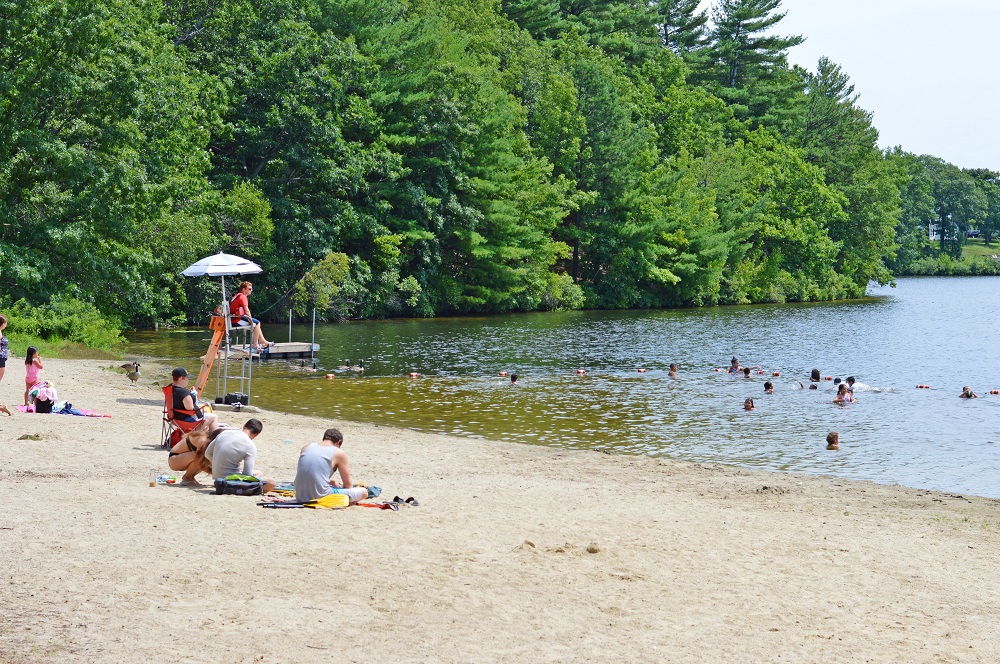 Dogs are welcome at both the playground and the beach. They must always be on a leash while walking or swimming in the water. Please remember to clean up after your furry friend.
As much as my crew did not want to leave, it was time to pack up. As we made our way up the path to the lot, we heard a familiar sound. To our surprise, our most favorite ice cream man visits Varney Playgound as well! What a fun treat at the end of our playground excursion!!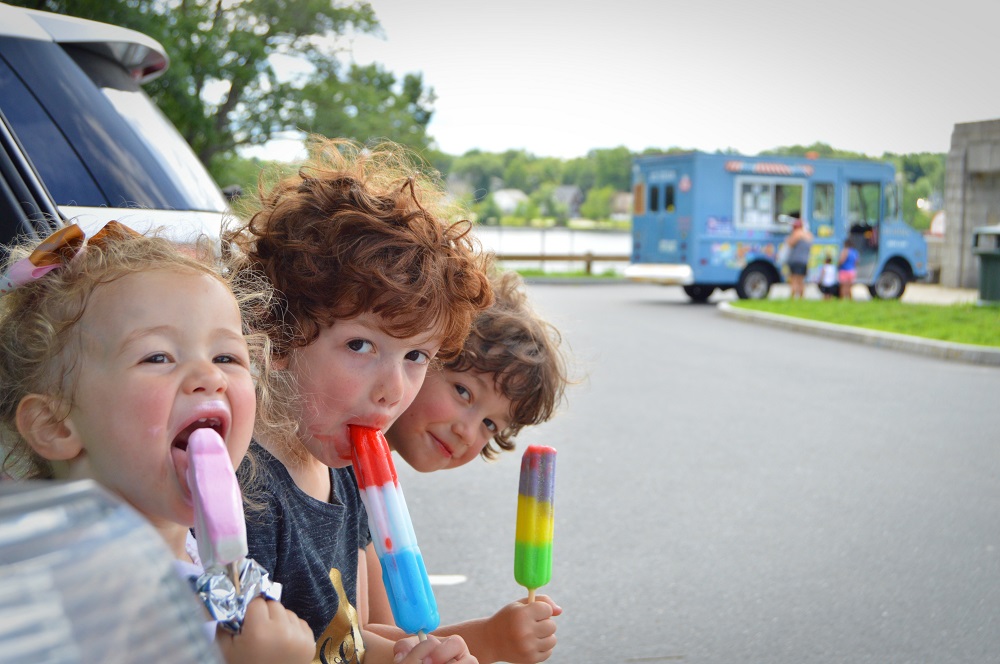 I look forward to visiting this playground again. I think it will be a lovely spot in the Fall. Do please note, this playground is not fully gated and there is nothing separating it from the water, which is just steps away. Staying fully engaged and watchful with your littles during the entire visit is a must at Varney Park. See you at the playground!
All photos credit Snowflake Images by Vanessa Bellitti
Vanessa Bellitti is a Westford mom of twin boys and a spunky little girl, a retired Phunk Phenomenon and Boston Celtics Dancer, and the proud owner of both The Shabby Cupcake (a boutique for the whole family) and Snowflake Images by Vanessa Bellitti. When she's not singing, dancing, sewing, or behind the camera, you'll find her in the kitchen designing cakes and treats for all to enjoy.