See below for discount code information!
Candia Springs Adventure Park
446 Raymond Road
Candia, NH 03034
Last weekend, I visited Candia Springs Adventure Park in Candia NH (northwest of Manchester NH) with my family to check out all the family fun. Candia Springs Adventure Park is comprised of three separate attractions: the water park, a guided zip line tour, and the aerial adventure park which includes aerial bridges, obstacles, and ladders in addition to zip lines. Children must be seven years old in order to use the zip lines and adventure park and thus, with a six-year old and a three-year old in tow, I was unfortunately unable to visit those parts of the park…until next year!
We have been visiting Candia Springs annually since 2013 as it's conveniently located down the street from the campground that we frequent each year. I think that one of my favorite aspects of the park is that it has enough attractions to cater to each of my children's interests (which have changed every single year) while also being small enough to avoid the overwhelming frenzy to make sure that we do "ALL THE THINGS" that typically strikes at amusement parks and family entertainment centers.
The parking lot is a large, open field. Availability is typically ample and this visit was no different. We arrived to the park an hour after opening and parked in the third row without issue (well, besides applying sunscreen to two octopus children and carrying the fifty- pound bag of random necessities across the lot).
Payment is taken inside the gift shop to the right as you enter the park. The gift shop sells an assortment of stuffed animals, clothing, candy, hats, water bottles, sunglasses, and even swimsuits in the event that something is left at home. Admission for the water park is $25 for ages 4+, $12 for those under 4 and over 70, and free for children not yet walking. They typically have passes in the Breathe New Hampshire book, deals on Groupon, and coupons on their Facebook page. Military, fire, police, and EMS personnel also receive 20 percent off admission. They have combination passes for the other attractions within the park as well as season passes that include admission not only to Candia Springs, but also to their sister parks: Alpine Adventures and Whale's Tale Water Park in Lincoln, NH.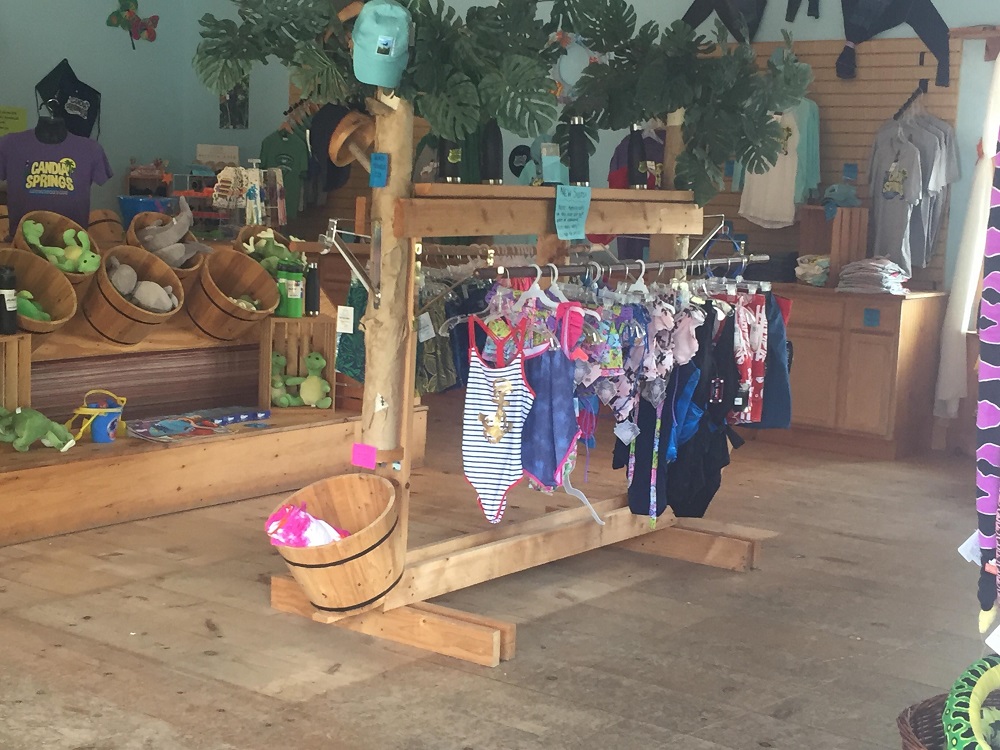 The first attraction guests will see is the 5000-square foot splash pad. This area contains water cannons, a water-shooting see saw, a small tower with 2 slides and a waterfall, a water arch, a small slide, a ride on frog, a mushroom water fountain, and a tower with multiple buckets of water that fill and splash asynchronously. Along the perimeter, sprinklers shoot water into the splash pad; my kids love being about to control the pressure of the water by standing or sitting on the sprinklers. During our visit, I noticed that several friendships were forged among young patrons in devising strategic plans around how to get the most pressure to shoot (usually at parents or siblings) at the optimal time. There is also a feature adjacent to the splash pad that my kids call the "Baby Pad." It's a small raised orb that shoots gentle streams of water to keep even the smallest guests cool and intrigued.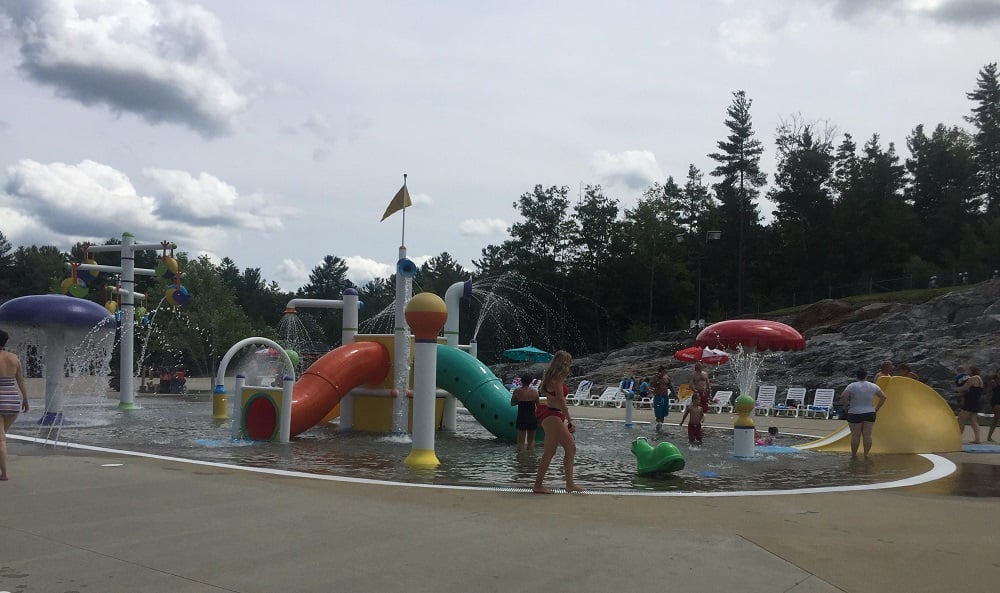 | | |
| --- | --- |
| | |
The next area contains a small pool called the Ziptide as well as the area with two speed slides and two traditional twisty slides called the Twister and the Vortex. The Ziptide is a small swimming pool with a depth of 3.5-4 feet. My kids historically have not paid much attention to this feature in past years, but this year they enjoyed splashing around in it and jumping off the sides. My older son is very confident in the water and is a strong swimmer, but my little guy is still learning and both were equally entertained in the Ziptide. Many guests were sporting Puddle Jumpers brought from home, but the park also provides complimentary life jackets which can be found on two giant racks within the park.
| | |
| --- | --- |
| | |
I cannot comment from personal experience about the speed slides since my anxiety will allow neither myself nor my children to experience them, but those more daring than I seemed to enjoy zipping down them. We did, however, spend a large quantity of time on the other two waterslides. The Twister (AKA, "the green slide") is an open-topped water slide where guests sit on a mat and slide feet first down the slide from the top of the platform four-stories up into the pool below. Children under 36 inches must be accompanied by a parent or guardian and those over 36 inches must ride alone. The Vortex (AKA, "the red slide") is a fully enclosed slide where patrons twist down from the top platform in almost complete darkness until the light at the end of the tunnel where they plummet into the pool at the bottom. Children must be 48 inches in order to ride the Vortex. Life jackets are not permitted on any of the water slides. When we took a poll on the way home, the car consensus was that everyone liked the green slide the best out of all the waterslides.
| | |
| --- | --- |
| | |
My 6-year old, who is on the smaller side and often ineligible to ride without a parent at amusement parks or water slides, was very excited to be able to partake in this activity independently. He rode the green slide at least eight times in a row when we arrived and then rode about twenty more times sporadically throughout the day. He was too intimidated to try the red slide because he heard from other (older) kids that it was dark and scary. I was surprised that he would find it frightening as he's typically a daredevil, but later when I tried to prove to him how harmless it was by trying it myself, I realized that it could absolutely feel a little claustrophobic twisting down to the bottom in near-darkness. My 3-year old loved the green slide and kept both my husband and I busy running up the 3 flights of stairs to the top of the platform throughout the day.
I should mention that there is at least one lifeguard at every station (including patrolling the splash pad) to ensure guest safety. I heard many requests for children to stop running and to slow down. At one point in the pool on the bottom of the green water slide, my husband wasn't able to find his footing as he entered the water with my 3-year old and the lifeguard sprang out of her chair and was about to dive in to help just as he was able to stand up. Everyone was fine and my son didn't even notice, but I was very appreciative of the lifeguard's awareness and quick action.
The final water park attraction was The Reef, a spring fed swimming hole featuring a giant inflatable obstacle course. It's essentially a mini aquatic American Ninja Warrior course and my older son's dream come true. To complete the course, one must make his or her way across a narrow plank, climb across a wall using only handholds, and then climb a rope ladder to the top where a choice must be made to jump off the top, slip down the slide, or climb down another obstacle wall. Both my older son and my husband loved the course. The lifeguards allowed my then-overtired younger son to try it accompanied by my husband, but they only made it to the rope ladder; it was too slippery for him. Two people are permitted to complete the course at a time which made for some fun competition between family members and friends.
| | |
| --- | --- |
| | |
There is a snack shack serving the typical family park fare: chicken tenders, salad, pizza, hot dogs, sandwiches and it's all priced at $6-$10 per item. There are several drink options available, as well as chips, fruit cups, and a myriad of ice cream and milk shake options. We ordered chicken tenders, fries, and a couple of salads and, while it was a lesson in patience for both kids and adults as we waited over 30 minutes for our food, it was easy to entertain the kids at the splash pad while waiting for food. Outside food is permitted in the park so next time I'll attempt to have my act together enough to prepare food at home to bring with us.
There is a vast array of seating available within the park. There are fabric triangles arranged over picnic tables on the perimeter of the park that ensure shade for those lucky enough to procure spots there. The tables need a little refinishing but I was so happy to have found a shady spot that housed our entire party that some rough paint didn't matter. There are also cabanas available for rent; while we were there, the largest cabana was hosting a unicorn themed birthday party and it was so adorable that it made me jealous of those who have kids with summer birthdays. Plastic lounge chairs encircle the entire splash pad which is where the majority of guests chose to sit. There are small lockers just after the entrance available to rent, but we (along with what seemed like the majority of guests) just kept our bags near us at the table for the sake of convenience. There are a plethora of chairs and tables with umbrellas outside the food area. Additionally, there were several families who brought blankets and arranged them in the grass under the trees.
| | |
| --- | --- |
| | |
There are two sets of outdoor showers for rinsing off before heading home: one toward the entrance and a newly installed shower near the pool and waterslides. Both the women's room and the men's room have large changing rooms. There is a third restroom used as a family changing room/disabled restroom containing the only baby changing station. During our visit, the single water fountain was out of order, but there was water available for guests inside the snack area in a large 10- gallon cooler.
The Park typically opens for the season at the end of June, and the aerial adventure park is open until the end of October. The water park closes after Labor Day weekend. Opening is at 10:00 AM each day; closing time varies daily.
Planning a visit to Candia Springs this year? Use code MACD18 to save 20% on the aerial challenge course/water park combination ticket. Note that the aerial challenge course requires reservations, which can be made after the online code is applied.
Kelly received free admission in exchange for this article. No other compensation was received. All her opinions are her own.