The decision by Khloe Kardashian and Kylie Jenner to have their infant daughters' ears pierced sparked a debate about whether babies should undergo the piercing procedure. Some fall on the side that piercing an infant's ears is causing unnecessary pain and risk of infection, while others don't see it as a big deal and consider it a cultural tradition.
I waited until my daughter asked to have her ears pierced. She was 8. I allowed it after doing some research on who I would trust to do the procedure on my daughter. Surprisingly, perhaps, a tattoo shop ended up being the best choice.
No matter whether you -- like Khloe and Kylie -- feel it's okay to pierce your infant's ears, or if you feel it should wait until your child is older, it's important to research the issue before having your child's ears pierced. (Note the American Academy of Pediatrics recommends waiting until your child is old enough to take care of the pierced site themselves.)
I asked Mike Moore, a co-owner and piercer at Ironclad Tattoo Co. in Troy, Mich. -- the professional I chose to pierce my daughter's ears -- for his advice on questions parents should ask before allowing their children undergo the procedure. He offered these six tips:
1. Learn the basics.
Find out if the shop you're considering works with children and how much experience they have piercing kids' ears. Also, ask what paperwork you need to bring. Some states require notarized letters, while others require a child's birth certificate and a parent's photo ID. Requirements vary state to state.
2. Be willing to pay more for experience.
Remember, you get what you pay for! Your child will likely have the piercings for the rest of his or her life. It's worth it to spend a little more for an expert who does things safely and properly to avoid infections, scar tissue, and misplaced piercings.
That's why I chose a tattoo shop -- where trained professionals are working -- rather than a mall store where employees may have less training. You can ask about certifications and experience level before choosing the person you want to work with your child.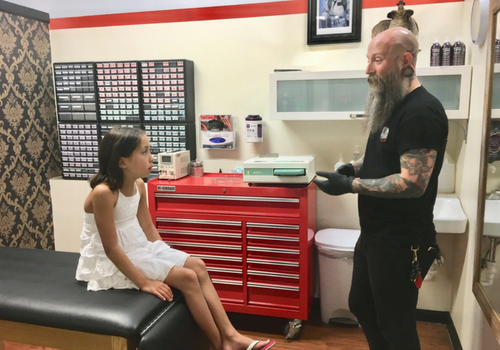 3. Ask if a piercing gun is used.
The right answer to this question is no, Moore said. "Piercing guns cause extra trauma to the earlobes," he said, noting that when the jewelry itself is used to make the piercing, it's actually puncturing the skin, rather than piercing it.
In addition, plastic ear-piercing guns cannot be sterilized. Instead, a brand new sterilized needle -- used only on your child -- is the safest way to pierce ears.
4. Find out what type of material earrings are made from.
You want implant-grade surgical steel or implant-grade titanium, certified by the FDA as safe for long-term implant in the human body. There is much less chance of irritation and trauma to the ear with high-quality, medical-grade materials.
Also, Moore said the length of jewelry matters and should be based on the size of the child's earlobes.
"The jewelry should be custom fit for the child to allow room for swelling, and they shouldn't use butterfly backings," he said. Butterfly backings can cause infection because of how it tightens the earring against the ear, Moore said. After the swelling has subsided, your piercer will check the fit and downsize if necessary.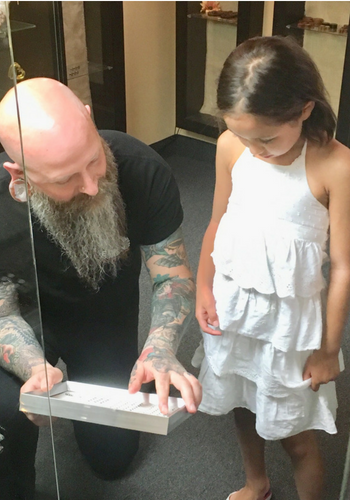 5. Observe the sterilization process.
Make sure all reusable materials are sterilized in an autoclave, and preferably right in front of you. (An autoclave is a pressure chamber used to sterilize equipment.)
Moore said that all disposable supplies should be contained until the time of use, and not placed on surfaces that aren't sterile. He also noted that simply wiping something with an antibacterial wipe or alcohol on a cotton ball is not adequate sanitization for a piercing procedure.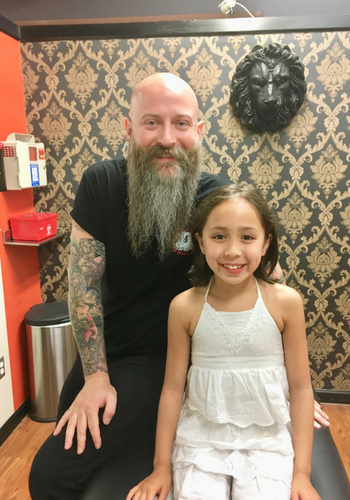 6. Inquire about aftercare.
The aftercare for your piercing should be explained to you and provided in writing. Sea salt (or saline) solutions are the best option for keeping your new piercing clean, according to the Association of Professional Piercers. Moore said a reputable piercer will encourage a follow-up visit to have the piercing checked and the jewelry resized, if necessary.
No matter your child's age, do some research ahead of time to choose the right professional for your child's piercing -- even if it means you do end up at a tattoo shop!