Funway Park
288 Livingston St.
Tewksbury MA
Parking: Ample
Stroller-friendly: Yes
Enclosed: Yes
Restrooms: Porta-potty
Things to love: Plenty of seating and nearby fields and courts
Things to bring: A child's bike or scooter to use around the paved perimeter
As a Tewksbury native, I wasn't sure what to expect when arriving at Funway Park since I had fond memories of the original, which was rebuilt in 2015. However, the minute I pulled in with my two-year-old and nine-month-old in tow, I knew this updated playground was going to be an instant favorite.
The first thing I noticed was that the play area is fenced in (perfect for wild toddlers) and there's a paved walkway around the perimeter (perfect for pushing drowsy babies). Plus, there's plenty of seating throughout the whole park (perfect for tired mamas!).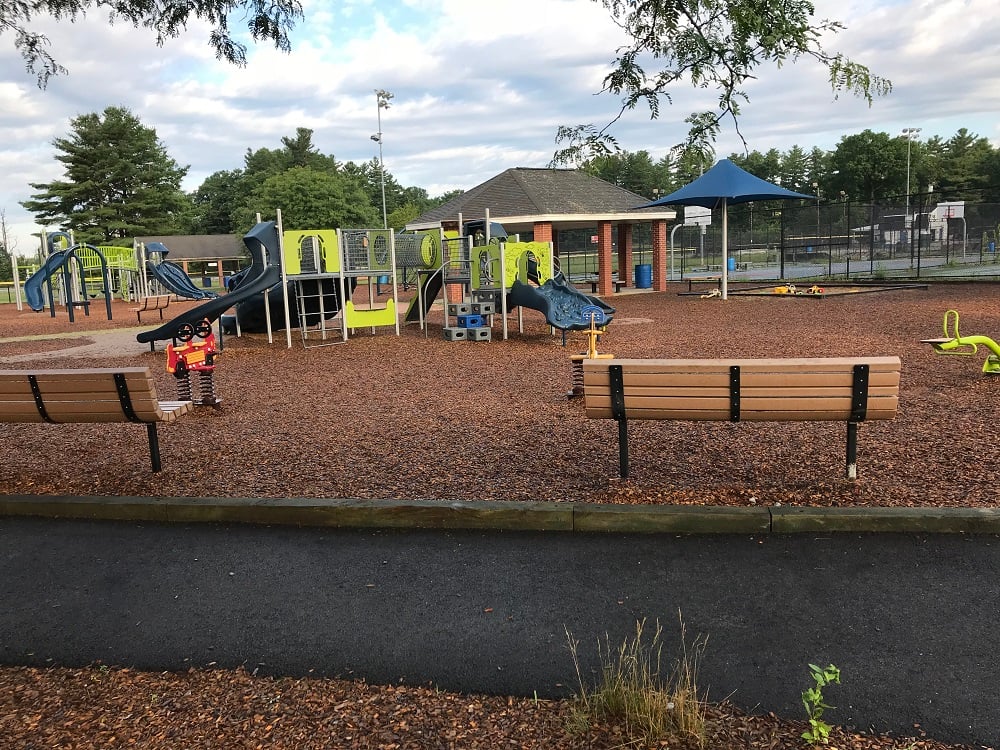 Another thing I immediately liked was the covered pavilion area available for shade, which also has some picnic tables. As I sat down and began unpacking the snacks, my toddler sprinted to the giant sandbox which, I must admit, is one of the best I've seen in the area. Inside there are various trucks, shovels, buckets, and rakes that are just begging for a tyke to come play with them. There is also a giant umbrella that hangs over the sandbox to provide shade for those super-hot summer days.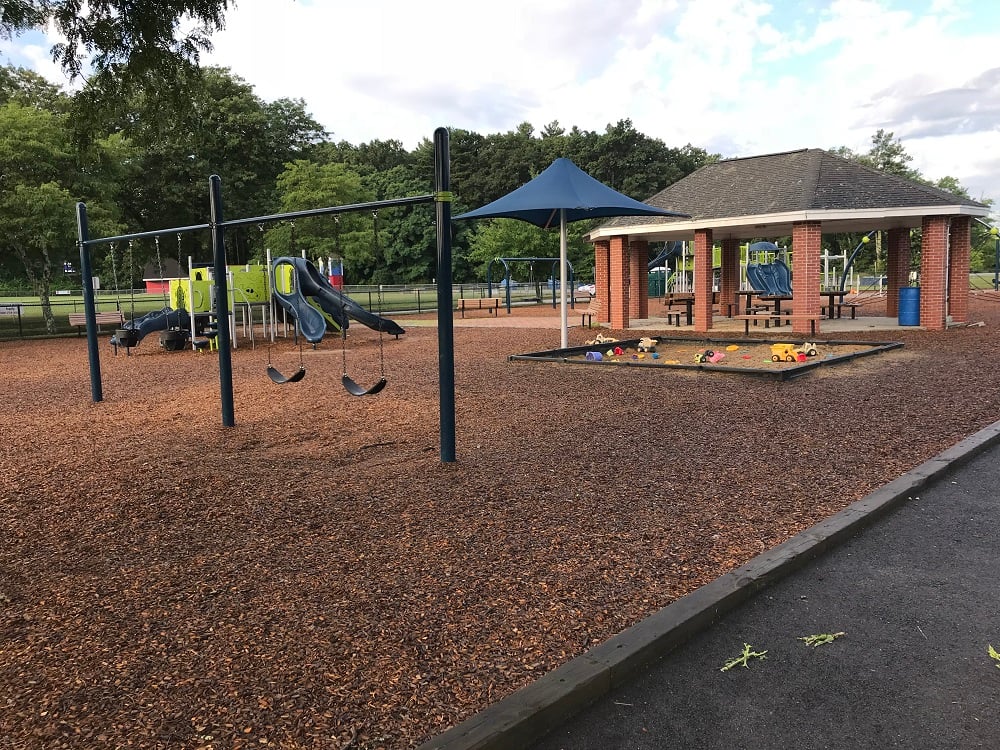 In addition to a toy-filled sandbox, the playground also has some really neat and different looking climbing structures. There's a smaller one towards the back that's great for toddlers. My two-year-old was a big fan of the unique cage tunnels that I've never seen before at any other playground. Next to the walking path there are also some animals on springs that can really get going when you ride them, and they face the street so kids can watch the trucks, busses and cars roll by for entertainment. Also in the back section, there's a toddler-friendly seesaw and some smaller slides.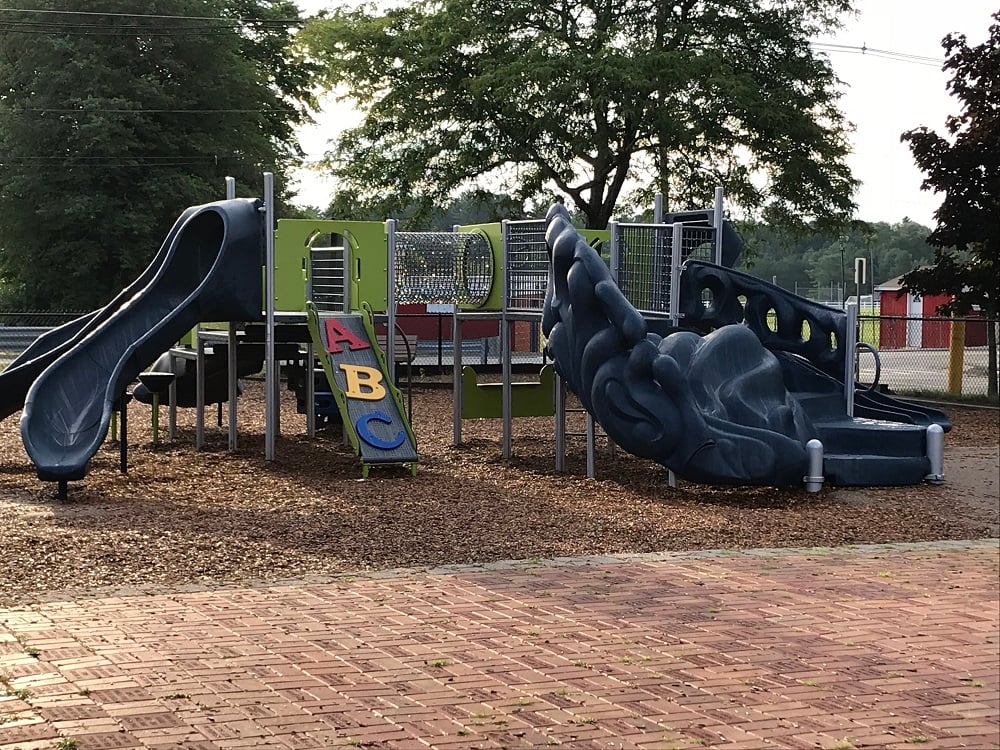 There are also larger structures scattered throughout the playground that bigger kids will most enjoy. The ever-popular giant rope spider web structure is present, as well as tilted ladders, bridges, and large slides. The park also has five swings, a handicap swing, two baby swings, and a tire swing available.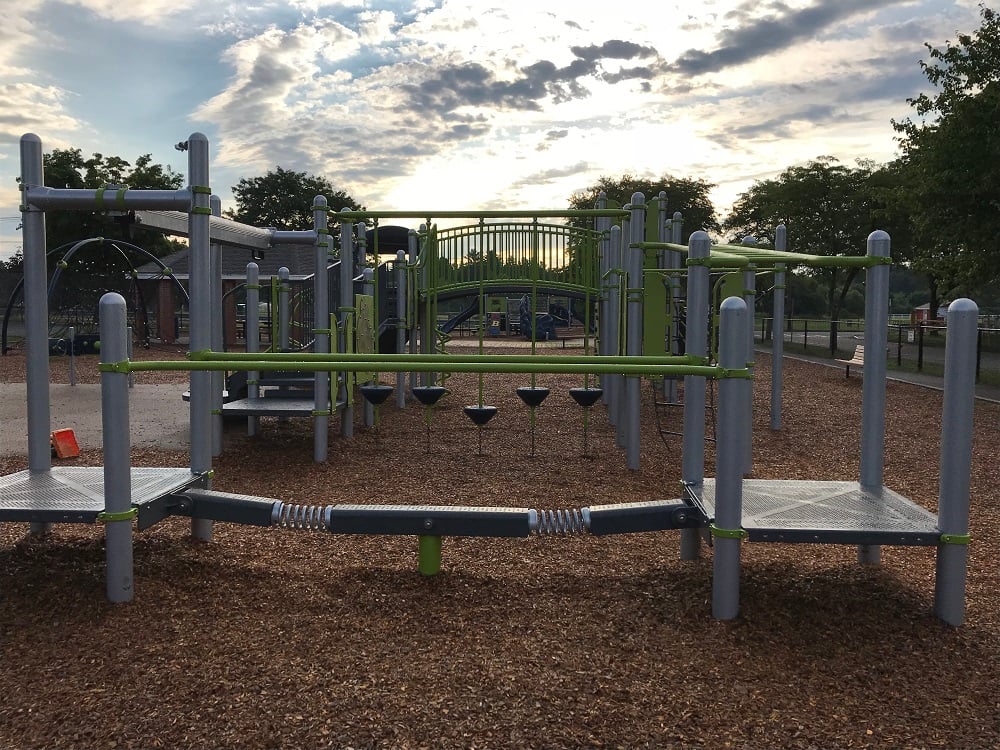 If you find that your kids are looking for a change of scenery, you can also exit the playground and walk over to the basketball and tennis courts, baseball fields, football field, skateboard park, or concession stand. Everything is in walking distance and set back and away from the main road. There are also additional picnic tables scattered throughout that provide more options for snack time and lunchtime.
Since there are so many different options for activities, this park would be especially appealing to a parent with kids of a wide age range because there really seems to be something for everyone. Older kids will enjoying exploring the grounds outside of the park and younger kids will be perfectly happy running around inside the gated playground area.
Kelsey Little is a local mother of two and a middle school English teacher. She enjoys exploring parks, beaches and playgrounds with her family.