Who doesn't love fried food? Perhaps not the healthiest dinner option in the book, but our family motto is "everything in moderation!"
So when my 5-year-old had a craving for corn dogs, AND had a sleepover at our house on the same day, I decided to brave the kitchen with her and her friends to make our own. I love cooking with kids because I believe it's a great educational activity -- Math! Science! Literacy! -- Plus we all get to eat.
What you'll need:
Vegetable oil for frying
Toothpicks
8-10 hot dogs
1 cup cornmeal
1 cup all-purpose flour
2 tablespoons sugar
2 teaspoons baking powder
½ teaspoon salt
1 egg
1 - 1¼ cups buttermilk*
2 tablespoons vegetable oil
*NOTE: We did not have buttermilk. But I discovered (with a little Internet sleuthing) that a cup of regular milk mixed with 1-2 tablespoons of white vinegar works as a substitute.
Step 1
Slice the hot dogs into 1 and a half-inch pieces. Poke toothpicks into each slice.
Cooking with kids: Hot dogs slice pretty easily with a butter knife. This is the perfect opportunity to introduce knife safety and skills. Also, even the youngest of kids can stick toothpicks into hot dogs.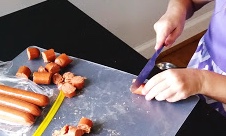 Step 2
Fill a saucepan about halfway with vegetable oil and heat on high. (I put the burner on high for about 7 minutes and then turned it down to medium-high during the frying process.)
Cooking with kids: Kids can help pour the room-temperature oil into the saucepan. While we sometimes allow our kids to work over the stovetop under close supervision, this time around I handled all the hot-oil tasks.
Step 3
Make the batter. Mix the dry ingredients together in a bowl. Then add the egg, buttermilk, and vegetable oil to the dry ingredients and mix well.
Cooking with kids: Measuring, scooping, pouring, and mixing are great ways to build confidence in the kitchen! These activities also help develop gross-motor control over little hands and encourage learning about things like counting, measurements, and how ingredients work together to create different foods.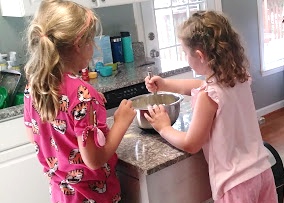 Step 4
Dip the hot dogs into the batter by holding the toothpick. Place/drop the battered hot dog into the hot oil. (You can leave the toothpick in the oil.)
Cooking with kids: This was probably the most challenging step, as it required a little practice to dip the hot dog without it falling off the toothpick, but they did a great job with it! As soon as their hot dogs were battered, they handed them to me to place into the oil for frying.
Step 5
Use a straining spoon to move the corn dogs around to fry evenly. Once they reach a golden brown color, use the straining spoon to scoop up the corn dogs and place on a tray lined with paper towels.
Cooking with kids: While the kids didn't help with this step (hot, sizzling oil and all), they were able to watch at a distance and were completely in awe of how their corn dogs fried up!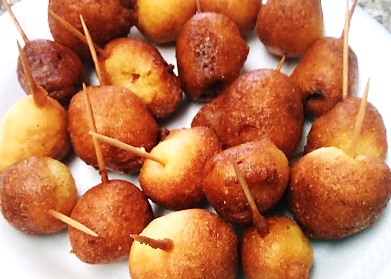 Time to eat! These mini corn dogs were not only fun to make, but the girls loved to eat them!
Looking for a fun dessert option that kids can have fun making? Try these easy fruit nachos!