Katelyn M. of Dracut is our winner!
Are you ready to challenge yourself and test your balance, strength, stamina and agility ... and have a blast while doing it? Head to the new Boundless Adventures aerial adventure park in Berlin MA, just 30 minutes south of Lowell, to climb, swing and zip through obstacle courses and find amazing resources of courage and strength. Be Boundless!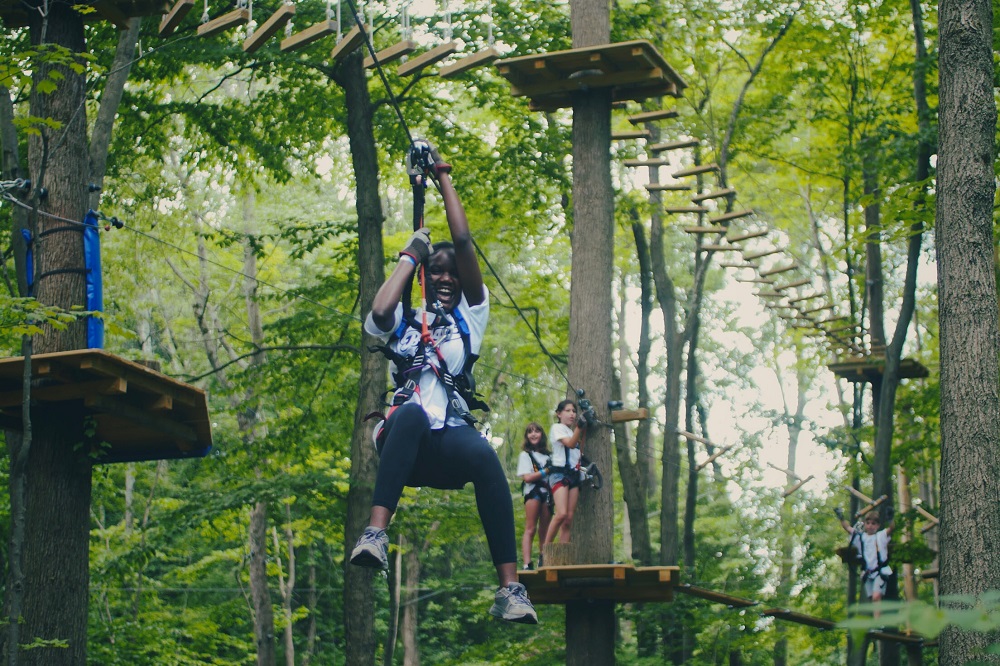 Boundless Adventures is for ages 7 to 97 and includes courses for all levels, from beginner to expert. A visit will take about 3 1/2 to 4 hours and includes 30 minutes of detailed training and 3 hours to climb, swing and zip on the courses of your choice. Participants will be outfitted with advanced safety equipment, including a full-body harness and will learn how to use an always "on belay" system ~ meaning that you are always locked on to a safety line, no matter where you are in the course. Family and friends are welcome to attend at no charge to watch while you and your friends tackle the courses.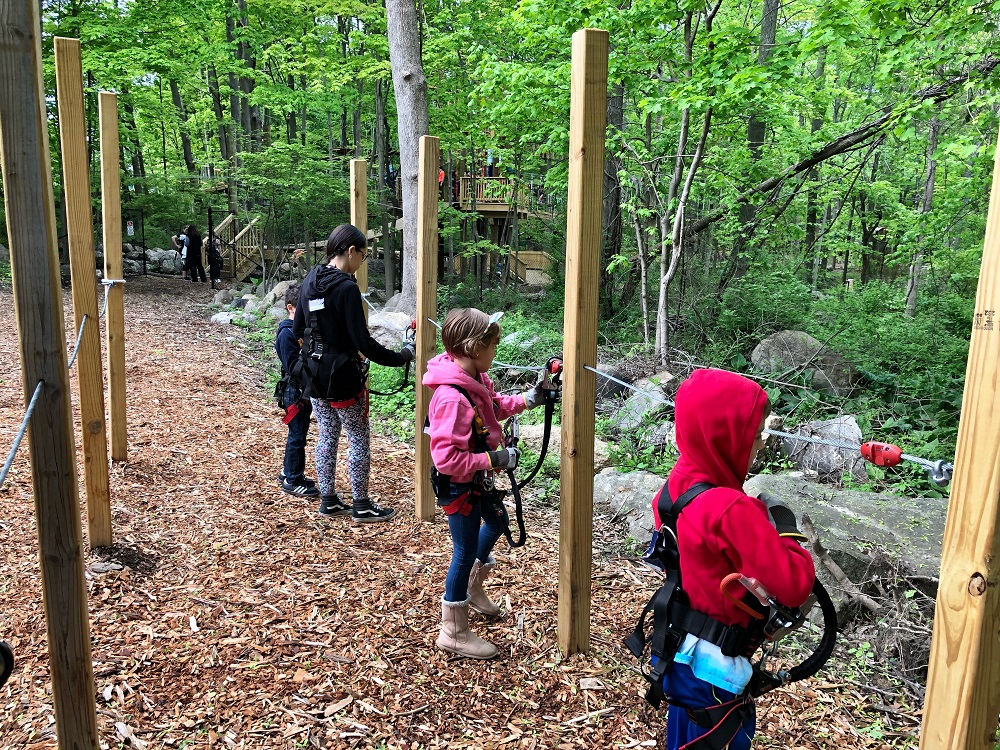 At 10 feet high, Beginner courses are good for new climbers and kids age 7 and up. Intermediate courses require a bit more strength and bravery and are 15 feet high; confident kids age 7 and up may do the Intermediate course with an adult. Advanced courses are 22-26 feet high and require additional strength; kids age 10 and up may do the Advanced course with an adult. At 30-40 feet off the ground, Expert courses are for experienced climbers with no fear of heights; kids age 12 and up may climb the Expert course with an adult.
What is an aerial adventure like? See these comments from climbers:
"After this experience, I learned that if I push myself hard enough, I can succeed."
"All of the staff was super friendly and helpful"
"Plenty of adventures for all abilities. We had a blast."
"The staff is kind, well-trained and encouraging. I got there asking for a course without zip lines (it was my first time and I was really afraid). After the support and patience of staff members, in no time I went on the zip line and I was very proud."
"This is a great way to spend quality time with your family and friends! Good outdoor fun, exercise, and adventure!"
"It's great for empowering oneself and building confidence. I took 21 high school seniors and they had a blast. Kids who thought they couldn't make it went to the second or third levels, pushing themselves and supporting each other. Amazing, awesome day!"





Enter our giveaway for four tickets to Boundless Adventures!
Enter to win four tickets to Boundless Adventures in Berlin MA. Winner will need to reserve date and time of visit in advance. This giveaway is open until 6 PM on Tuesday, July 17, 2018. One winner will be chosen randomly and notified on Wednesday, July 18, 2018.
For two bonus entries:
Submit the entry form
AND
Like and comment on our Facebook giveaway post about the giveaway!
Earn another bonus entry by liking Boundless Adventures Facebook page!
NO PURCHASE NECESSARY TO ENTER OR WIN. A PURCHASE OF ANY KIND WILL NOT INCREASE YOUR CHANCES OF WINNING. ODDS OF WINNING WILL DEPEND ON THE TOTAL NUMBER OF ENTRIES RECEIVED. VOID WHERE PROHIBITED BY LAW. DO NOT ENTER THIS SWEEPSTAKES IF YOU ARE NOT EIGHTEEN (18) YEARS OF AGE OR OLDER AS OF July 11, 2018 AND A LEGAL RESIDENT OF AND CURRENTLY RESIDING IN ONE OF THE FIFTY (50) UNITED STATES OR THE DISTRICT OF COLUMBIA. MUST BE A MACARONI KID SUBSCRIBER TO WIN. CLICK HERE FOR COMPLETE RULES.
Boundless Adventures
154 River Road West
Berlin MA 01503
(978) 592-0017
Website: https://boundlessadventures.net/ma-park/
Email: berlininfo@boundlessadventures.net
Facebook: https://www.facebook.com/BoundlessAdventuresMA/
Instagram: http://www.instagram.com/boundlessadventuresma/