IMPORTANT: Beginning July 2019, Veterans Park will be completely closed for major renovations, including the playground, fields, restrooms, spray park and walking trails.
There is much to do at Veteran's Memorial Park in Dracut. As first time visitors, we were unsure what to expect but were pleasantly surprised at arrival! There is ample parking in their large lot, just steps away from the fun. And free admission for all! The park does have bathrooms, which are handicap accessible.
The most exciting thing there for my crew (ages 22 months, 2.5, 4, 5 and 5) was the spray park!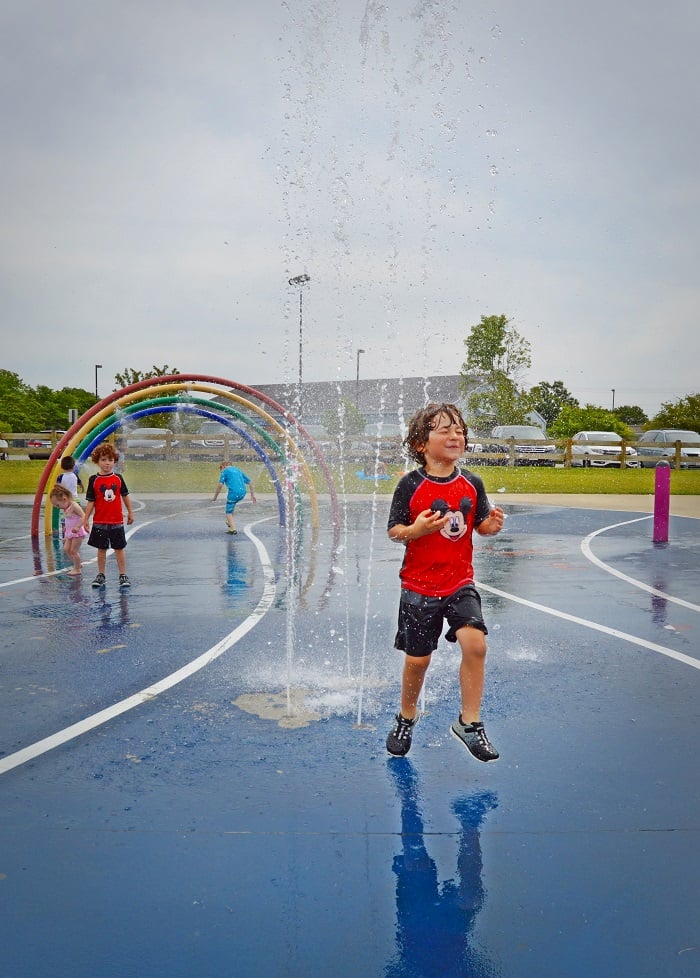 The spray park is open daily from 10 AM to 6 PM as long as the air temperature is at least 70 degrees, with a close date the Tuesday after Labor Day weekend. A colorful rainbow sprays water while children race through to the other side. Water shoots up out from the ground at different spots around the splash pad. Be careful where you stand. It turns on and off unexpectedly, especially to a Mom holding a camera!! Ahhh! The children can also turn the water on by touching a pole with a censor located on the top. My daughter thought that was fun. I do recommend water shoes for the little ones, and towels of course. And don't forget the buckets! They were a huge hit for my kids as well as the other children at the park.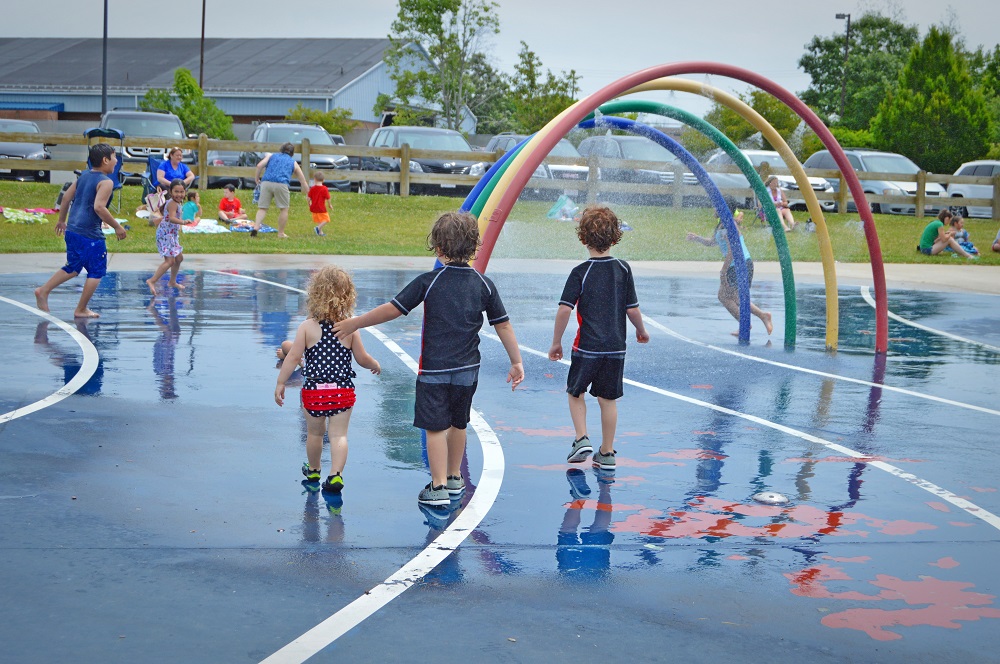 Two play structures stand right across from the spray park area. One designed for children ages 2-5, the other for children ages 5-12. I did find it a bit challenging to keep an eye on multiple children at once, since they all wanted to enjoy different activities at the same time. Please note the playground and water area are not gated off from the parking lot. There is a wooden ranch rail type fence around the play areas that my almost 2 year old could duck right under.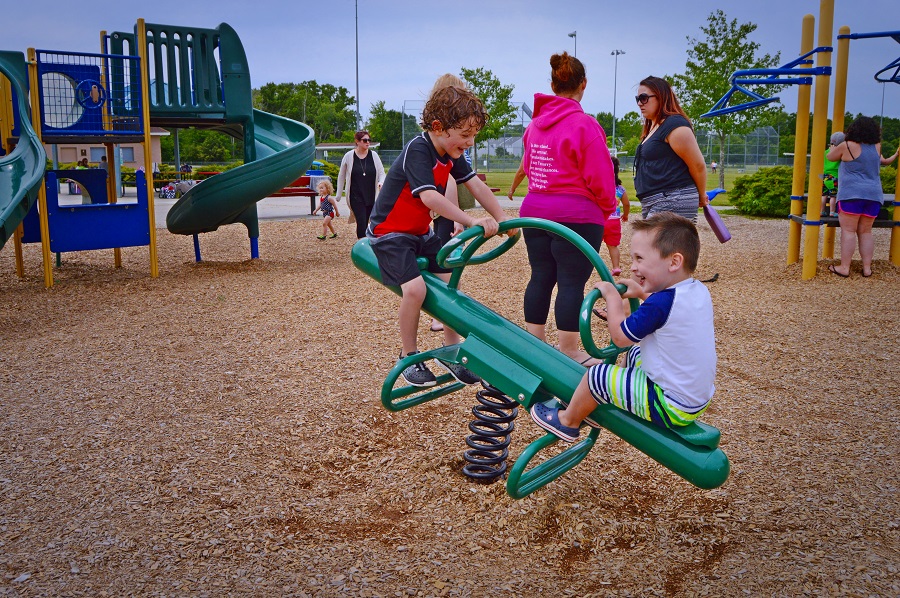 Plenty of shade is to be had around the spray park. Two large gazebos stand over nine picnic tables for snack or lunch time. You'd prefer a picnic? No problem. There is plenty of grassy area to lay a blanket down. There are also two baseball fields and a large field for playing soccer, football, frisbee or just letting the kids burn off some energy. We definitely took advantage of that. My son's eyes lit up when he saw that open space to really let his Super Hero speed take flight!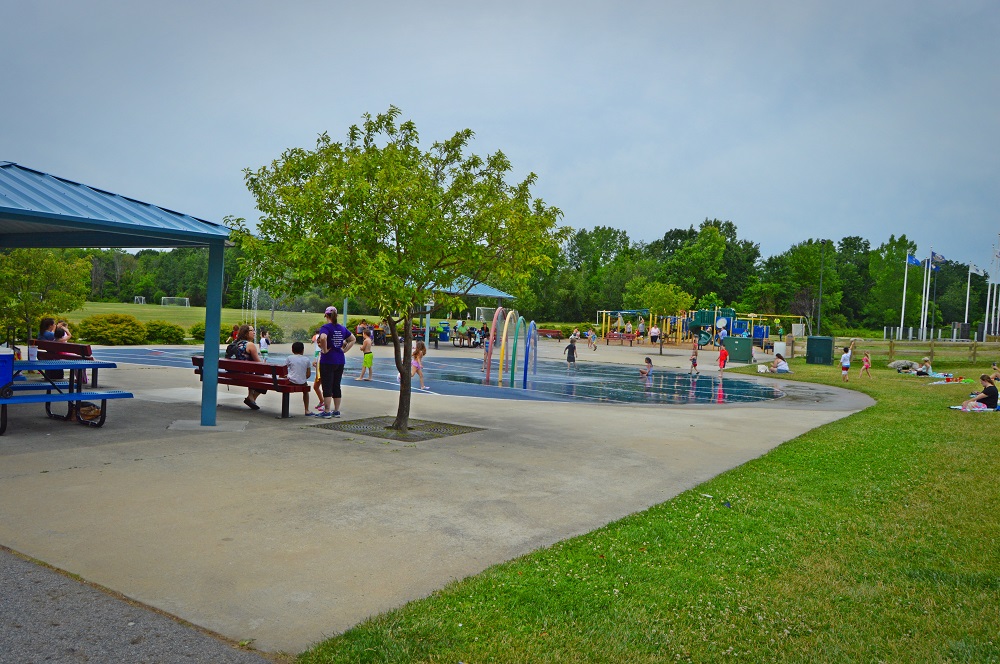 Veteran's Memorial Park is a dog-friendly park. There were many dogs enjoying the day with their humans, just like us. So, keep that in mind if you are not a fan of the four-legged kind. On another note…Our furry friends may have been permitted, but smoking anywhere in the park is not.
The park has trash receptacles as well as recycling, so please be sure to clean up after your crew. There's even a solar powered compactor, which I thought was very cool.
I noticed a snack shack; however, it was closed while we were visiting on a Wednesday morning. I do think it may be open during ball games and possibly weekends as well.
All in all, a day at Veteran's Memorial Park was a hit! We will most likely be venturing there again in the near future. If your family is looking for a nighttime activity, they offer Movie in the Park on some Friday nights during the summer. The movie starts at dusk. Just bring a blanket or camping chair, bug spray, and a sweatshirt for those chilly summer nights. And bonus….The snack shack is open during the movie! (Movie info can be found on the Town of Dracut website and on the Lowell Macaroni Kid event calendar.)
Veteran's Memorial Park
80 Broadway Road
Dracut MA
All photos credit Snowflake Images by Vanessa Bellitti
Vanessa Bellitti is a Westford mom of twin boys and a spunky little girl, a retired Phunk Phenomenon and Boston Celtics Dancer, and the proud owner of both The Shabby Cupcake (a boutique for the whole family) and Snowflake Images by Vanessa Bellitti. When she's not singing, dancing, sewing, or behind the camera, you'll find her in the kitchen designing cakes and treats for all to enjoy.
Lowell Macaroni Kid is a free weekly newsletter and website focused on fun family events and information in the greater Lowell area.
We gather together all kinds of local family events and activities each week, and add useful information about classes, family-focused businesses, book and product reviews, recipes, crafts, school and camp guides and more. We proudly serve 9,500+ families in Lowell, Dracut, Chelmsford, Westford, Tyngsboro, Dunstable, Littleton, Groton, Billerica, Tewksbury, and other surrounding communities.
Subscribe today to receive our email newsletter every Wednesday!