Do your holiday plans include baking a long list of cookies of all kinds?  Roll-out cookies, marzipan, multi-layer, snowflake shapes with piped royal icing... oh, let's just add those thumbprint cookies...and then the holidays hit. It's December 19 and it's time to get real.  THIS is the recipe I pull out when I need a cookie that's super easy, delicious, and festive.  
The secret with these cookies is the creamy goodness of Hood Sour Cream.  Instead of a dry, crumbly cookie, Hood Sour Cream transforms a simple sugar cookie to a spectacularly flavorful, tender cookie. The soft texture is complemented by any flavoring -- I use lemon extract but coconut, anise or orange are delicious alternatives. You can even mix in nuts or raisins or top it with a whole pecan or a light lemon icing.  I keep it simple with colored sugar crystals during the holidays but have made these in all kinds of ways for parties, family gatherings or just a special treat.  I know I can rely on Hood Sour Cream to produce a light, tender cookie full of flavor.  For coupons and additional recipes, visit www.HoodSourCream.com.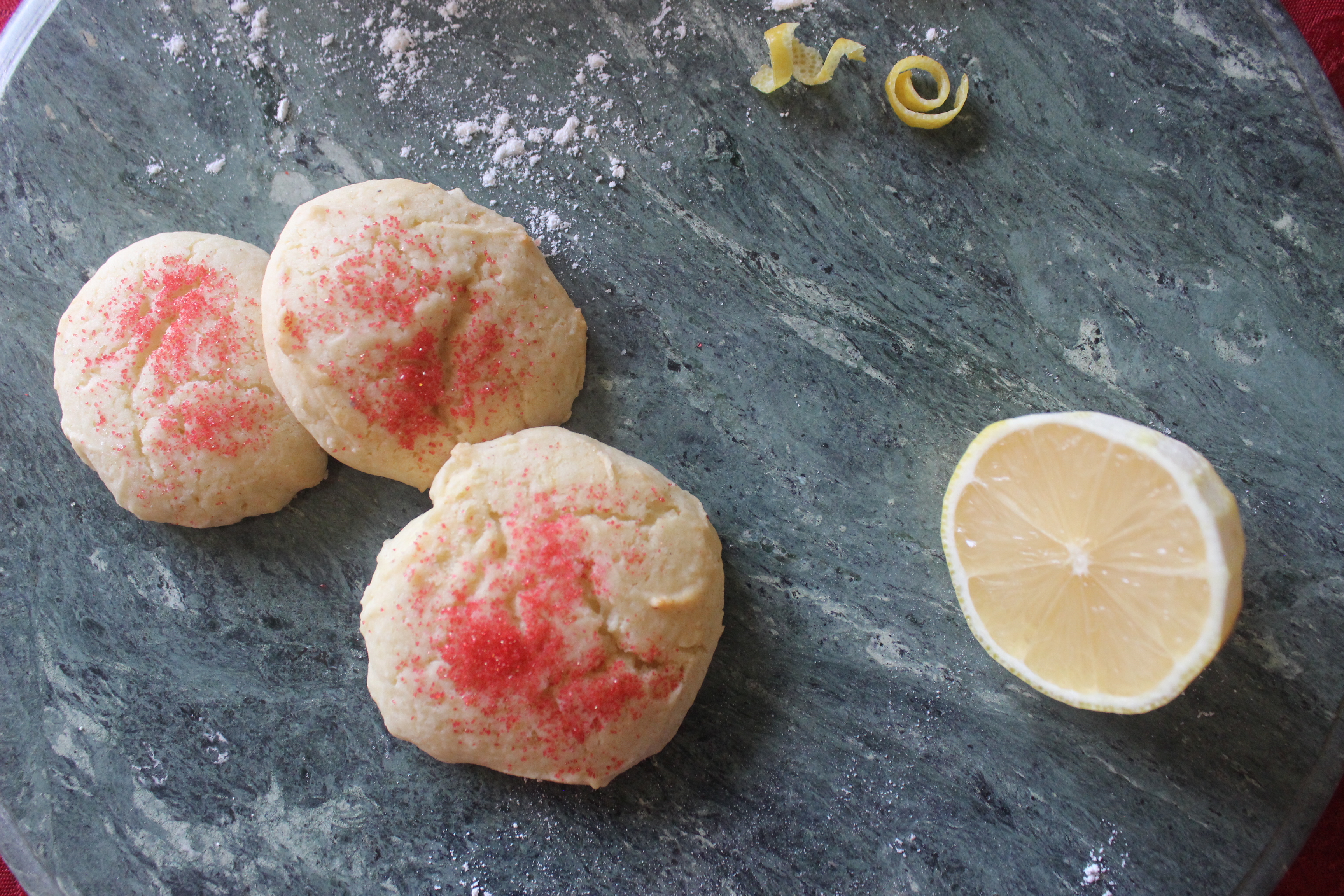 ​
Ingredients
3 cups all-purpose flour
1 1/2 tsp baking powder
3/4 tsp baking soda
1/2 tsp salt
1/4 tsp ground nutmeg
1 1/2 cups white sugar
1 cup (2 sticks) butter, softened
2 eggs
3/4 cup Hood Sour Cream
3/4 tsp lemon extract*
Optional -- add mix-ins such as chopped nuts, mini chips or raisins.
*Experiment with other extracts, such as coconut, anise or orange
Directions
Preheat oven to 375 degrees F (190 degrees C).  Line baking sheets with parchment or spray with oil spray.


Sift flour, baking powder, baking soda, salt and nutmeg together into a bowl.


In a large bowl, beat butter and sugar together with an electric mixer until creamy, light and fluffy.  Beat in 1 egg at a time.  Add Hood Sour Cream and lemon extract and mix thoroughly.  Remove mixer beaters, and use a spoon to stir flour mixture gradually into dough until well-combined.


Drop dough by rounded tablespoons onto prepared baking sheet, about 3 inches apart.


Bake in the preheated oven about 3-4 minutes, until cookies are somewhat smoother but still moist. Pull baking sheets out (close oven door to retain heat) and sprinkle cookies with colored sugar crystals or press a whole pecan on top.  Return to oven and bake another 6-7 minutes until edges of cookies are a golden brown.  Timing may vary, depending on your oven; watch closely.


If using parchment, slide parchment, cookies and all, out onto counter to cool.  After 10 minutes, carefully remove cookies with a spatula and place on rack to cool.


If adding icing, wait until cookies are completely cool.
Makes about 50 cookies to enjoy or gift to others!