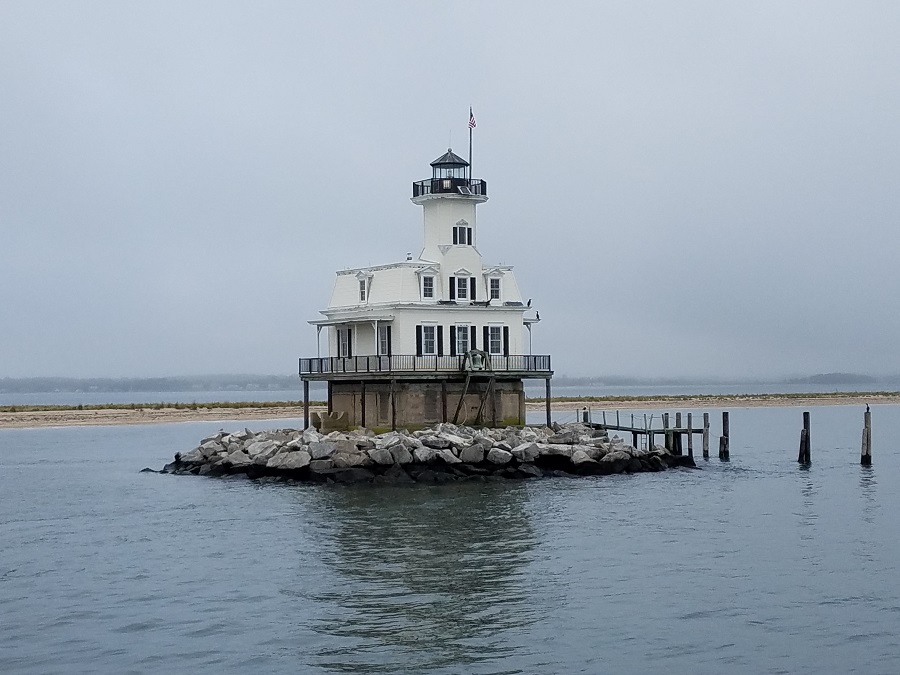 Bob Allen's great-grandfather and his family lived in three lighthouses on Long Island for over 35 years.  When they arrived at "Bug" Light Lighthouse, his great-grandmother had to scoot over the rocks on her backside to the lighthouse keeper's house, according to family lore, because there was no pier.  She and her family lived in the lighthouse for years, on a small island -- perhaps 1/4 acre -- made up only of huge rocks and pilings for the lighthouse.  No grass for the kids, no garden, not even a pier until they built one.  Yet Bob recounted many happy family memories of kids and cousins enjoying their summer vacations at the lighthouse, fishing, boating and playing.
Last weekend I enjoyed a visit to the North Fork and Montauk areas of Long Island with a group of girlfriends from around the country. Everywhere we visited, we met friendly "salt of the earth" people -- hardworking, knowledgeable folks who loved to share their unique and beautiful area with us.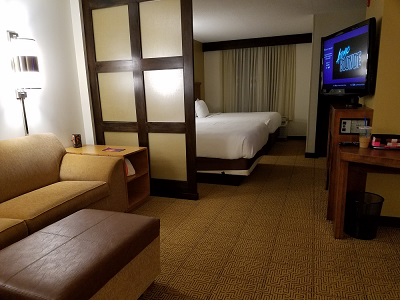 If you picture Long Island as an alligator with its jaws open, the North Fork area is the upper jaw, and the lower jaw (South Fork) contains the Hamptons and extends out to Montauk at the easternmost point. We based our stay at the Hyatt Place East End in Riverhead NY (located right where the two jaws connect), a very comfortable hotel with a welcoming and helpful staff, very large rooms perfect for a family, and a central location right next to the Long Island Aquarium and near vineyards, scenic towns, and the Hamptons.  The hotel provides breakfast and is located directly in front of a marina with picturesque boats and canoe/kayak rentals.
Our first day was filled with a mix of fun activities. Transtar Executive Limo brought our group of 12 in style to Mattituck NY, where we wandered Love Lane and checked out the shops.  The highlight was lunch at The Village Cheese Shop, a local landmark that sells an enormous variety of American and imported cheeses, meats and gourmet items. Michael Affatato, a native New Yorker who purchased the shop two years ago after spending 10 years managing his family's vineyard and guest chateau in France, is a delightful host who welcomed us with stories and laughter.  He and his caring staff served us with a rich and savory cheese fondue accompanied by a charcuterie platter, apples, bread, Marcona almonds, and a well-matched rosé wine. They also have chocolate fondue, sandwich platters and cheese plates for lunch.  The shop offers a Cheese of the Month club if you're looking for a unique gift for the foodie in your life.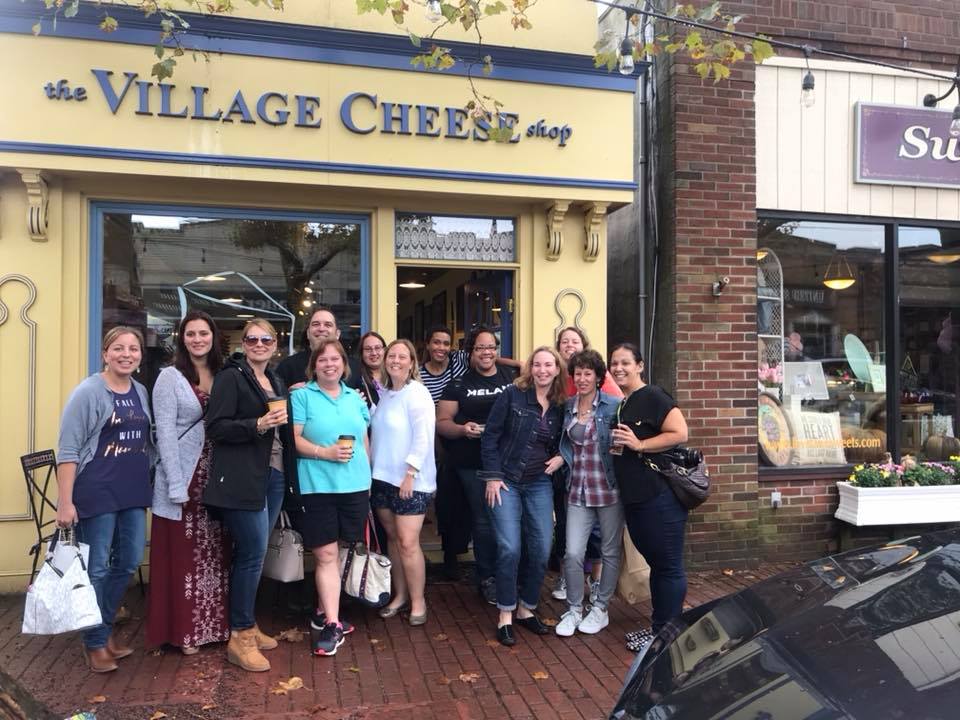 ​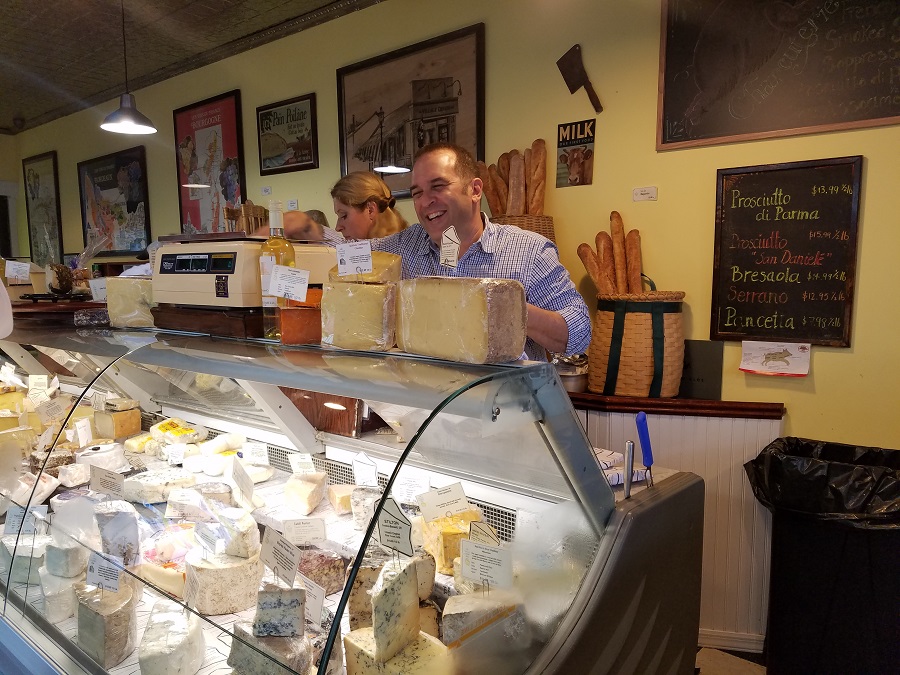 After lunch, our bus full of happy mamas headed to Martha Clara Vineyards in Riverhead, where the winemaker, Juan Micieli-Martinez, gave us an excellent overview of the winemaking tradition on Long Island.  The North Fork (think upper jaw!) of Long Island has the perfect soil and conditions for growing grapes, and over the past 40 years, local potato farms have been converted over to vineyards.  The North Fork is now home to 38 wineries and 3,000 acres of planted vineyards -- perfect for a winery tour!  Juan shared four wines with us, a white, rosé, and two reds. Being very new to wine appreciation, I found the tastings to be really helpful; I was able to focus on the different qualities and flavors and decide which I enjoyed most. I picked up a few bottles of 2014 Northville Blanc and was thankful that I drove to Long Island so I could transport them home easily.  The vineyard itself was beautiful -- many acres of vines heavy with grapes, horses, and even a wedding in the barn while we were there.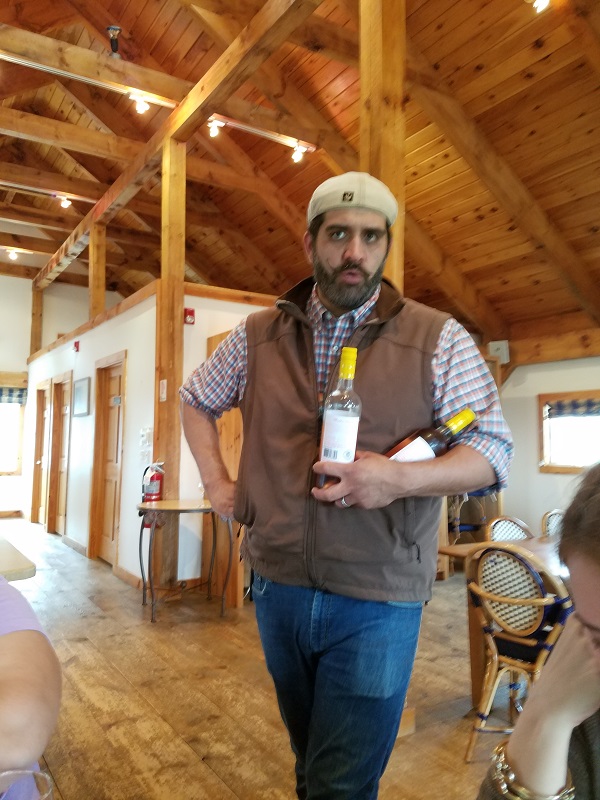 ​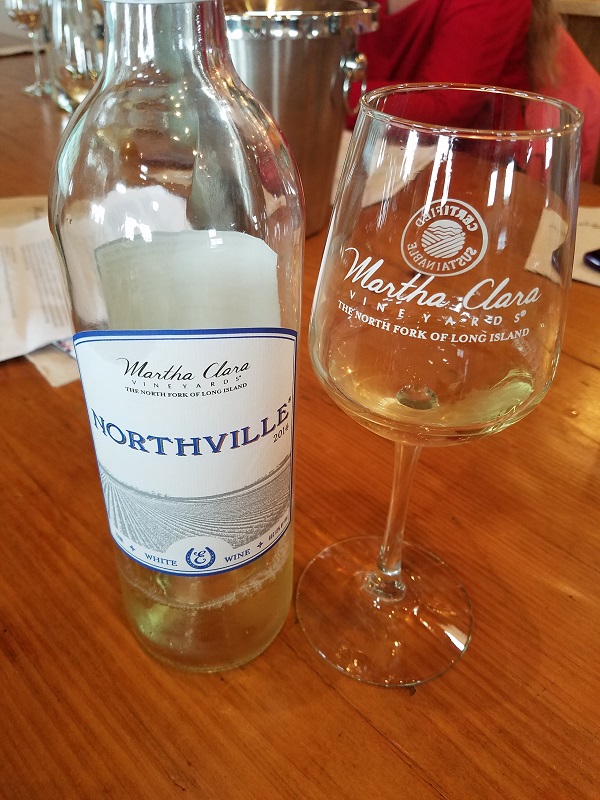 Our full day ended with a visit to the pretty town of Greenport and the East End Seaport Museum, a small museum devoted to the maritime traditions of the eastern tip of Long Island.  The museum holds two lighthouse fresnel lenses, oyster fishing displays, a saltwater aquarium and other interactive exhibits. We explored the museum and then headed out on a cruise and tour of the Long Beach Bar "Bug" Light lighthouse, narrated by Bob Allen.  I had never seen this kind of lighthouse before -- essentially a Victorian house built on a small man-made island right in the middle of the harbor.  Bob shared the history of the lighthouse, which burnt down in 1963 and was rebuilt in 1990, and fascinating stories about his family's lighthouse keeper tradition.  The waters were calm, the views were beautiful, and it was a lovely way to end a busy day full of exploring.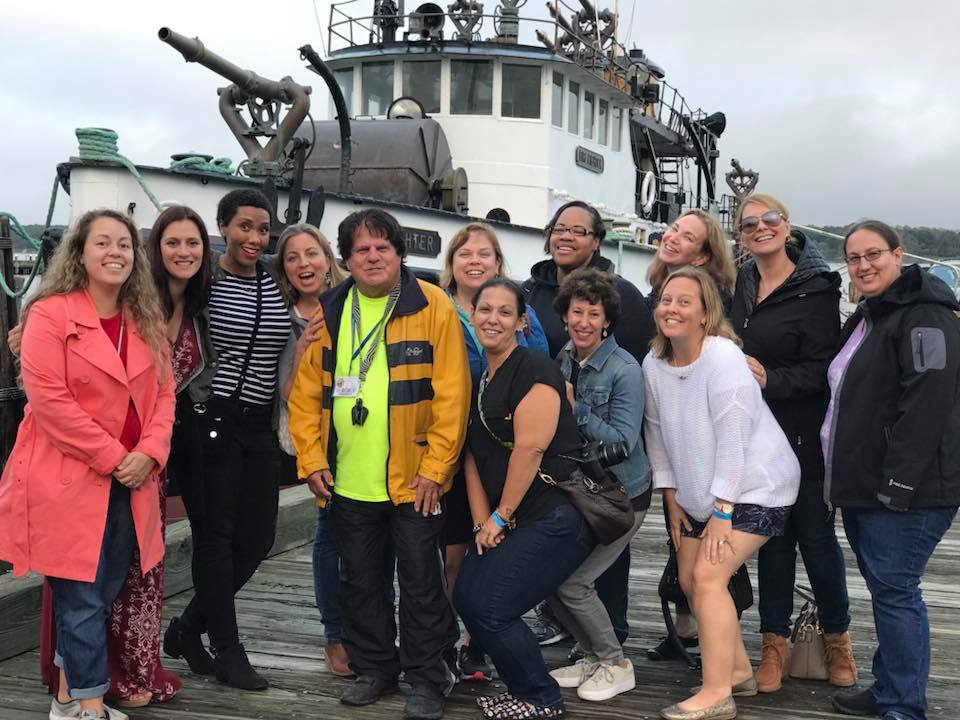 ​
After a quick break to freshen up at the hotel, our group headed over to 
Jerry & The Mermaid
, a seaside restaurant located right next to the Hyatt Place East End and the marina in Riverhead. Jerry Dicecco is the second generation owner and chef (and son of the original Jerry) and now has two little mermaids of his own. With a wide-ranging career as a chef, Jerry has given the
menu
 a modern touch, with local produce, sustainable seafood and local wines. He offers a kids menu, seafood, chicken, beef and pasta, with something to delight everyone. Jerry gave us platter after platter of appetizers -- the artichoke hearts, chicken wings and clams casino are fantastic -- and then a delicious entree of tilefish with a nut crust, very fresh and flavorful vegetables, and a savory rice pilaf.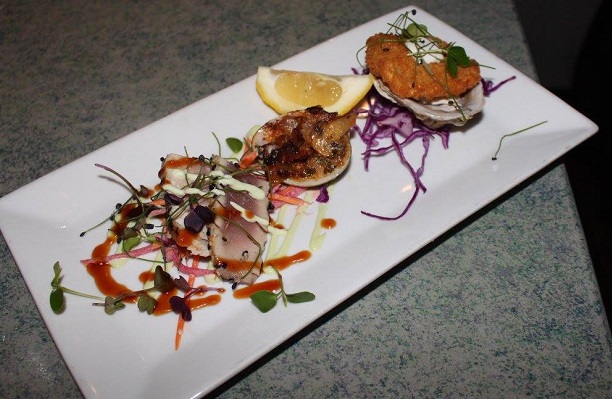 ​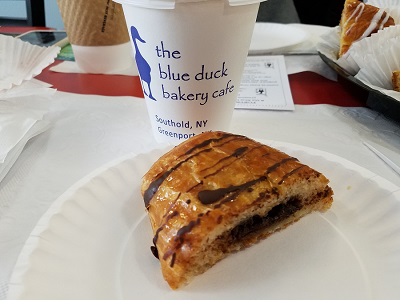 On Sunday morning, we strolled a few blocks down to the Blue Duck Bakery Cafe in Riverhead, where Nancy Douris shared their story and platters of fresh-baked pastries, including THE most delicious chocolate croissant I've ever had. (So good that I had to stop on my way home to get a few more to freeze and enjoy later!)  Nancy and Keith Douris opened their first bakery in Southampton in 1999 and have expanded to four locations plus a wholesale bakery that supplies local farmers markets, hotels, vineyards, gourmet shops and Whole Foods markets.  Their cafes offer pastries, breads, sandwiches, soups and salads and they also provide custom-baked specialty cakes and desserts for special occasions.
Replete with coffee and pastries, we headed over to the Long Island Aquarium, located right next door to the Hyatt and just down the street from the Blue Duck Bakery.  While the aquarium looks small from the outside, it's surprisingly large, with a wide variety of exhibits and shows, a butterfly garden, and outside exhibits.  The Local Rocky Shores exhibit features marine life rescued locally, which the enormous Lost City of Atlantis Shark Exhibit includes a variety of large menacing sharks.  Visitors can arrange a Shark Dive to get right down in the water with the sharks!  The Aquarium also includes a breathtaking coral reef tank filled with all kinds of coral -- one of the largest living coral reef exhibits in the Western Hemisphere.  Outside, there are penguins, a sea lion show, monkeys, otters, reptiles, and more.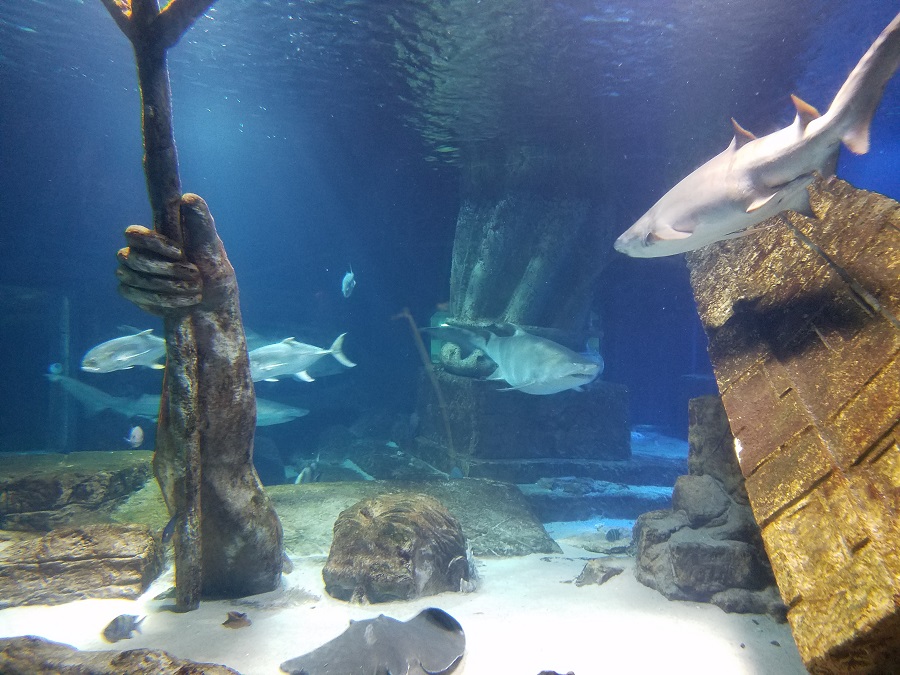 ​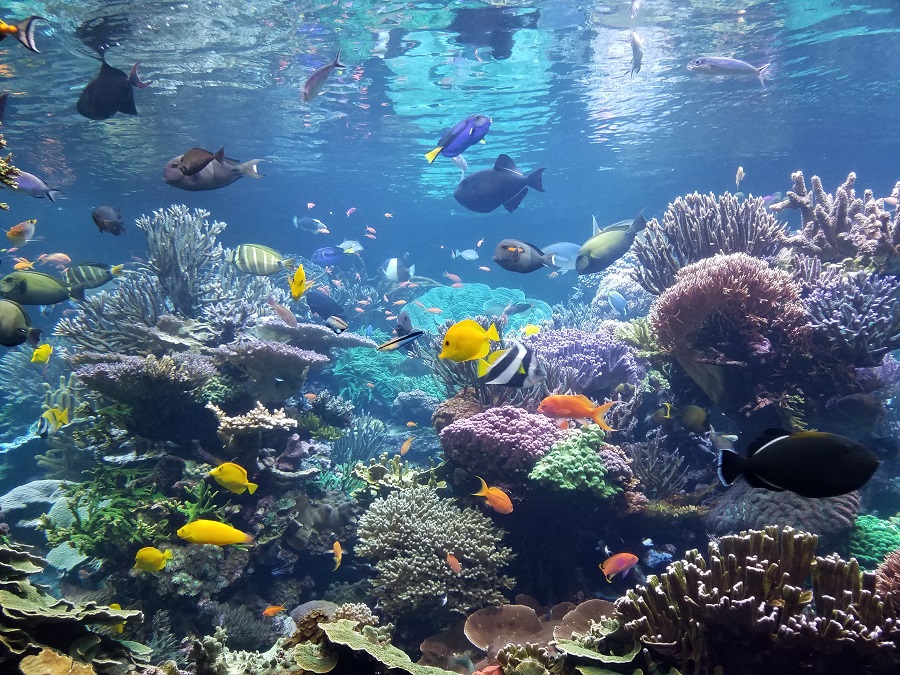 This was my first trip to Long Island but definitely not the last.  It's a perfect destination for a women's retreat, anniversary weekend or a family vacation.  The trip there is surprisingly easy -- two hours from Greater Lowell down Rt. 395 to New London CT, then the car ferry (which the kids will love!) over to Orient Point NY.  If you decide to visit the South Fork, you can take a short car ferry from Greenport down to Shelter Island, drive across the island, then another quick car ferry to North Haven.  Sag Harbor and the Hamptons is only another half-hour away.  There's so much to see and do for adults and kids, from wineries to beaches to kayaking to huge farms, and everywhere you find hardworking, good people who make these Long Island destinations and traditions truly special.
​
Accommodations, activities and most meals were provided by Discover Long Island. No other compensation was received, and all opinions are my own.
Lowell Macaroni Kid is a free weekly newsletter and website focused on fun family events and information in the greater Lowell area. 
We gather together all kinds of local family events and activities each week, and add useful information about classes, family-focused businesses, book and product reviews, recipes, crafts, school and camp guides and more. We proudly serve 8,000+ families in Lowell, Dracut, Chelmsford, Westford, Tyngsboro, Dunstable, Littleton, Groton, Billerica, Tewksbury, and other surrounding communities. 
Subscribe today to receive our email newsletter every Wednesday!