My boys are pretty well-traveled already when it comes to road trips. Our first long road trip (from Colorado to Southern California) took place when my youngest was not quite one year old and the older was only three. We've made that trip many times to see family, but have also driven to Oregon, Washington, Kansas, South Dakota, and Montana, not to mention all over Colorado!
Although we usually bring electronic gadgets with us, I don't want them to spend 8+ hours in the car glued to a screen. Here are some great tips I've gotten from some of the seasoned moms I know:
STOP TO PLAY, EAT IN THE CAR
Kids have so much energy (color me jealous) and that's one of the reasons why long car rides are so hard for them. When you stop to get gas, find a nearby park and go play for half an hour. While the kids are running around, prepare a plate of food for each of them to eat when it's time to get back on the road (sandwiches, goldfish crackers, grapes, string cheese, and trail mix are all kid-friendly with less mess). If you can't locate a park, head to a fast food restaurant with a play area. You eat while they play, and then purchase their food on the way out.
We usually pack our boys' scooters and helmets because they don't take up much room. We find an empty parking lot and they ride around while I stretch and move my own body, then make meals for all of us.
MAKE GOOD BEHAVIOR COUPONS
Cut a variety of shapes out of construction paper and write little notes like "You're in charge of the radio for the next hour" or "Get a treat at the next gas station" and pass them out to the kids as a reward for behaving nicely or being especially helpful to one another.
PACK A BOX O'FUN
Visit a craft store and/or an educational toy store and hit the clearance section. We fill a small clear tote box with things like new Color Wonder books, a Summer Bridge activities book for each kid, Make-Your-Own-Bookmark kits, a How-To-Draw-Monsters book and blank notepads, and few other inexpensive activities. The box sits on our counter for about a week and every time my kids walk by, they get excited all over again. They always spend the first day of the road trip working from the box and rarely even ask for "screen time."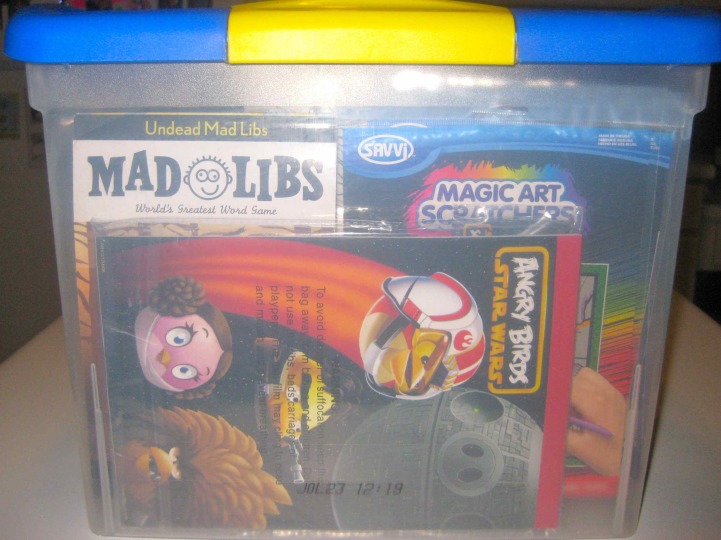 BRING ROLLS OF QUARTERS AND PENNIES
Want to know what nearly every family-friendly destination has? A penny smoosher! They usually cost two quarters and a penny, and often have several different images to choose from. We let our kids get as many pressed pennies as they want on our trips, but any other souvenirs have to be purchased with their own money. Even if they choose all four images (and they usually don't), we spend only $2.04 per child per Penny Presser. Purchase a souvenir penny book for each child and keep them in the Box O'Fun. On our last trip to California, we spent less than $100 TOTAL on souvenirs at Disneyland, SeaWorld, and Universal Studios combined!
RENT AUDIOBOOKS FROM THE LIBRARY
Reading in a car can cause motion sickness, but kids can listen to audiobooks while driving. Ask your local librarian for ideas for great audiobooks if you need help choosing some to take along.
LEAVE AT BEDTIME
If you have someone to share the driving or are a night owl, leave at night if possible. Get the kids ready for bed and in their pajamas and load them up in the car. Once it's dark, most kids will fall asleep and you can get several hours of driving time in without a single "When are we going to be there?".
BRING BABY WIPES AND PLASTIC ZIPPER BAGS
Drips, spills, messy hands, messy faces, hot and sweaty bodies ... you will use baby wipes! Plastic zipper bags also come in handy to hold snacks, protect electronics from water, keep toiletries from leaking, and more.
USE THE BATHROOM EVERY TIME YOU STOP
Seems obvious but many kids insist they don't have to go when you stop to get gas, only to desperately need a bathroom 30 minutes later. This is why our parents told us, "Just try because we don't know when the next chance will be" and why we say it to our kids too.
GO RETRO
Remember the games you used to play on road trips when you were a kid and didn't have an iPad, iPod, and Nintendo 3DS? I Spy, Buzz, or Alphabet Bingo may be completely new to your kids. Check out this list of classic road trip games.