​I was recently given samples of new Pampers Baby Dry Diapers (size 5) to try with my 2-year-old daughter. I've been a Pampers fan ever since she was in a size 1, when we discovered (through messy trial and error) they were the only diapers that would hold her blow-outs. So, I was excited to hear Pampers was making their Baby Dry line even better. While she's outgrown her "messy" phase (thank goodness!), we're still quite a ways from potty training. 
As my daughter gets older, and her diapers bigger, I don't always like how bulky they can get as she runs around. The new Pampers Baby Dry Diapers are noticeably thinner than the previous ones, and I must say, for this reason in particular I LOVE these diapers. Being 2, she is super active, and I feel these diapers can really keep up with her active lifestyle (oh you know, running around like a mad woman). 
Thinner and more absorbent? Yes please. 
While we became a Pampers family because they contain "number 2" very well, I noticed these new Baby Dry were absorbent, too. In fact, usually when we get my daughter up in the morning after sleeping 10-11 hours she seems a bit "squishy" in the tush. However, after using these for a few nights I noticed that she was dryer than usual and the diaper didn't have that telltale bulge. 
I can only imagine my toddler is more comfortable as well, especially as I watch her on the monitor change position about 15 times during the night. I'd recommend these to parents whose children wake up more easily when their child is uncomfortable from a full diaper. I think most of us would do about about anything to help a child sleep longer!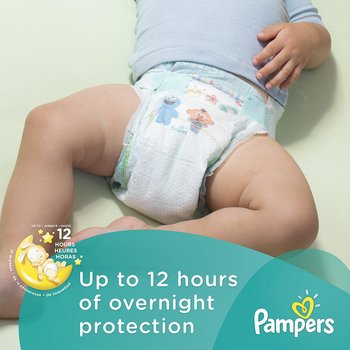 So far Pampers has rolled out the new Baby Dry Diapers in sizes 5 and 6. Throughout the year they'll add in the rest of the line, so you may see some different packaging on the shelves. Both the old and the new Baby Dry diapers have 12-hour protection, the new ones just have the added features mentioned above. My son is currently in size 2, and I'm looking forward to the rollout!