Let's face it -- great cookware really matters! As parents, we spend a lot of time preparing meals for our families, and with most things, having the right tools makes all of the difference. Which is why I was thrilled to receive the Cuisinart® Chef's Classic Stainless Color Cookware Set for testing and a review! My daughter Emily (my budding little chef) and I were so excited to open the box and pull out this gleaming stainless steel set to make one of our favorite recipes, Skillet Shepherd's Pie (see recipe below). Just like all Cuisinart products, this cookware is solid, hefty, beautifully-designed, and a joy to cook with.
My husband and I take pride in our food and we try to be purposeful to include the kids in cooking. With multiple hands in the kitchen, it's good to have a large set with multi-functional pieces. The pans have a good weight and have solid cast stainless steel Cool Grip™ stick handles that are contoured for comfort and balance and riveted for strength and durability, which is exactly what you need when moving a hot pan from the stove into the oven. The glass lids fit tight to lock in flavor, texture and nutrients.
Like most families though, we hate to do dishes, which is why I LOVE that this cookware can go from stove top, to oven, to the table and then into the dishwasher! I'm not kidding, this set is dishwasher safe!
Check out our experience cooking with this great set in our video:
This premium stainless steel set offers optimal cooking performance, includes numerous pans to meet a large variety of your cooking needs and adds a splash of color to your kitchen, which hey, really does makes things more fun!
The 11-Piece Set Includes:
1.5 Qt. Saucepan with cover
2.5 Qt. Saucepan with cover
3 Qt. Sauté with helper handle and cover
8 Qt. Stockpot with cover
8" Skillet
10" Skillet
18 cm Steamer Insert
Cuisinart is one of the top brands for stainless steel cookware. It is an affordable option for great quality and offers a lifetime warranty. Whether I'm cooking a quick weeknight meal for the kids or a slow cooked stew for Sunday dinner. It is going to be so much easier with this cookware set. Not to mention that it really is beautiful! Hmmm…gets me thinking how lovely these beauties would look hanging in my kitchen! Oh honey!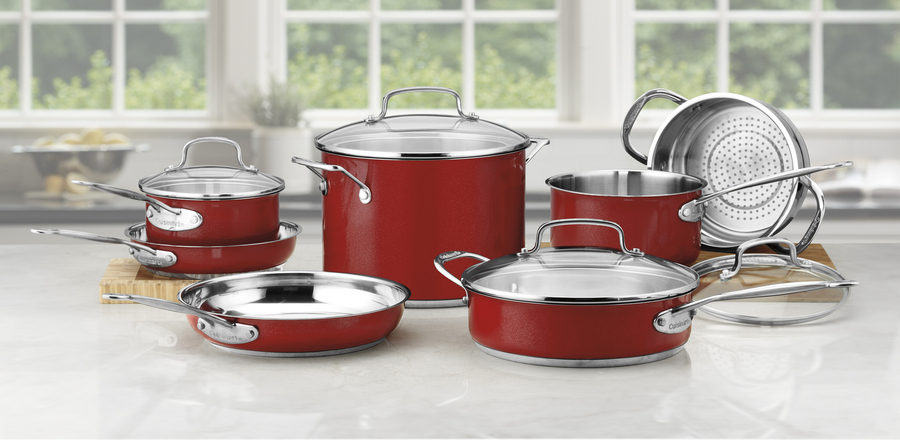 Image courtesy Cuisinart
Disclaimer: I received a Cuisinart® Chef's Classic Stainless Color Cookware Set for the purpose of this review. All opinions expressed are my own.


Skillet Shepherd's Pie


Potato Topping ingredients
1 1/2 lbs Yukon Gold potatoes (about 3-4 medium), peeled and cut into 1.5 inch pieces
1/2 stick unsalted butter
1/2 cup half and half
Salt and ground black pepper
Filling ingredients
1 1/2 lbs ground beef
1 cup onion, minced
2 medium carrots, diced
1/2 teaspoon salt
2 pinches ground black pepper
3 garlic cloves, minced
1/4 cup unbleached all-purpose flour
1 tablespoon tomato paste
1 1/2 cups chicken broth (low sodium)
1/2 teaspoon dried thyme
2 teaspoons Worcestershire sauce
1 cup frozen corn
Adjust an oven rack to the middle position and heat the oven to 400 degrees.
For the potato topping: Put the potatoes in a 8 qt stockpot or large saucepan and cover with cold water. Bring to a boil then reduce to a simmer, cooking the potatoes until they are easily pierced with a fork, about 15 to 20 minutes. Meanwhile, combine the half and half with the butter in a small, lidded saucepan and warm gently over low heat.
Drain the potatoes and return them to the stockpot over low heat. Mash the potatoes thoroughly with a potato masher or use a ricer (one of my favorite kitchen tools!). Fold in the warmed butter and half and half mixture. Season with salt and pepper to taste, cover, and set aside while preparing the filling.
For the filling: Meanwhile, brown the beef in a 3qt, oven proof saute pan or 10 inch, ovenproof skillet over medium, breaking up the meat with a wooden spoon. Drain the beef through a fine-mesh strainer, discarding all but 1 tablespoon of the rendered fat. Heat the 1 tablespoon fat in the skillet over medium heat until shimmering and add in the onion, carrots, and 1/2 teaspoon salt, stirring frequently until the vegetables are softened and caramelized about 5 to 7 minutes. Stir in the garlic and cook until fragrant. Stir in the flour and tomato paste, stirring constantly, until the flour is fully incorporated, about 1 minute.
Add in the thyme and Worcestershire sauce, then slowly stir in the broth, scraping up any of the fond left at the bottom of the pan. Bring the mixture to a simmer over medium heat and then reduce the heat to medium-low and cook until the sauce has thickened about 3 to 5 minutes.
Remove the pot from the heat and stir in the drained beef, season with salt and pepper to taste and smooth the filling into an even layer.
Assembling the pie: Spread the mashed potato filling over the top into an even layer. Bake the pie until the top is golden brown, 20 to 25 minutes. Let the pie cool for 10 minutes before serving directly from the pan.
Yields: 4 generous servings