Looking for 2018 egg hunts and Easter events?  See our 2018 list!
We've got all the local egg hunts and Easter bunny visits in Greater Lowell!  
Click through and print our PDF guide -- post on the fridge, at school and at work to share the fun!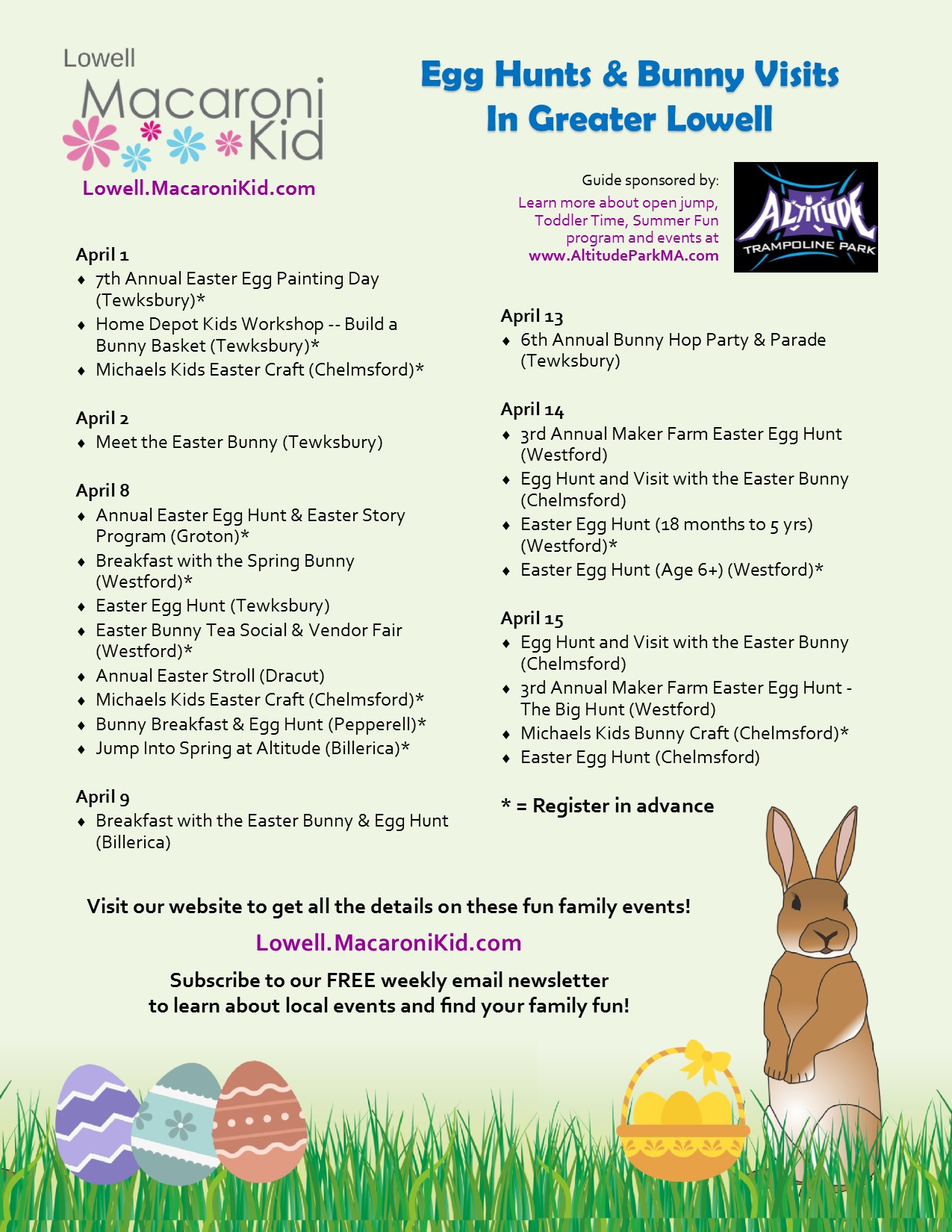 Our Guide is sponsored by Altitude Trampoline Park.  Visit their website to learn more about Open Jump, Toddler Time, Sensory-Friendly Saturdays, Teen Night, Summer Fun program, and the Jump Into Spring event on Saturday, April 8th!
To stay in the KNOW - Sign up for our Free weekly newsletter HERE!
Each week, you will receive fresh new ideas of family-friendly events and activities in the Greater Lowell area.
April 1
7th Annual Easter Egg Painting Day (All ages) (Tewksbury) -- register in advance
Home Depot Kids Workshop -- Build a Bunny Basket (Tewksbury) -- register in advance
Michaels Kids Club Sprout Easter Chica (Age 3+) (Chelmsford) -- register in advance
April 2
Meet the Easter Bunny (Tewksbury)
April 8
Annual Easter Egg Hunt & Easter Story Program (All ages) (Groton) -- register in advance
Breakfast with the Spring Bunny (Westford) -- register in advance
Easter Egg Hunt (Age 0-12) (Tewksbury)
Easter Bunny Tea Social & Vendor Fair (All ages) (Westford) -- register in advance
Michaels Kids Club Easter Tissue Paper Art (Age 3+) -- register in advance
Annual Easter Stroll (Dracut)
Spring/Easter Craft & Vendor Fair (Lowell) 
Jump Into Spring at Altitude Trampoline Park (Billerica) -- purchase tickets in advance
Bunny Breakfast and Egg Hunt (Pepperell) -- register in advance
April 9
Breakfast with the Easter Bunny and Egg Hunt (All ages) (Billerica)
April 13
6th Annual Bunny Hop Party & Parade (Age 2-6) (Tewksbury)
April 14
3rd Annual Maker Farm Easter Egg Hunt (Age 18 months to 5 yrs) (Westford)
Egg Hunt and Visit with the Easter Bunny (Chelmsford)
Easter Egg Hunt (Age 18 months to 5 yrs) (Westford) -- register in advance
Easter Egg Hunt (Age 6+) (Westford) -- register in advance
April 15
Egg Hunt and Visit with the Easter Bunny (Chelmsford)
3rd Annual Maker Farm Easter Egg Hunt - The Big Hunt (All ages) (Westford)
Michaels Kids Club Pom Pom Bunny Craft (Age 3+) -- register in advance
Easter Egg Hunt (Chelmsford)