Thank you to reader Shari Bartholomew for submitting this review of Harmony Adventure Park in Chelmsford! If you would like to submit a paid review of a local playground, please email
barbarae@macaronikid.com
for advance approval and guidelines.

Harmony Adventure Park
62 Carlisle Street, Chelmsford, MA 01824

Date/Time Visited: Wednesday, May 11, 2016 @ 3 pm
Bathrooms: 1 Porta-potty
Parking: Some
Shade: None
Benches/Tables: Yes (with more being built)
Additional Features: Baseball field, blacktop area


Opened last fall, Harmony Adventure Park is our current favorite playground. We are there probably once a week; this most recent visit was the only time we've ever noticed that there is no shade. All of the trees are still quite small so the shade issue will resolve itself as they grow bigger. We literally had the place to ourselves that day, but it was too hot for us to be there for very long. We'll be very happy when the in-progress covered pavilion is completed which will also provide more space for seating - there is currently only one picnic table at the playground.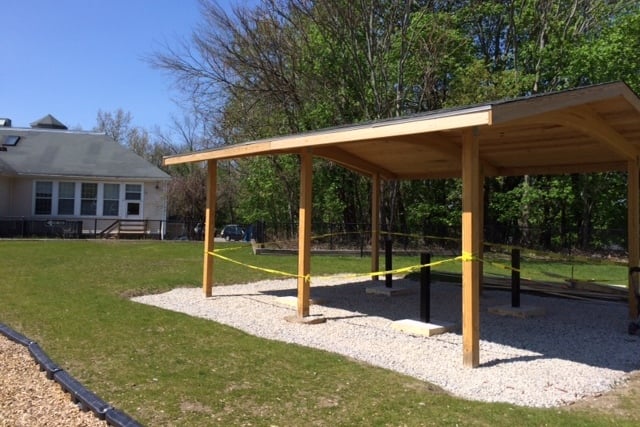 This park came about through volunteer efforts and it's a welcome addition to the area; before the renovations, this site held a very run-down wooden playground. There used to be a basketball hoop on the blacktop, so I can only assume that one may eventually be installed again but I don't know for sure. For the time-being, my 2.5 year old son loves running around on the blacktop and playing hide-and-seek behind one of the trees on the far side of it. I've contemplated bringing along sidewalk chalk or riding toys when we go because it's the perfect space for these activities. There is a fence around part of the blacktop, but it is not completely fenced in. There is also a fence along the road side of the playground but not between the playground and the parking lot.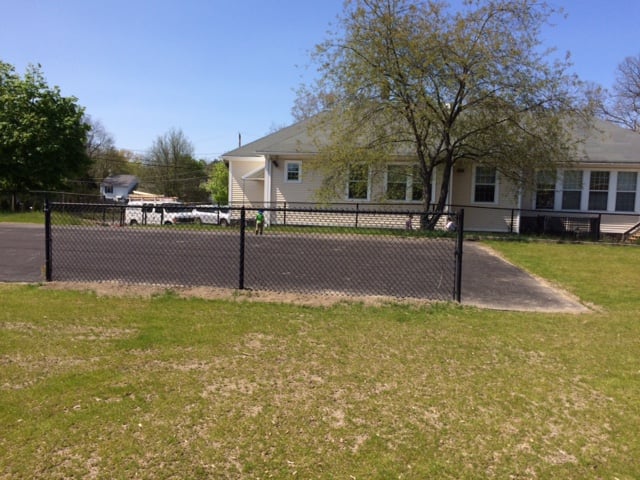 The playground itself is covered in mulch, and features several unique play structures: a pyramid rope climber, an "explorer arch" (a rope balance beam with obstacles across it and climbing orbits on the ground on either side of it), a spider web climber, and a giant webbed bungee-seat swing.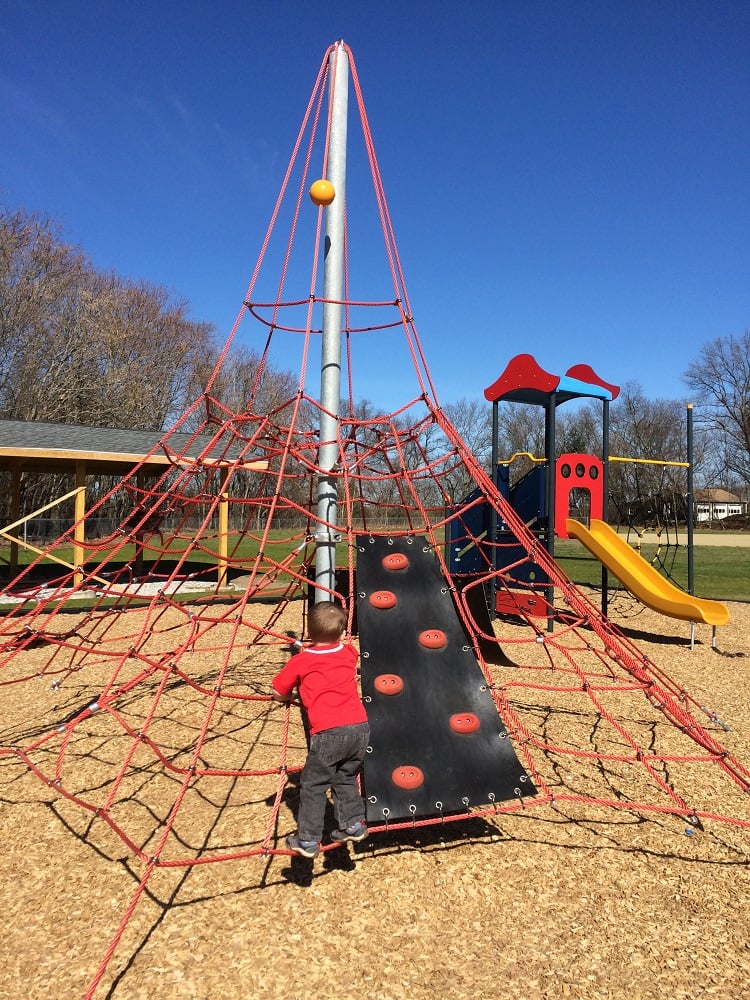 There are also two baby swings and two big kid swings; the bigger swings are flat so even a grown-up could sit comfortably on them. I frequently see adults lounging on the webbed swing when kids aren't using it, and have pushed three or four children on it at once with no problem. Honestly, I wish we had one at our house!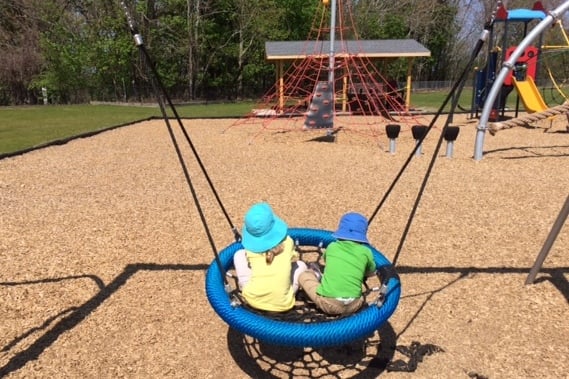 There is also another small play structure with a slide which is where my son spends much of his time while we're there. This playground is definitely geared towards older children but he still has fun when we go. I don't know that I would take him without my 5 year old daughter, but we do also like to play tag in the outfield of the adjacent baseball field so maybe I would. FYI - I have seen Chelmsford Girls' Softball League games played there which definitely impacts the availability of parking spaces.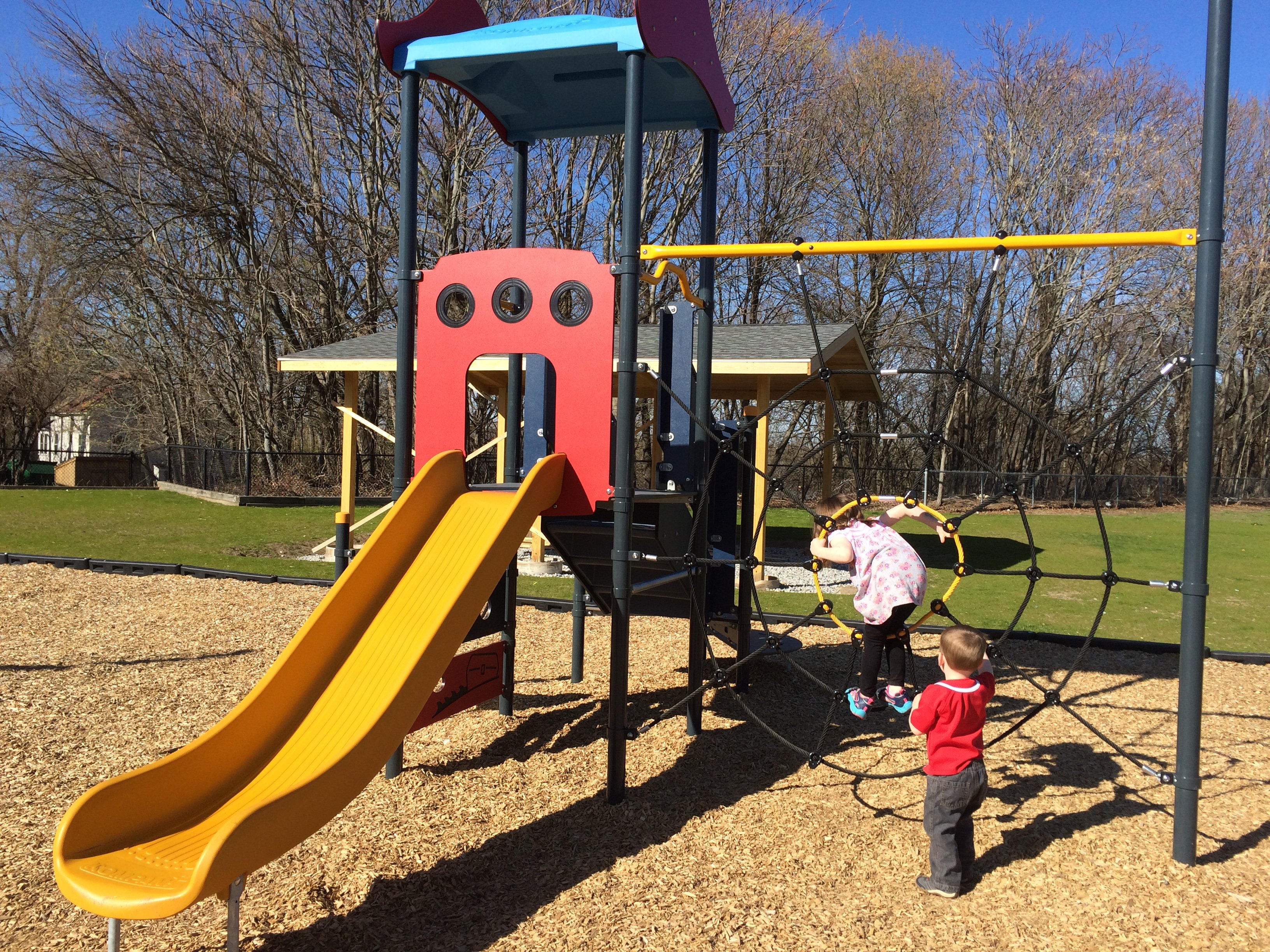 This playground is not far from Gary's Ice Cream (131 Gorham St, Chelmsford); the Target in Lowell is also a quick drive away. One last thing to note - they just recently installed an awesome new trash can. My kids were so excited to throw away our garbage. It's the little things, right?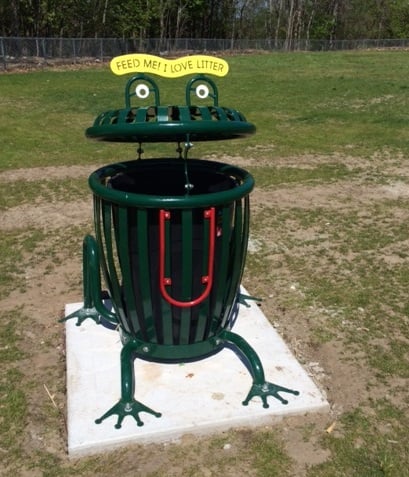 Lowell Macaroni Kid is a free weekly newsletter and website focused on fun family events and information in the greater Lowell area.
We gather together all kinds of local family events and activities each week, and add useful information about classes, family-focused businesses, book and product reviews, recipes, crafts, school and camp guides and more. We proudly serve 9,500+ families in Lowell, Dracut, Chelmsford, Westford, Tyngsboro, Dunstable, Littleton, Groton, Billerica, Tewksbury, and other surrounding communities.
Subscribe today to receive our email newsletter every Wednesday!