Thank you to reader Shari Bartholomew for submitting this review of the Kids Konnection playground in Billerica! If you would like to submit a review of a local playground, please email barbarae@macaronikid.com. All reviews are welcome!
Kids Konnection
21 Andover Rd, Billerica MA (behind O'Connor Hardware)
http://www.town.billerica.ma.us/Facilities/Facility/Details/Kids-Konnection-3
Date/Time Visited: Saturday, June 6, 2015 @ 11 AM
Bathrooms: 1 Handicapped-accessible Porta-potty near baseball field
Parking: Ample
Shade: Not on playground but there is a covered pavilion with picnic tables. Trees surround the playground so some areas are shaded later in the afternoon.
Benches/Tables: Yes
Additional Features: Baseball field
This has been one of our favorite playgrounds for years. It's spacious, colorful, and fenced-in, has good sight lines and features tons of different structures for kids to play on. I was a little bit nervous that it would be crowded today since we don't usually visit there on the weekend, but it actually wasn't that busy (especially considering that there was a Little League game in progress on the adjacent baseball field).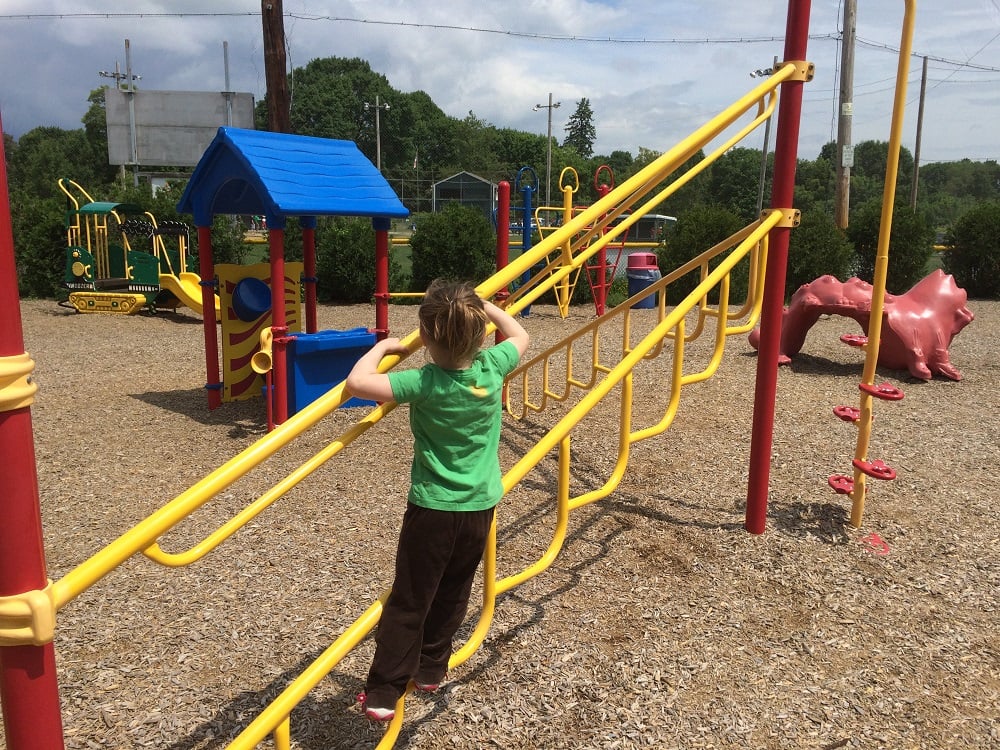 There are designated areas for older kids (ages 5-12) and younger ones (2-5 year olds), but my daughter had fun playing on both and really only needed minimal help from me on the "big kids" playground. (In the interest of full disclosure - we left her younger brother home with Daddy today, but I don't think it would have made a difference in my review anyway).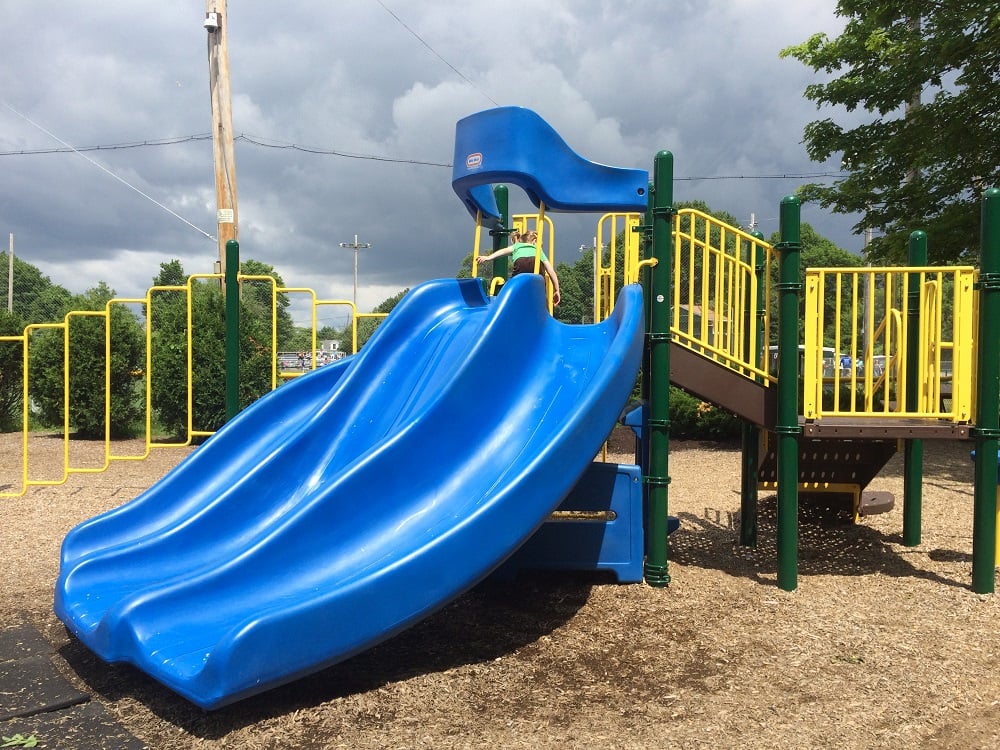 One of my favorite things about Kids Konnection is that some of the structures are shaped like vehicles, which adds to the level of my daughter's imaginative play while we're there. She had fun pretending she was driving a train and that she was being lifted by the bull-dozer, and we even learned about the life cycle of a butterfly and the internal organs of a hippo (embossed on the inside of two of the toys).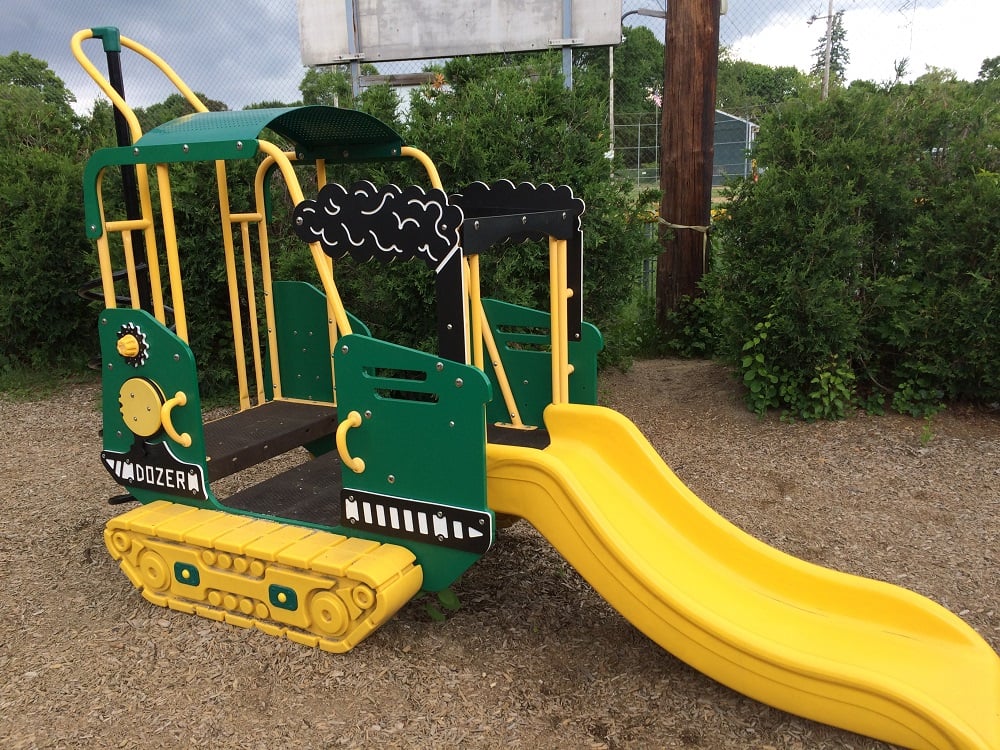 The ground is covered in mulch, and there were plenty of tables (some kid-sized!) and benches to sit on throughout the playground. Although there was no real shade when we were there, the playground is surrounded by trees so I would assume that there must be shade at other times of the day. There is also a covered pavilion with several picnic tables and a cabinet full of children's books (an unexpected treat!).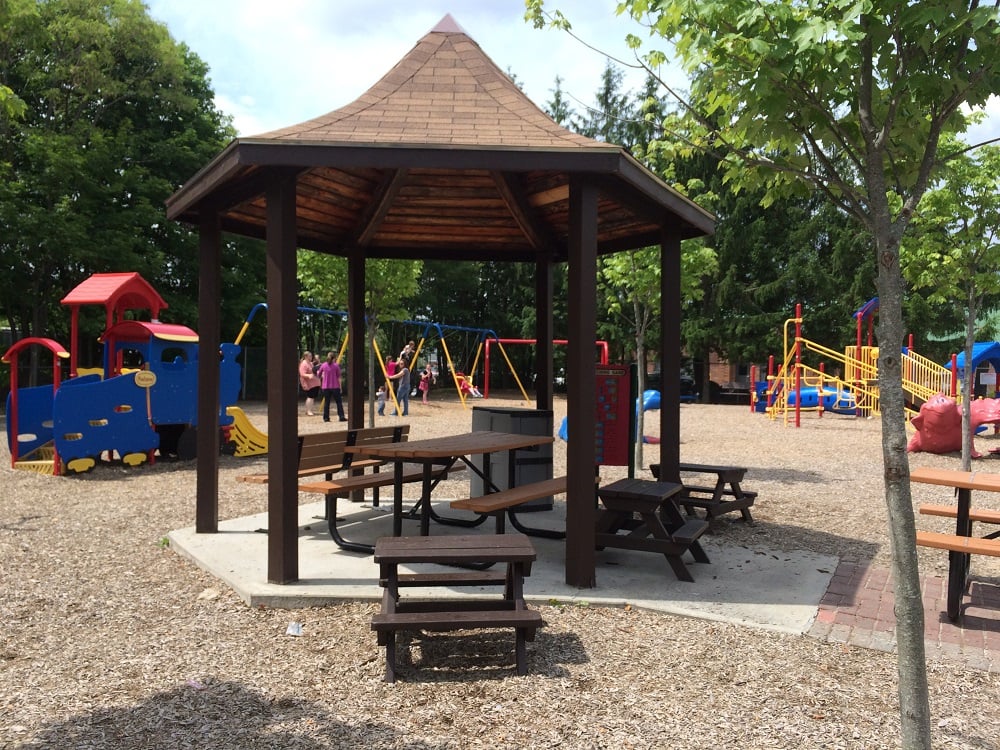 In addition to baby swings and big kid swings, there is also a tire swing and one handicapped swing. There are several slides in each area of the playground as well as a very large sandbox with lots of sand toys. The slides felt warm to the touch today but were definitely still usable. Different types of climbing structures, monkey bars, bouncers, and see-saws rounded out the mix of equipment.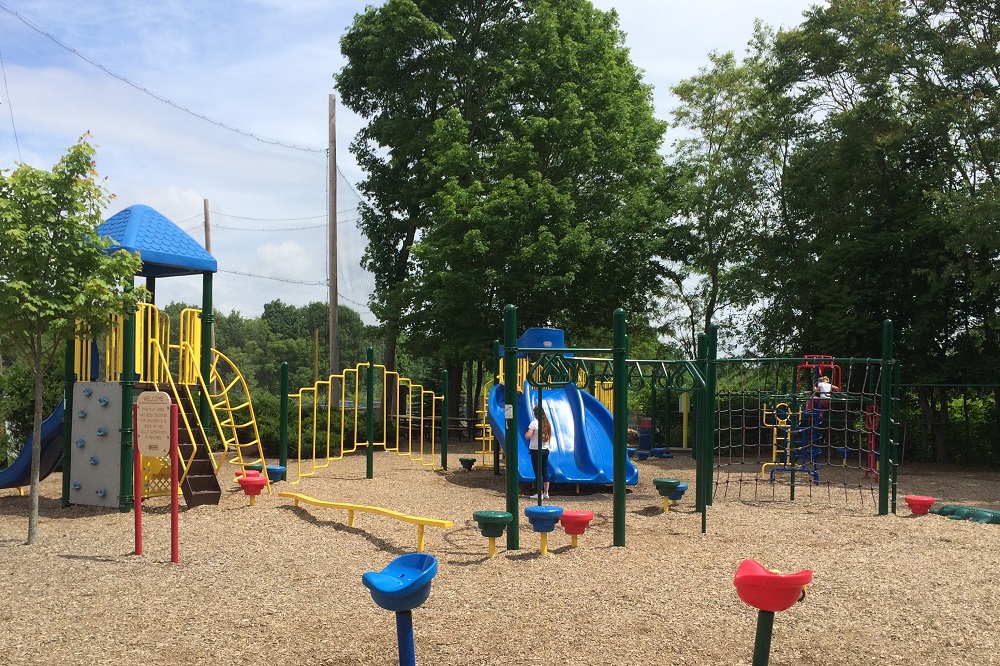 I'm a big fan of extra details on playgrounds because my daughter gravitates towards them for role playing, so I was happy to see that they are in abundance at this playground. She pretended to play the piano and a drum set, sold me iced coffee from a "drive-thru" window, and chatted with me from across a play structure using sound tubes.
Honestly, the only negative things I have to say about our experience today is that the port-a-potty is quite far away from the playground and that we had to escape a giant rain cloud that descended seemingly out of nowhere. Since I can't control Mother Nature, I'd give our visit to Kids Konnection today "two thumbs up." Besides, avoiding the rain gave us an excuse to visit the nearby Billerica Public Library, one of our other favorite local destinations. In the summer and early fall, the Billerica Farmer's Market is on Monday afternoons from 3 to 7 pm (or dusk as it gets later in the year) at the Council on Aging, which is next door to the library. This year's season starts on June 22 and runs through the beginning of October.
Lowell Macaroni Kid is a free weekly newsletter and website focused on fun family events and information in the greater Lowell area.
We gather together all kinds of local family events and activities each week, and add useful information about classes, family-focused businesses, book and product reviews, recipes, crafts, school and camp guides and more. We proudly serve 9,500+ families in Lowell, Dracut, Chelmsford, Westford, Tyngsboro, Dunstable, Littleton, Groton, Billerica, Tewksbury, and other surrounding communities.
Subscribe today to receive our email newsletter every Wednesday!