Thank you to reader Shari Bartholomew for submitting this review of the Ronan McElligott playground in Westford! If you would like to submit a review of a local playground, please email barbarae@macaronikid.com. All reviews are welcome!
Ronan McElligott Playground
Edwards Beach
55 Williams Avenue
Westford, MA 01886
http://westford.com/ronansplayground/
Directions: From Plain Road, turn onto Williams Ave (directly across from Moore Rd). Follow Williams Ave to the end; it will become a dirt and gravel road. Turn left at the end, and then take the first right into the parking lot. Please note that you are driving through a residential neighborhood posted at 15 miles per hour; please drive slowly and cautiously, there are many children and walkers and police DO take notice.
Date/Time Visited: Wednesday, June 24, 2015 at 11 am
Bathrooms: 1 port-a-potty just outside the playground
Parking: Ample
Shade: Yes
Benches/Tables: Yes
Additional Features: Edwards Beach, snack bar
Ronan's Playground, built in memory of 5-month-old Ronan McElligott who passed away in 2007, was designed as a place where any child can play regardless of their abilities. We were there a few years ago and I remembered having a great time that day. I thought it would be a good place to play on such a beautiful sunny day (and I was right!).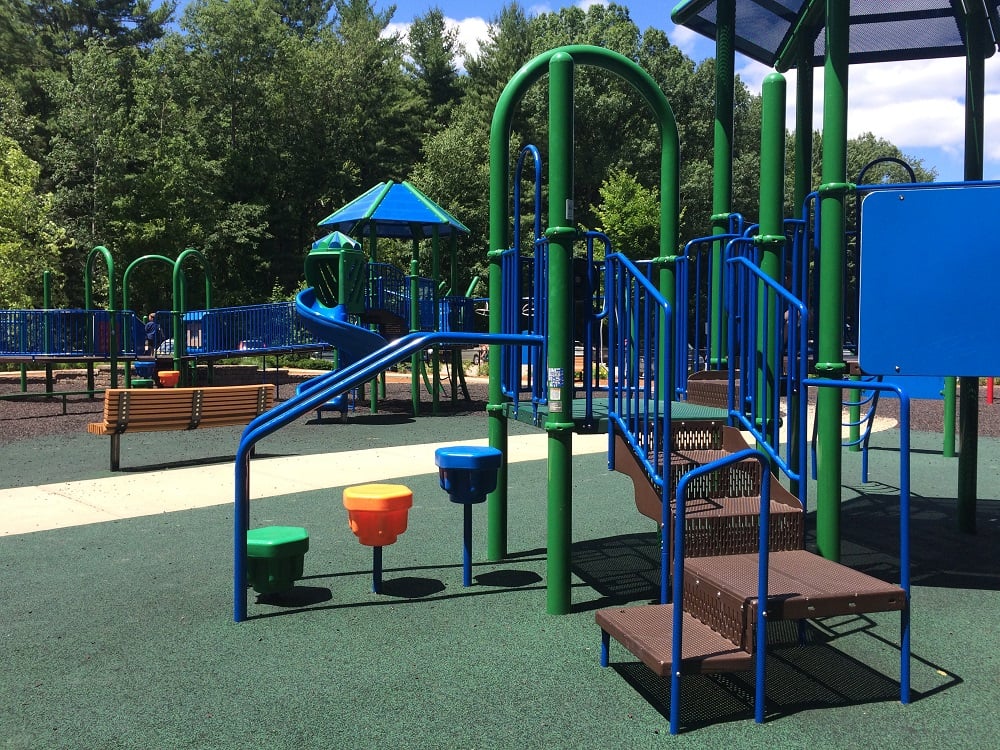 Unfortunately, our visit didn't start out so easily though; this playground is VERY hard to find. After giving up on my iPhone's Google Maps app, I had to ask some locals for directions – they actually told me that the playground was hidden by design! Whether that's true or not, I was quite surprised by how crowded it was when we eventually did get there.
Once we found the playground, we had a lot of fun and will definitely go back. Since we were there around mid-day, there wasn't much shade on the playground. But there are trees surrounding most of the playground and another mom mentioned that when they had arrived around 9 am, there had been much more shade. Only one of the slides seemed too hot to use during our visit, but with 5 other slides to choose from, that wasn't a problem at all.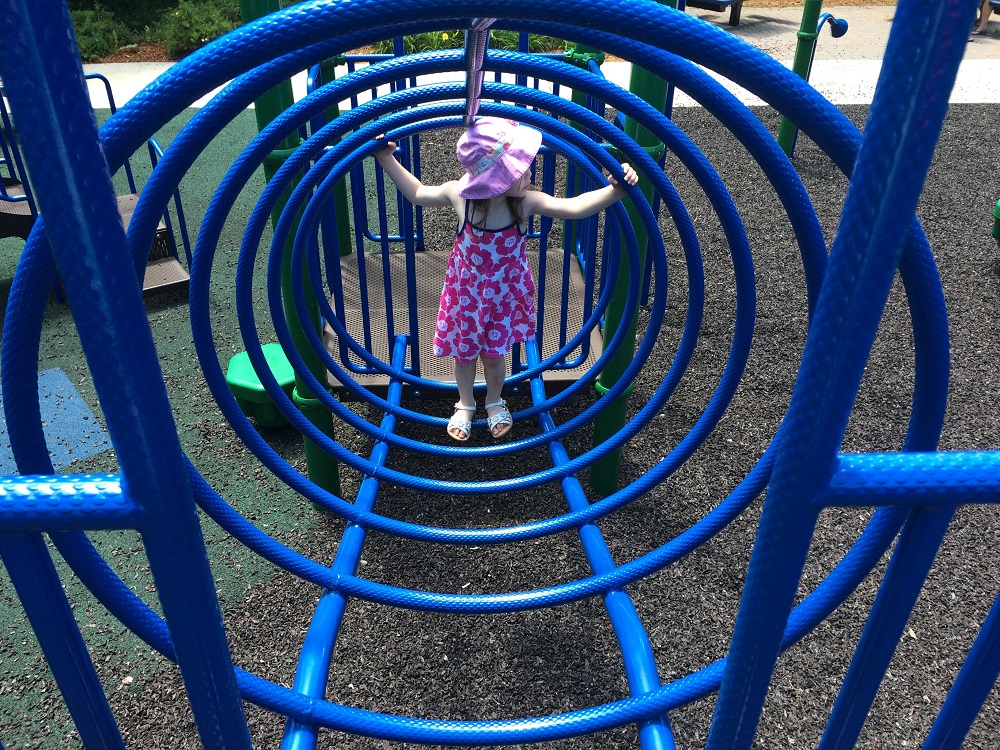 There are two different play structures here – a small one intended for kids under 5, and a much larger one for kids ages 5-12. Both my daughter (4) and son (20 months) were able to play on both structures. Because this a Boundless Playground, many areas of the play structures are made of ramps as opposed to stairs. My son loved running up and down the ramps. I (as usual!) loved all the extra details around the play structure that added to the fun - in this case, a sign language alphabet, a set of metal tubes for making music, a few number puzzles, a "rock-climbing" wall, and a rotating sensory bin.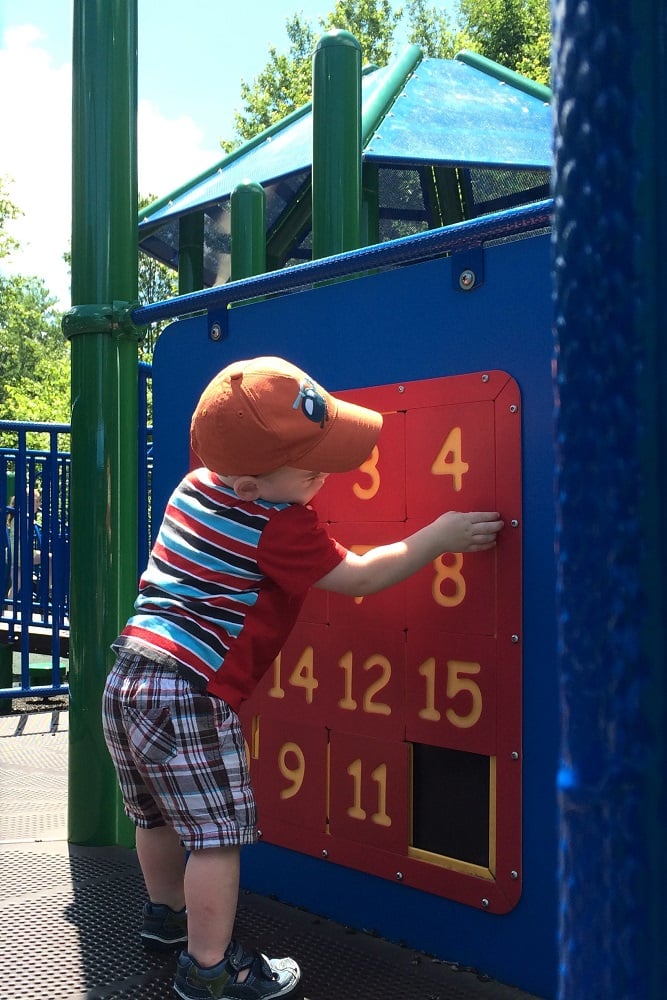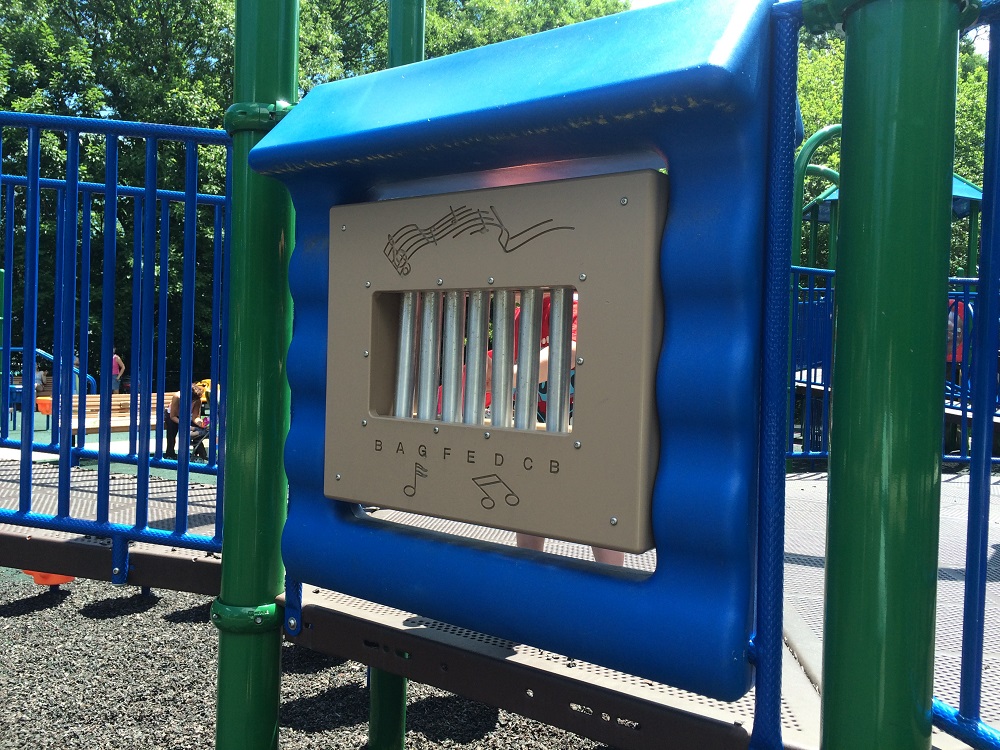 Bouncers and swings (2 baby ones, 2 handicapped-accessible ones, 4 big kid swings) round out the play area. My daughter especially enjoyed the metal rotating swings on the "big kid" play structure - one you play on sitting down and one you use standing up. They're a bit hard to describe, but I'm pretty sure you'll know exactly what I'm referring to if you go there – they were pretty popular!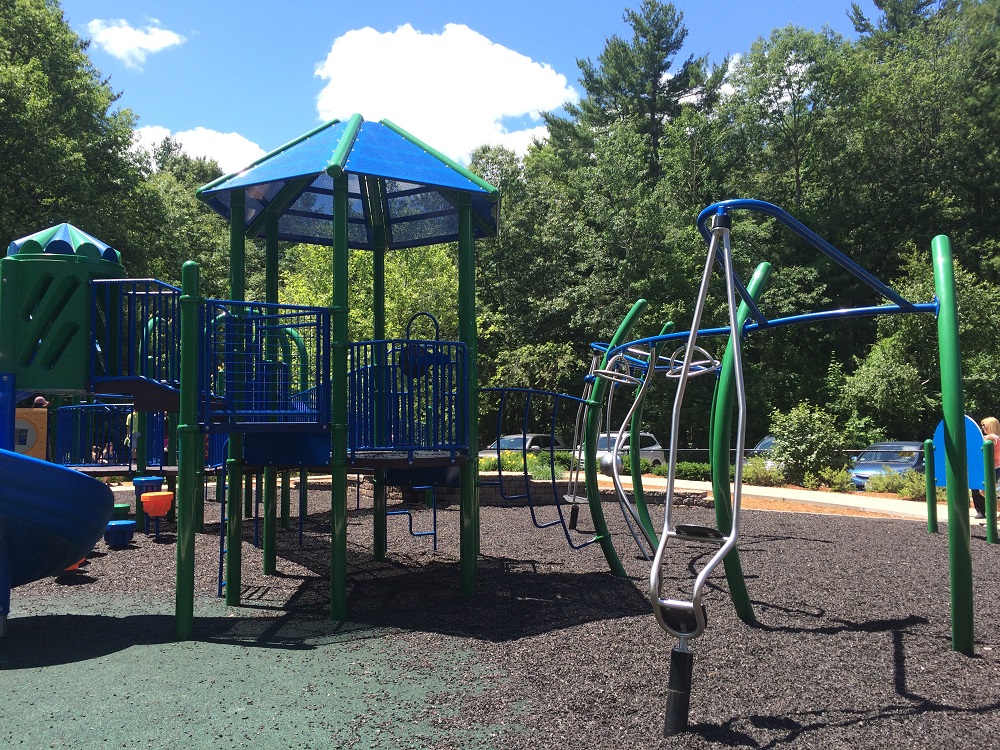 The surface of the playground is mainly flat rubber, with a few of the areas covered in tire mulch. There are both picnic tables and benches and we did not have a problem finding a place to eat lunch during our visit. Actually, the playground basically cleared out between 11:45 and 12:15 – I was glad we had brought our lunches along because we almost had the place to ourselves. There is a snack bar there which I'm assuming is only open during the summer, but we didn't buy anything so I can't comment on it. Feel free to add your thoughts about the snack bar below. (Publisher's note: The snack bar offers Italian Ice, candy, popcorn, ice cream novelties, and other light snacks.)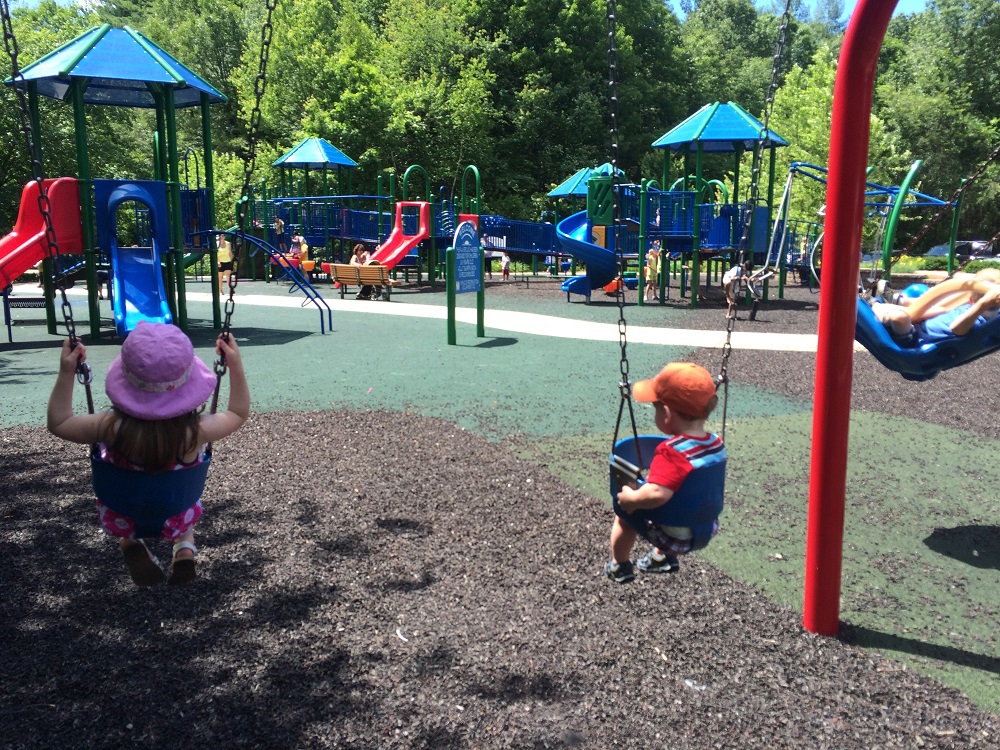 The adjacent beach (which shares the parking lot with the playground) is free for Westford residents, and $5/person for non-residents between the ages of 3 and 65. Because of this, there were lots of kids in bathing suits on the playground. Many of these kids were a lot older than those we usually see at playgrounds. I've heard this from others as well, so you may just want to keep an extra eye on your kids while you're there. The sight lines are pretty good here so hopefully it won't be an issue.
Despite the rough start to our visit, we loved our time at this playground and plan to go back soon. Hopefully we'll see you there!