Thank you to reader Shari Bartholomew for submitting this review of the Benson Park playground in Hudson NH! If you would like to submit a review of a local playground, please email barbarae@macaronikid.com. All reviews are welcome!
Benson Park
27 Kimball Hill Road, Hudson, NH 03051
http://www.bensonsanimalfarm.com/
Date/Time Visited: Saturday, May 30, 2015 at 2 pm
Bathrooms: Several porta-a-potties spread across the park
Parking: Some
Shade: Not on playground, but lots of shade covering grassy area adjacent to playground
Benches/Tables: Yes
Additional Features: Lots of paved paths for walking/biking, former animal enclosures to explore and a Little Free Library
This area was once a privately-owned zoo and amusement park, Benson's Wild Animal Farm, which went out of business in 1987. After decades of neglect, it was reopened in 2010 as a town park. A lot of work has gone into revitalizing and repairing aspects of the grounds and it is truly a great place to visit. We actually went on this day specifically to attend a 5th anniversary party/fundraising event held by the Friends of Benson Park.
Although we did not bring her bike on this trip, we did visit Benson Park last summer and my then-3-year-old daughter and her friends had fun riding their bikes along the paths that run through the park. Some of these paths circle a pond, and on this visit my 20-month-old son loved seeing the geese that were walking along the grass nearby. One piece of advice – be careful where you step; the geese have left behind lots of "gifts" for park-goers. Fishing (in accordance with state regulations) is allowed in the pond and we saw several people doing so.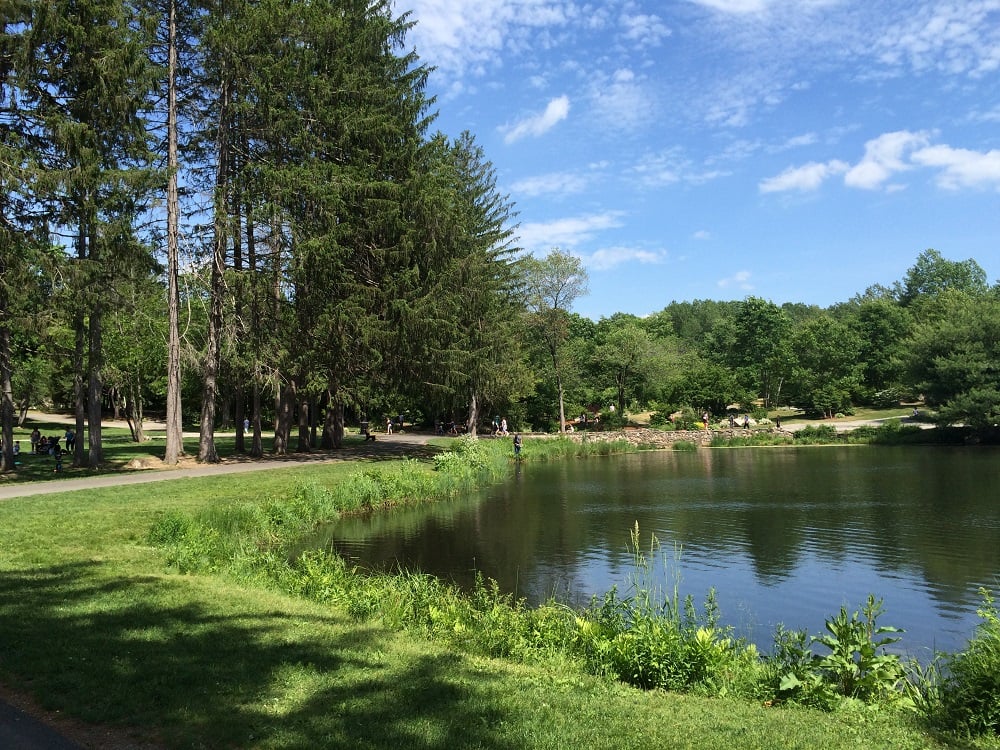 The playground itself is modern and varied, but lacks any sort of shade and we were there on a VERY hot day. My overall impression of the playground on this visit was not as positive as my recollection of our experience there last year; I have a feeling that has a lot to do with the heat and the crowds on this particular day and much less to do with the place itself. Last summer, we had a picnic in a shady spot on the grass next to the playground, and my friends and I enjoyed watching our children play from a safe distance because of how few people were there. A very different experience, to say the least!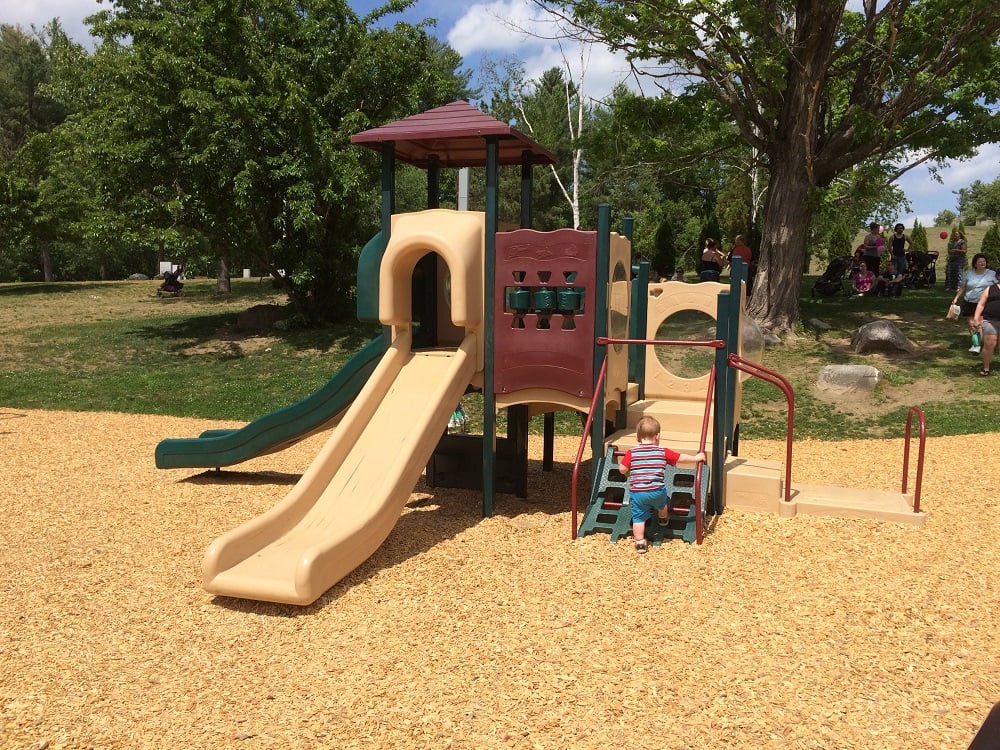 The playground area is covered with mulch, although there is an area bordering it with somewhat sharp rocks (which I only really noticed because my son was inexplicably drawn to it). There are benches and picnic tables and several different climbing structures - one large interconnected one and one smaller one which I assumed was for younger kids. A spider-web cable climber and a wave-shaped climber looked like a lot of fun, and I wanted to try them out myself. The playground also has both big kid and baby swings, as well as several bouncy toys.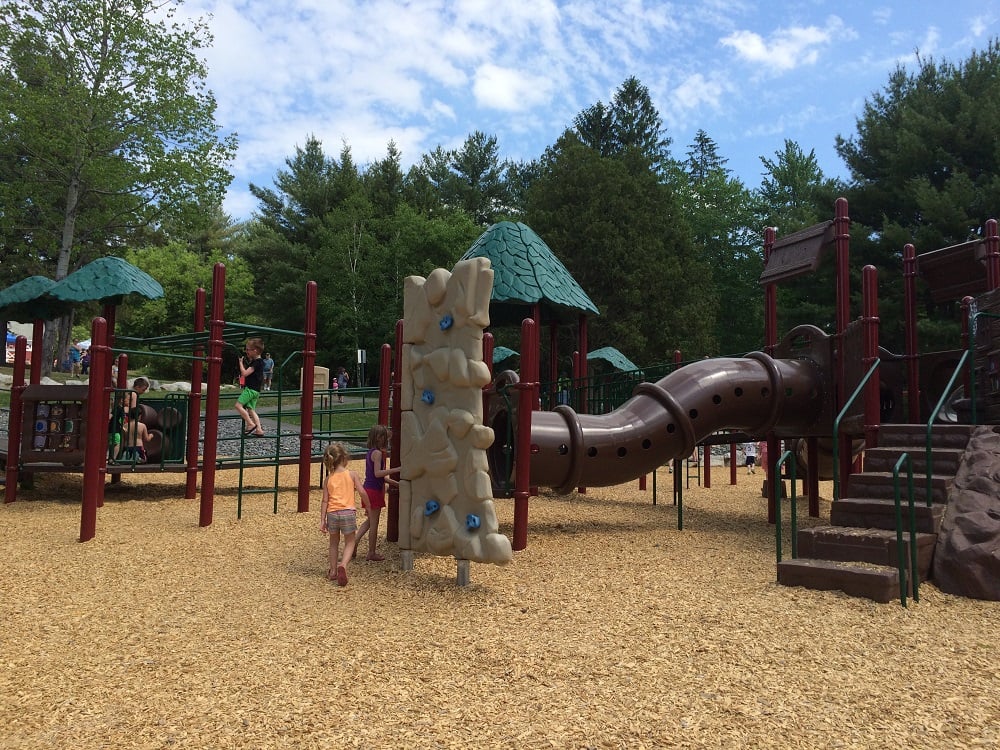 If you asked my daughter what the best thing about Benson Park is, however, she would definitely tell you it's being able to play in the gorilla cage. Yes, you read that correctly – some of the old animal enclosures are still on the property and you can go inside the gorilla cage and pretend to be an ape if you're so inclined. Both of my kids enjoyed doing so; my husband even got in on the fun.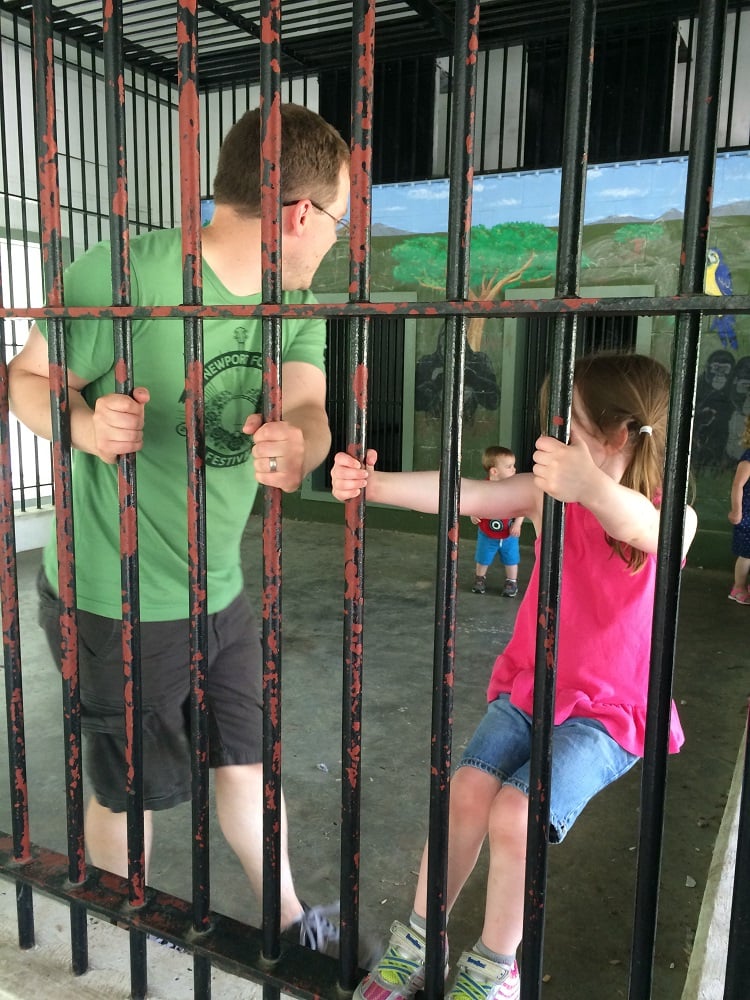 There is a covered pavilion near the gorilla enclosure and I believe there was a birthday party going on while we were there. Looked like a great spot for an event, as did the nearby gazebo. For more information about reserving one of these for your own event, contact the Town of Hudson Recreation Department at (603) 880-1600.
We will definitely visit Benson Park again soon. Although it is somewhat "off the beaten path," it's a great find and I would recommend it to anyone. If you're curious about the history of the park like I was, you can find out more at Wikipedia.
Lowell Macaroni Kid is a free weekly newsletter and website focused on fun family events and information in the greater Lowell area.
We gather together all kinds of local family events and activities each week, and add useful information about classes, family-focused businesses, book and product reviews, recipes, crafts, school and camp guides and more. We proudly serve 9,500+ families in Lowell, Dracut, Chelmsford, Westford, Tyngsboro, Dunstable, Littleton, Groton, Billerica, Tewksbury, and other surrounding communities.
Subscribe today to receive our email newsletter every Wednesday!